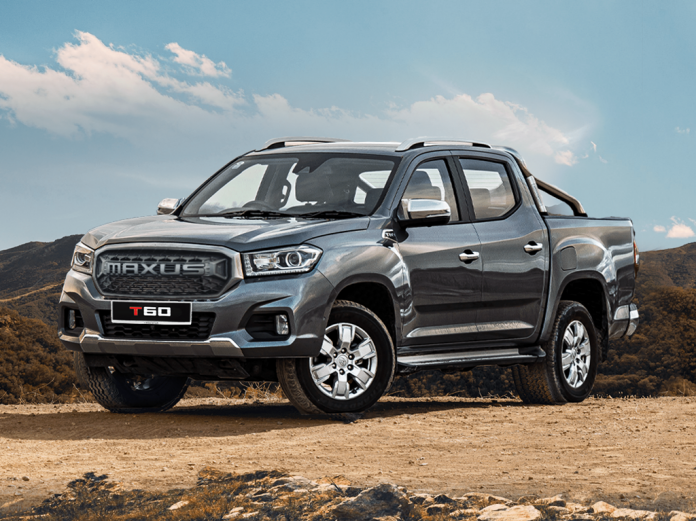 Better known for its MPV and commercial vehicles, Maxus also has a representative in the pick-up truck segment in Malaysia. This is the T60 which it has been selling since mid-2019, and which has now been updated to become a better value-for-money proposition.
Complimentary Performance Kit
Besides cosmetic changes, there are feature upgrades as well as an improved powertrain. For a limited time, all bookings of the updated T60 will come with a complimentary new performance enhancement kit, dubbed the MAXUS Performance Kit. Worth RM3,000, the kit raises power to 155 bhp at 3000 rpm and boosts torque from the standard 360 Nm to 425 Nm between 1600 – 2300 rpm.
Though more powerful, the fuel consumption is actually better and where the standard engine is claimed to do 10.4 kms/litre, the uprated engine can go up to 11.1 kms/litre. With the 75-litre fuel tank, the T60 should be able to travel further before requiring refuelling – which would be welcome by those who venture deep into the jungle.

The Performance Kit is fitted to the same 2.8-litre, 16-valve, DOHC turbocharged (VGT) engine which meets Euro 4 emission standards. Power goes to all 4 wheels via the 6-speed PUNCH automatic transmission with a BorgWarner Electronically-Controlled Four-Wheel Drive System that has the usual 2H, 4H and 4L modes that can be selected while on the move. An Eaton mechanical differential lock is also provided as standard for better stability in difficult conditions.
The driver can also select from three drive models – Eco, Power and Normal – to suit the driving conditions. The Eco mode is claimed to stretch the mileage by 2% (compared to the default Normal mode) while the Power mode is said to give a 5% increase in performance.
In addition to the complimentary Performance Kit, the T60 comes with 17-inch wheels. The previously available 19-inch wheels are still available as optional equipment basis for an extra RM3,000.
Safety like a car
The T60 has high safety standards and when it was introduced, it raised the bar in its segment as the only 4×4 pick-up that offered front and rear ventilated disc brakes and a Tyre Pressure Monitoring System. Besides that, it also has Bosch Electronic Stability Program, ABS, Electronic Brake Distribution, Traction Control System, and Brake Assist – all active safety systems commonly found in passenger cars.
Due to the higher centre of gravity of a pick-up truck, drivers need to be cautious when cornering fast. To provide safer cornering, the T60 has Roll Movement Intervention (RMI) which gives greater stability as well as improved traction at high speeds or in the event of emergency avoidance (lane-change) maneuvers. The RMI recognizes the threat of an impending roll-over from the various sensors and intuitively applies the brakes individually to counter the motion and return stability to the vehicle. On steep slopes, the driver can press a button for assisted driving upwards or downwards.
Premium features inside
In the cabin, the atmosphere is passenger car-like with features like power-adjustable front seats, a multifunction steering wheel with integrated switches, 10-inch inch HD infotainment system with touchscreen (Android Auto /Apple CarPlay ready), pushstart button, and automatic air-conditioning.
Besides 15 storage areas around the cabin, the forward and rearward folding rear seats provide extra storage, while the overall cargo volume is 1,188 litres. For those who need still additional carrying capability, there's an aluminium luggage rack.
The new T60 is priced from RM115,888 and, for a limited period, there is a RM1,500 rebate for all bookings received. Confident of the reliability and durability of the vehicle, Maxus offers a warranty of 5 years or maximum of 130,000 kms. For the first 4 years of ownership (or maximum of 80,000 kms), scheduled maintenance will be free with a complimentary service package that covers required parts, lubricants and labour charges.
"We are proud to announce that the 2022 model is not only refreshed in terms of looks, but also comes with performance options for the growing pick-up truck segment here in Malaysia. The CBU unit is the ideal balance of performance, capability, and safety, and offers the best value for money for a pick-up truck in the current market. We are fortunate our principal has given us priority and sufficient stock for us to supply the current demand here in the country," said Syed Ammar Syed Azman, CEO of Weststar Automotive Division.