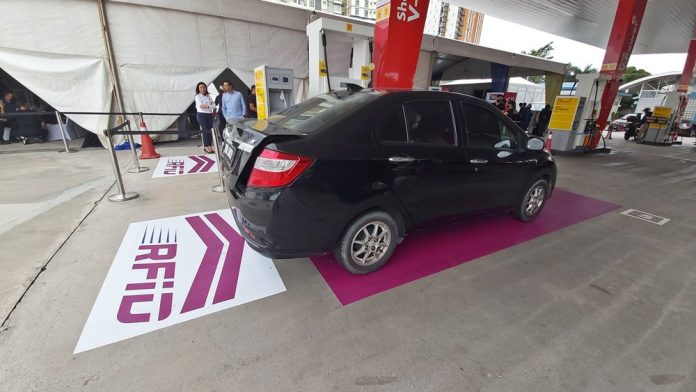 While most people associate the RFID (Radio-Frequency IDentification) tag with electronic toll payment, the potential of the system is actually greater and it can be used for other types of transactions as well. Touch 'n  Go, the company running the RFID and eWallet service in Malaysia, is exploring other services to hook up with and one of them which is now officially active is fuel purchases – specifically at Shell stations.
The company today launched the Touch 'n Go RFID payment channel which will be available at 88 Shell stations nationwide. The number of stations will double by the end of this year, and within 3 years, motorists will be able to pay for fuel purchases using RFID at 50% of Shell stations.
"In line with our commitment in making our customers' daily journeys more seamless through innovative offerings, we embarked on this partnership with Touch 'n Go to develop a new payment method that provides cashless convenience, using RFID technology, without the hassle of a mobile app, said Seow Lee Ming, General Manager, Mobility for Shell in Malaysia and Singapore.
"Over the last year, we have received positive response from over 10,000 pilot users, and we have been working closely with Touch 'n Go to continuously optimise the technology to ensure a truly hassle-free payment experience. We are confident that this collaboration with Touch 'n Go will further enhance our customer experience at Shell," she added.
In order to make payment with Touch 'n Go RFID at Shell petrol stations, motorists must of course first have the RFID tag on their vehicle, and linked to their Touch 'n Go eWallet account. There is a one-time registration and activation through the Touch 'n Go eWallet app, which will also link to the motorist's Bonuslink account for points to be awarded.
Once the registration and activation are done, the motorist can then look for stations which have RFID scanners installed over the pump area. These stations will be identified on the signs outside the station and the pumps with RFID will have bays designated with clear markings.
The vehicle's RFID tag should be detected within seconds, and payment will be auto-debited from the customer's Touch n' Go eWallet, allowing refuelling to commence. Any unutilised amount will be immediately refunded to eWallet account when refuelling ends.
One thing to keep in mind is that the fuel purchase will usually be more than a typical toll payment so the e-Wallet balance will be significantly lower after the transaction. For those with autoload enabled to top-up the e-Wallet balance, there should be no issues. However, if topping-up is done manually, then it would be a good idea to check the balance and take action to top up if necessary.
From August 10 to September 16, 2022, Shell and Touch 'n Go will be rewarding the first 25,000 customers who purchase fuels at Shell stations using Touch 'n Go RFID. They need to pump a minimum of RM50 on their first Touch 'n Go RFID transaction at Shell to receive a RM10 cashback. Customers eligible for this cashback would have to be first-time users of this feature.