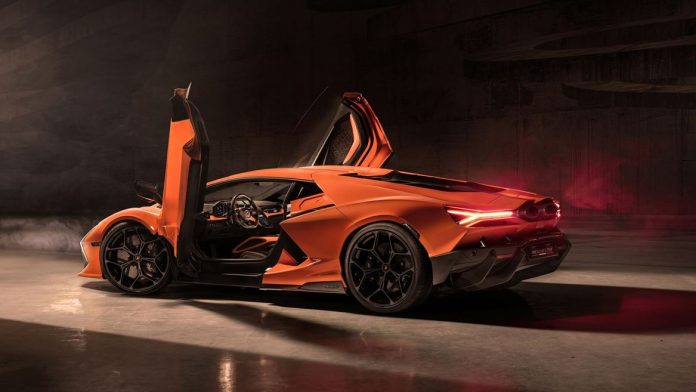 Lamborghini has apparently combined thunder and lightning for its first HPEV (High-Performance Electrified Vehicle) hybrid super sports car, the Revuelto.
The word "Revuelto", translated to English means "scrambled" or "mixed-up" and was actually a fighting bull, a celebrity in the arenas of Barcelona in the 1880s.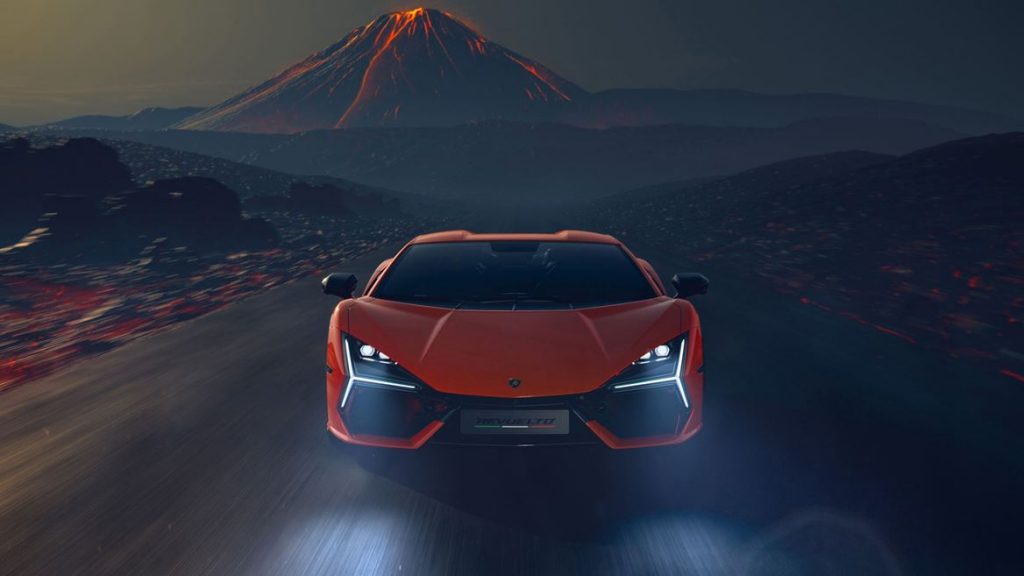 The Lamborghini Revuelto was unveiled just before the 60th anniversary of the Italian automaker marking a new direction for the company while the onboard technology and performance have hit a new benchmark for Lamborghini.
The pros of this car are that it still has a V-12 engine, it is incredibly quick, and has updated interior tech. The con is, it's not parked in our driveway.
Exterior
The design of this beast has a similar flow and looks to the Aventador and the Sian, making it look like a spaceship on four wheels, just as past V12 Lamborghinis have managed to do.
Lamborghini's head of design, Mitja Borkert confesses that the Panigale superbike produced by Lamborghini's sister company, Ducati, served as inspiration for the Revuelto design.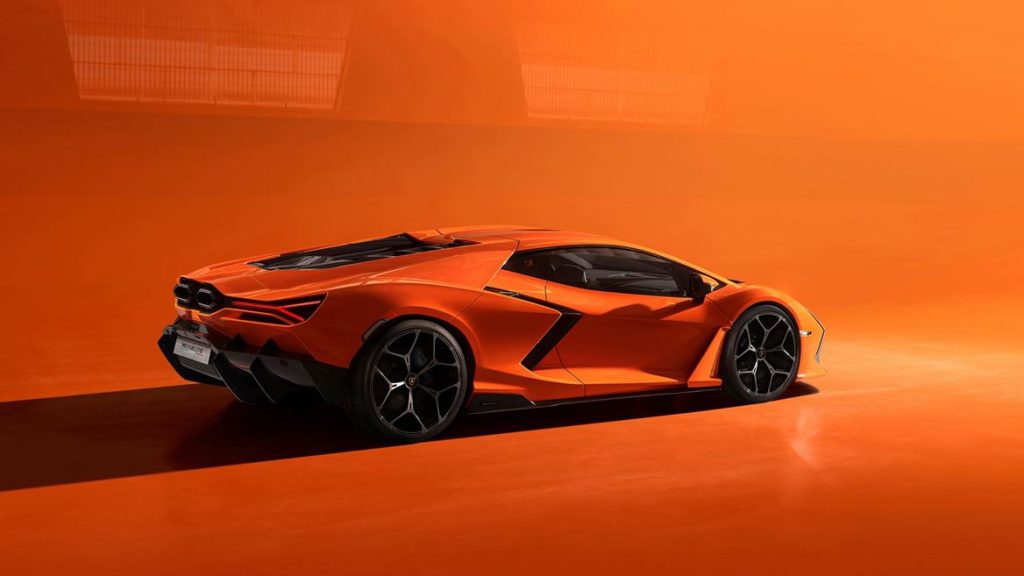 Features:
70 color options available
Hooded Y-shaped daytime running lights
Huge air intakes behind the doors
Massive air channels on each side (which Borkert describes as "aero wings")
The air intake ducts to the cylinders have been reengineered to increase the supply of air and guarantee optimal airflow in the combustion chamber.
Rims
Front: 20 x 9.5j (21 x 9.5j optional)
Rear: 21 x 12j (22 x 12.5j optional)
Tyres
Front: 265/35 ZR20 – Potenza Sport Runflat (265/30 ZR21 – Runflat optional)
Rear: 345/30 ZR21 – Potenza Sport Runflat (355/25 ZR22 – Runflat optional)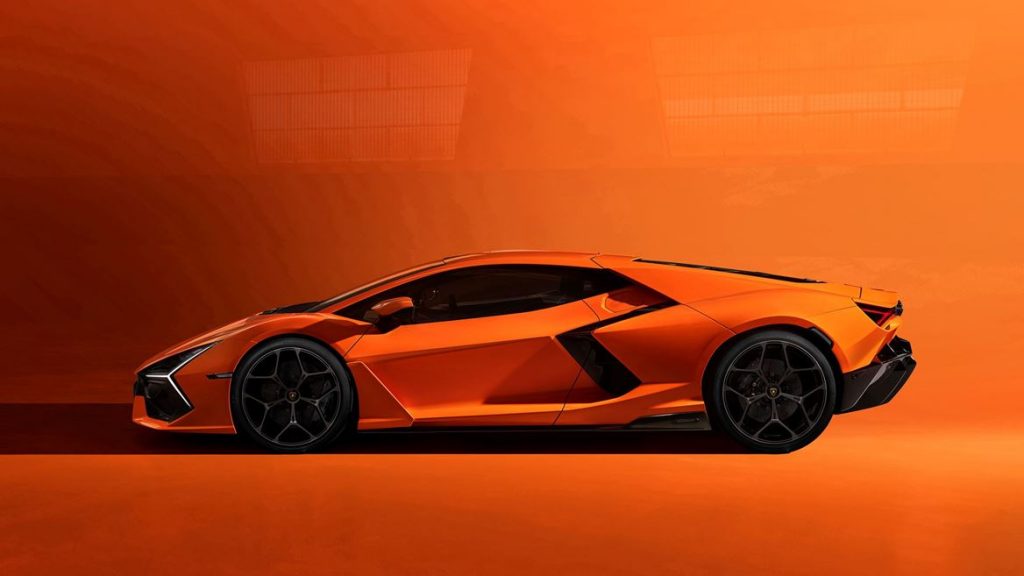 Run-flat technology allows drivers to continue driving safely even after a puncture for at least 80km at 80 km/h.
Stopping power is provided by the latest generation of CCB Plus (Carbon Ceramic Brakes Plus).
In place of the previous Aventador Ultimae's 400x38mm discs, the front calipers now have ten pistons rather than six. The rear calipers have four pistons and 390x32mm discs (in place of the previous 380x38mm). For improved braking performance, temperature control, and acoustic comfort, discs are wrapped with a friction layer.
The V12 engine is visible through the rear engine cover
Center-exit exhaust tailpipes
Moving aerodynamic rear wing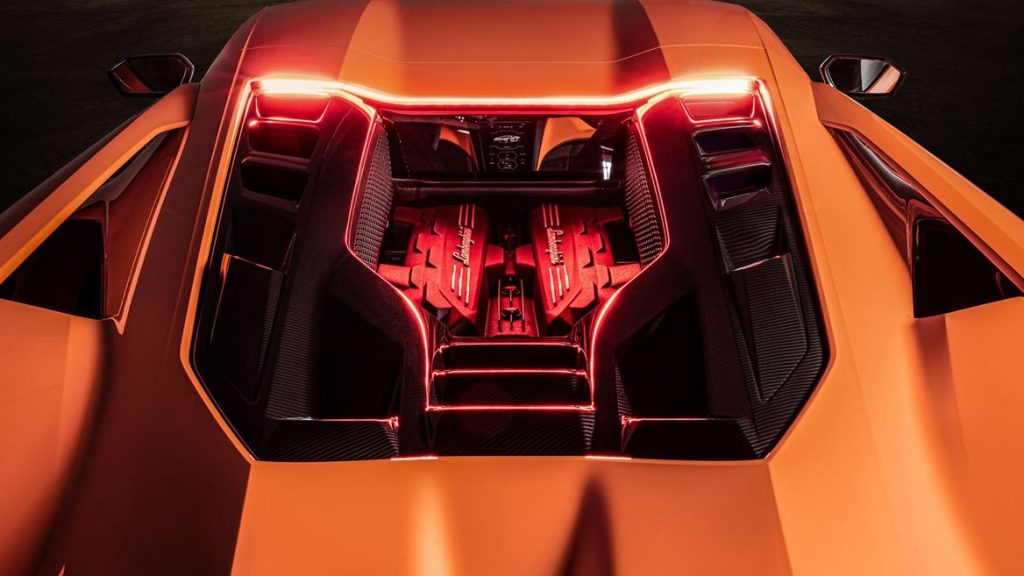 Monofusolage
You must be thinking, "what on earth is Monofusolage?", and so were we. Well, according to Lamborghini, it's a monocoque made completely of multi-technology carbon fiber. In addition, the Revuelto has a front structure constructed of Forged Composites, a unique material comprised of short carbon fibers dipped in resin.
The Revuelto is the first super sports car to be fitted with a 100% carbon fiber front structure which is a significant step forward from the Aventador in terms of torsional stiffness, lightweight qualities and driving dynamics. Its monofuselage is 10% lighter than the Aventador chassis, and the front frame is 20% lighter than its aluminum predecessor.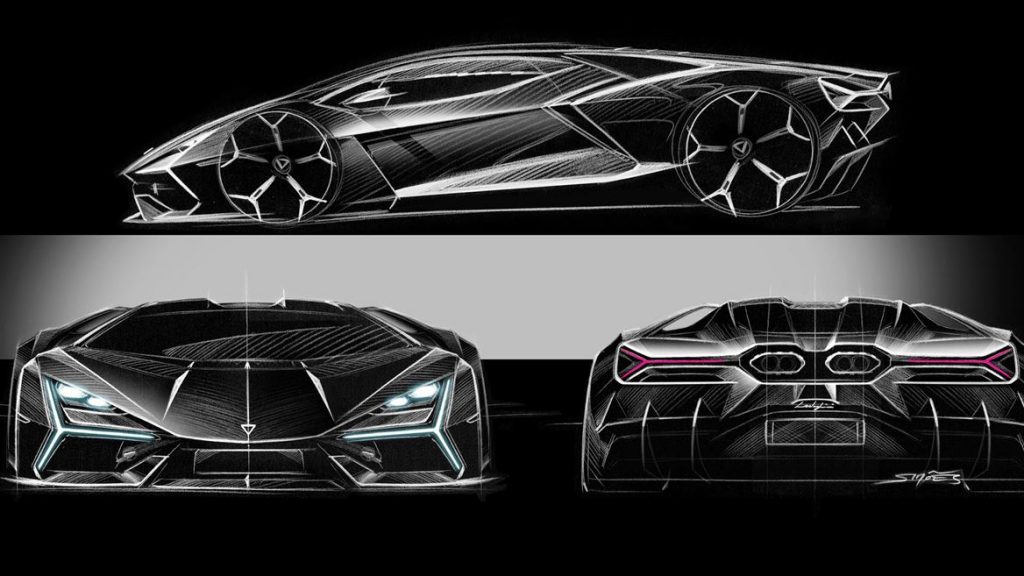 Power and Performance
Three electric motors are added to the 6.5-liter V-12 mid-mounted engine. Two electric motors on the front axle which allow torque vectoring under both power and regenerative braking. The third motor is integrated into the eight-speed dual-clutch transmission which is now mounted behind the combustion engine.
From the Countach era, the transmission tunnel has been replaced with a lithium-ion battery that drives the electric motors.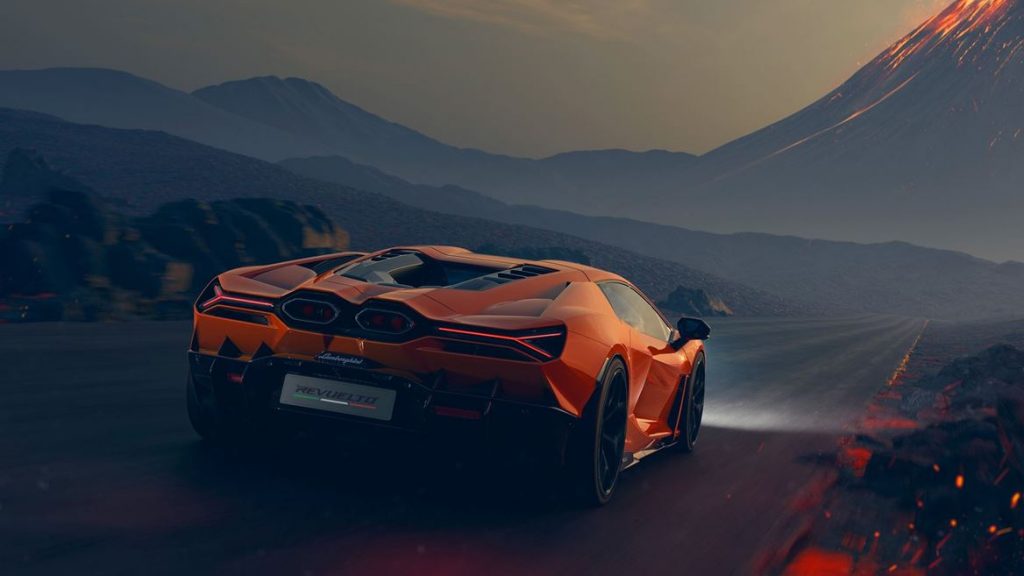 Performance features:
V-12 HPEV powertrain
Max power (Combined ICE+EE) – 1015 CV (1001 HP)
725 Nm of Torque
Electric four-wheel drive
Dual front and single rear electric motors
Eight-speed dual-clutch automatic transmission
Four-wheel steering
3.8-kWh battery pack
Electric torque vectoring
Max speed of 350 km/h
0-100 km/h in 2.5 seconds
Lightweight high-power lithium-ion battery
It can be recharged using both ordinary domestic alternating and charging column current up to seven kW in power and recharges to 100% in just 30 minutes. It can also be recharged under regenerative braking from the front wheels or directly from the V12 engine in just six minutes.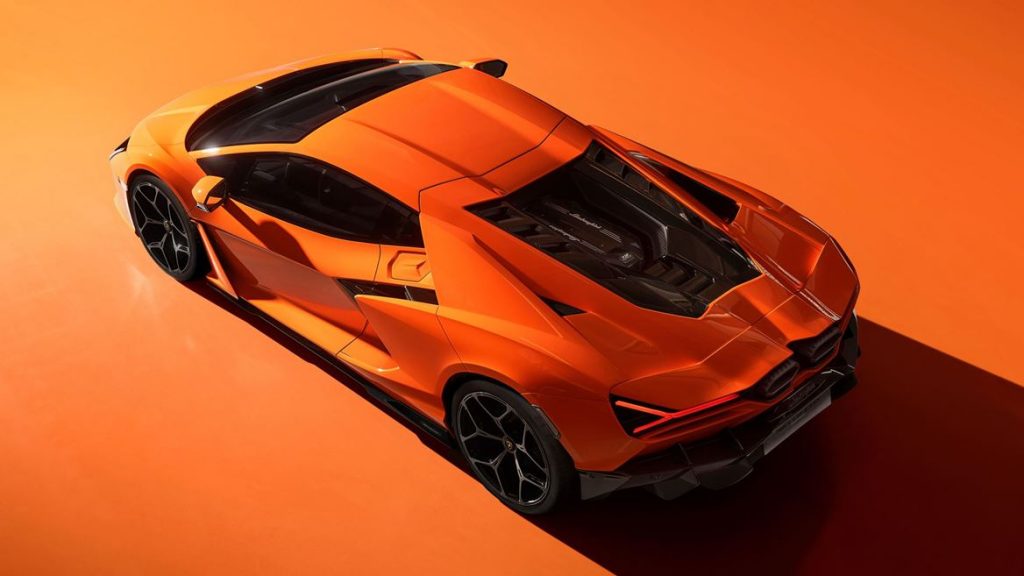 The new hybrid powertrain makes it possible to maximize the electric motor support and introduce new driving modes, including electric 4WD, for a total of 13 different driving experiences. Yes, you read that right, 13 different driving experiences. Sadly it doesn't come with a "Malaysian Roads" driving mode that adjusts to the uncountable number of pot-holes we have.
Interior and Features
Now the Revuelto features an "updated tech" interior. What does that mean?
It means the car comes with a 12.3′ instrument cluster, an 8.4′ center display, and an additional 9.1′ display to make up its brand-new Human Machine Interface (HMI) system. With 3D visuals, animations, widgets, and style, the system gives out a more modern appearance. And yes, it also comes with Wireless Apple CarPlay and Android Auto.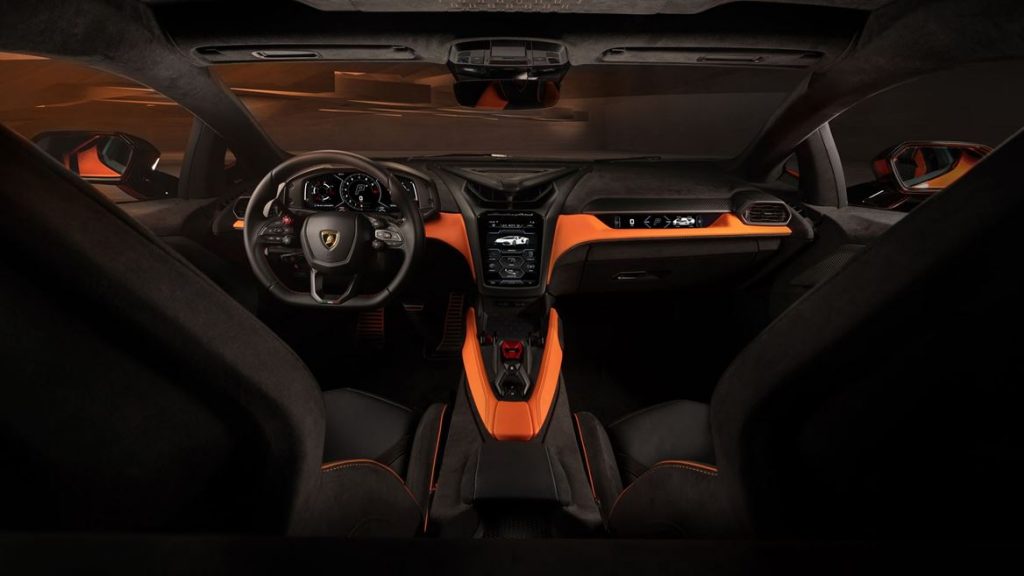 Using a two-finger swipe movement, you can move infotainment content either to the instrument cluster or to the passenger display. Using a similar gesture, the system can memorize favorite features so they are just a touch away.
The new steering wheel's design was motivated by the pilot-like sensation that may be achieved while using a Squadra Corse race car's steering.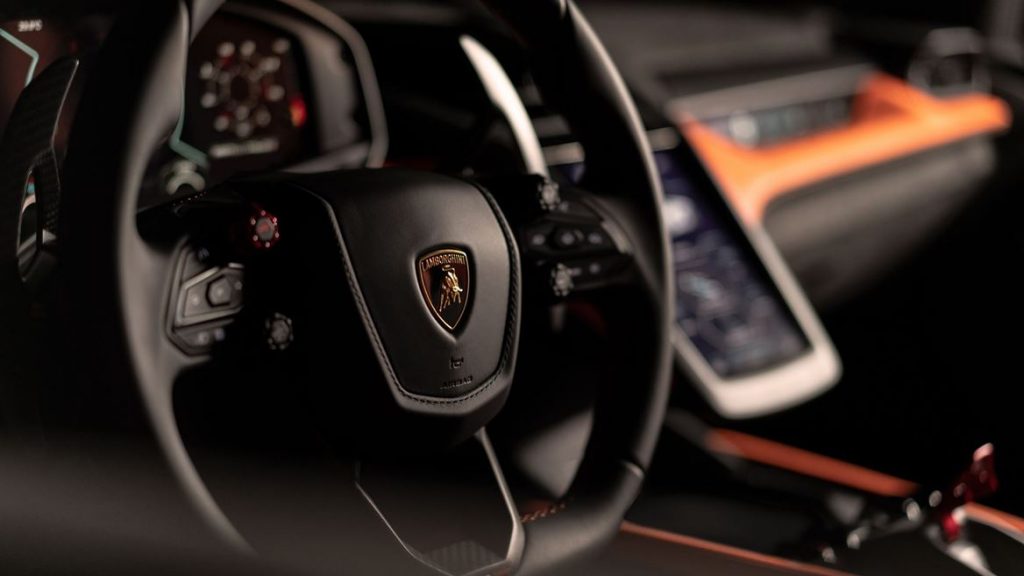 The navigation system is entirely redesigned and developed, using maps downloaded in real-time to ensure they are always updated for the areas required. Route calculation and the search mechanism are now significantly faster using online servers.
The car has been provided with upgrades to add new material via the integrated Over-the-Air software update system. The upgraded system facilitates updating the functionality of the instrument panel, passenger display, and infotainment display.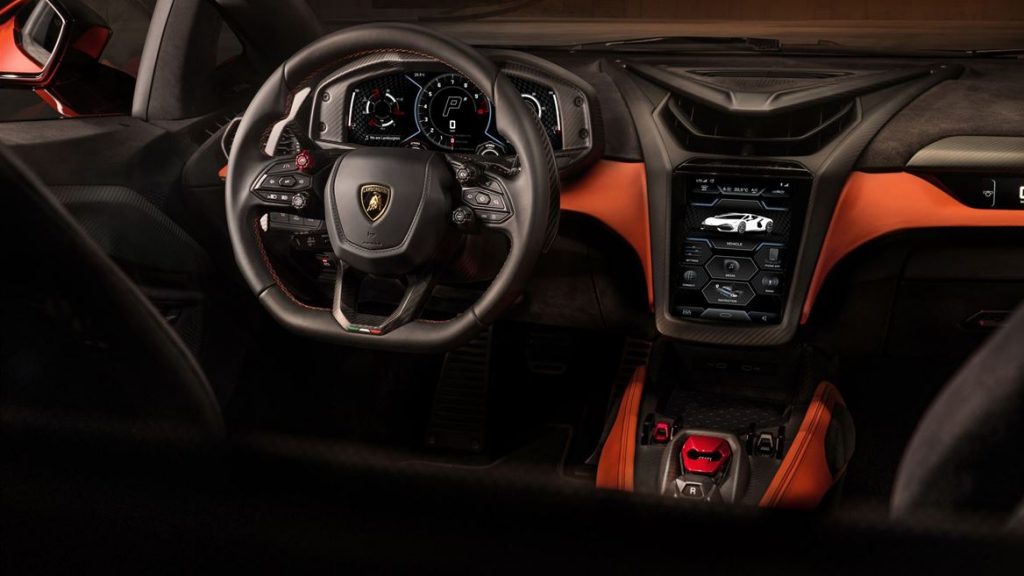 The interaction between the car and the owner continues even after the engine is switched off. Using the Lamborghini Unica mobile application, the owner can constantly monitor the car's status including the fuel level, battery charge, electric range and its exact position when parked.
The Unica app also allows a series of remote operations, such as locking and unlocking doors, sounding the horn or activating the car's lights, some functions are also available with the Apple Watch. The owner is in control of his car even when driven by another.
Maximum speed parameters can be set, as well as hourly and usage limits via geolocation. If the car exceeds a set speed, exceeds the limits of a set area, or is used beyond a certain time, the owner is warned via the app.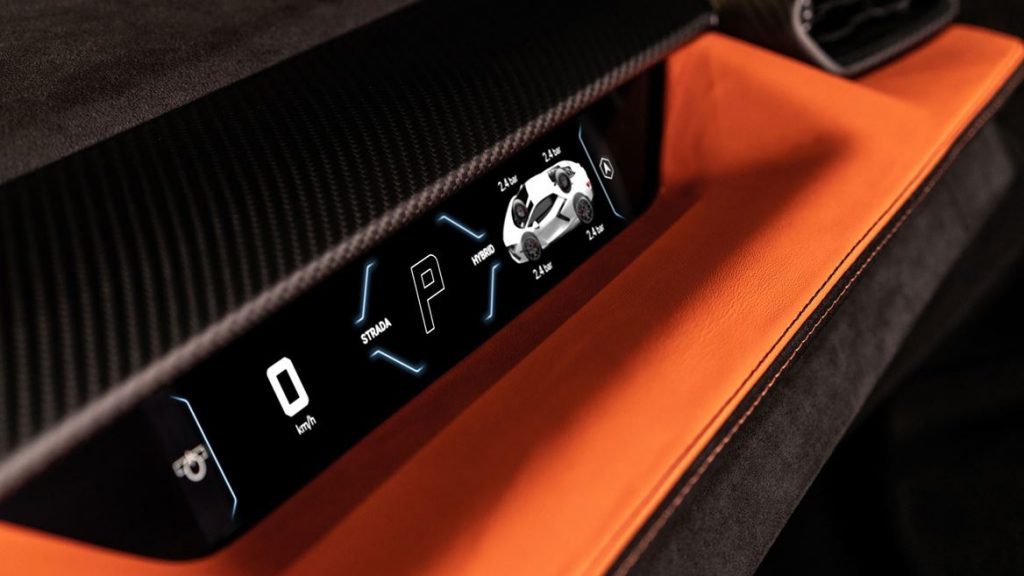 For the first time, Revuelto sees Lamborghini implementing a complete ADAS (Advanced Driver Assistance System). This includes things like:
Active Lane Departure Warning (ALDW)
Lane Change Warning (LCW)
Adaptive Cruise Control (ACC)
Rear Cross Traffic Alert (RCTA)
Auto Adaptive low beam for the headlights
You can customize the interior of his car by opting for a balanced mix of leather and Corsa-Tex, or favor one material depending on your preference.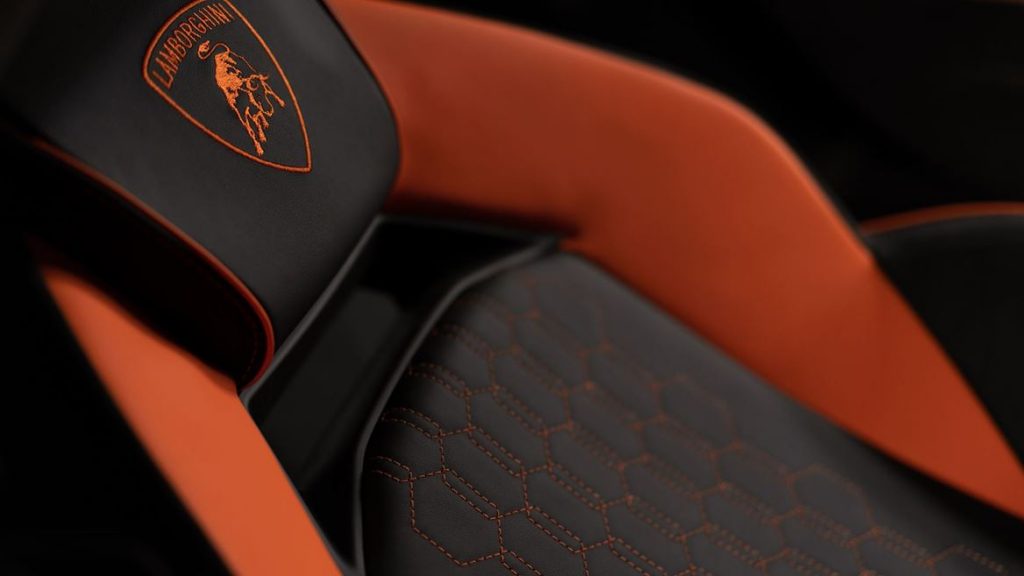 Although the price is yet to be finalized by Lamborghini, the first two years of production are already fully booked