One year after making its global debut, the Lotus Eletre has arrived in Malaysia. This is the British brand's first hyper-SUV which also lays claims to being a world first in this category. Apart from being the first of a new breed of fully electric SUVs, the Eletre also bears several firsts for Lotus. It is the first model outside sportscar segments; the first lifestyle EV; and also said to be the most 'connected' Lotus ever.
Three variants will be available for the Malaysian market – Eletre, Eletre S and Eletre R – with prices ranging from RM578,000 to RM798,000. There is currently no duty imposed on fully electric vehicles and roadtax is also exempted till the end of 2025. So customers have only to pay for insurance and whatever options they want to include to personalize their Eletre.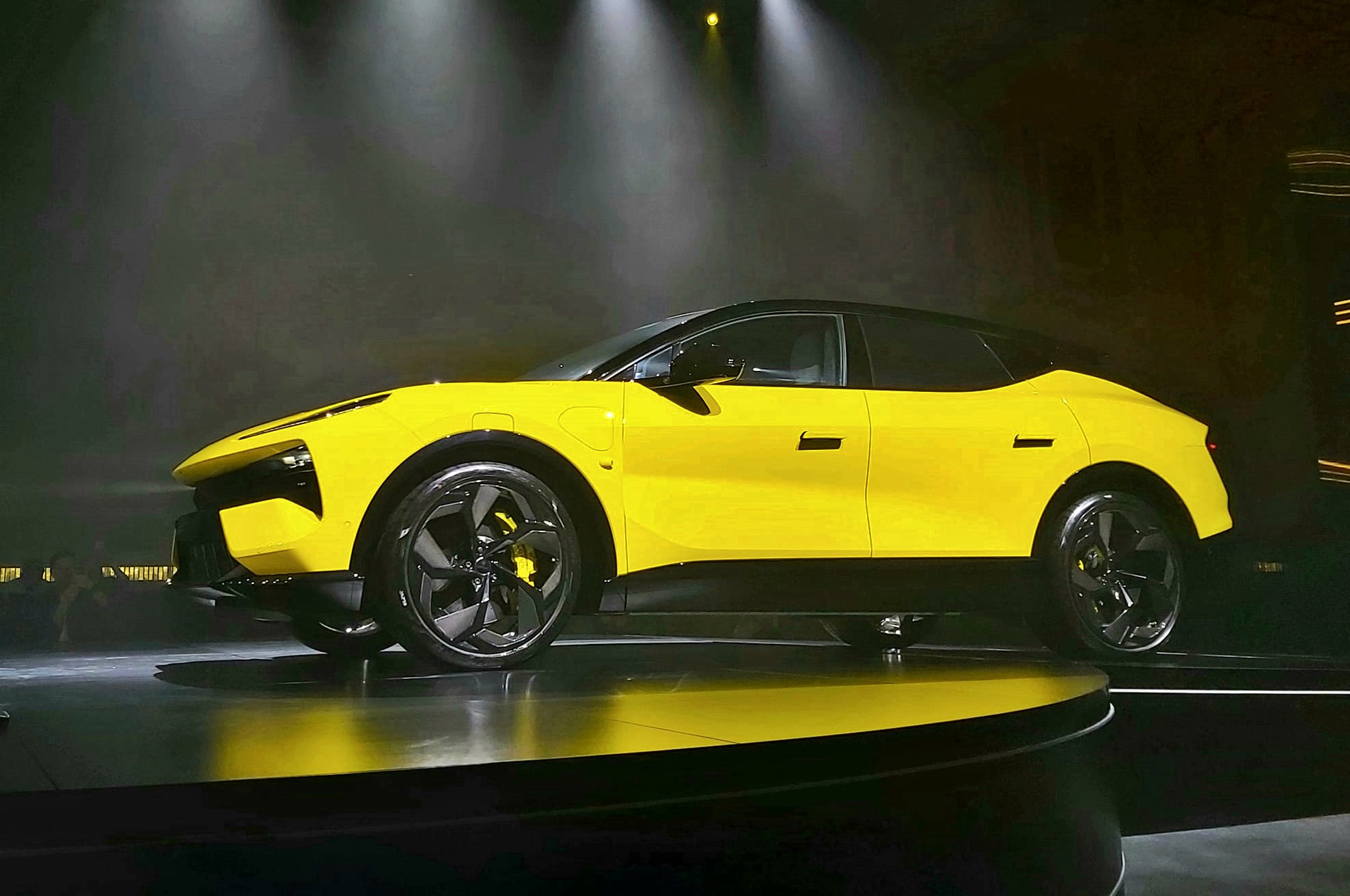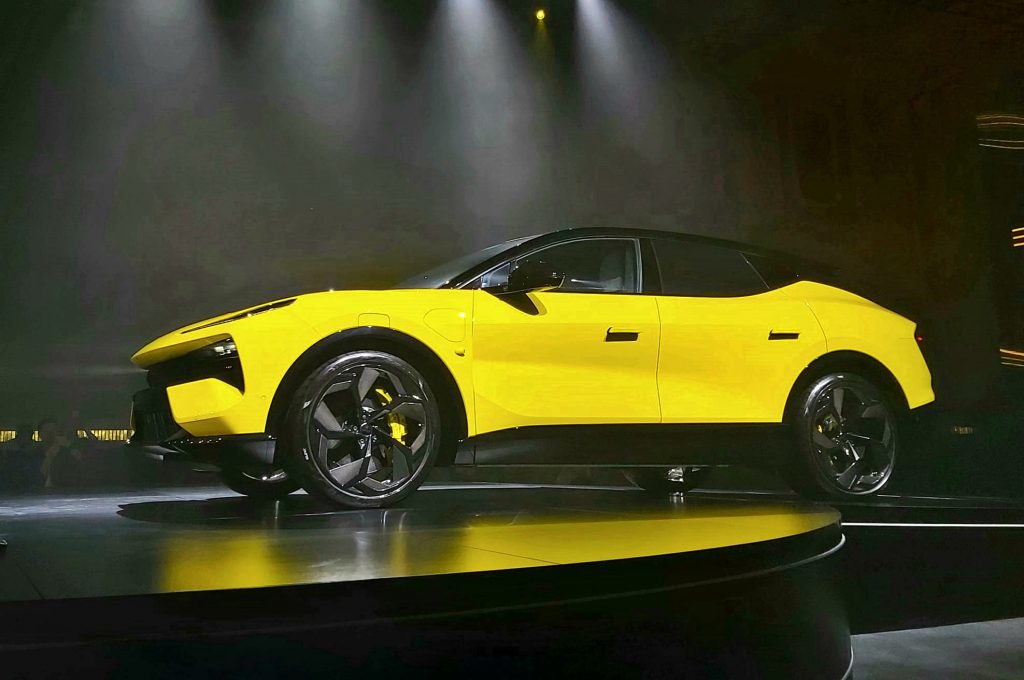 Lotus Malaysia says that, up to today's launch, 140 bookings have already been received and only 60 more customers will be able to get a unit under the 2023 allocation by the factory. Malaysia is the first country in Asia (outside China) where the Eletre is being launched.

800V architecture
The Eletre is built using Lotus' highly versatile 800V Electric Premium Architecture (EPA) with an integrated, high-voltage power distribution system. This architecture uses aluminium and high-tensile steel for optimum structural rigidity.
The flat 'skateboard-style' battery pack and electric motors are close to the ground to create a low centre of gravity that maintains the dynamic performance that the brand's cars have been known for.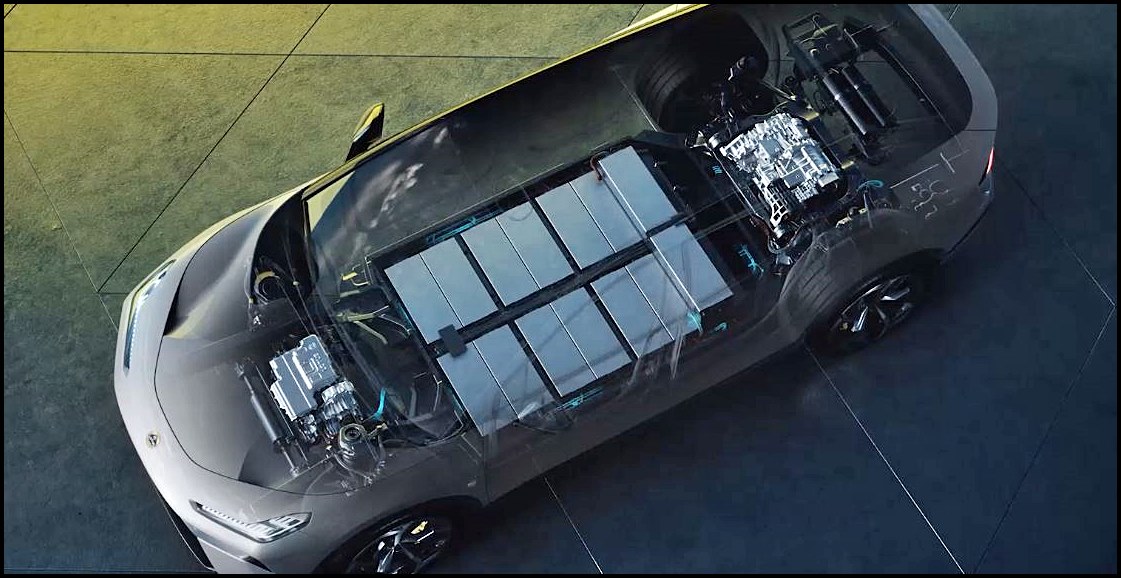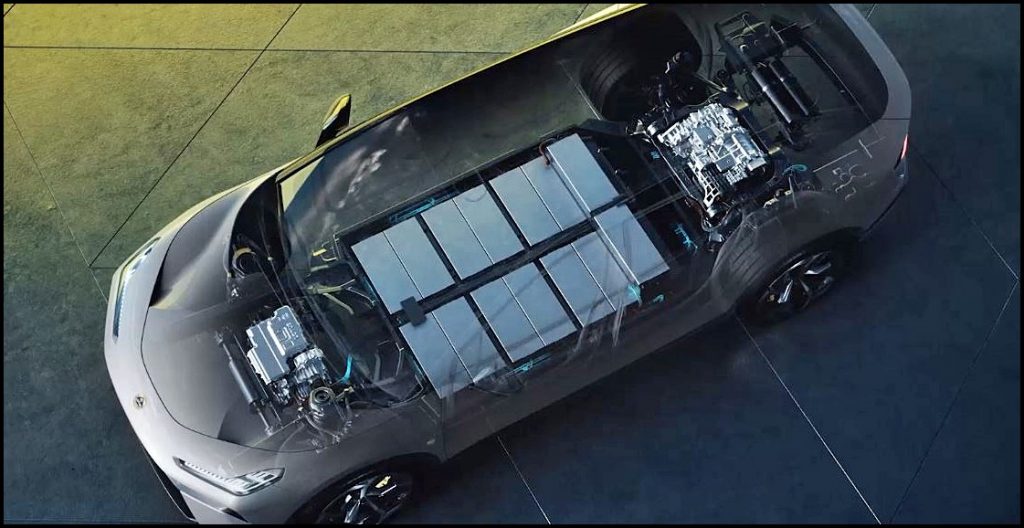 Two powertrain choices
There is a choice of two powertrains, each with two electric motors – one driving the front wheels and the other driving the rear wheels to provide all-wheel drive capabilities. Both variants are capable of achieving top speeds of 258 km/h and a maximum driving range of 600 kms.
With the Eletre and Eletre S, the powertrain, with a single speed system, can generate up to 603 ps/710 Nm of torque to rocket the SUV from standstill to 100 km/h in a claimed 4.5 seconds.
The Eletre R has a dual-speed system with a powertrain output of 905 ps/985 Nm. Its 0 to 100 km/h time is claimed to be 2.95 seconds, and with a top speed of 265 km/h, it is currently the world's fastest dual-motor pure electric SUV. When not driven flat out, the range is said to be up 490 kms.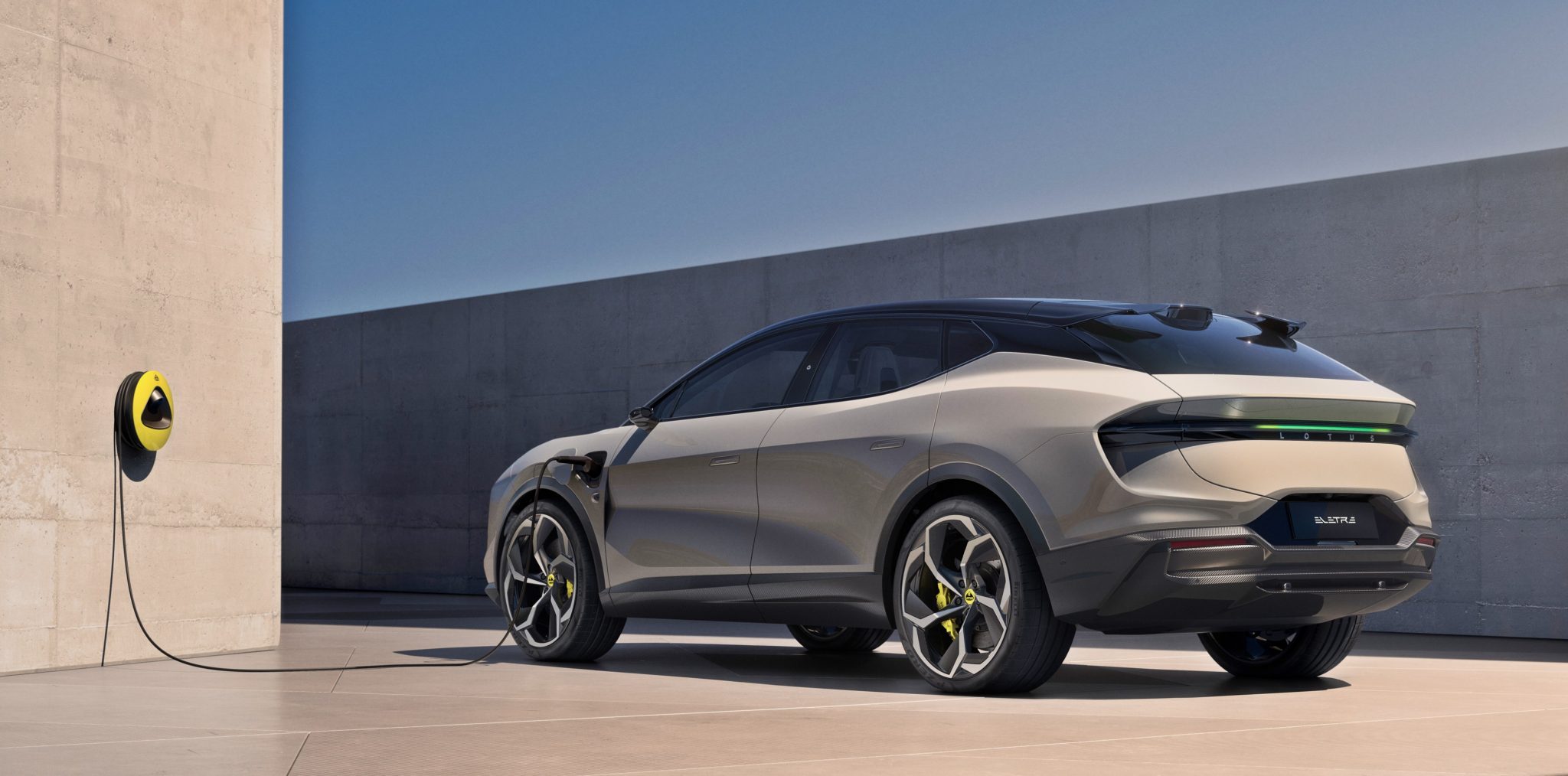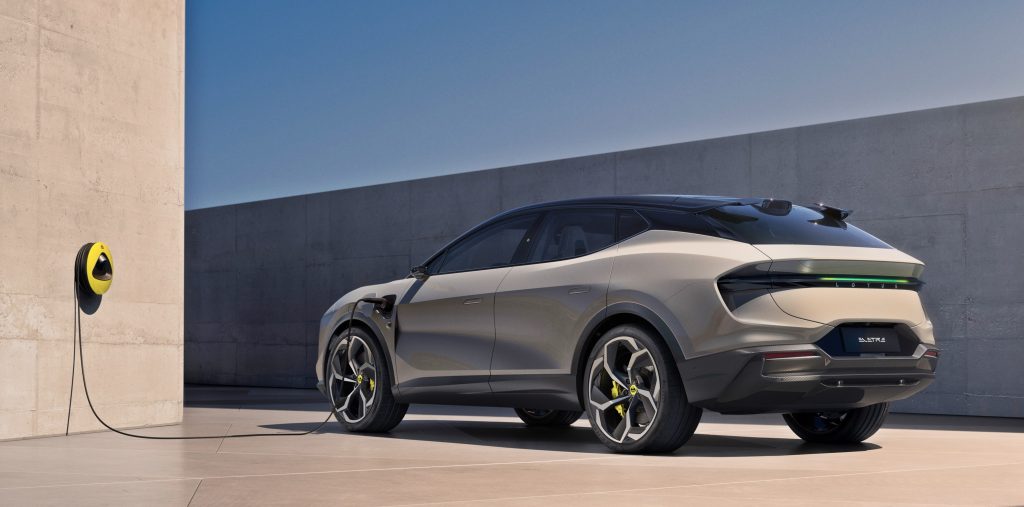 20 minutes charging time
All three variants use a 112 kWh battery pack with a 350 kW charger on-board that enables a rapid charging time of 20 minutes from 10% to 80%. Like all EVs, the Eletre can also be charged from AC outlets (up to 22 kW) but the charging time would be longer.
There are 5 drive modes – Range, Tour, Sport, Off-Road and Individual – which adjust the steering, damper settings, powertrain and accelerator pedal response to give different characteristics.
The Eletre R gets an additional Track mode which has a lowered ride height and more performance-oriented settings. These include active rear-wheel steering, adaptive dampers, and active anti-roll control. Track mode also includes a fully open active grille and launch control with instant access to the car's full power.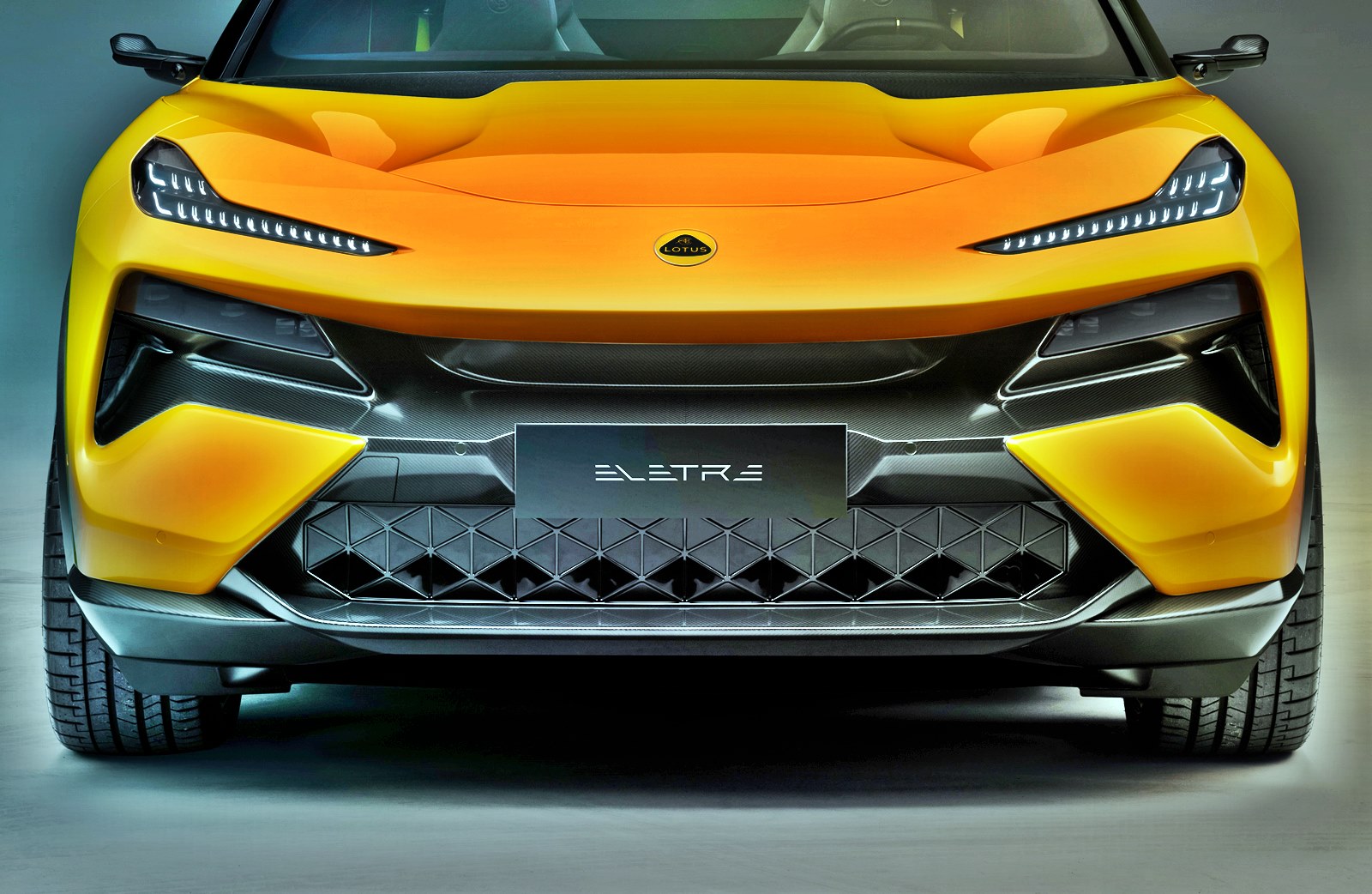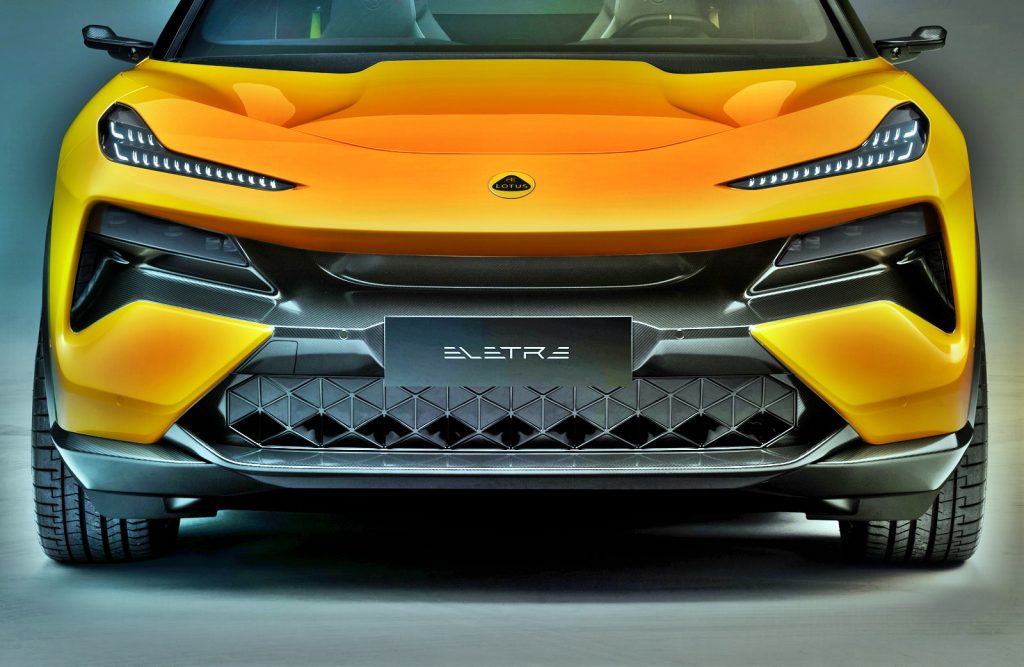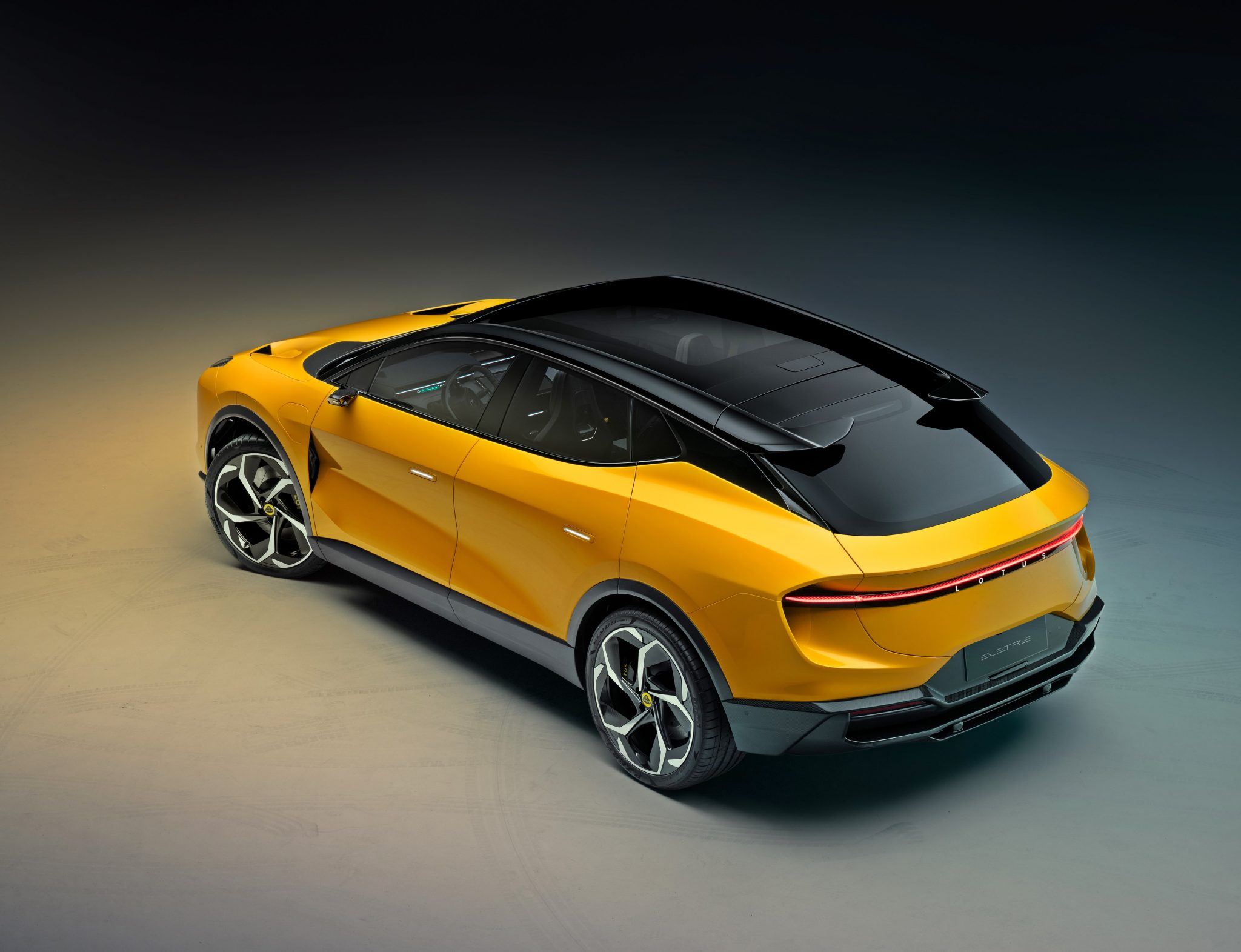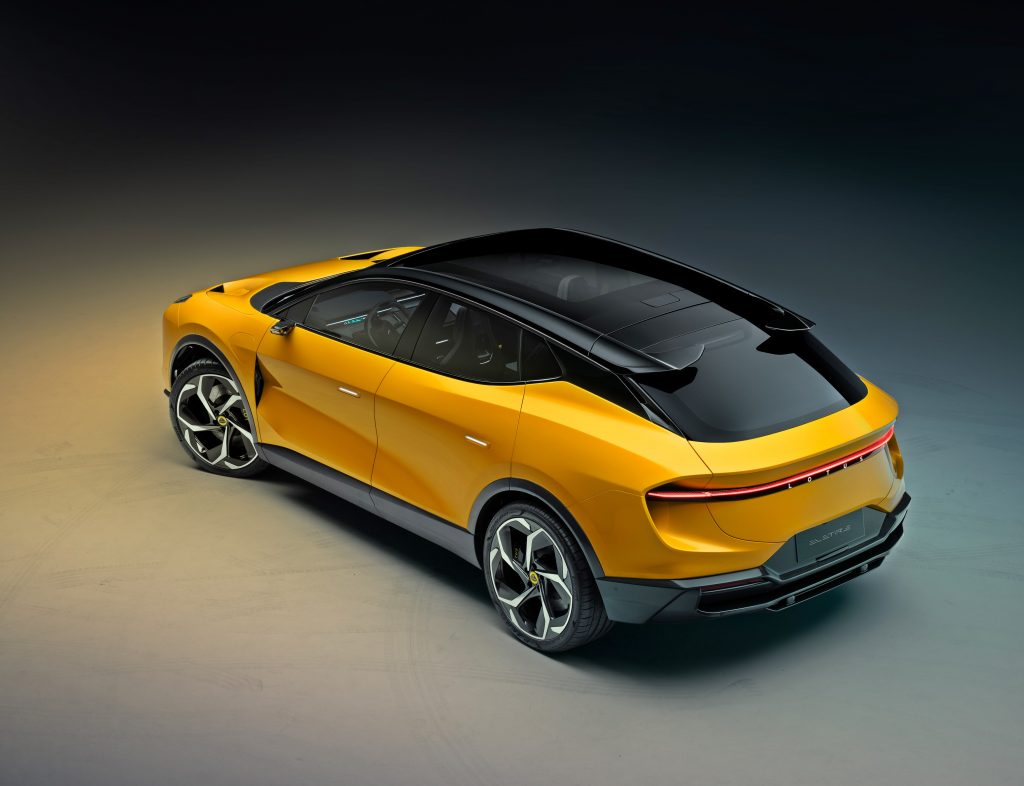 Lineage with Emira and Evija
The exterior design shows a clear lineage with the Emira and Evija. The rear features a unique floating D-pillar and an innovative 'air blade' which aids drag reduction.
A full-width LED light strip that can appear in 4 colours not only indicates battery charge status but plays a role in the car's theatrical unlocking. This has the exterior lights run through a short sequence, the active front grille 'breathes' and the flush door handles deploy..
The Lotus design team created a cab-forward stance with a long 3019 mm wheelbase and short overhangs front and rear. Overall, there is a visual lightness to the car, creating the impression of a high-riding sportscar rather than an SUV.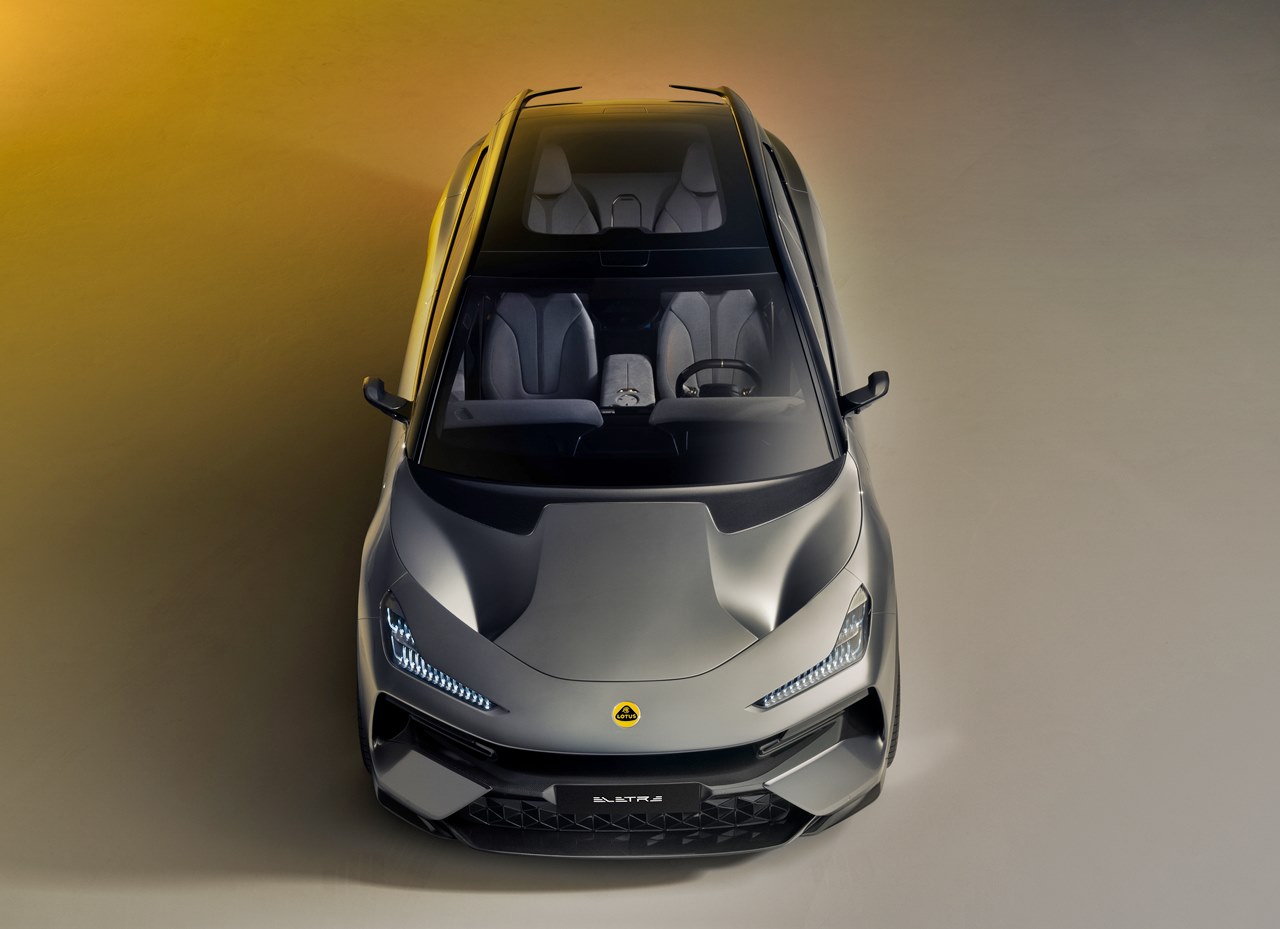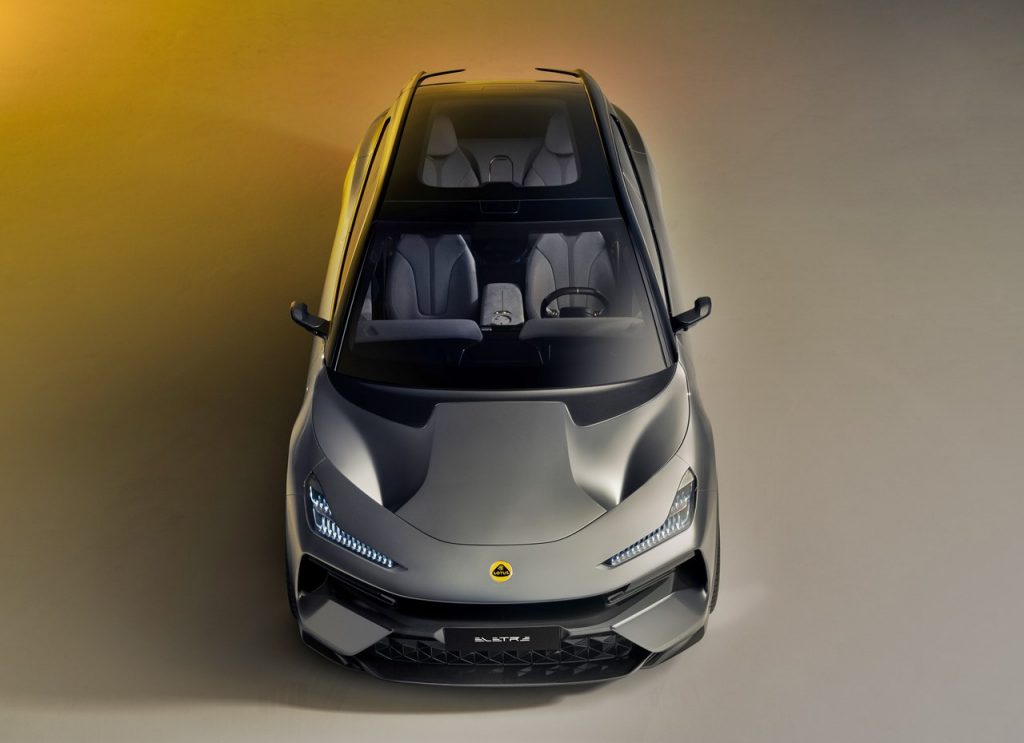 Aerodynamic efficiency has long been a Lotus specialty, right back to the days when Lotus was racing in Formula 1. A signature element of the Eletre's design is its 'porosity' – the aerodynamic principle of air flowing through the car as well as under, over and around it. Most obvious are two exit vents on the bonnet that channel air from under the car's leading edge.
Other examples can be found ahead of and behind the front wheelarches, behind the rear wheels, and even at the top of the D-pillar. Together, they enable less resistance in cutting through the air while delivering more efficiency in terms of improved range, speed and performance.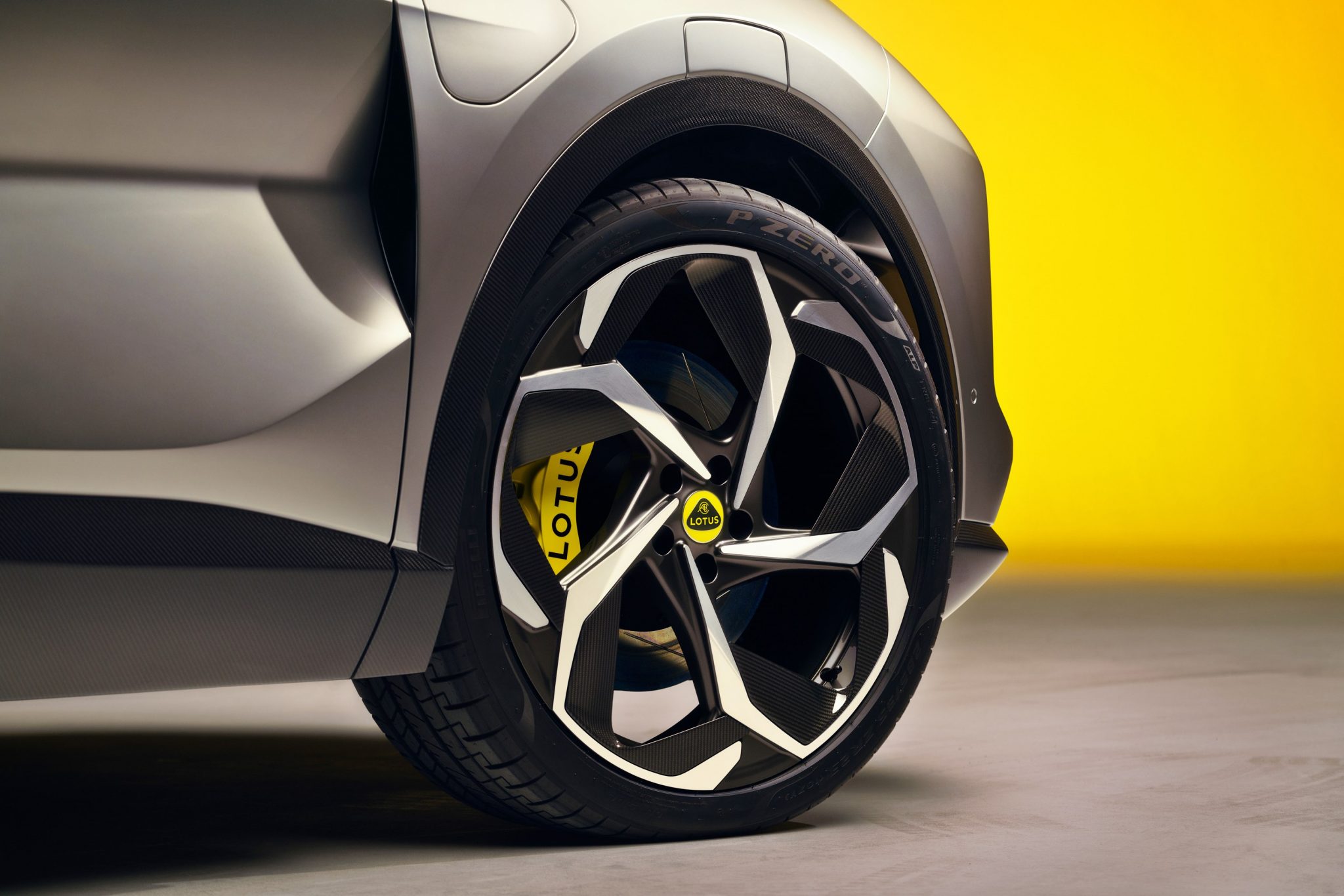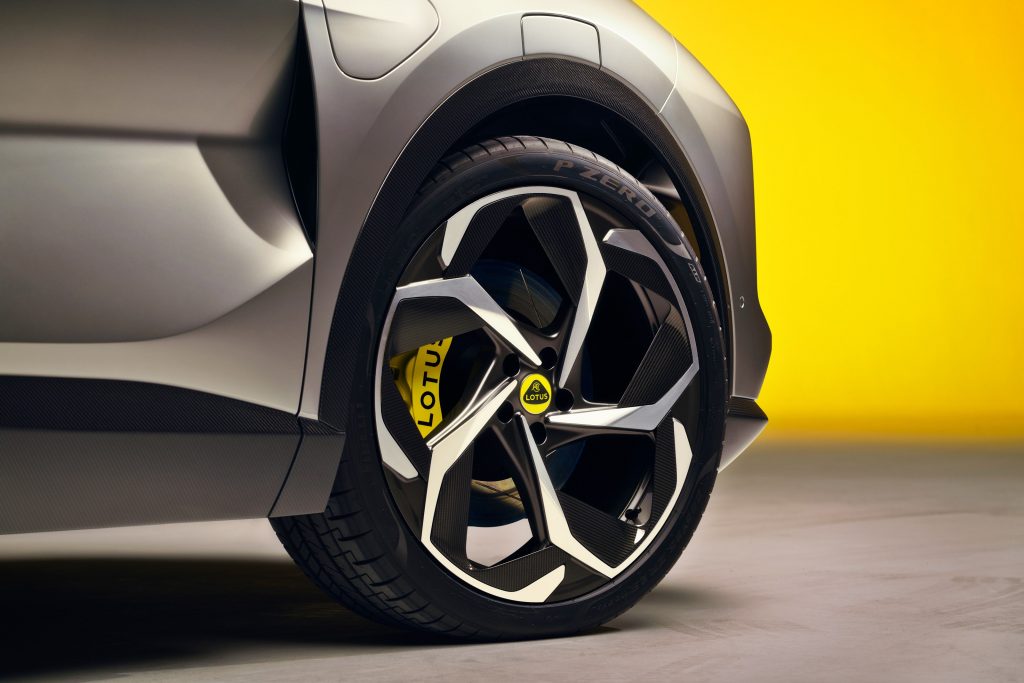 As standard, the Eletre rides on Pirelli P-Zero tyres with 20-inch 10-spoke silver diamond forged alloy wheels. The Eletre S comes standard with Pirelli P-Zero tyres and 22-inch 10-spoke grey diamond forged alloy wheels, while the Eletre R is fitted with the Pirelli P-Zero CORSA performance tyres and 22-inch 10-spoke gloss black forged alloy wheels. Alternative wheels and wheel sizes are also available as options.
New level of luxury for a Lotus
The interior has a performance-oriented and technical design which is 'visually lightweight' and uses ultra-premium materials to offer a level of luxury that is new to Lotus. Sustainability has also been a core focus of the design team with the hard materials of carbonfibre that give a premium marble-like finish.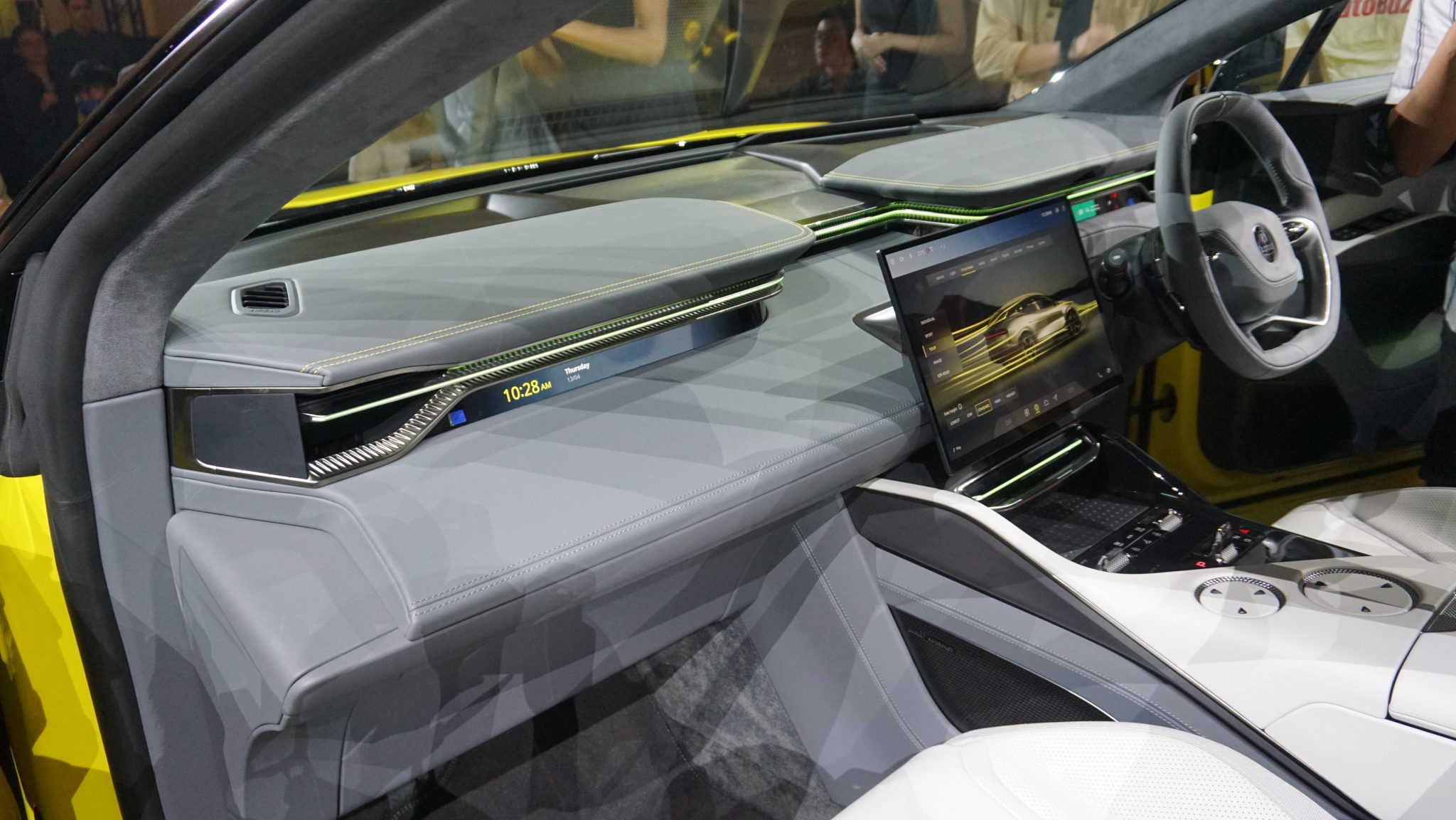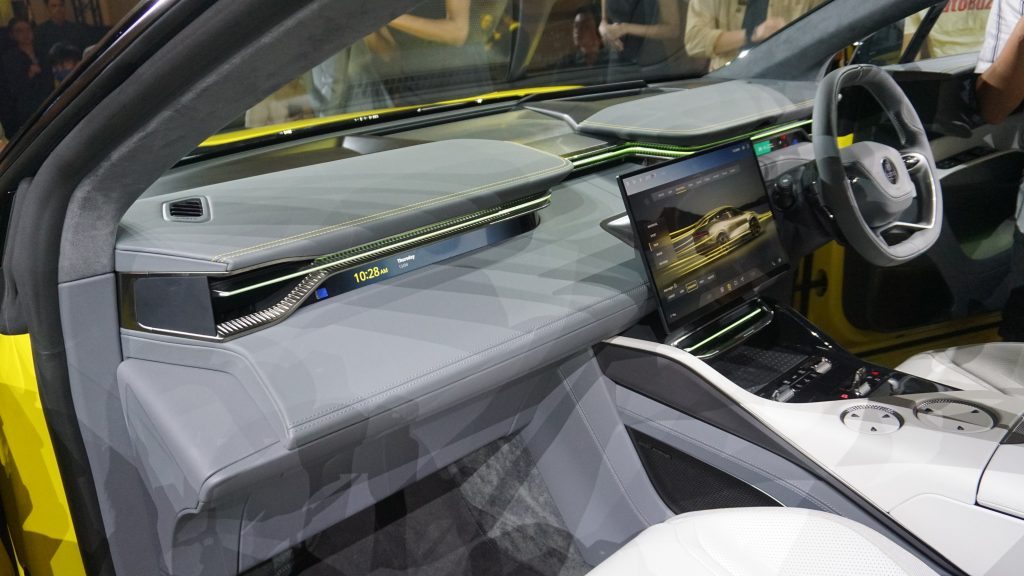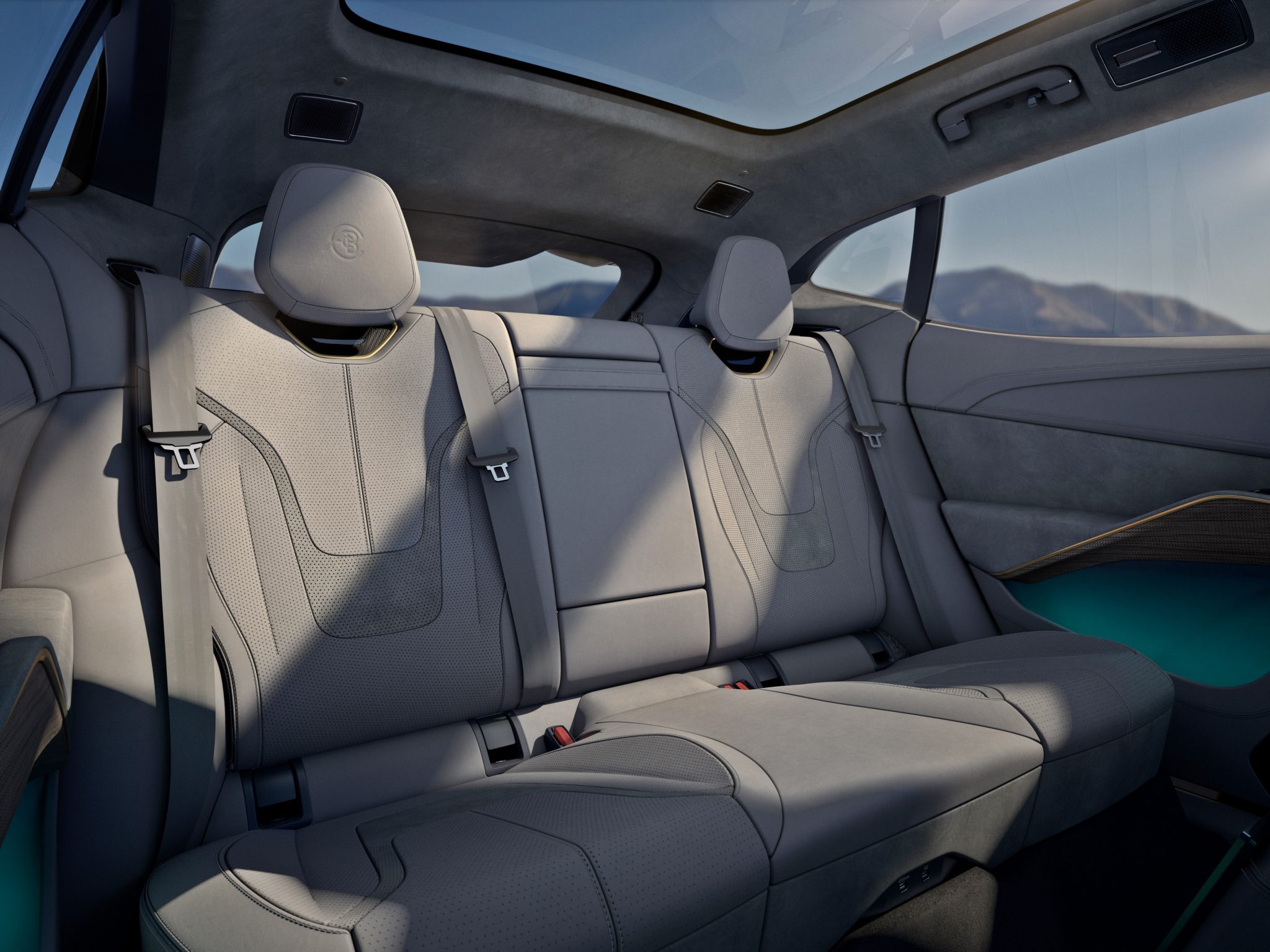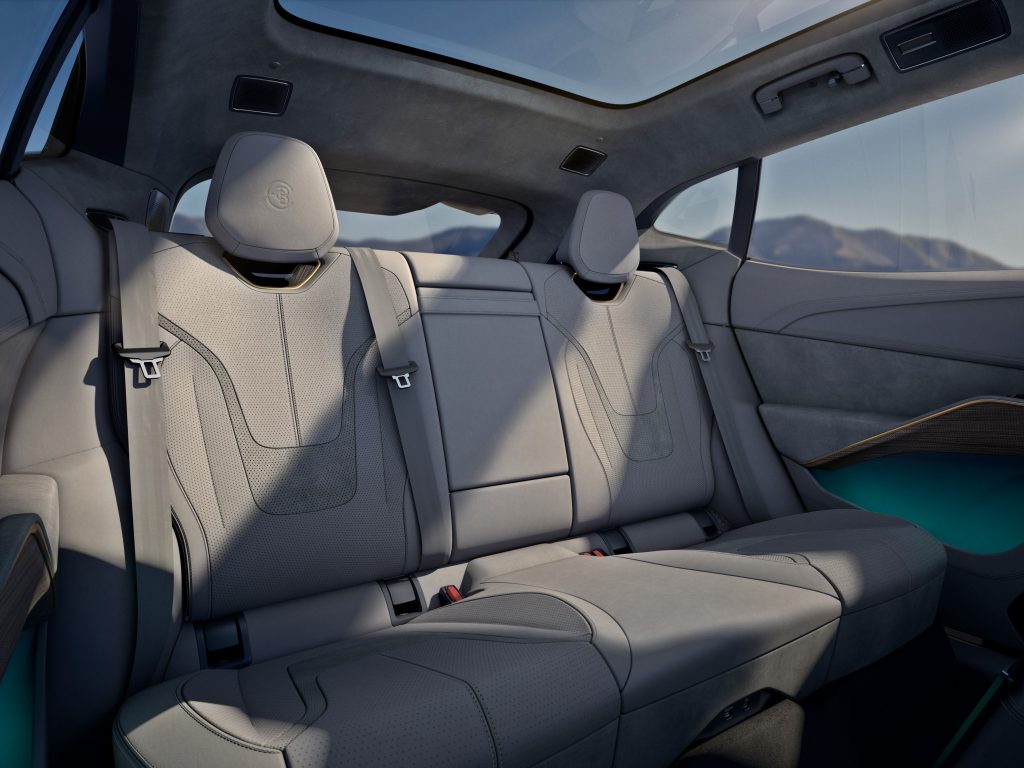 All three versions come with a 5-seat layout, with the optional Executive Seat Pack changing the rear to two individual seats for a 4-seat layout. With both layouts, there's a cargo volume of 688 litres in the boot, expandable to 1,532 litres by folding the rear backrests down. Under the bonnet, a 46-litre compartment provides storage spaces for cables and small items.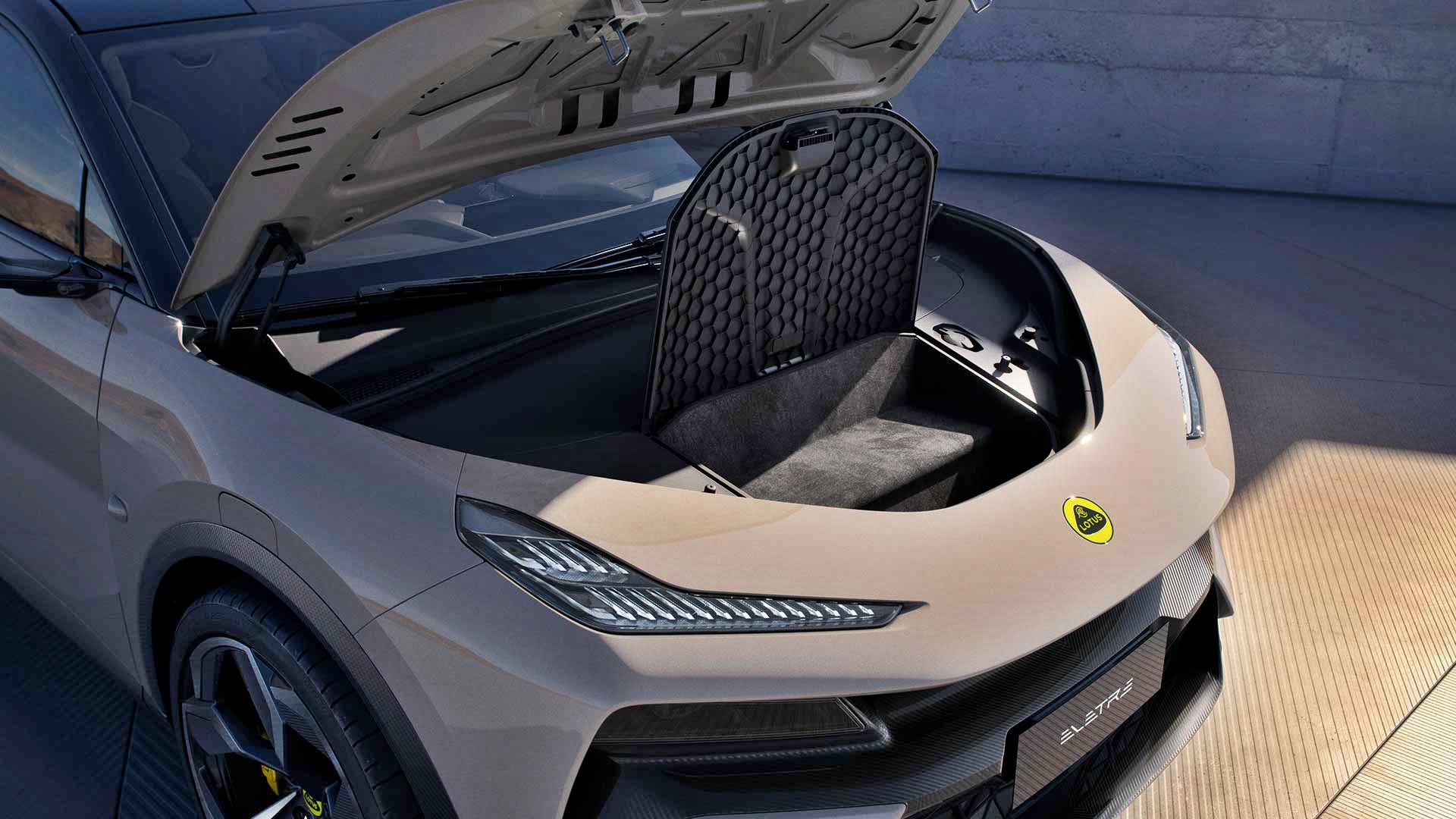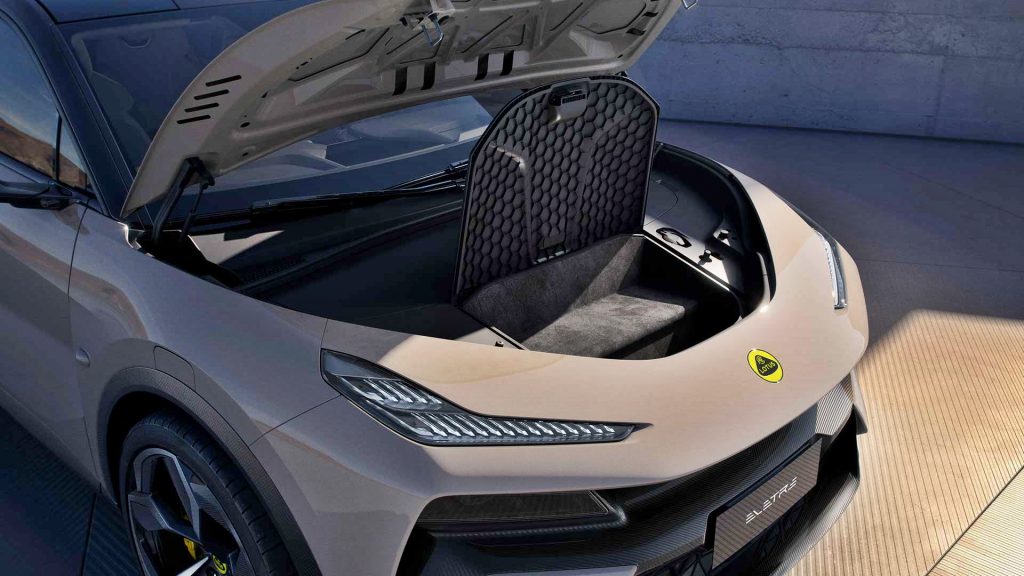 Under a fixed panoramic glass sunroof, the cockpit and high centre console are inspired by the Emira and Evija with the triangular theme seen externally on the grille being replicated in multiple locations around the cabin. The Lotus philosophy of light-weighting – removing material if it's not needed – is clearly illustrated in the instrument panel.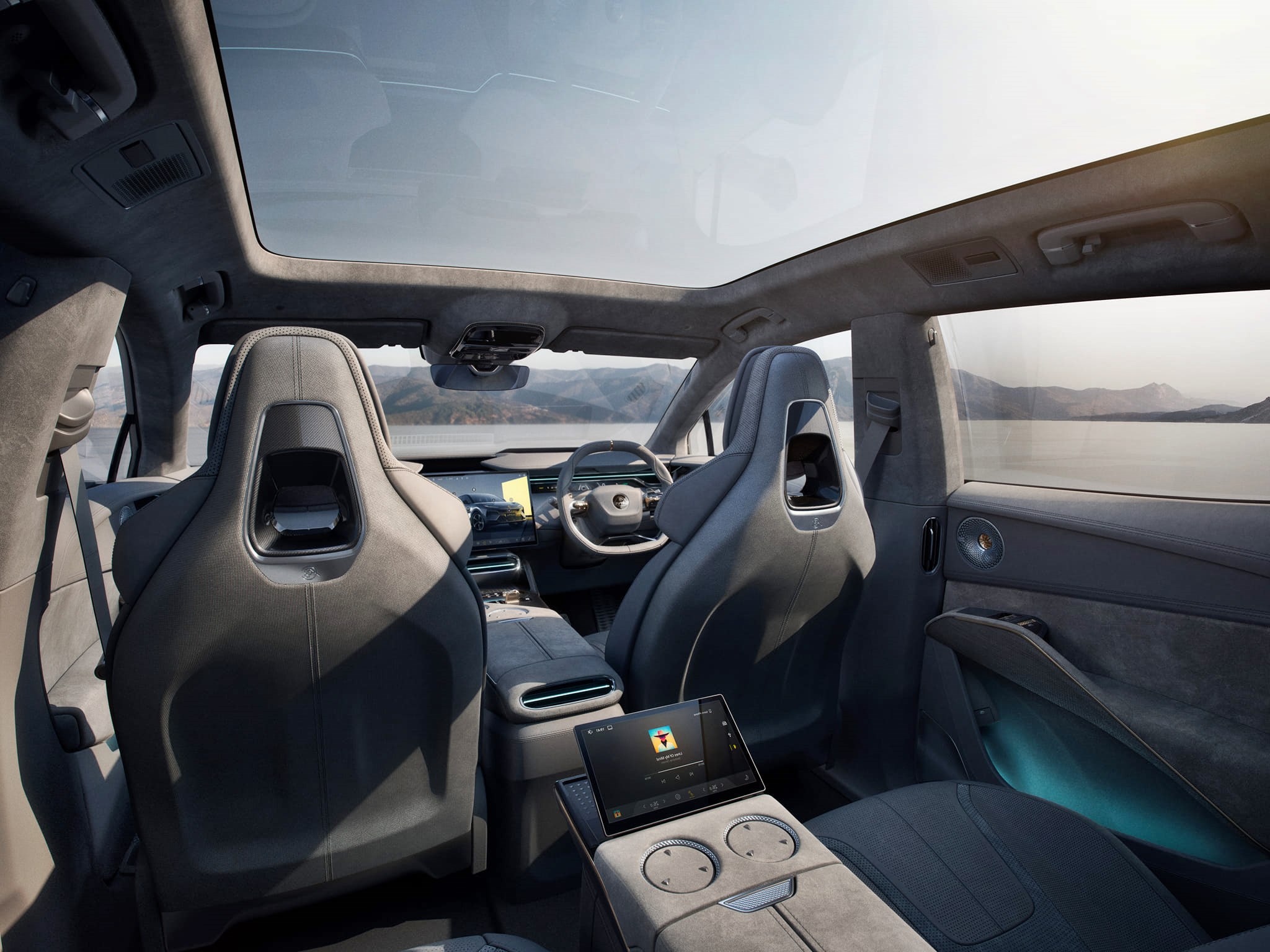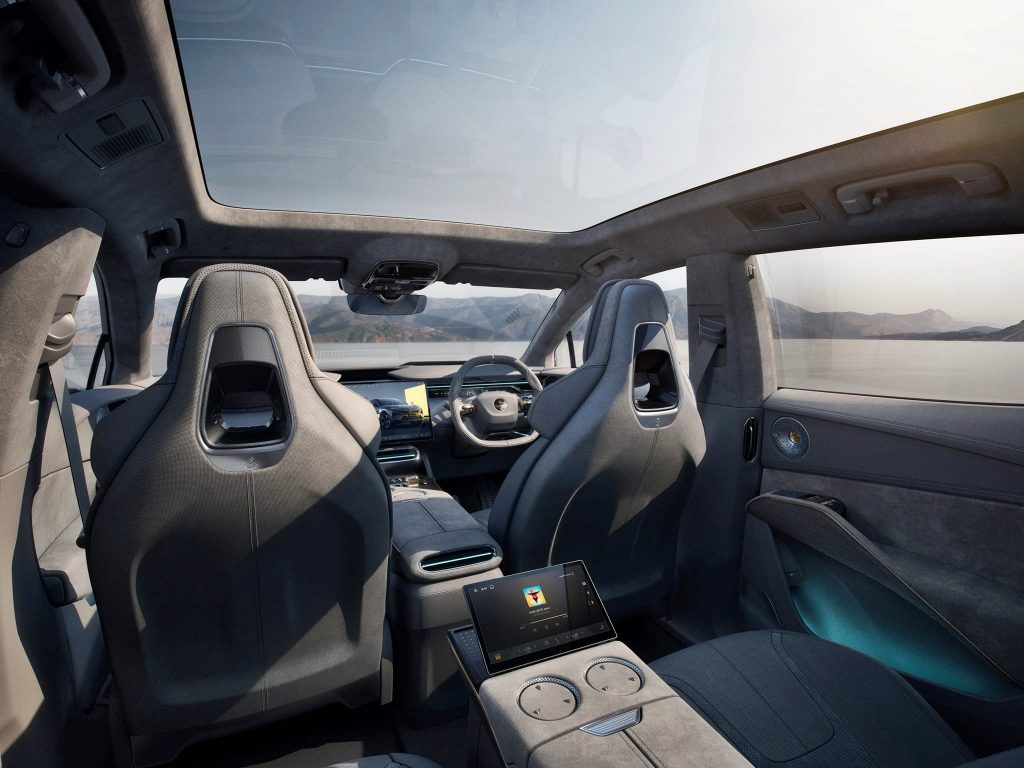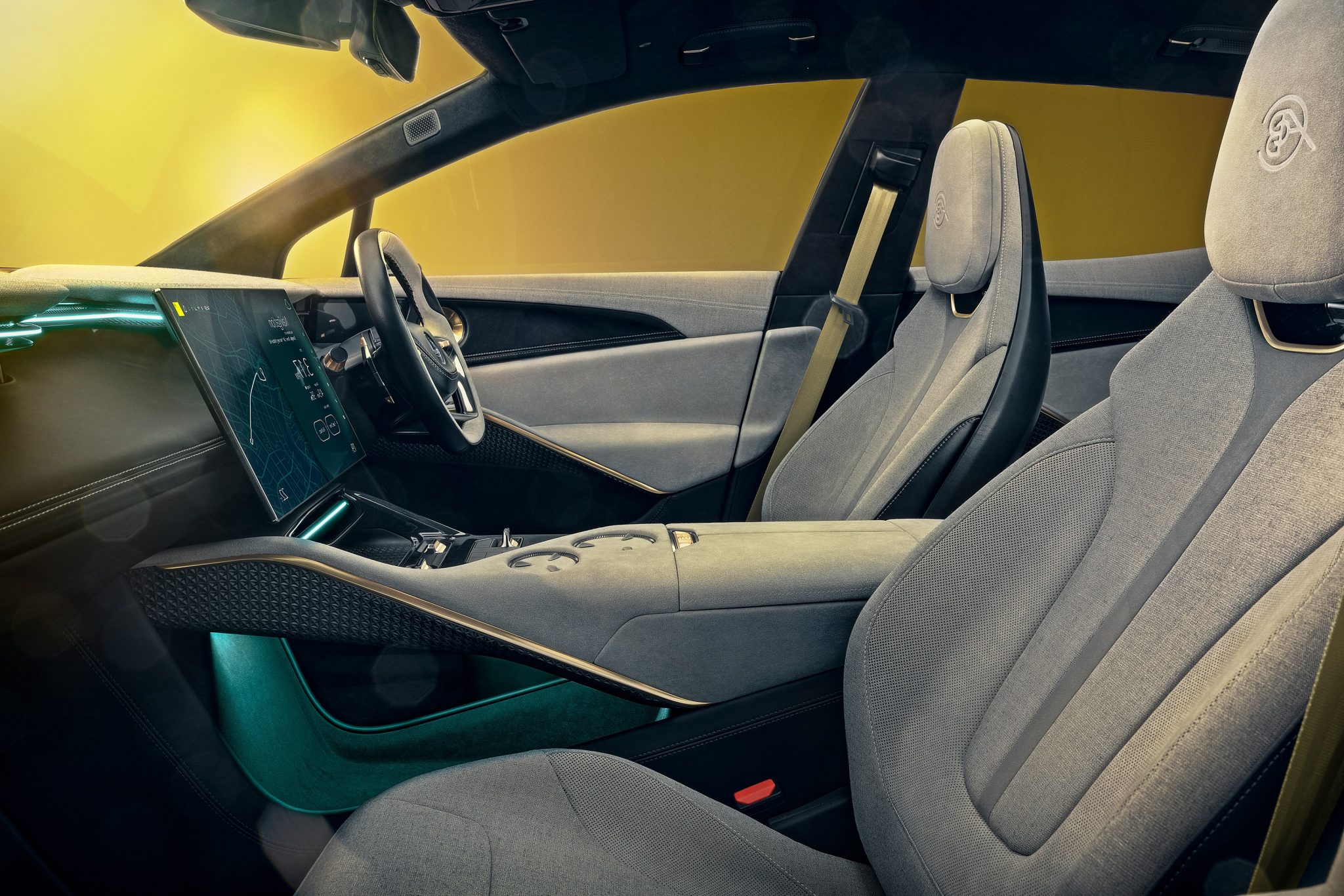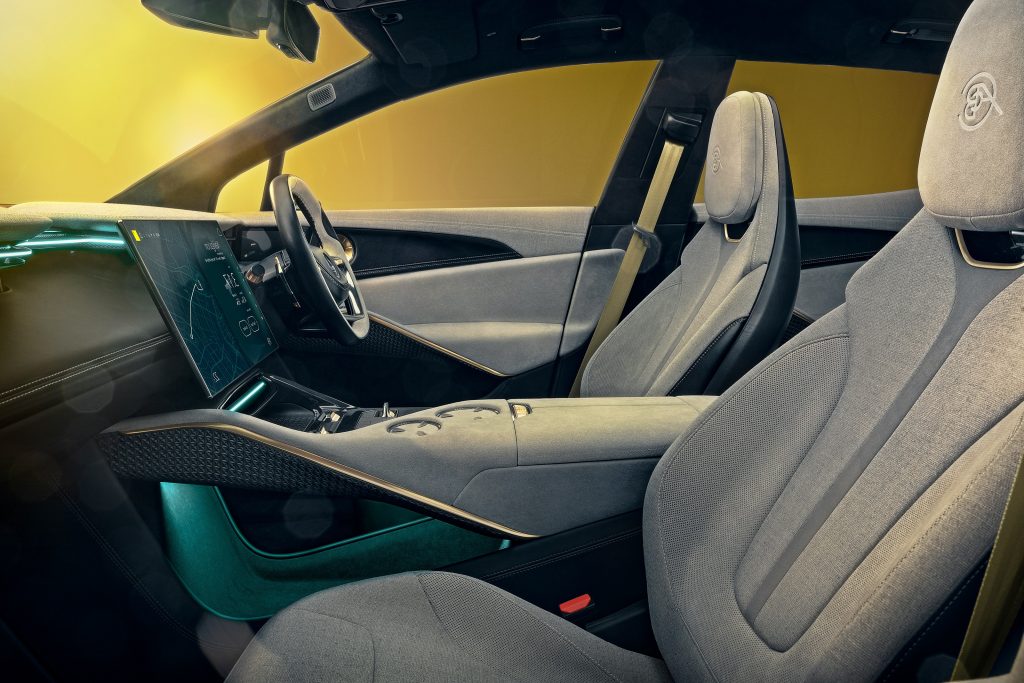 The floating wing's central section has been taken out, echoing the design of the rear spoiler. Below the instrument panel a blade of light runs across the cabin, sitting in a ribbed channel that widens at each end to create the air vents. While it appears to be floating, the light is more than decorative and forms part of the human machine interface (HMI). It changes colour to communicate with occupants, for example, if a phonecall is received; if the cabin temperature is changed; or to reflect the vehicle's battery charge status. Information can also be displayed to the driver via a head-up display featuring augmented reality (AR) technology.
Pioneering intelligent technologies
The infotainment experience is said to set new standards in the automotive world, with pioneering and innovative use of intelligent technologies. It is a collaboration between the design team in England and the Lotus team in China, who have huge experience in the fields of User Interface (UI) and User Experience (UX).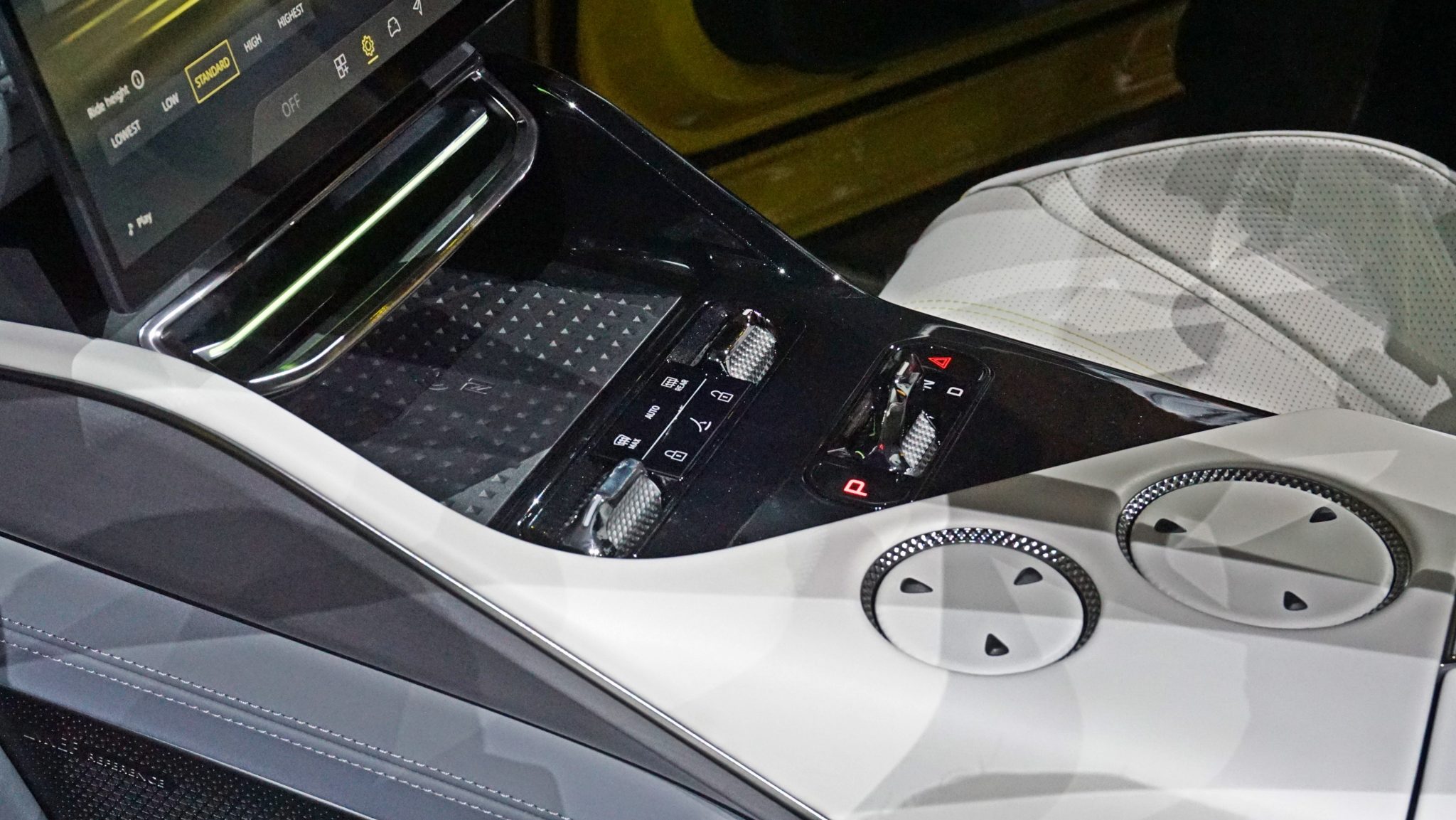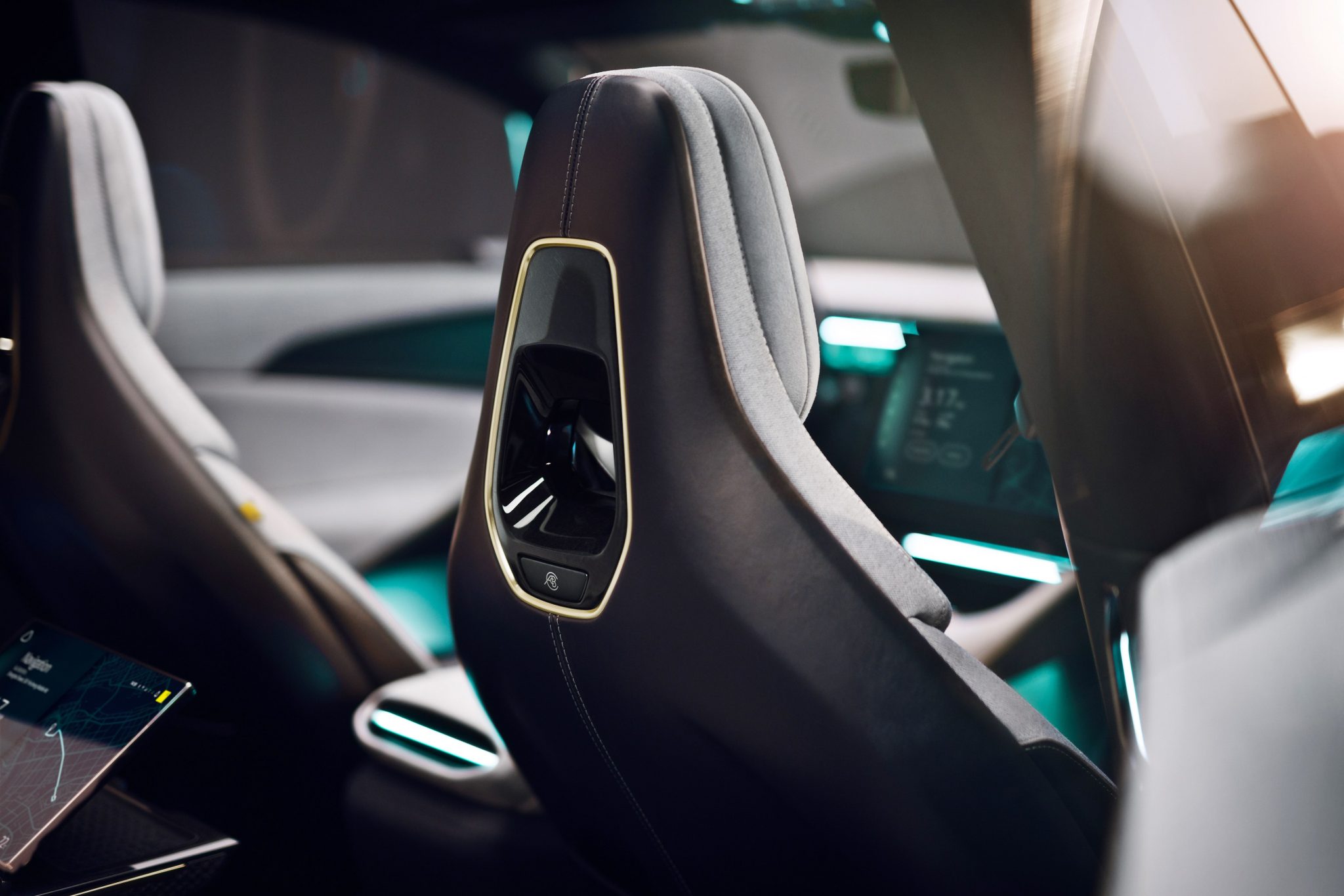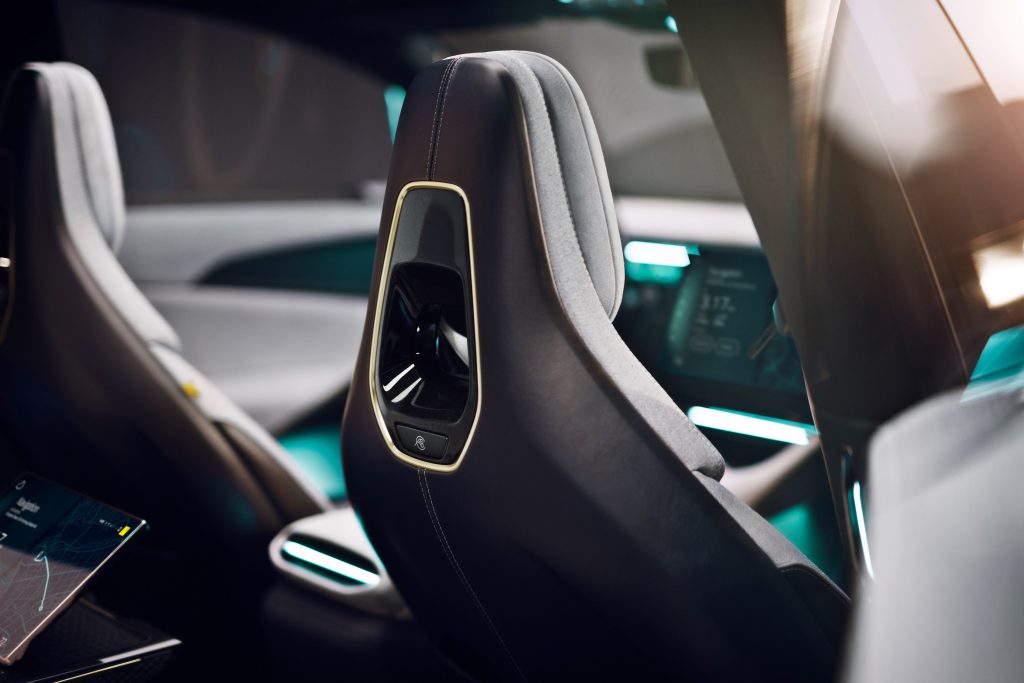 The new Operating System – Lotus Hyper OS – has state-of-the-art server-level processing power from two Qualcomm 8155 System-On-Chips. Next-generation real-time 3D content and experiences are made possible using 'Unreal Engine' technology from the gaming industry. The Eletre also comes standard with 5G compatibility, which enables continuous connection via a smartphone app, and the purchase of new software-enabled features.
The on-screen 3-dimensional world in which the car is viewed, showcases the Eletre as the 'hero' and adopts user experiences from the worlds of gaming and mobile technology. While every element of the Eletre can be controlled digitally, certain key controls are still duplicated with analogue switches.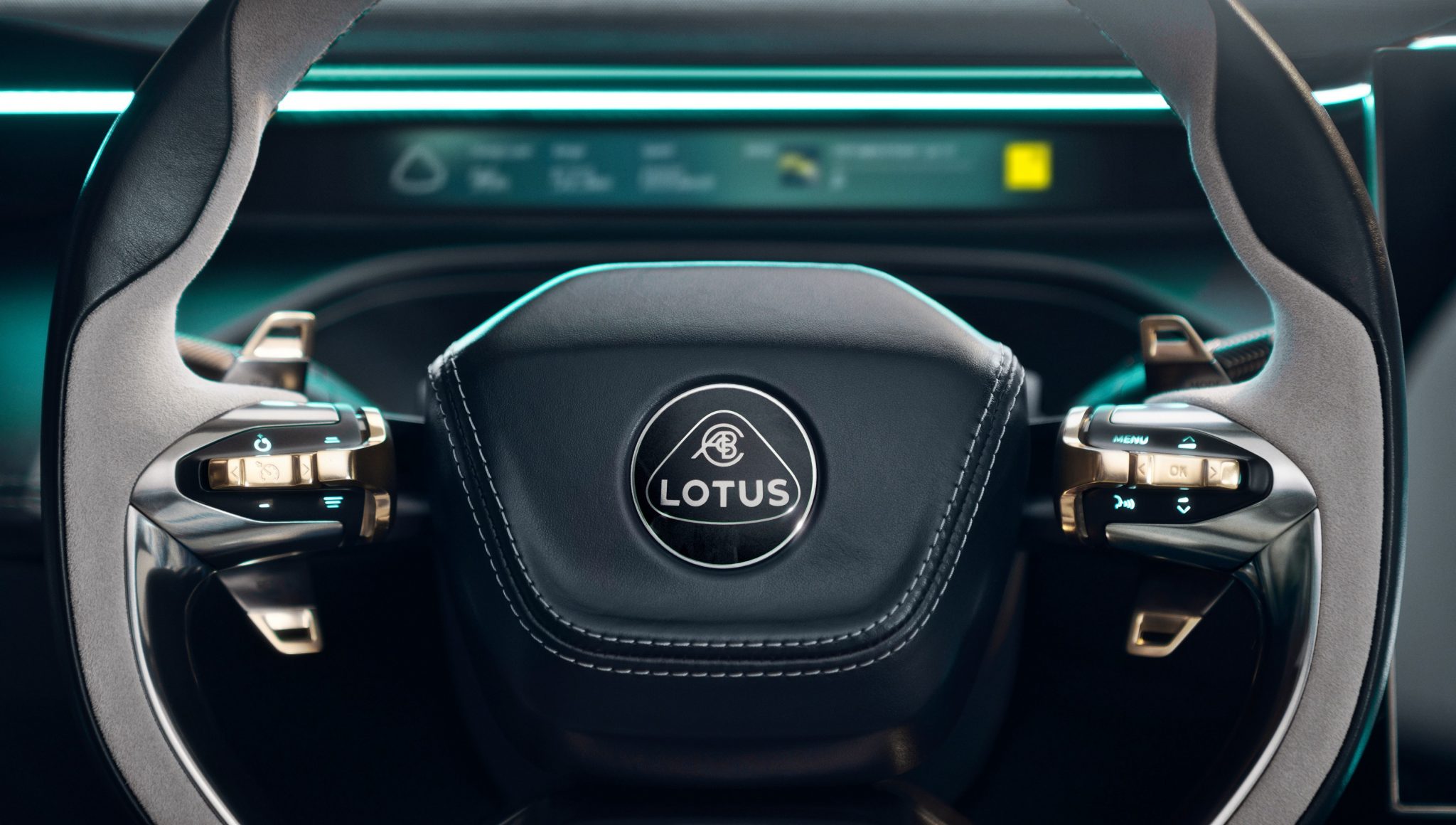 The technical look, compact size and premium feel of the steering wheel is intended to deliver maximum comfort, performance and usability. Visually lightweight, it houses switchgear for the adaptive cruise control and infotainment system.
Technology is used for much more than infotainment on the Eletre. It is also at the heart of the car's comprehensive suite of intelligent Advanced Driver Assistance Systems (ADAS), many of which are designed to be futureproof so new features can be enabled via Over-The-Air (OTA) updates. Several utilise the LiDAR system which supports end-to-end autonomous driving technology and is future-proofed for further development, achievable because of the hardware that's already integrated.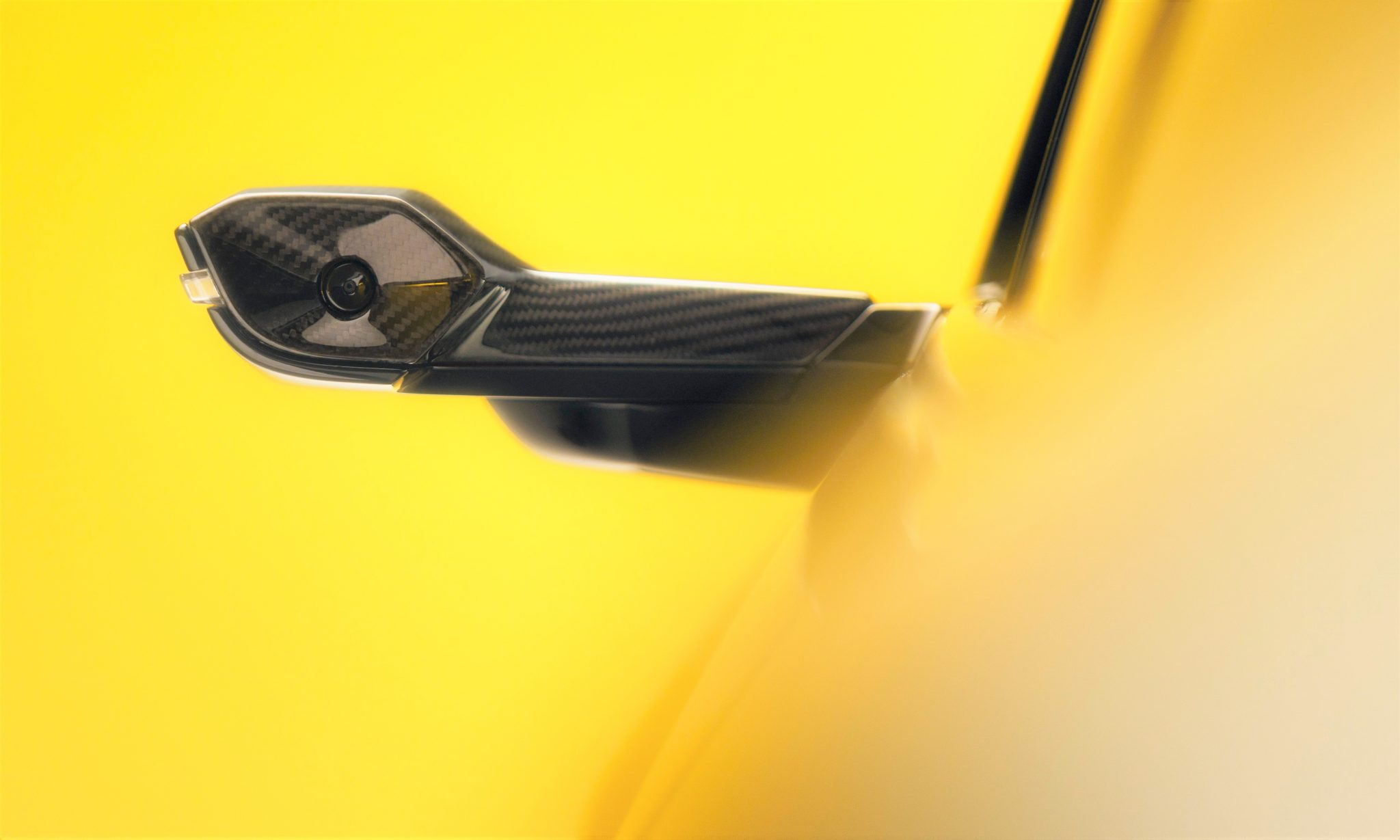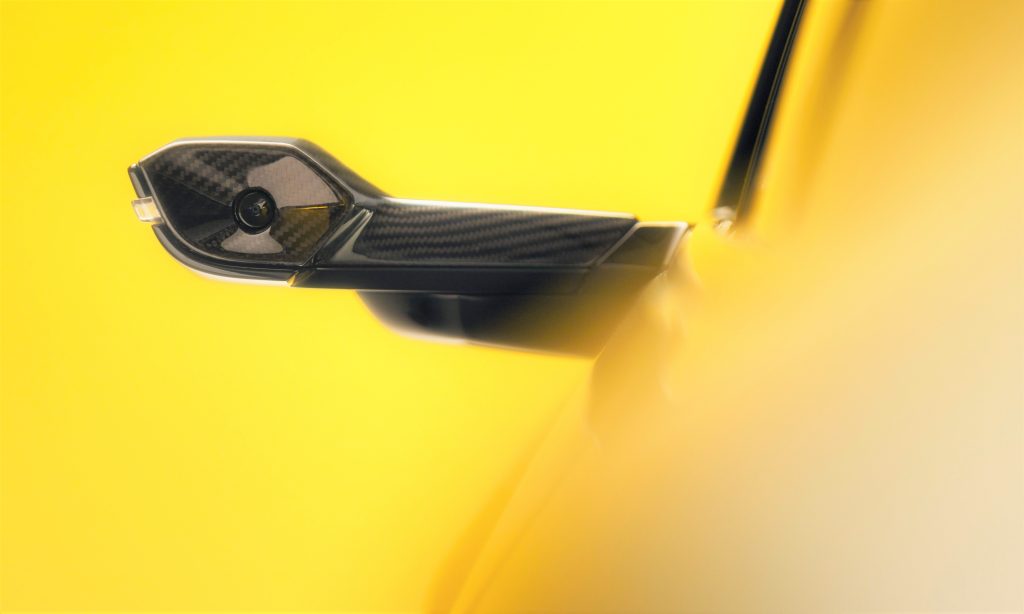 The optional door mirrors are also high-tech and do not use traditional reflective surfaces. Instead, mirror is replaced by an Electric Reverse Mirror Display (ERMD) with 3 different cameras – one for the rearview mirror, a second to help create a 360-degree view of the car from above to aid parking, and a third that's part of the intelligent driving technologies which work in tandem with the LIDAR system.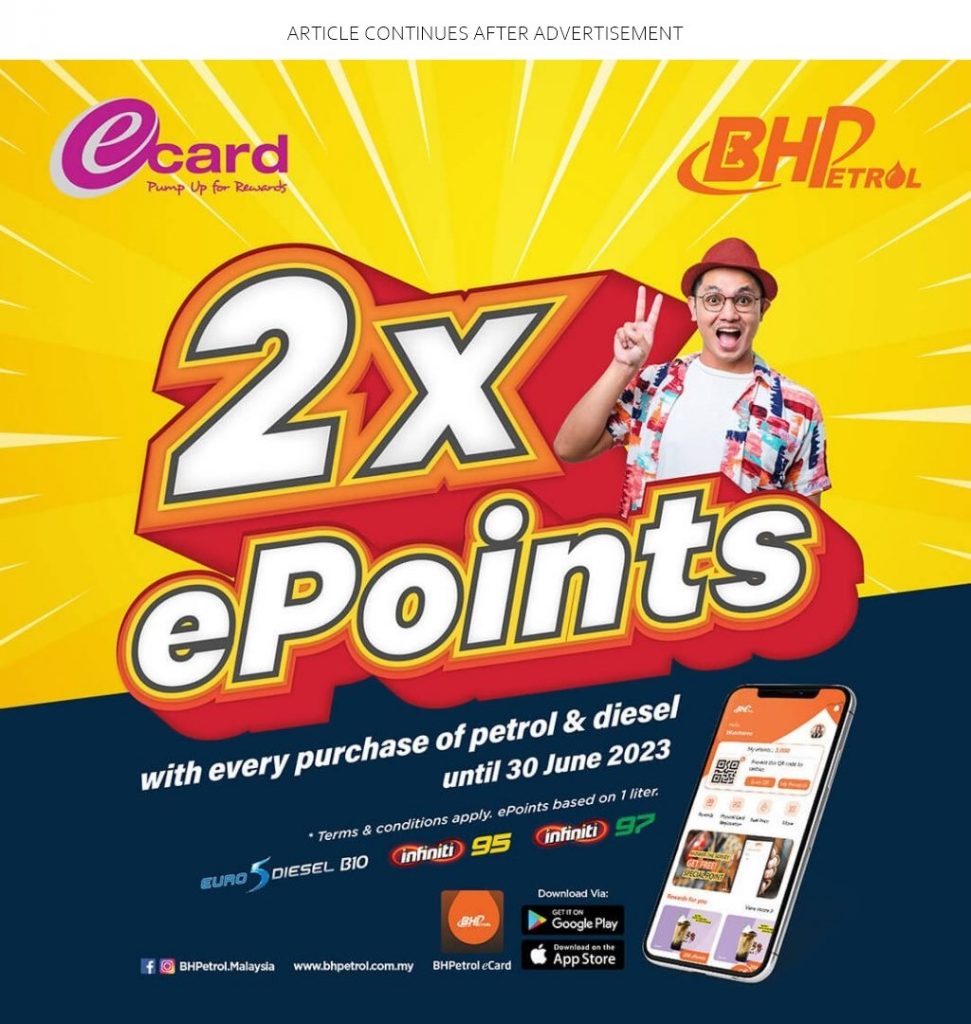 Option packs
All Eletre customers have further opportunities to customise and personalise their cars to their requirements using option packs. Currently available are the Dynamic Handling Pack, Ceramic Brake Pack, Executive Seat Pack, Comfort Seat Pack, Carbon Fibre Pack, Extended Carbon Fibre Pack, Interior Carbon Fibre Pack, Parking Pack and Highway Assist Pack. There's also the possibility of 'mix-and-match' as many options from the packs are also available individually.