The Malaysian police have detained two men for allegedly impersonating police and pursuing a car heading from Singapore to Genting Highlands.
Freeman Gan WT, who was driving his pals to Genting Highlands, posted a video on Facebook showing that the passenger of the car that was pursuing him was holding a blue beacon light. But police officers in reflective vests driving a fourth-gen Honda City with a portable blue beacon light? Freeman could sense that something was off.
In addition to that, the "policeman" at the back was wearing a clown facemask and flashing his torch light! "The car had always been at my back. The driver drove into the R&R station before he caught up with me again," said Freeman.
Freeman made the decision to go on and finish the "race". When Freeman called the police during the incident, they instructed him to head straight to the station. But the men gave up pursuing Freeman.
On June 5, a report containing a video of the event was given to the Kulai police department at about 5:40 am. Two Malaysian men, aged 43 and 48, were detained by police around 6pm on June 5 as part of an operation, according to confirmation from Johor police chief Kamarul Zaman Mamat on June 6.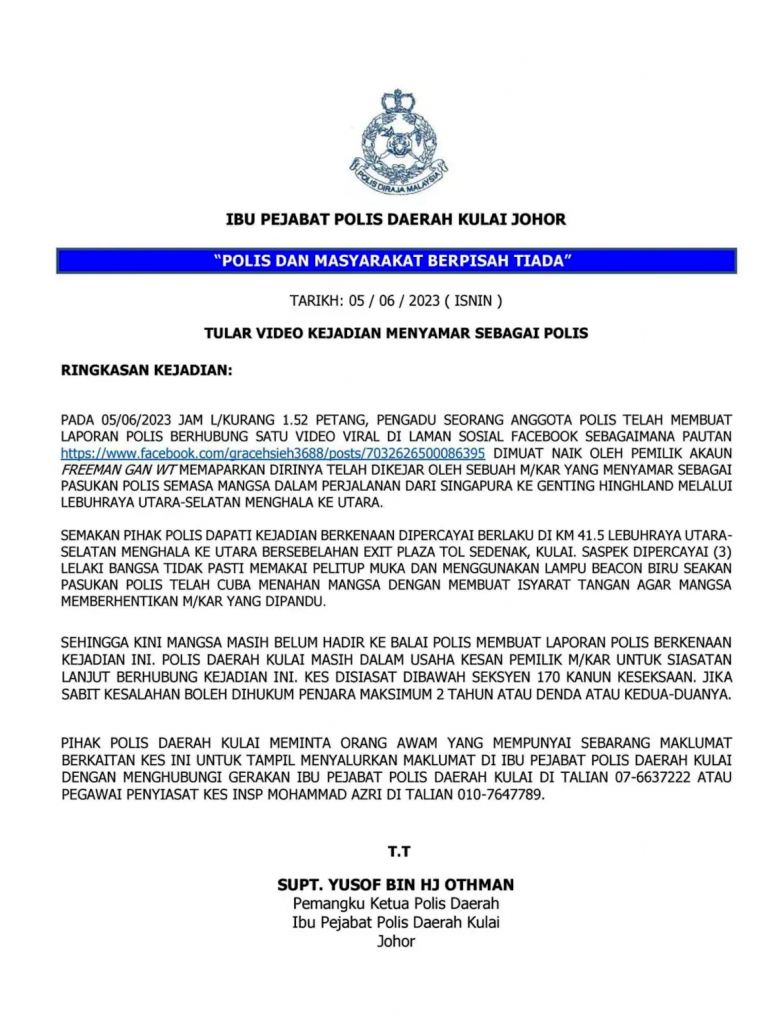 According to police records, it was also discovered that one of the two individuals who had been detained had previously been convicted of drug-related offences.
A variety of things, including a headlight, a torch, a luminous vest, and a portable beacon light, were taken from the Honda City that was seized by the police.
If they are also charged under the Customs Act, they may be jailed between six months and five years and fined as It's a criminal offence to impersonate a police officer.
Although a third individual is thought to have been in the car with the two who have been detained, it is unknown if a third arrest has been made.
If you ever find yourself in a similar situation, hit the gas and find your way to the nearest police station. Do not stop if you feel suspicious about these things as it could end badly.