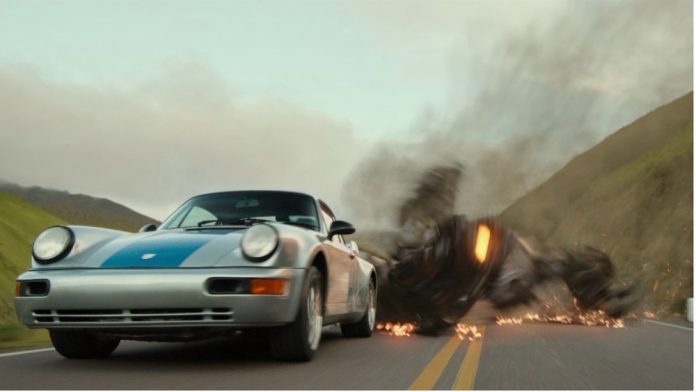 Transformers: Rise of the Beasts will take audiences on a '90s globetrotting adventure with the Autobots and introduce a completely new faction of Transformers, returning to the action and spectacle that have captivated moviegoers across the world.
According to Porsche, it chose to collaborate with Paramount on this movie and was given some input over the particular model selected for the character of Mirage (played by Pete Davidson). Therefore, it picked one of the most remarkable and uncommon examples it could.
Given that the film is set in the 1990s, it is fitting that the company chose a 964-generation vehicle, even if most spectators would have been satisfied with a normal 911. Porsche, however, went all out casting the 911 Carrera RS 3.8 as the Autobot Mirage.
The 1992 introduction of the Carrera RS was followed by the even hotter 911 Carrera RS 3.8. It made 250 hp, weighed roughly 155 kg less than the standard Carrera 2, and was based on the company's Cup Car at the time. It also featured a stiffer suspension. Porsche's machinists, on the other hand, had their way with the engine for this particular model, changing the 3.6-litre engine into a 3.8. This enabled the Carrera RS 3.8 to produce 300 hp.
However, only 55 units of the car were ever made and it was only sold in Europe. Therefore, no original model was utilised in the movie to avoid the chance of damage. Instead of risking the destruction of a genuine original Porsche 911 Carrera RS 3.8, five camera cars that appear just like the real thing was made.
These vehicles were altered to do stunt sequences, go backwards faster than a conventional automobile, and had controls outside the vehicle so that performers could be filmed without having to operate the vehicle themselves. Now you know why Porsche did not want to use an original vehicle for that.
Fortunately, the production firm insisted on the accuracy, so just because a real 911 Carrera RS 3.8 isn't visible doesn't mean one wasn't utilised in the movie. In fact, a real example of the car was used to record the roaring engine noises for the movie.
So if you gearheads are excited to see this legend on screen, you can do so as Transformers: Rise of the Beasts is currently playing in theatres.