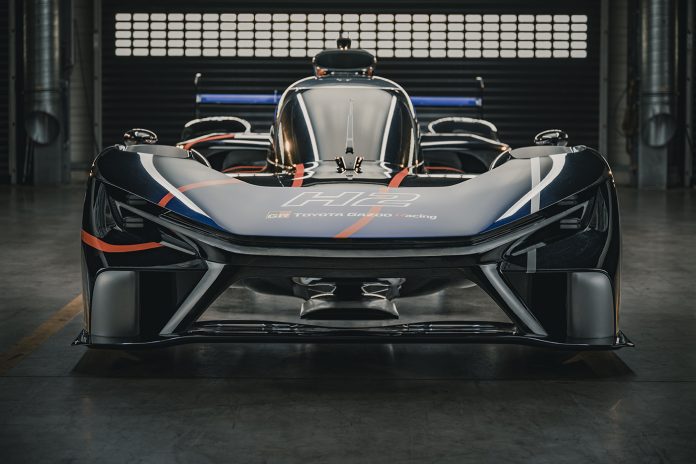 Toyota has dominated the Le Mans competition, winning 5 straight races between 2018 and 2022. And for 2023 the manufacturer has unveiled a brand-new hydrogen-powered concept before the start of this year's 24-hour race that was created "with future competition in its sights."
The prototype was introduced at a press conference held by Automobile Club de l'Ouest (ACO), the organisation behind the Le Mans 24 Hours. It was motivated by the ACO's recent declaration that it will permit hydrogen-engine vehicles to participate in a category separate from fuel-cell electric vehicles.
In terms of the powertrain's specifics, Toyota only said that it combines a hybrid system and a hydrogen engine. It should be noted that the GR Corolla racecar, which has been running in the Super Taikyu Series since 2021, is equipped with a hydrogen-fueled version of the 1.6-litre three-cylinder turbocharged engine, however, this one doesn't receive electrical assistance.
The GR H2 Racing Concept measures 5,100mm long and 2.050mm wide and this makes it slightly longer and wider than Toyota's LMP1-H Le Mans Prototype, which is 4,650 mm long and 1,900 mm wide.
"Le Mans is a place we can push boundaries and realize the future. My goal is to reach carbon neutrality without compromising the speed or excitement of racing. I wouldn't invest in this technology if I didn't think we could win with it… Hydrogen is not just about zero emissions but a truly exciting technology: it delivers sound, torque, and dynamics. It is all of these things," Akio Toyota said during the concept car's debut.
It goes without saying that Toyota is continually working to create more energy-efficient cars, and the company is already anticipating the upcoming thrilling challenge offered by the 24 Hours of Le Mans.
On the Malaysian front, the company is committed to introducing its first electric vehicle in the form of the bZ4X. Read about it here.