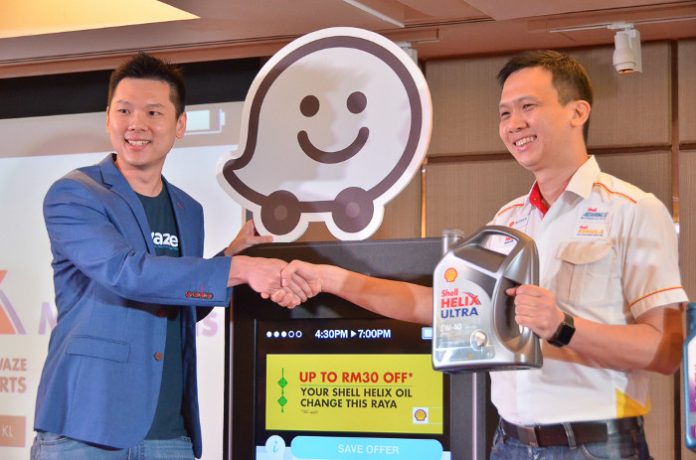 Shell Lubricants Malaysia's Shell Helix, has partnered with the mobile navigation app, Waze, to make driving home this festive season, a little bit safer. From 16 May to 15 July 2017, those using the Waze app will receive special alerts courtesy of Shell Helix about accident-prone areas during their travels.
So far, the partnership has identified 50 spots that are considered accident-prone areas. The app will infrom Waze users nearing said areas with an alert in the App, urging road users to be extra cautious while driving through these areas. This will lend a helping hand to road users and should some-what help relieve their worries while making the long journey home this festive season. According to Shell, the alerts should be displayed when the vehicle is 'stationary to avoid any further distractions'.
Speaking of the newly added feature within Waze, Shell Lubricants Malaysia and Singapore, Marketing Manager Alex Lim, said, "This cooperation with Waze reflects our desire to take our commitment in road safety to the next level by engaging drivers in real-time. We are delighted to work with Shell Helix to launch this initiative that reminds drivers to stay extra safe. By reducing crashes, we also reduce traffic jams and this benefits everyone."
As an added bonus this festive season, Shell will be offering a special oil change discount during the pre-peak travel period at selected Shell stations and Shell trade partners across the country. A unique promo code will be displayed in the Waze up, which the app user can use at said Shell outlets to redeem a RM30 discount on the cost of an oil change service at participating Shell Helix branded workshops and retail stations' Lube Bay service outlets.
Shell's initiatives this festive season should help reduce congestion and vehicle breakdowns as well as help Malaysians get to their destinations safely.