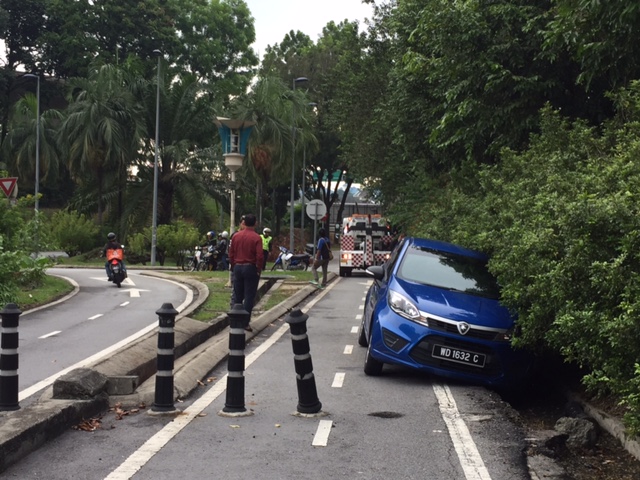 Our sister site, BikesRepublic.com published an article where it was reported that a Proton Iriz owner had ventured into the motorcycle lane of the Federal Highway and ended up in a bit of a pickle near the Mid-Valley-Puchong section.
We aren't too sure whether this was an honest mistake or a deliberate attempt by the driver to bypass the infamous daily Federal Highway bumper to bumper crawl. And it's still unclear what exactly transpired that led to the car ending up wedged between a drain and the adjacent parapet.
It's possible that the car may have lost traction, veered of the road and ended up with its left tyres in the ditch. Or it could have been equally likely that, the car wound up there due to the driver's lapse in judgement whilst attempting to maneuver past the bollards.
Either way, this wouldn't be the first time that a four-wheeled vehicle has entered an area that is essentially designated for two-wheelers. Such a move is usually attempted by errant drivers who try to 'cut queue' or beat the traffic jam completely in an attempt to shave significant time off their daily commute.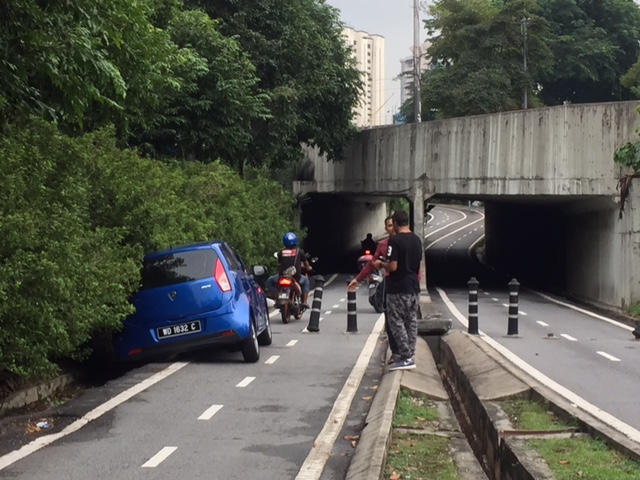 Though this might come as news to many car drivers, the motorcyclist lanes on the Federal Highway are considered unsafe by many road users due to the many hazards along the way, which include flooding, poor visibility and road surfaces that have degraded to an unsafe level. Many motorcyclists and media outlets have been quite vocal about this, and we hope that the authorities take appropriate measures to ensure that steps are taken to improve the road conditions there.
As the Raya holiday season approaches, we here at Piston urge our readers to exercise caution while on the road. Leave the shenanigans of speeding and racing for the racetrack and instead, drive within the speed limit at all times. For more tips on how to prepare your vehicle for the journey home, click here.