Just before the start of Ramadan, Edaran Tan Chong Motor (ETCM) organised a drive for fellow Malaysian motoring media members to test out their latest 2019 Nissan X-Trail Facelift. The destination? How about the world's oldest rainforest of Belum, Perak?
We were given the opportunity to test out two of highest variants available from ETCM which are the 2.5L 4WD and the latest addition into the current X-Trail line-up, the 2.0L Hybrid. We were thoroughly excited to see what these SUVs are capable of and we were genuinely surprised by how well they perform even with a few quirks here and there.
The first leg of the journey was covered in the 2.5L 4WD model where it came with a host of upgrades both inside and out. Just to show you how much ETCM has improved their current Nissan X-Trail line-up, here are all the specifications on all four models.
The red dots are all the new features and from our point of view, that's more of a huge upgrade rather than a modest facelift. New features across the range, same prices on offer. Good job, Edaran Tan Chong Motor.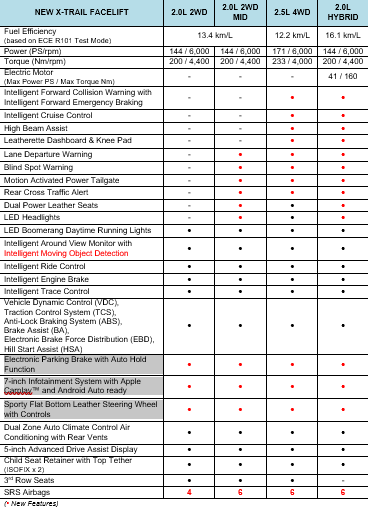 First and foremost, the exterior look has been further enhanced with the additions of a few visual upgrades like:
New V-Motion front grille
New front bumper design with LED Boomerang DRLs and headlights
New smoked LED Boomerang tail lamps
New rear bumper with a touch of classy chrome
New 17-inch alloy wheels
Stepping into the car also feels a bit more premium now with quite a few new additions into the mix. We're talking new sporty flat bottom steering wheel, dual power leather front seats with 'Zero Gravity' inspired technology, new Advance Drive Assist Display (ADAD), plus many more.
Driving on open roads and highway felt quite comfortable. The seating arrangements and ergonomics provided a comfortable drive throughout our 2-day journey. The Zero Gravity front seats did play a major part in that, but we felt that it could've been more comfortable if they had an adjustable extended seat feature to support those with longer legs.
We were also given the opportunity to test out the X-Trail's latest safety feature under the Nissan Safety Shield 360 which consists of:
Intelligent Forward Collision Warning with Intelligent Emergency Braking
Intelligent Cruise Control
High Beam Assist
Lane Departure Warning
Blind Spot Warning
Rear Cross Traffic Alert
The Intelligent Cruise Control feature assists the driver in offering a safer drive using advanced radar technology to monitor the flow of traffic. Cruising on highways allow for much more controlled cruise control experience where the new Nissan X-Trail Facelift was able to speed up, keep pace, and slow down very well judging by real-time traffic conditions.
It's definitely a step up in terms of safety offered by Nissan. It does take some time to get used to as the car revs up slightly higher than you would normally drive in order to get back up to the set speed after slowing down. Not much complaints from our side as the feature is better if we have it rather than not having them at all.
The 2.5L 4WD has been tuned to produce around 170hp at 6,000rpm and 233Nm of maximum torque at 4,000rpm. Good performance overall with outstanding fuel consumption rates as low as 12.2km/litre. That translates to around 700km of travelling distance for each full tank of fuel.
Driving the 2.0L Hybrid offered even higher fuel efficiency at 16.1km for every litre of fuel. This means that the Nissan X-Trail Hybrid can travel above 900km for every tank of fuel. A premium and comfortable SUV with driving distance capability of a diesel-powered pickup truck? Yes, please.
On another note, driving the Hybrid variant will probably need some getting used to especially on the feel and feedback of both the steering and braking. The Nissan Intelligent Mobility which consists of several key components such as Intelligent Trace Control and Intelligent Engine Brake are worth the money but with new technology comes new driving experience.
The steering feel of the Hybrid model felt a bit too responsive especially in corners. This is due to the car's Intelligent Trace Control where it is able to brake each wheel individually and help will smoother cornering performance and stability.
The braking performance, especially the braking pedal feel felt a bit 'spongy'. This is also something that consumers need to know, feel, and understand as the brakes are connected to the electric motor and will collect energy upon braking to charge the batteries.
Needless to say that the car's Intelligent Dual-Clutch System worked like a charm in providing the right amount of power whenever you need it. The electric motor alone adds an extra 40hp and 160Nm of instantaneous torque for better acceleration and overall power delivery.
All in all, the new 2019 Nissan X-Trail Facelift is indeed a much better version from the previous offering. Calling it a 'facelift' model doesn't do enough justice considering all the new features now made available with better driving experience and safety upgrades.
Priced from RM133,888 to RM159,888, there's no price differences from what was offer before which also means a much better deal at the same price range. Good job, Edaran Tan Chong Motor.