Human interaction has continuously changed over time but now the change has accelerated as a result of the COVID-19 coronavirus pandemic sweeping the world. We now have to be conscious of social distancing – standing at least a metre apart – and be aware that even shaking hands can be risky as the virus can be transmitted.
Fortunately, we have technology to help us with the changes we must make socially and also in the business world. The ability to connect is still present and in the business world, chatbots have been an integral component of customer engagement for airlines, healthcare, telecommunications, retail, financial services, F&B as well as the news media.
PLUS Malaysia Berhad's 'PUTRI' or PLUS Texting Realtime Interface is one such example, and it can be considered the highway industry's first ever chatbot. PUTRI is designed to interact with PLUS highway customers and over time, the interactive conversations through its Artificial Intelligence and Machine Learning model will allow PUTRI to handle over 70% of the 1,500 calls which PLUS Traffic Monitoring Centre (TMC) receives averagely daily. The majority of the calls are request for standard highway information, which a chatbot can answer right away.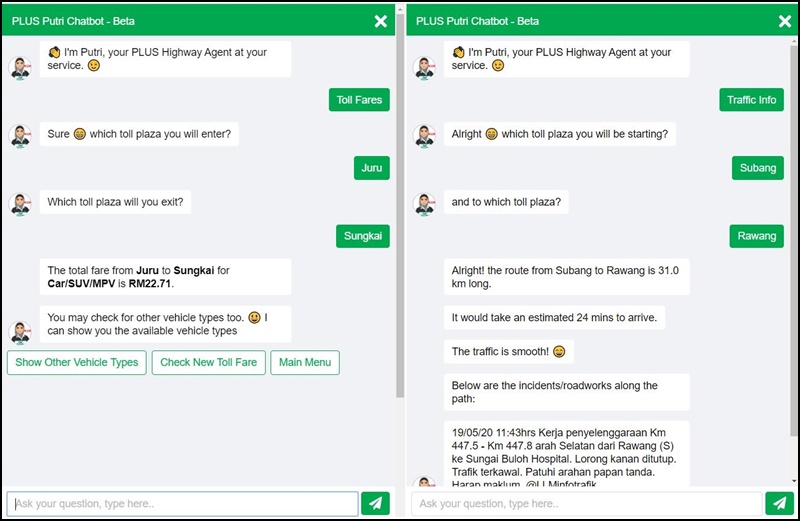 With PUTRI's support, PLUS TMC service levels can be enhanced by allowing the personnel to focus more on emergency calls, and conduct speedier and swifter coordination to assist customers in distress during traffic incidents. The PUTRI Chatbot is easily accessible and more convenient as it provides better speed in providing responses and could reduce the waiting period for callers.
"The COVID-19 pandemic has undoubtedly accelerated our lives to become more digitally dependent and tech-savvy. The increase of bandwidth usage in the country and the world over is a sure sign that we are embracing the use of more gadgets and the communication experience is today more robust. Hence, our PUTRI will provide real time interface to the thousands of enquiries on straightforward highway information," said PLUS Chief Technology & Innovation Officer, Shamsul Izhan Abdul Majid.
"PUTRI will be able to attend to multiple and simultaneous queries pertaining to PLUS highway service, toll fares, real-time traffic information, inquiries on PLUSMiles, product, facilities, promotions as well as events," he added.
PLUS highway users can interact with the Beta version of PUTRI throughout the current public pilot phase (launched April 27 2020 on the PLUS website) and the PLUSMiles portal, as well as since  May 11 for the PLUS Mobile App. It will soon be available on social media platforms and WhatsApp applications with bilingual capability.
Between and the full completion date during the third quarter of 2020, PLUS invites users to interact with PUTRI and provide feedback which can assist the development team to identify issues and work on solutions to enhance its technical capabilities.
PLUSRonda celebrates 30 years of service to highway travellers