Until the Ford Ranger came along in the 1990s, the pick-up truck was viewed as just a workhorse machine with minimal safety features. Then Ford decided that, rather than develop an 'Asian Car' based on a passenger car, it would instead make a truck its 'Asian Car'. After all, it had decades of experience making trucks, especially for the US market, the home of pick-up trucks.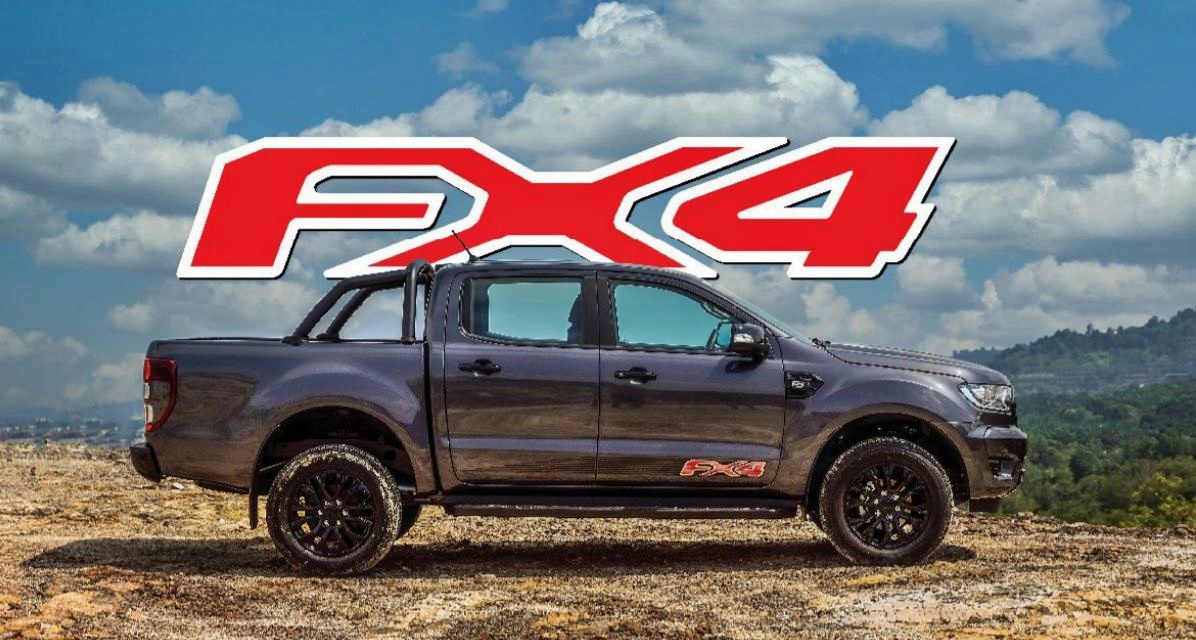 The carmaker built a huge new factory in Thailand with an investment of US$500 million to make the Ranger, primarily for the ASEAN market but with a longer term plan of becoming a global production hub for the model. In fact, by the beginning of the 2000s, the Ranger was being exported to over 100 countries and becoming a popular choice.
That it won awards in regions as different as Europe and ASEAN showed that it was a product which could meet a broad spectrum of customers' needs, whether for personal transport or for business and heavy-duty work. And last year, the Ranger was also introduced in the US market as well.
Game-changer in truck segment
'Built Ford Tough' has been a strong point of the Ranger but the other reason for its popularity has been that it has been a stylish pick-up. In fact, the first Ranger was a 'game-changer' and influenced other carmakers to make their equivalent products more comfortable and more stylish. And Ford also made safety a high priority, introducing increasingly advanced safety systems with smart technology to protect the occupants.
The current range in Malaysia is perhaps the widest ever, with a choice of engines and variants to suit just about every requirement. At the top is the Ranger Raptor, a muscular-looking truck with performance that matches its looks. Today, Sime Darby Auto ConneXion (SDAC) has added a brand new variant – the Ranger FX4 – which is the first pick-up truck to be launched online in Malaysia.
"The New Ford Ranger FX4 is designed for customers who are looking for a truck with a lot more attitude, and those who take their truck on adventures while making use of its best-in-class towing and payload capabilities," said Syed Ahmad Muzri Syed Faiz, MD of Sime Darby Auto ConneXion. "It truly is an uncompromised truck for the adventure seeker, and its addition to our line-up of nine variants in Malaysia further reinforces the Ranger's versatility as a vehicle to suit every lifestyle."
"Given the current COVID-19 situation, this online launch of the New Ford Ranger FX4 is appropriate in ensuring the continued social distancing guidelines outlined by the government," added Tuan Syed Ahmad Muzri. "In an increasingly digital age, it is also in line with our strategy to innovate on ways to bring new experiences to consumers online. We are proud to be the first pick-up truck brand in the country to launch a new model digitally on two live platforms."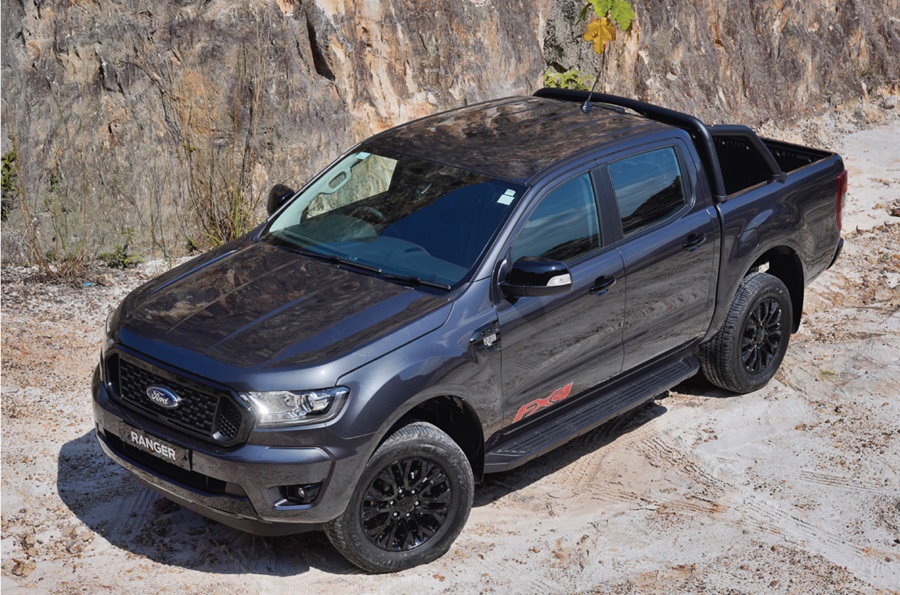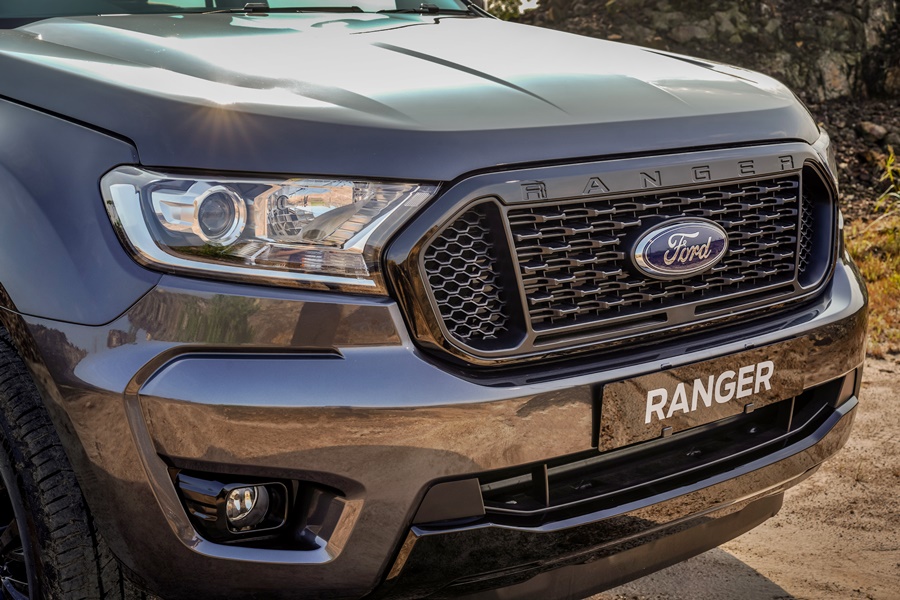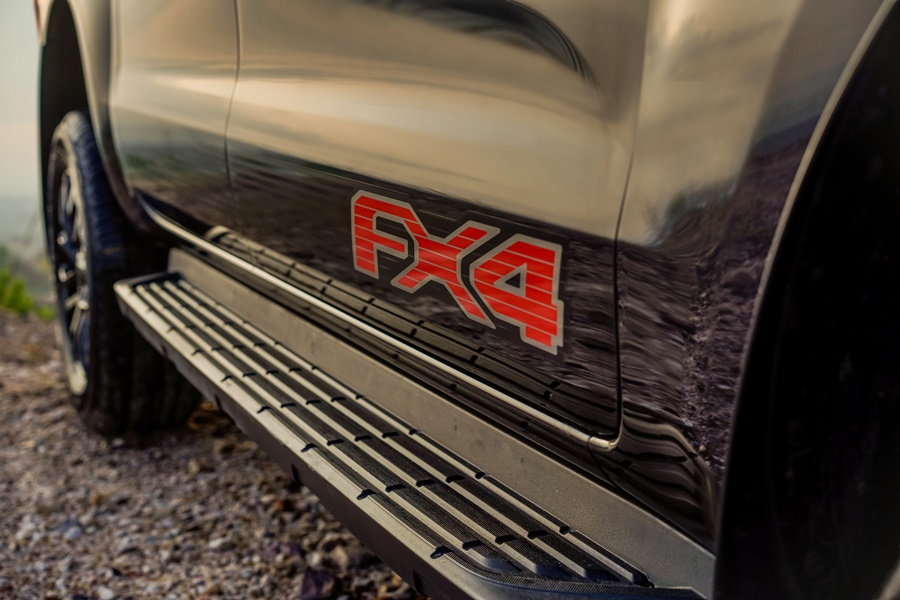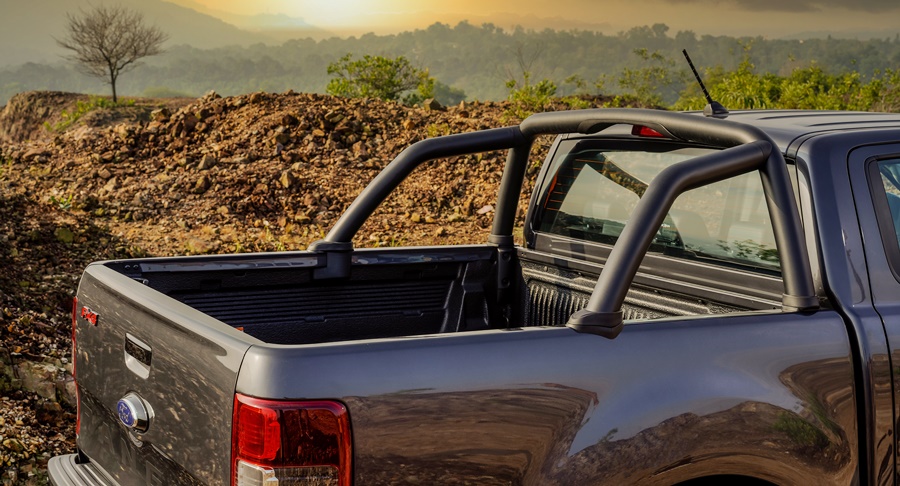 While maintaining the tough and rugged image of all Rangers, the FX4 gains its own identity too with styling features based on a black theme. There's a new ebony black mesh front grille and the 18-inch alloy rims are also finished in gloss black. The sports bar is also finished in matte black and if you are one of the first 150 buyers, it is provided free of charge.
Three colour choices are available and if the dark shades of Meteor Grey and Absolute Black don't appeal to you, there's also Arctic White which has a strong contrast between the black elements and the white bodywork.

Muscular engine with VGT
Powering the FX4 is a Ford 2.2-litre 4-cylinder diesel engine with a Variable Geometry Turbocharger (VGT). The VGT enhances the engine's efficiency by varying boost according to conditions so that optimum output is available all the time. At peak, there's 160 ps available with 385 Nm of torque continuously available from 1,600 rpm to 2,600 rpm. That means strong pulling power from standstill with the ability to also sustain high cruising speeds.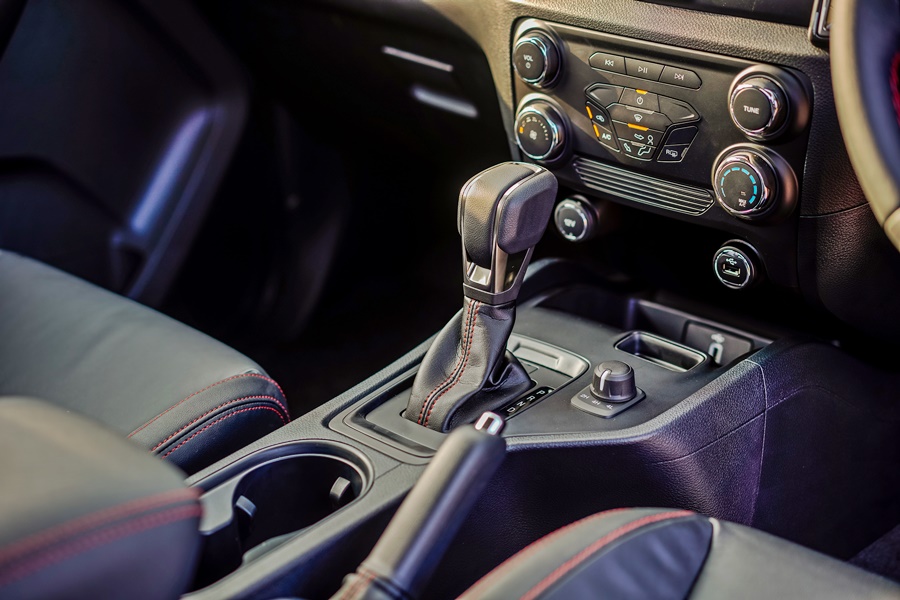 The power flows through a 6-speed automatic transmission with High and Low ranges to maximise the off-road capabilities of the FX4 while also giving smooth and economical running on highways. In the older trucks, it was necessary to stop the vehicle when switching ranges but with the Ranger, this can be done without stopping. Even better, you only need to rotate a dial instead of struggle with a second lever to engage.
The FX4 also comes with a Limited Slip Differential (LSD) on the rear axle. With this, there's better stability on slippery terrain. Whenever one wheel spins as it loses grip, the LSD will immediately divert torque to the other wheel so that grip is not totally lost.

Premium ambience in car-like cabin
The passenger-car like interior of the Ranger was one of its original selling points, persuading many to switch from their sedans or hatchbacks to a pick-up truck – which also introduced them to a new lifestyle. For the FX4, a dark theme is used within, mirroring the exterior theme. The leather-accented seats have embossed FX4 logos on the backrests, while red stitching has been applied to the gear selector, centre console, instrument panel, centre console, door trims, handbrake and steering wheel. Special FX4-branded carpet mats also add to the exclusivity and complement the premium ambience of the cabin.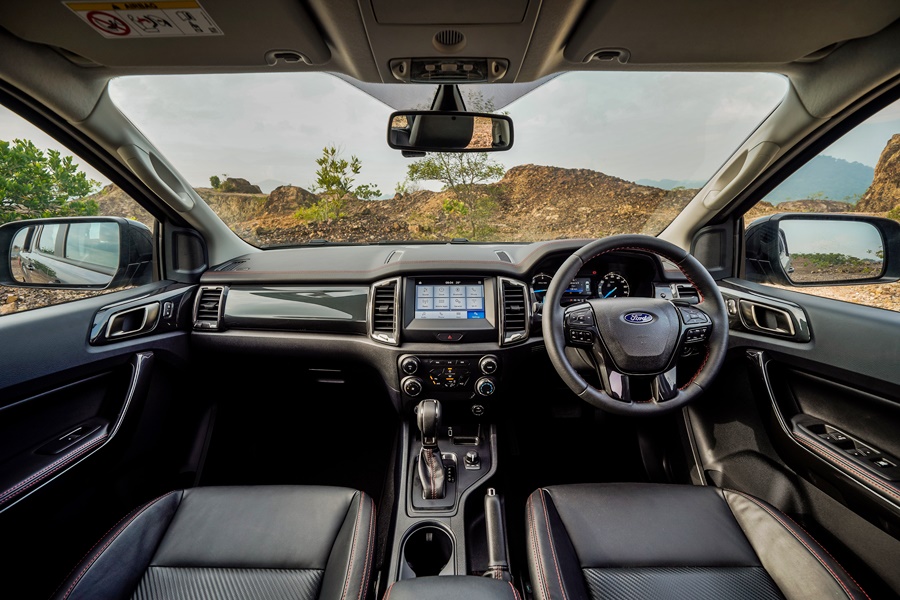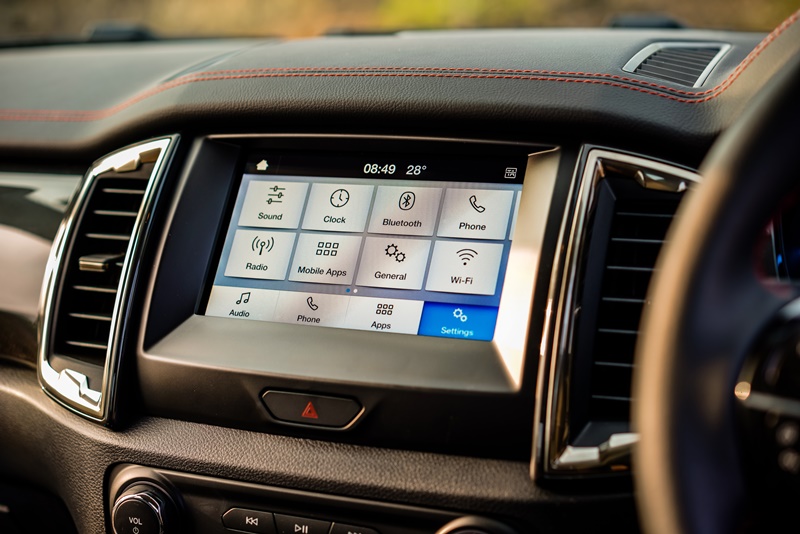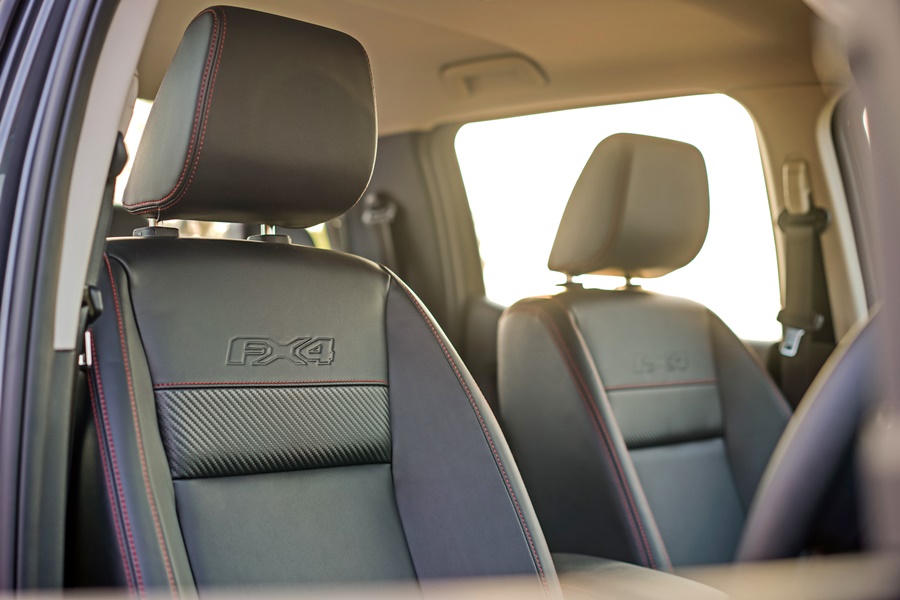 For entertainment on the move, there's an infotainment system with an 8-inch touchscreen and it comes with Apple CarPlay and Android Auto so there's easy connectivity with smartphones. Bluetooth is also available for other devices and Voice Recognition helps to keep the hands on the steering wheel and eyes on the road. SYNC is like a 'control centre' for many functions, some of which can be managed by just saying commands in simple language.
Needless to say, with everyone having one or more electronic devices these days, being able to recharge on the move is useful. In the FX4, there is a 12V socket (which you can plug a USB adapter into) as well as a USB port for charging.
Protecting occupants well
With its 'Built Ford Tough' credentials, the Ranger FX4 already has a robust bodyshell and chassis that can offer good passive protection. Additionally, there are airbag systems and ISOFIX childseat connectors in the cabin. But as it always better to prevent an accident from occurring in the first place, Ford has worked hard to add smart technologies that assist the driver to avoid or recover from a potential accident.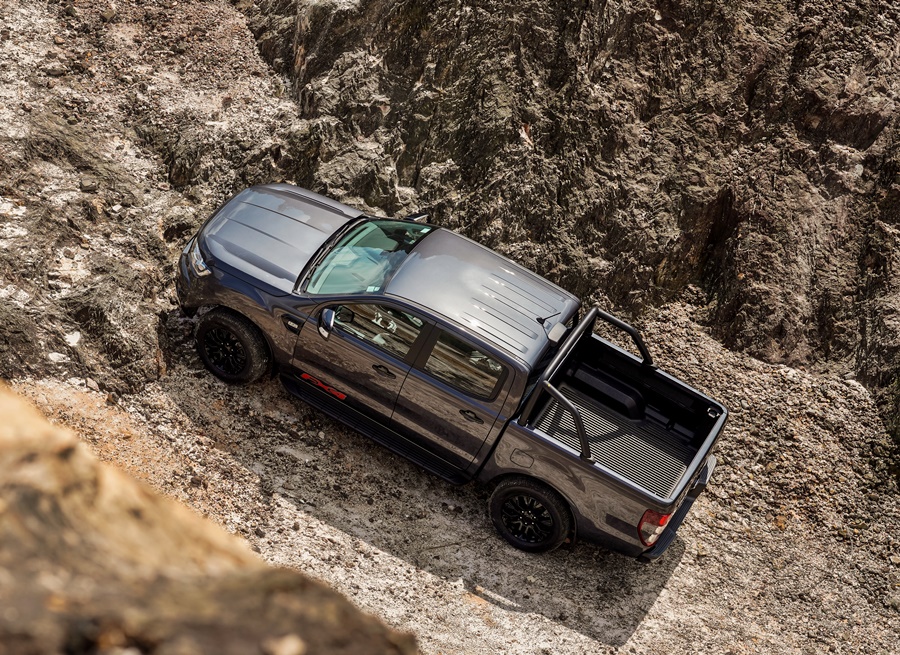 These driver assistance systems include ABS, Emergency Brake Assist, Electronic Brakeforce Distribution, Electronic Stability Control with Traction Control, Rollover Mitigation (valuable for tall vehicles like trucks), Trailer Sway Control and Adaptive Load Control.
Additionally, standard features like rain-sensing wipers allow the driver to concentrate on driving more, while Hill Descent and Hill Launch controls make it safer going uphill or downhill. There's also cruise control to help reduce fatigue on long highway journeys as the vehicle can be set to run at a desired speed.
The display screen on the dashboard also switches to a rear view of the FX4 when reverse gear is engaged. The bright and clear image from the camera mounted on the rear cargo panel gives a wide view so obstacles or even small children can be spotted while reversing. Together with parking sensors in the bumper, it certainly helps when parking the vehicle in tight spots!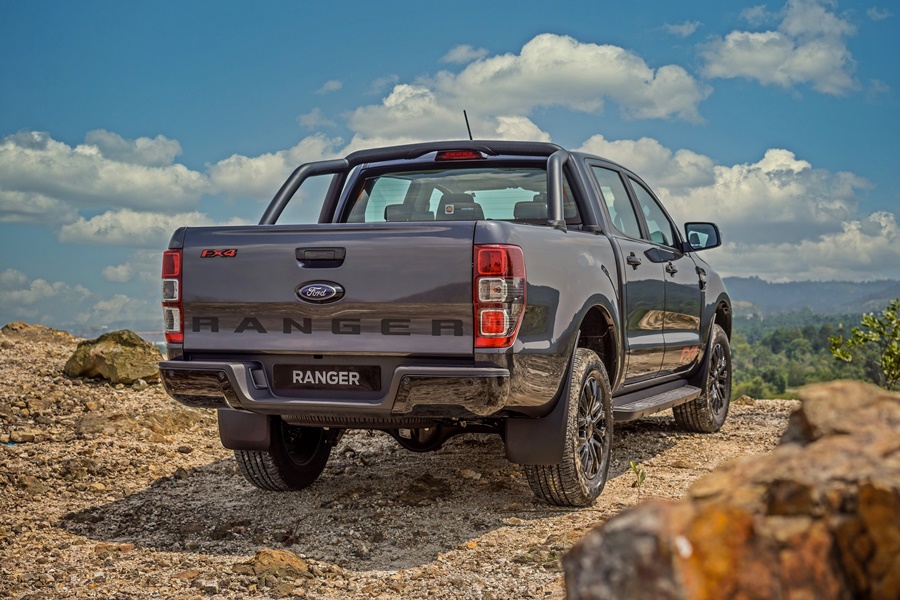 Priced from RM126,888 (on-the-road, without insurance), the new Ranger FX4 comes with a manufacturer's warranty of 3 years or up to 100,000 kms. It's imported as a completely built-up model (CBU) from Thailand.
For the very first 150 customers nationwide who purchase the new Ranger FX4, SDAC will give complimentary accessories worth RM5,398. These are the matte black sports bar and executive window tinting, as well as a built-in Digital Video Recorder (DVR) with a range of smart and safety functions including high-definition (HD) recording, wide-angle viewing, night view recording and Mobile App connect via Hotspot. It also comes with 8GB memory card.
Ford Digital Salesperson ready to assist
Besides visiting a showroom, customers can also WhatsApp the Ford Digital Salesperson at +6019-204 1200 from 9am – 4pm, Monday – Friday, excluding public holidays. Through this dedicated  channel, they will be connected with an authorized Ford salesperson at a dealership located nearest to them. This will initiate discussions on the purchase process and customers can transact at their own convenience to pay the deposit for their vehicle from wherever they are.
Visit www.sdacford.com.my to know more about the new Ranger FX4 and where the nearest Ford showrooms is.