55,354 units of Honda vehicles assembled in Malaysia in 2018 and 2019 are being recalled to replace a fuel pump. This move follows a global action by Honda in many other countries.
It is understood that the fuel pump in affected vehicles may contain faulty impellers. The fault may, in some cases, cause the fuel pump to get stuck and unable to provide fuel, resulting in the engine not starting or stalling while driving.
According to Honda Malaysia, no injuries or accidents have occurred due to fuel pump issues and the replacement is a precautionary measure. The models affected are shown on the chart below: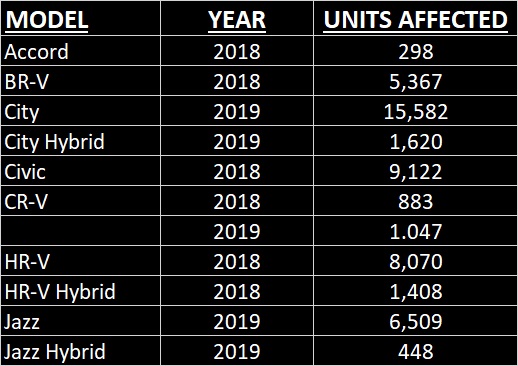 In a statement issued today, Honda Malaysia apologises for the inconvenience caused to the affected customers and reassures that all its models produced in 2020 are not affected in this product recall.
Owners of affected vehicles will be informed via notification letters which will include details of the product recall. The company urges owners to contact any Honda authorized dealer to make an appointment upon receipt of notification to replace the fuel pump (subject to parts availability). The replacement of the fuel pump and all related costs will be free of charge.
As the Honda Toll Free number is undergoing technical maintenance, owners can obtain more information on this product recall by contacting any Honda authorized dealer or log on to www.honda.com.my to check their vehicle status.
In the event that you are not the original owner of the vehicle, your contact details may not be available to Honda Malaysia and you might not receive a notification letter. If you believe your vehicle is also among the affected units, you can contact a Honda authorised dealer for assistance to check on the matter.