Even though the COVID-19 situation continues, the Nissan Pavilion was opened today in Yokohama, Japan. The 10,000 sq. metre interactive centre to show off Nissan's products and technologies, located near the company's headquarters, will be opened until October 23, 2020.

"The Nissan Pavilion is a place where customers can see, feel, and be inspired by our near-future vision for society and mobility," said Nissan CEO Makoto Uchida.
With its leadership in sales of electric vehicles (EVs), Nissan will naturally be focussing a lot of EVs at the Pavilion. And in a global first, EV drivers will be able to discharge power from their car's battery pack to pay for parking while visiting the Nissan Pavilion. The payment system is just one of the many innovations customers can experience at the Pavilion, built to show how Nissan moves people to a better world.
Showcase of EV technologies
Other examples of EV technology having synergies with society will be demonstrated at Nissan Chaya Cafe, which operates on power supplied by Nissan LEAF EVs and solar energy. Visitors can also enjoy virtual experiences that allow them to feel the thrill of Formula E electric street racing or go for a ride in the all-new Nissan Ariya EV crossover.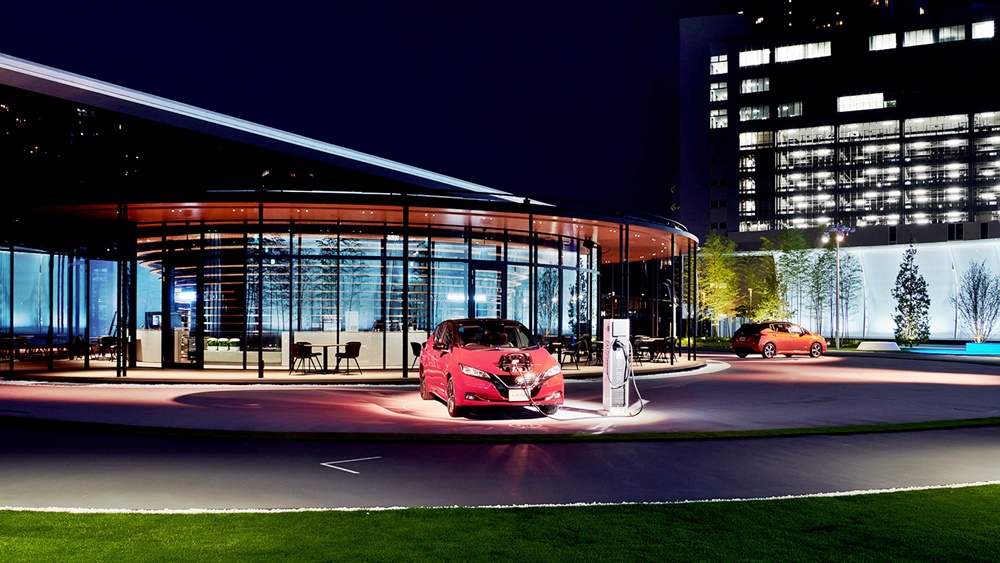 Other innovations on show besides Nissan Energy technologies include the ProPILOT advanced driver assistance system as well as Nissan's Invisible-to-Visible (I2V) technology, which combines information from the real and virtual worlds to assist drivers.
A Mobility Hub offers various services such as EV car-sharing and rental bicycles. Offered by Nissan and the local community, these services aim to provide increased freedom of mobility.
Nissan Energy
Nissan introduced the world's first mass-market electric car, the zero-emission Nissan LEAF, in 2010. Since then, the company has partnered with governments and businesses around the world to expand the uses of EVs. The company's Nissan Energy Share and Nissan Energy Storage technologies allow electricity from EV batteries to be stored, shared and repurposed, for instance by powering homes or businesses.
In Japan, Nissan has also entered agreements with local governments to use LEAF EVs as mobile batteries that can supply energy during natural disasters. In another partnership, the company is repurposing used EV batteries to power streetlights.