After months of shutdown and cancellation of many activities, it seems that the auto industry is now making up for lost time with a vengeance. New models are being launched almost every month but in a new way: online. The traditional launch crowded with guests and media is no longer appropriate in the current pandemic situation where social distancing is necessary. So the car companies are instead using the internet to present their new models and it goes out to a global audience.
Actually, broadcasting a global debut online is not new and has been done for a number of years now, except that it is now more focused online. Money saved on renting spectacular venues and lavish events can now be used to produce even better presentations, and the technology today makes smooth and reliable streaming of events live possible.
France, UK and tonight, Germany
Yesterday, Peugeot revealed its updated 3008 and some hours later, Rolls-Royce presented its all-new Ghost. Today, it's the Germans' turn and Mercedes-Benz unveiled its flagship S-Class model with key board members personally introducing various aspects of the product.
As in the launch of the now-superseded W222 generation in May 2013, Alicia Keys, the singer-songwriter, also participated in the event along with 6-time F1 champion, Lewis Hamilton who drives for the Mercedes-AMG PETRONAS Racing Team.
A pioneer again
Highlights of the all-new S-Class – designated 'W223' – have been publicized in the last few months and as the 'snippets' suggested, this new generation is once again a pioneer with numerous innovations in the areas of driver assistance, protection and interaction. It is, of course, also a benchmark in the luxury segment, as its predecessors have been for decades.
'Focus on people' is how Mercedes-Benz describes its product development for the next generation of individual mobility. Extensive digitization is now used to provide convenience, comfort and connectivity for every occupant, besides enhancing operating efficiency. Even the well-being of its occupants is looked after, with an effective air filtering system referred to as ENERGIZING Air Control.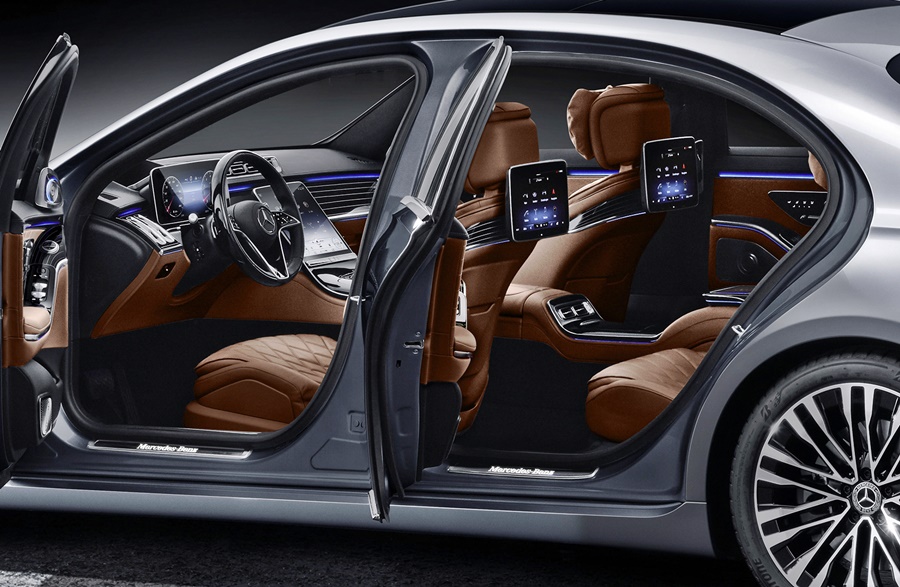 MBUX becomes smarter
Cars are becoming more 'intelligent' and in the new S-Class, this is exemplified best by the latest MBUX (Mercedes-Benz User Experience). Debuting in its second generation with the new S-Class, this 'learn-capable' system is even more digital and intelligent. Both the hardware and software have made great strides with displays on up to 5 large screens, in part with OLED technology.
There's a new 3D driver display which allows a spatial view at the touch of a button for the first time. It gives a real 3-dimensional effect without having to wear 3D glasses. There are also two different head-up displays (HUDs), one with augmented reality (AR) content and the other is a more conventional type.
MBUX now has services for each individual passenger, making the possibilities for personalization far more extensive. The voice assistant, which responds to 'Hey Mercedes', is even more learn and dialogue-capable by activation of online services in the Mercedes me App. Moreover, certain actions can be performed even without the activation keyword.
Using cameras in the overhead control panel and learning algorithms, MBUX Interior Assist recognizes and anticipates the wishes and intentions of the occupants. It does this by interpreting head direction, hand movements and body language, and responds with corresponding vehicle functions.
With the MBUX Smart Home function, the S-Class now also becomes a control centre for the home. The driver or passengers can monitor and control things like room temperature and lighting, roller blinds and compatible appliances. Of course, there must also be smart and connected devices at home as well.
Dimensional concept and interior design
The S-Class is a big car, as befits its status and the W223 S-Class has increased in size compared to its predecessor. It has extra length and width, with the wheelbase extended as well (there is a long-wheelbase variant too). Apart from expanding rear legroom, it also makes for generous boot volume.
The interior design has associations with interior architecture and yacht design elements. The sculptured look of the dashboard, centre console and armrests appears to float above an expansive interior landscape. Systematic reduction in the number of controls gives a minimalist appearance of the interior. A fine divide between the upper section of the dashboard and the large trim element structures the area and creates horizontal breadth.
Alongside up to five screens, there are large areas of trim in the dashboard and in the rear. One particularly attractive version of the trim is an open-pored wood veneer shot through with inlays of real aluminium that follow the contours.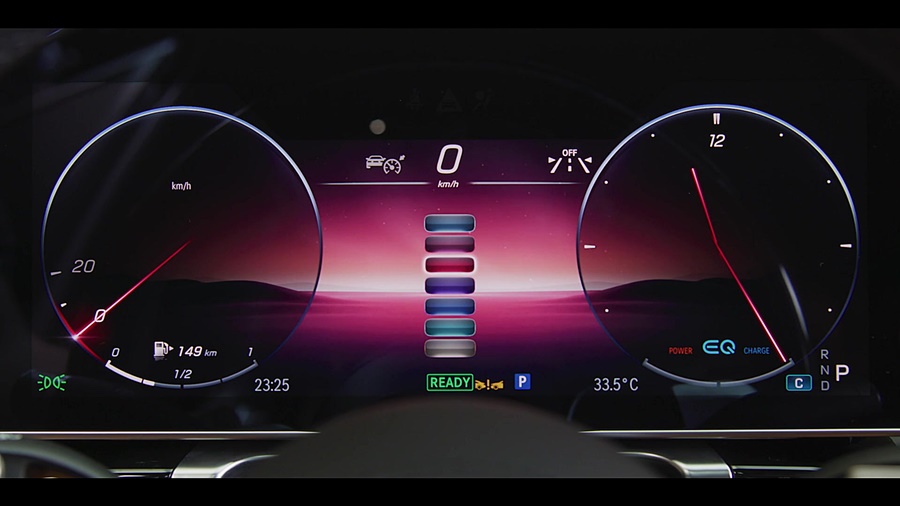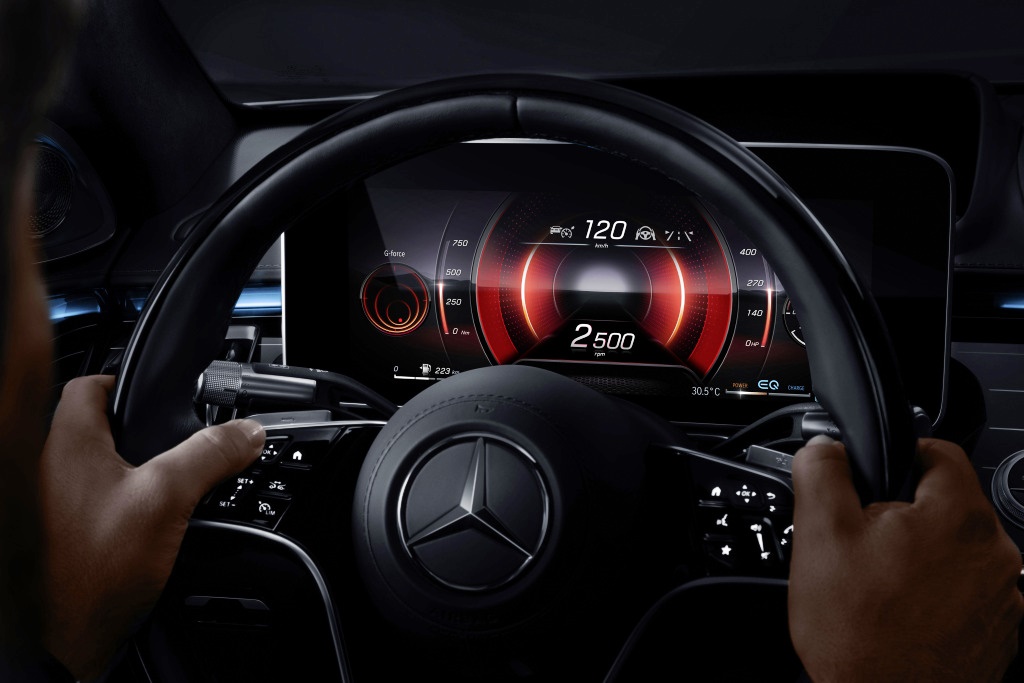 New design elements include the flat, four-square centre vents with horizontal nacelles. Two slim, vertical side vents on each side round off the ends of the dashboard. The driver display and media display can be personalized in up to four display styles (Discreet, Sporty, Exclusive, Classic) and three modes (Navigation, Assistance, Service).
There are no less than 19 motors inside the front seats, which makes them quite complex structures. Therefore no one should complain that he or she cannot get a comfortable position. The flowing, three-dimensional layer design theme gives an impression of lightness and different finishes give the seats different characters. Five different rear seat variants make it possible to configure the rear of the S-Class as a working or rest area.
In earlier years, seats were carefully shaped and cushioned with advice from ergonomic specialists to reduce fatigue on long journeys. Today, cars like the S-Class have seats that massage your body so you reach your destination fresh and alert. There are 10 different massage programmes available using vibration motors. The relaxing massage is enhanced with warmth based on the hot-stone principle.
Even more support for the driver
The new S-Class arrives in the market ready for a high degree of autonomous operation. Specifically, it will be able to operate in Level 3 mode which means it can drive itself from point A to designated point b without human control – but the human must be ready to take over when necessary. Mercedes-Benz says this capability will be available in Germany from the second half of 2021 with the new DRIVE PILOT.  Availability elsewhere would depend on infrastructure and regulations permitting autonomous operation.
Each S-Class generation has introduced new safety technologies and the W223 continues the tradition with numerous new or extended driving assistance systems. The operating principle of the systems is made visible by a new display concept in the driver display.

Innovations in restraint systems also confirm the leading role of the S-Class when it comes to passive safety. A significant new safety feature is the optional rear airbag system. During severe frontal collisions, the rear airbag can considerably reduce the loads acting on the heads and necks of seatbelt-wearing occupants on the outer rear seats.
During a severe side impact, depending on the direction of impact, impact severity and front seat occupancy, the new centre airbag positions itself between the driver and front passenger seat, reducing the risk of their heads making contact. It is integrated into the driver's seatback in the middle of the vehicle.
The parking systems are also more sophisticated and the driver can park and recall the car via a smartphone with remote parking assist. With the INTELLIGENT PARK PILOT, the S-Class can provide Automated Valet Parking and if the required services are available, it can even enter and leave multi-storey car parks in highly automated mode – without a driver. In other words, the car can come to you on its own.
More maneuverable and dynamic
The new S-Class has rear-axle steering (optional) with a steering angle of up to 10° that improves maneuverability in urban areas to the level of a compact car, with the turning circle reduced by up to 2 metres.
The optional, fully active E-ACTIVE BODY CONTROL suspension on a 48V basis offers a unique synthesis of comfort and agility, plus additional protection in the event of a lateral collision. The AIRMATIC air suspension with continuously adjustable damping ADS+ is standard equipment.
Mercedes-Benz has now added a new function of PRE-SAFE Impulse Side to its measures in the pre-accident phase. When a side impact threatens, the vehicle body can rise by up to 80 mm by the E-ACTIVE BODY CONTROL suspension within a few tenths of a second. This reduces the loads on the door structures, as the door sill can absorb more of the energy thanks to its higher position. As a result, deformation of the passenger cell and the loads acting on the occupants can be reduced. Radar sensors are used to recognize a potential side crash.
The optional DIGITAL LIGHT system is introduced for the first time in a Mercedes-Benz. It is am exceptionally intelligent system which can warning of recognized roadworks by projecting an excavator symbol onto the road surface, aiming a spotlight at pedestrians detected at the roadside as a warning, and projecting guidelines onto the road surface in narrow lanes.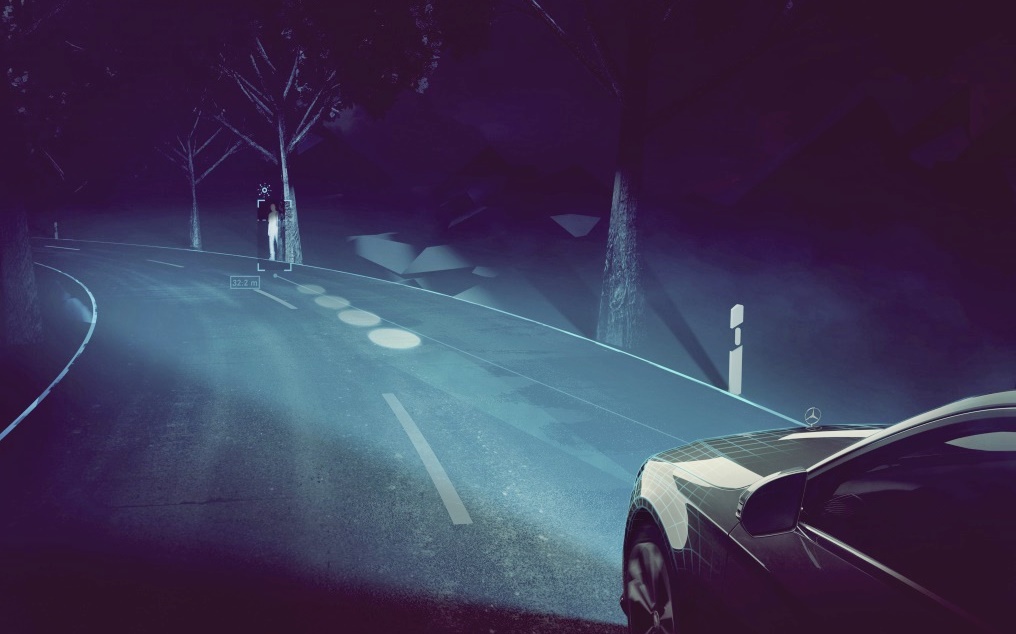 In each headlamp, DIGITAL LIGHT has a light module with three extremely powerful LEDs with light that is refracted and directed by 1.3 million micro-mirrors. The resolution is therefore more than 2.6 million pixels per vehicle, enabling highly precise light distribution.
More electrification, more efficiency
Although its electrification program is well underway, Mercedes-Benz will still offer petrol and diesel engines with the new S-Class. These are 6-cylinder units with various outputs and there will also be a V8 engine with an integrated starter-generator (ISG) and 48V onboard electrical system. A plug-in hybrid with an all-electric range of around 100 kms will follow in 2021.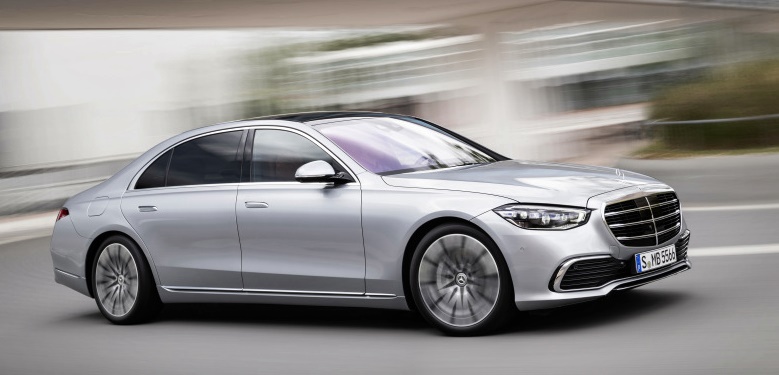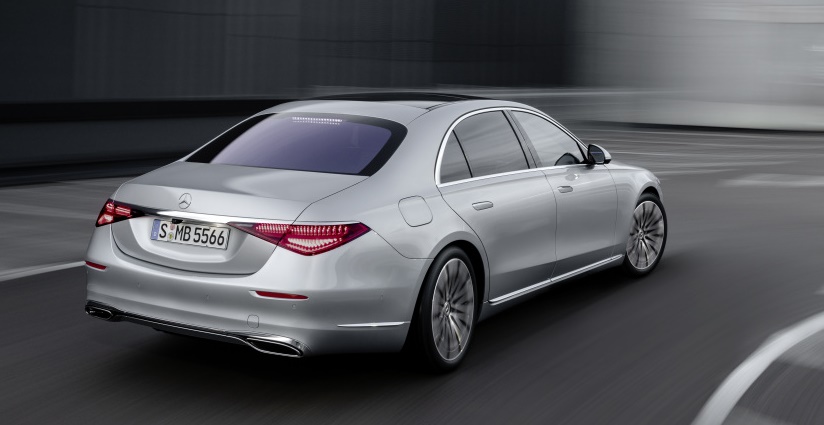 Ola Kallenius, Chairman of Daimler AG and Mercedes-Benz AG, also mentioned the EQ S, an all-electric S-Class to come in due course, but gave no details about it. It's not something new, though, as the company displayed the Vision EQS concept which was described as a 'future S-Class-like sedan' with an all-electric powertrain and a projected range of 700 kms.
New factory for the new generation
Production of the new S-Class is now underway at the new Factory 56 in Sindelfingen, Germany. Like the S-Class which has been considered (by Mercedes-Benz) as the future of the automobile, the new facility also represents the future of automobile production at Mercedes-Benz. Advanced manufacturing technologies and processes enable it to have maximum flexibility to produce vehicles of different designs and drive systems, from conventional to all-electric drive.

Deliveries to customers in Germany will begin during the last quarter of this year and the new model will be progressively launched in other global markets from the start of 2021. Mercedes-Benz Malaysia would now be planning for the introduction of the new generation on the assembly line at its plant in Pekan, Pahang, and we should also see in sometime in 2021.