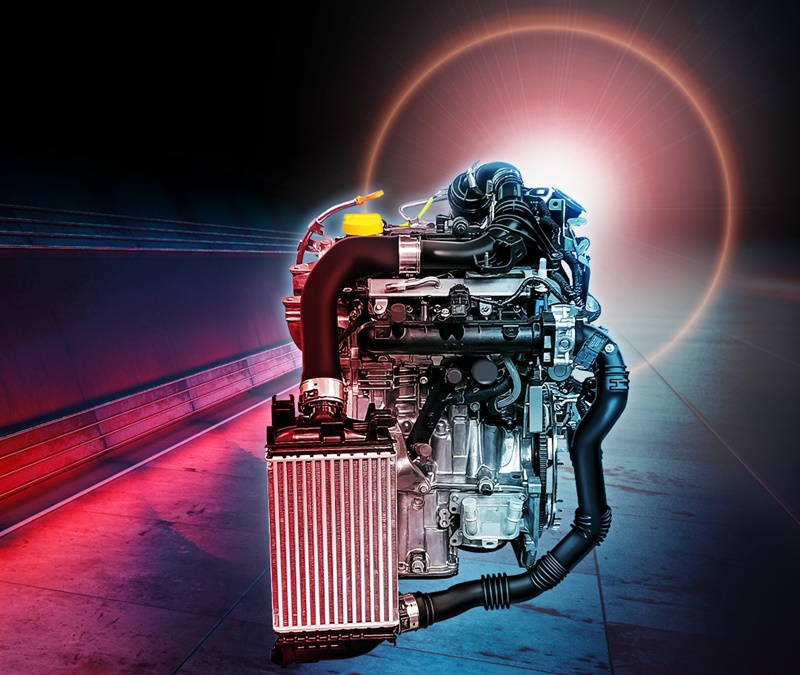 Three-cylinder engines in cars are nothing new; Daihatsu popularized the engine configuration in the late 1970s with its Charade and then it was widely used by Perodua. Since the 21st century began 20 years ago, manufacturers have been downsizing engines as one way to reduce fuel consumption. However, unlike those older small engines, today's downsized engines have a lot of advanced technology to help them develop high outputs and run even more efficiently.
The HR10DET engine in the all-new Nissan Almera Turbo is a good example. It has a displacement of 1 litre but can generate up to 100 ps with 152 Nm. This is comparable to a 1.5-litre engine so the driver enjoys the benefit of a smaller displacement which will consume less fuel – without sacrificing performance, which was the case before.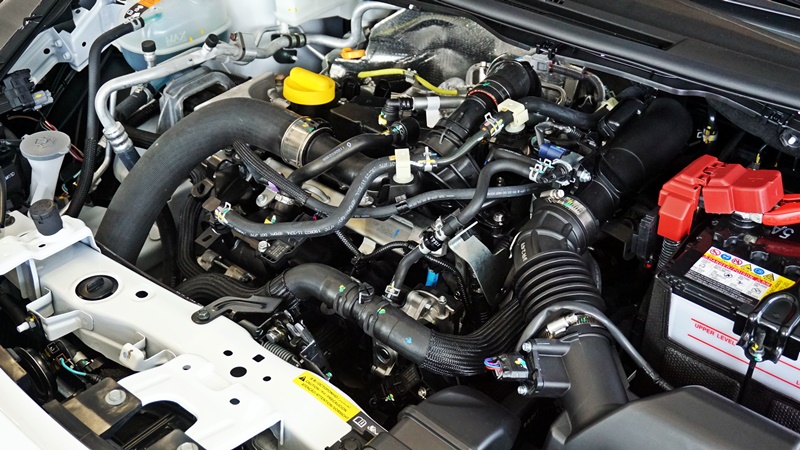 Some of the features which helps the HR10DET engine, which has 3 cylinders, achieve its high output are 4 valves per cylinder for better breathing efficiency and two overhead camshafts in the cylinder head (DOHC).
Boost from turbocharger
A major contributor to the power output is the use of a turbocharger. Once found only in high-performance engines, the turbocharger is now commonly used for small engines to boost output and response. In the case of the Nissan engine, maximum torque is available between 2,400 and 4,000 rpm, a range that is frequently used in daily driving. With maximum torque available, overtaking can be done quickly and safely.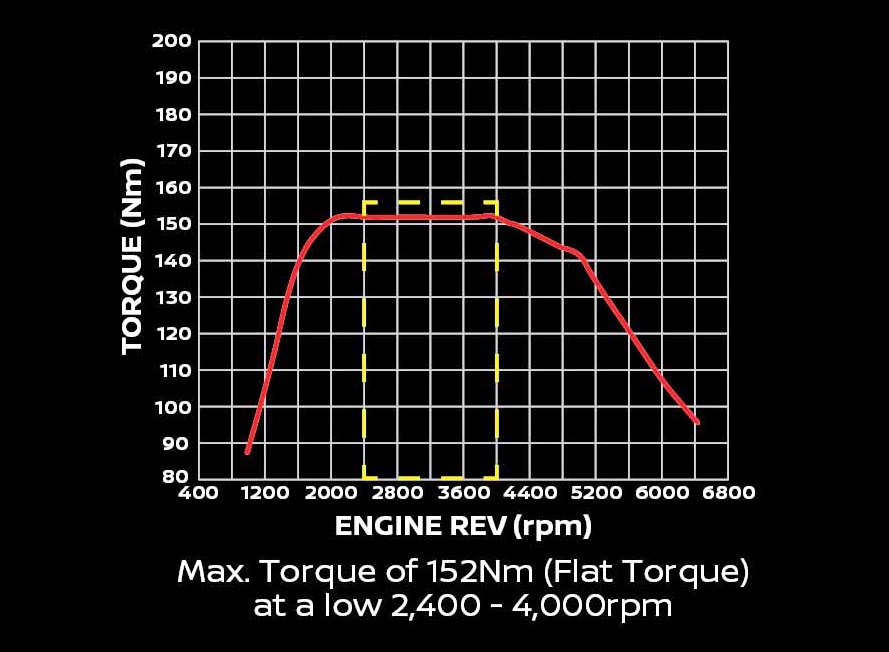 The turbocharger has an Electronic Wastegate which operates far more efficiently than a conventional mechanical wastegate. A sensor monitors compression levels and enables the wastegate to activate whenever necessary, allowing turbocharging to be maximized. As a result, turbo lag is virtually eliminated for strong acceleration when needed.
Cooling down the air
For a turbocharger to operate at its best, the air flowing through needs to be cool so it can be compressed as much as possible, maximizing the charge. For this reason, an intercooler is installed behind the front grille and effectively cools down the air.
Technology from GT-R engine
Friction robs an engine of power and engineers work hard to find ways to bring internal friction down. For the HR10DET engine, they drew on the Mirror Bore Coating technology from the legendary Nissan GT-R. Mirror Bore Coating technology can raise energy efficiency by reducing the friction significantly inside the engine.
Rather than inserting a cylinder liner, the technology uses molten iron sprayed onto the surface of the cylinder bore to form a layer of iron coating on the walls inside. This achieves a mirror-like finish that is exceptionally smooth, thereby bringing down friction levels.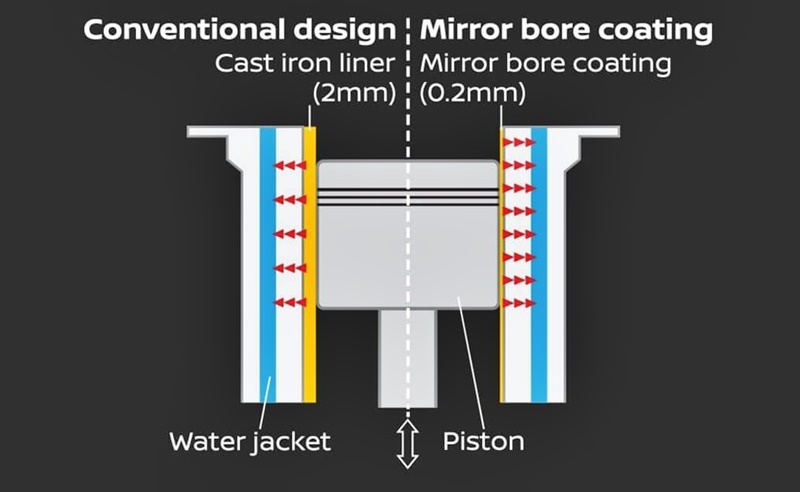 Normally, the cylinder liner is 2 mm thick but with Mirror Bore Coating technology, the layer is just 0.2 mm thick, saving weight. The extremely thin layer allows better heat conduction which results in enhanced cooling performance and less engine knocking. The efficiency of the engine as a whole is improved, and fuel economy as well as engine power are enhanced.
D-Step Logic System
The powertrain of the Almera Turbo also includes a next-generation XTRONIC CVT with D-Step Logic System to improve shift feel and responsiveness. The D-Step Logic System is a computer program that uses dynamic inputs such as vehicle speed, accelerator pedal position and application speed to determine ideal gear ratios needed to provide smooth, constant acceleration.
Drivers will feel the shifting being like a conventional automatic transmission with a torque converter (which we can confirm after our short test drive) and with the flexibility and smoothness of a CVT. A Sport mode is available to gain stronger acceleration when required.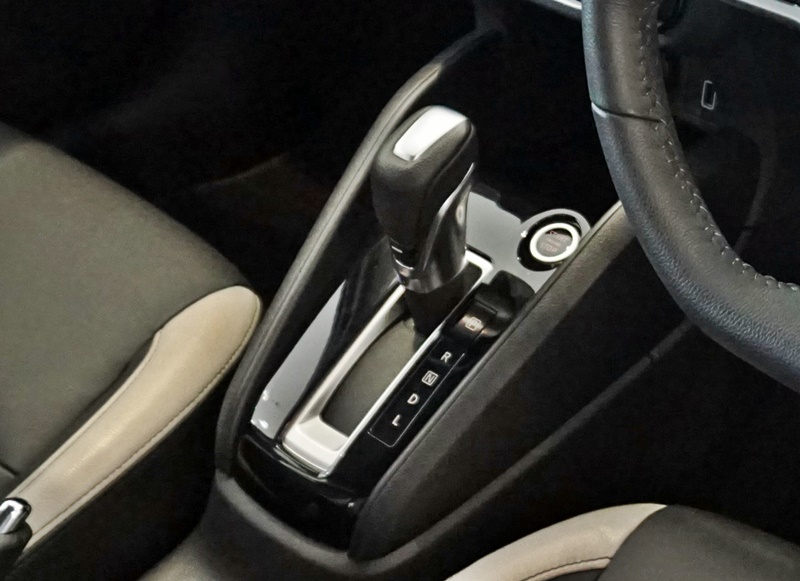 "The all-new 1-litre turbo engine is designed to meet our customers' needs. It provides the highest level of fuel economy – up to 18.4 kms per litre – which can provide up to 650 kms on one full tank. The CO2 emission level has also significantly been reduced by 18% compared to its predecessor. making the All-New Almera Turbo even more environmentally friendly," said Christopher Tan, Sales & Marketing Director of Edaran Tan Chong Motor.
Selected Nissan showrooms around the country are offering test-drives of the new model so you can experience for yourself the performance of the car. Visit www.almeraturbo.com.my to locate a showroom and by the way, when you take a test-drive, you could also win an Apple iPhone SE worth RM2,199.