It's not surprising that Ford will start selling an electrically-powered truck from early 2022, the new version of the F-150 range which is to be called the Lightning. After all, it's been making pick-up trucks since 1917 and over more than 100 years of making such vehicles, it has built up vast experience. Now, it is using all that experience plus new EV technology to continue the journey forward.
"For both Ford and the American auto industry, F-150 Lightning represents a defining moment as we progress toward a zero-emissions, digitally connected future," said Bill Ford, Executive Chairman of Ford Motor Company. "F-Series is America's best-selling truck for 44 years, the backbone of work across the country, and a trusted icon for generations of customers. Now we are revolutionizing it for a new generation."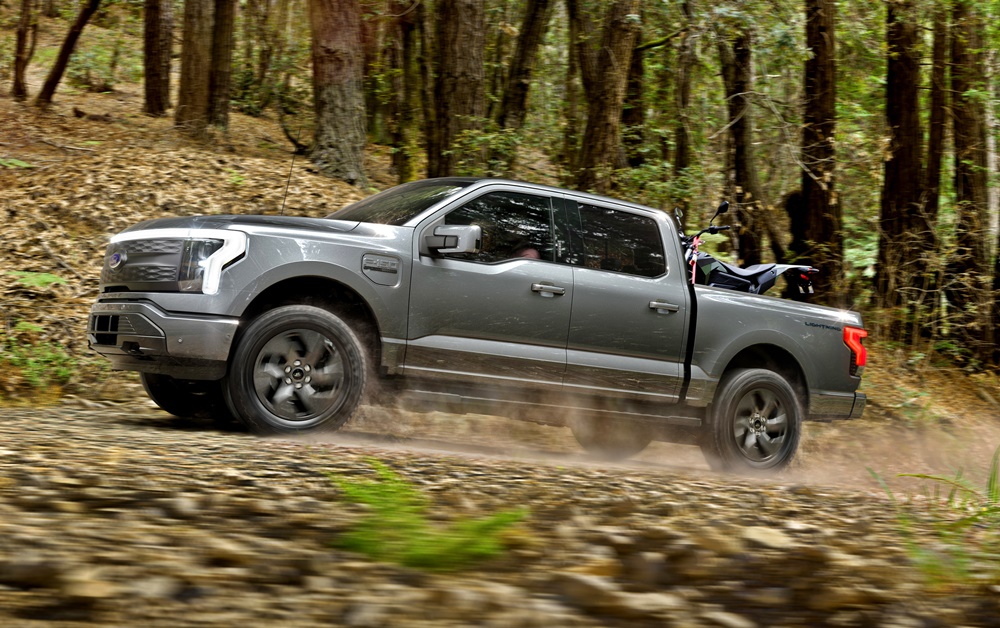 The F-150 Lightning is one of the outcomes from the company's more than US$22 billion global electric vehicle plan to lead electrification in areas of strength. Other fully electrified models developed in recent times have been the Mustang and Transit.
Pricing for the new electric truck will start from US$39,974 (about RM165,550) before any incentives (in the USA) and can rise to US$52,974 (about RM220,000) in versions equipped with the extensive range of features, technology and accessories.
Most aerodynamic F-150
The F-150 Lightning is the most aerodynamic F-150 ever developed. While it started from the current F-150, it has improvements like newly shaped running boards, a sculpted bonnet to reduce drag, and grilles that replace air intake holes with a smoother, textured surface. Even more functional design delivers optional enhanced 360-degree Zone Lighting, which can light up a specific zone or the entire area around the vehicle.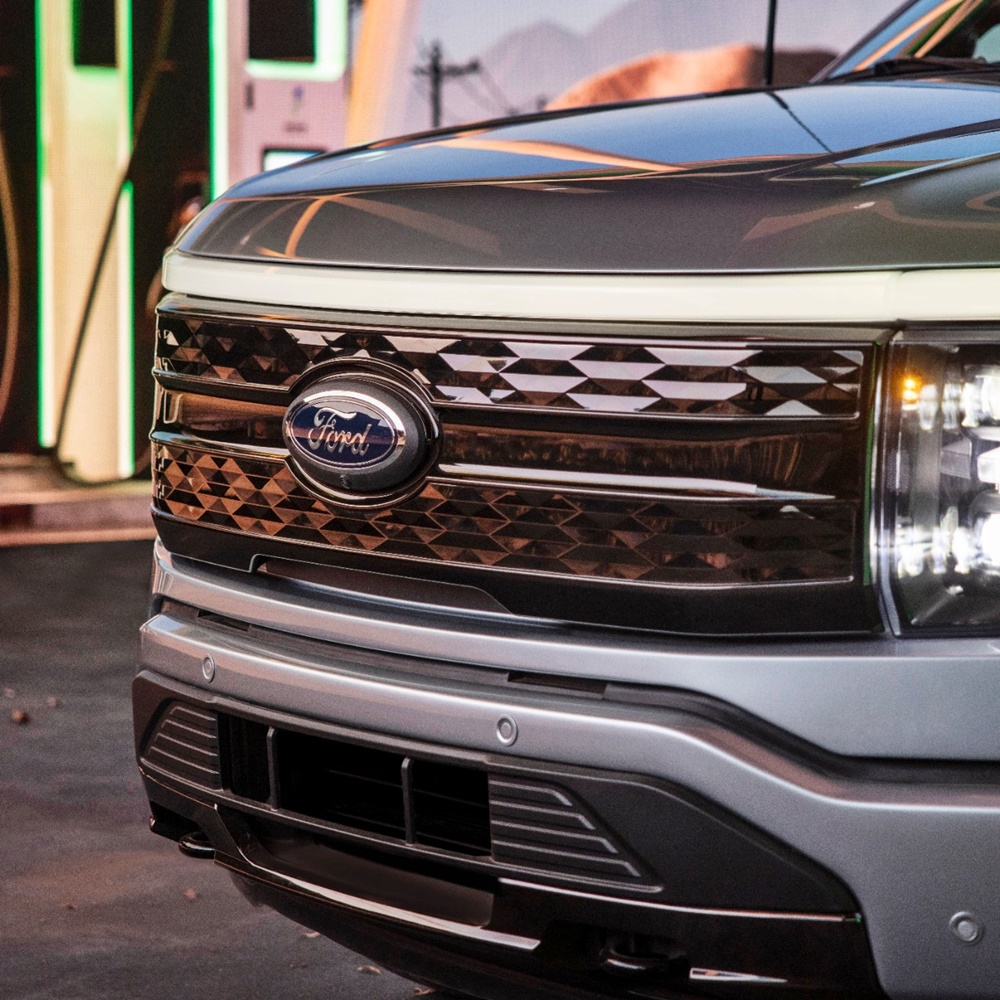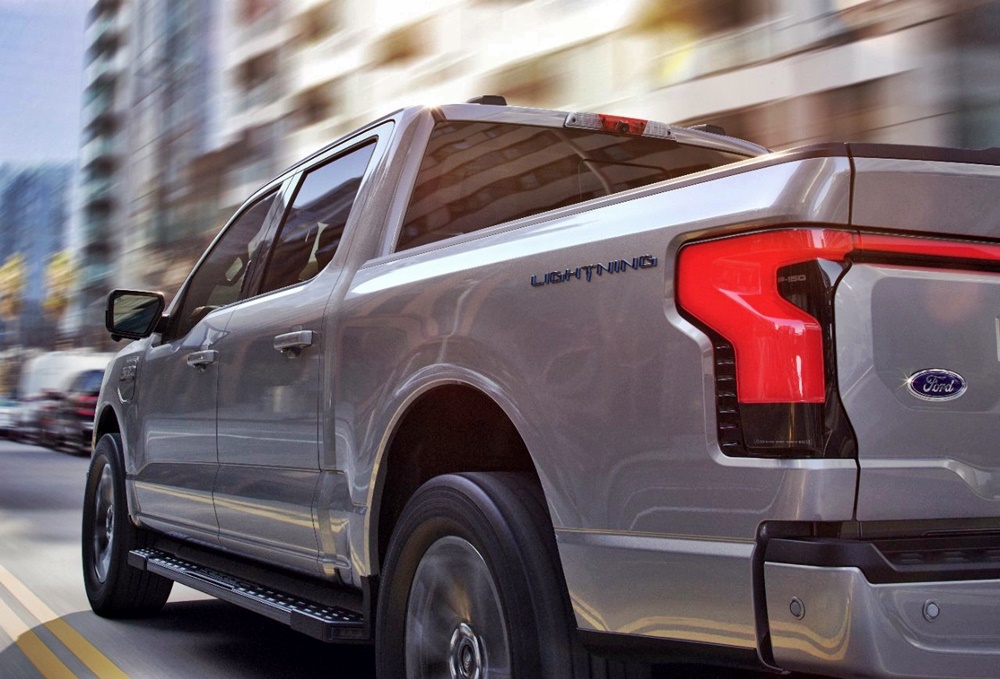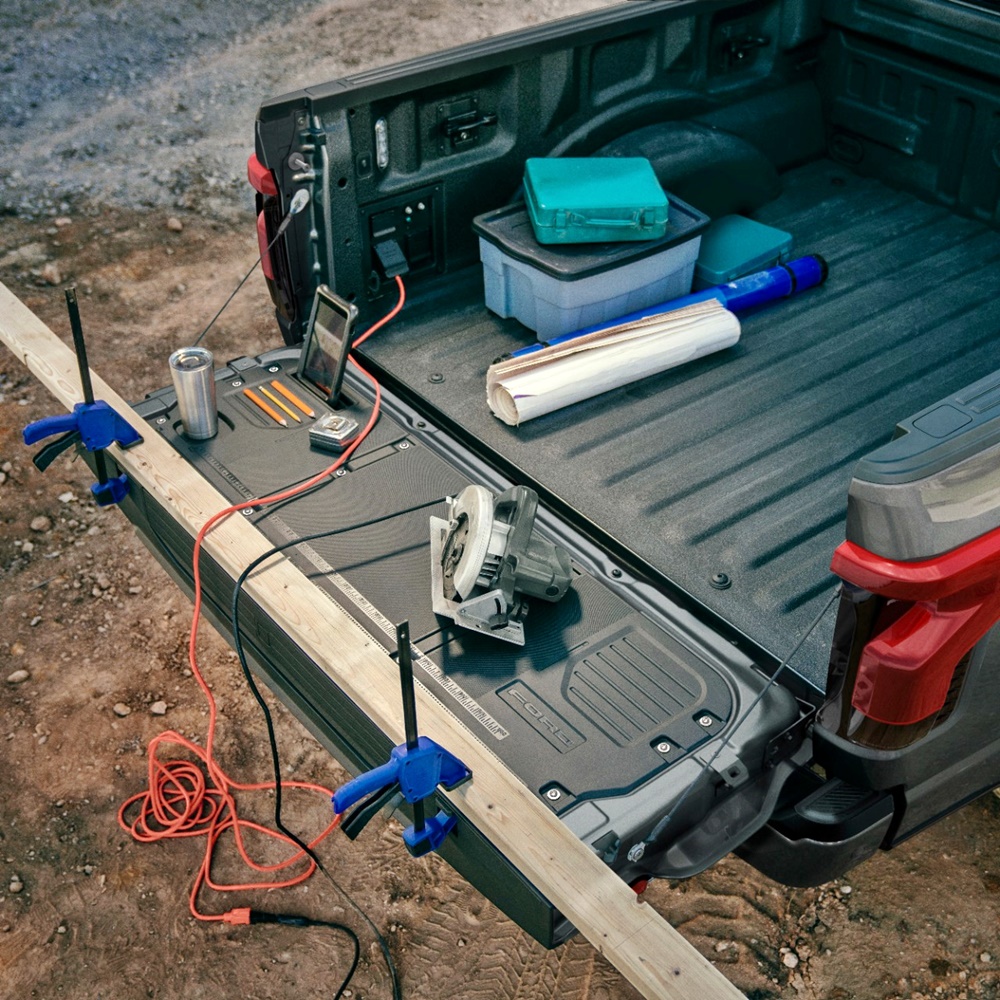 The electric platform unlocks new capabilities as well – such as being a mobile power generation that can supply electricity to power an entire home. Besides providing electrical power when camping, it can also be valuable when in disaster-struck area where emergency power supplies are needed. The added advantage is that the F-150 Lightning will also have the capability to travel through all kinds of terrain, just like other Ford trucks.
The powertrain has dual in-board motors expected to generate the equivalent of 563 hp with up to 1,050 Nm of torque available from almost standstill. That's more torque than any F-150 have ever offered and will give a claimed 0 – 60 mph (96 km/h) time in the mid 4-second range.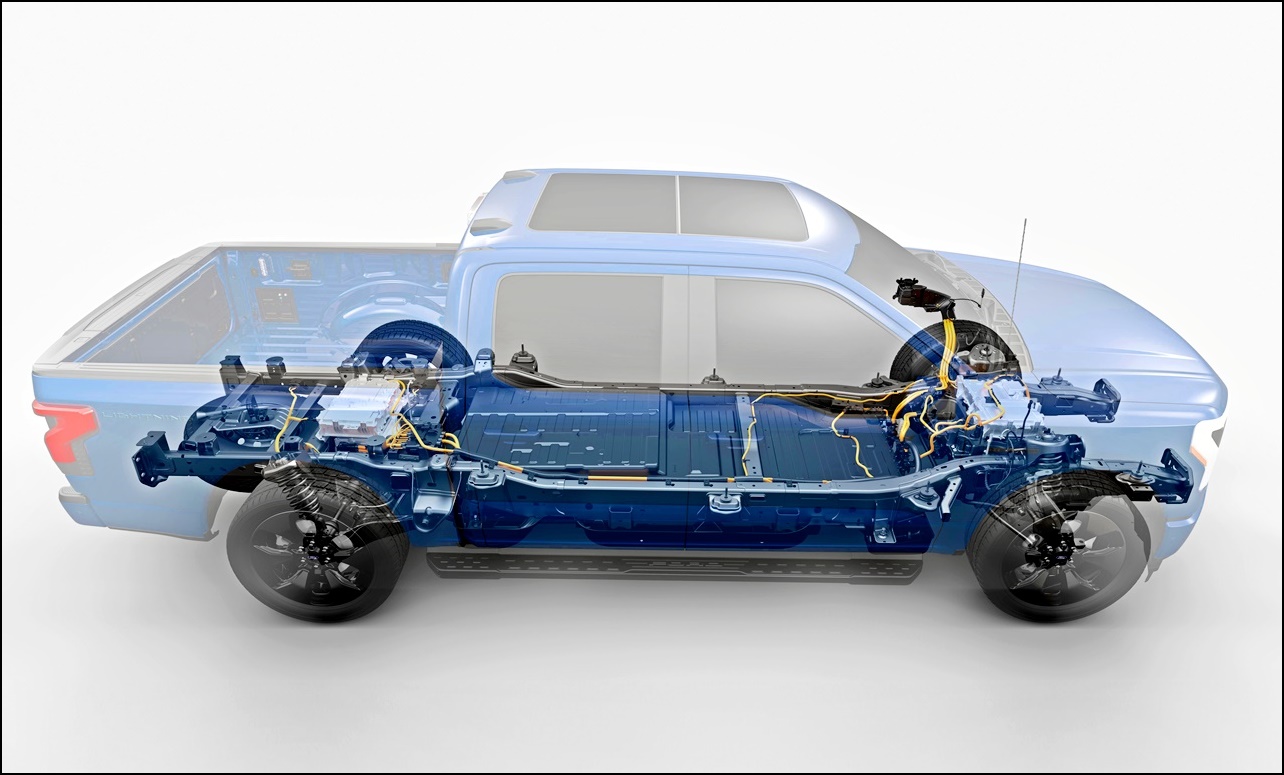 Two battery pack choices
There will be two choices of next-generation lithium-ion battery packs for the F-150 Lightning: a standard-range pack targeting 370 kms and an extended-range pack 480 kms. As with other EVs, charging time depends on the type of charging equipment used. Ford is the only automaker to offer an 80A charge station as standard equipment, allowing owners to recharge easily at home. This system takes advantage of the only dual onboard charging system on an electric truck in the industry for even faster home charging.
With this approach, the F-150 Lightning adds an average range of about 50 kms per charging hour, fully charging an extended-range pack from 15% to 100% in about 8 hours. With a 150-kW DC fast-charger, up to 87 kms of range can be available in 10 minutes and from 15% to 80% will take about 41 minutes, it is claimed.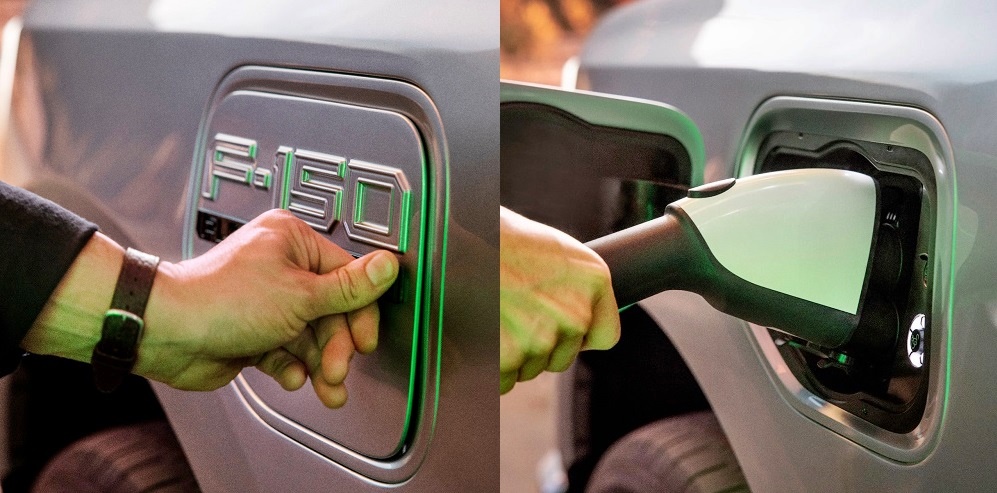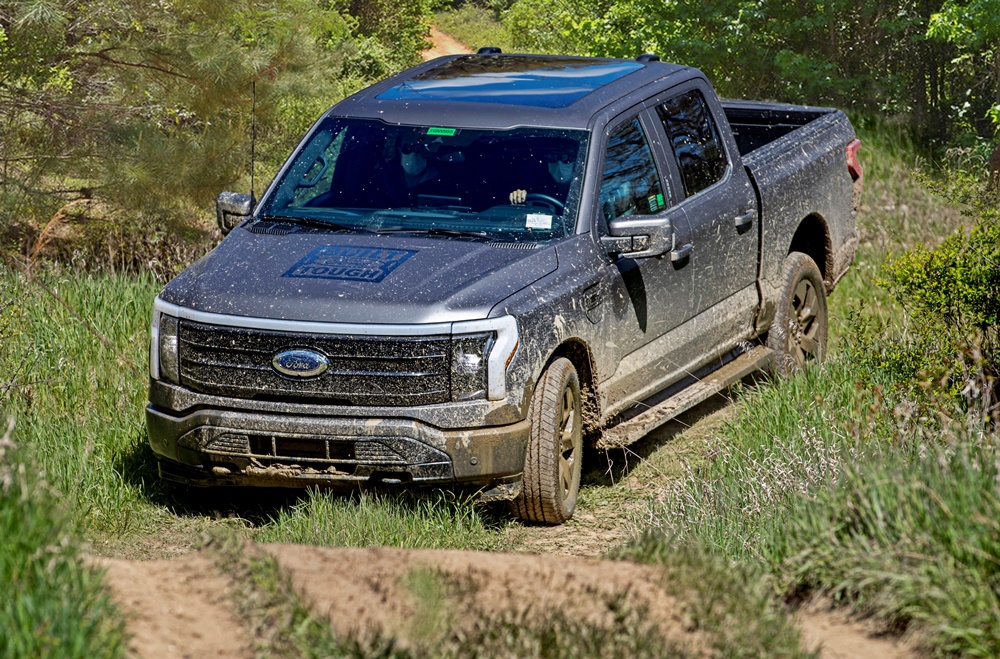 Considering the sort of conditions that the aluminium-bodied F-150 Lightning will be used in, 'Built Ford Tough' has never been more important as the battery pack cannot be damaged. Rugged underbody protection keeps it safe, with metal skid plates shielding both the battery pack and inboard motors from. The battery pack itself is secured inside waterproof casing surrounded by crash-absorption protection and has been tested at temperatures as extreme as -40 degrees Fahrenheit.
Huge front storage area
Just as front-wheel drive with transverse engine orientation liberated space that could be allocated to the cabin, the electric powertrain allows for a versatile, high-tech mega power dedicated storage space that's secure, lockable and easily accessible by a powered open and close system. This spacious area under the bonnet will have 400 litres of volume and can take 180 kgs of payload. It is water-resistant and has 4 electrical outlets, 2 USB chargers and a drainable floor that can double as a food and beverage container. With 2.4 kW of power, there's enough capability to plug in power tools, TVs, laptops, speakers, crockpots and more.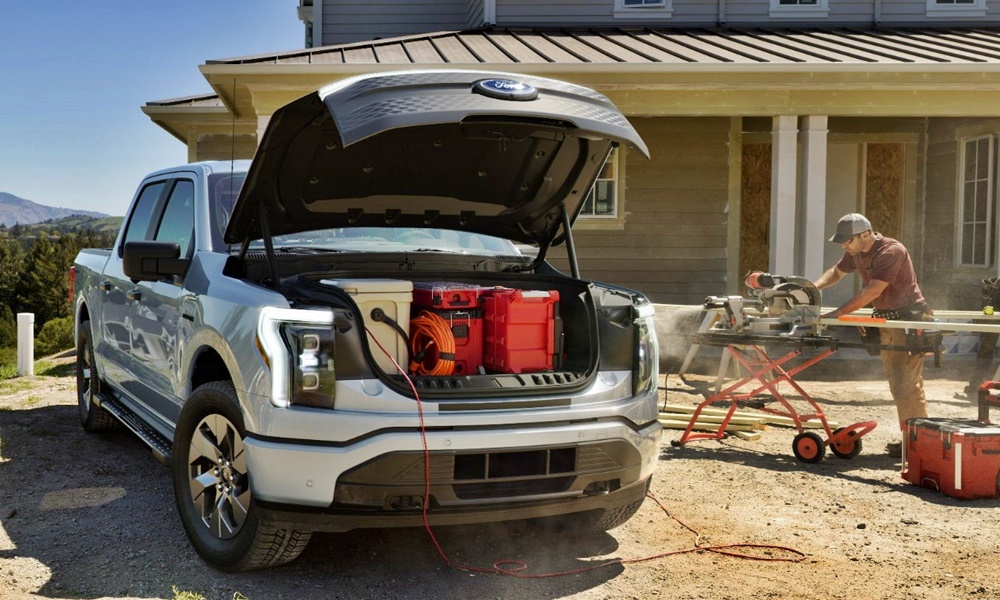 Talking of payload, a feature called Onboard Scales uses the front boot space sensors to estimate payload and tell customers how much they're hauling. And since payload can impact range, Onboard Scales is integrated with Intelligent Range to help ensure an accurate estimate.
Smart and connected
Like the Ranger, the F-150 Lightning is packed with intelligent features, combining advanced digital technologies with proven engineering know-how. As part of the optional Ford Co-Pilot360 technology, BlueCruise allows for true hands-free driving on more than 160,000 kms of pre-qualified divided highways in North America, – with more Hands-Free Blue Zones to come in the future.
Owners will find that, like their smartphone, the software running certain systems can be updated without going to the service centre. Ford Power-Up software updates will come over the air and improve performance, update existing features or even add all-new functions and capabilities. The majority of updates will be completed in under 2 minutes and whenever the owner chooses.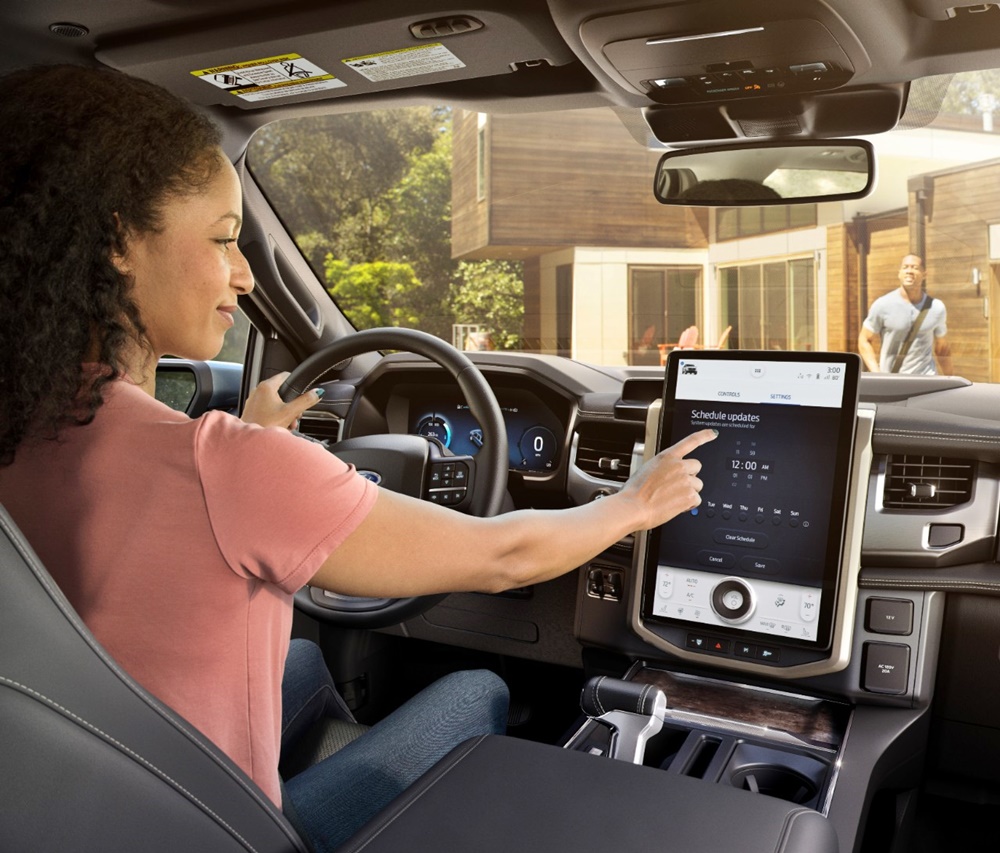 SYNC gets more advanced
Making its truck debut on F-150 Lightning is SYNC 4A – the latest version of Ford's interface supported by a 15.5-inch touchscreen and designed to adapt to driver behaviour. SYNC 4A employs natural voice control, cloud-connected navigation and wireless access to favourite services with connectivity that includes Apple CarPlay and Android Auto.
"It really is the smartest F-150 we've ever made," said Darren Palmer, General Manager, Battery Electric Vehicles, Ford Motor Company. "F-150 Lightning offers an immersive touchscreen, giving our customers all the info they want in an instant – a real-time view of where they're going, what they're hauling or how much real-world range they've got banked. And with Ford Power-Up software updates, the experience is only going to get better."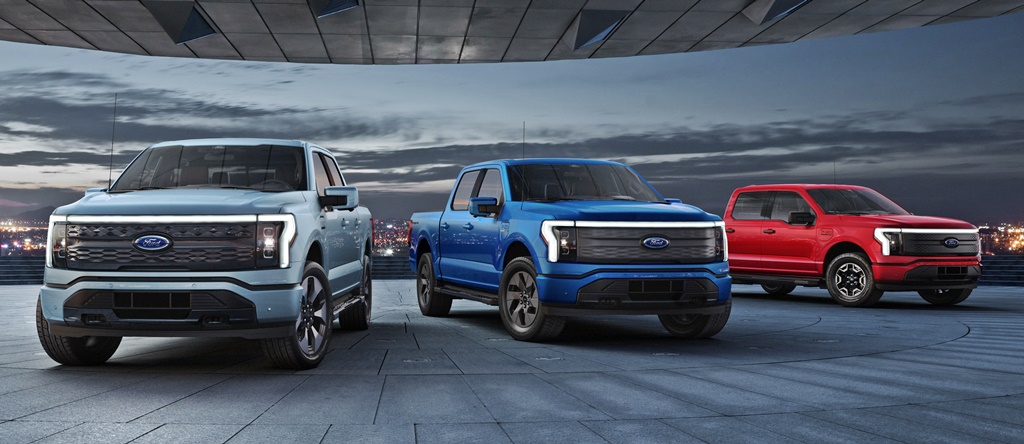 Ford wins both 2021 Green Car of the Year and Green Truck of the Year Awards