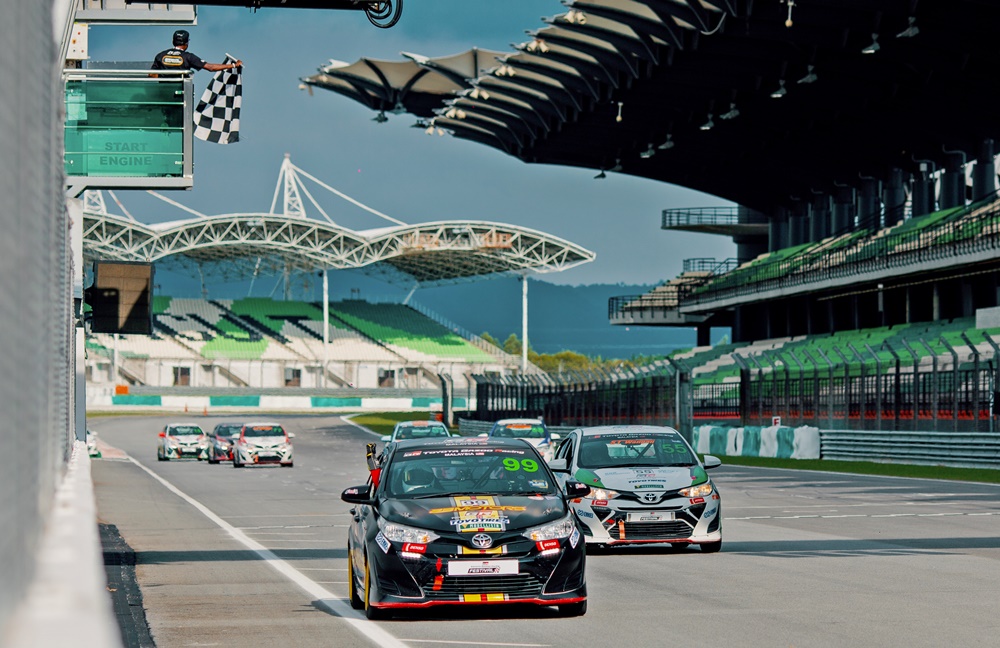 After a 7-month break – with half of the time due to restrictions arising from the COVID-19 pandemic – the Vios Challenge of the TOYOTA GAZOO Racing Festival (TGR Festival) was on again today. The participants were eager to go racing so it was competition at its most intense in Round 2 at the Sepang International Circuit.
Unfortunately, although the Movement Control Order (MCO) has been relaxed, there are still restrictions set by the health authorities and spectators are not permitted at the circuit to watch. To make sure fans throughout Malaysia could still watch the action, there have been live broadcasts today over Toyota Malaysia's website and Facebook pages.
All four classes of competitors returned to their dogfights, intent on improving the positions in the championship. The four classes are the Rookie Class, Promotional Class, Sporting Class and Super Sporting Class.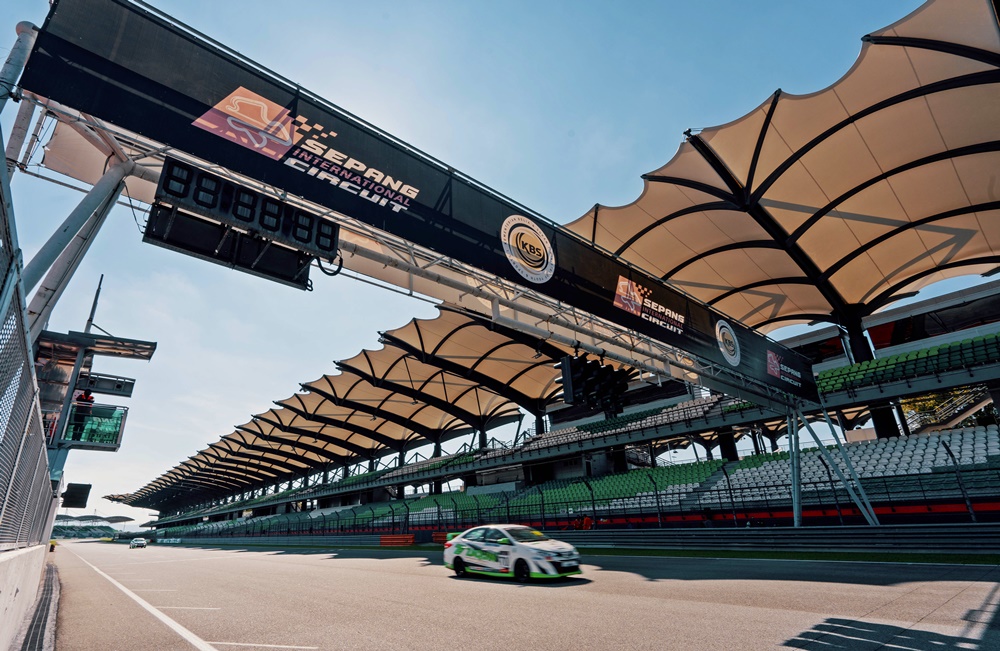 Two of the four new faces making their debut in the Vios Challenge impressed with Malaysian touring car driver Mitchell Cheah and Sepang Talent Development Program driver Ady Rahimy winning in the Super Sporting Class and Sporting Class, respectively. Two other drivers also making their debut in the Vios Challenge are veteran and 2-time Merdeka Millennium Endurance Race champion Faidzil Alang and Malaysia Championship Series driver, Lau Seng Kiat.
"We could not have asked for a more exciting restart to the season, and with the inclusion of 4 new drivers into the series, the Vios Challenge one-make series continues to attract a competitive field of Malaysian racers, "said GAZOO Racing Malaysia's Chief Motorsport Officer, Akio Takeyama, who has also been a participant since the series began.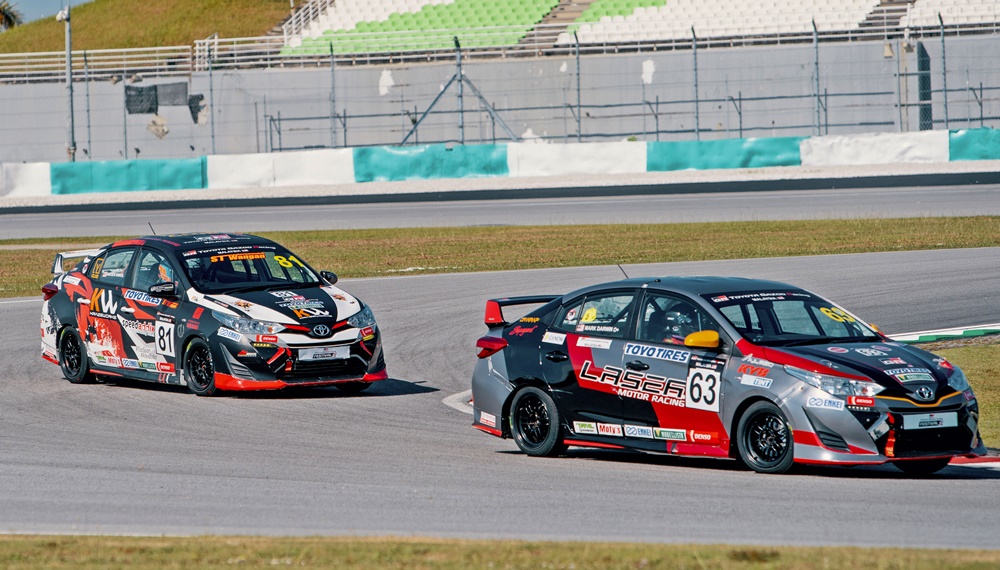 SUPER SPORTING CLASS
In the Super Sporting Class for veteran and skilled drivers, touring car driver Mitchell Cheah powered to victory from start to finish in the 20-lap race, followed by Laser Motor Racing's Mark Darwin 0.7 seconds behind, and M7 Japan Project Team's Sayfiq Ali in third place.
Cheah, driving for 23 Motors, set a blistering pace throughout practice and qualifying to clock 1:25.618 for pole position. Being on the front row of the grid, he made a brilliant start in the race but was only able to marginally pull away from the rest of the field behind who were locked in a fierce contest for second and third positions.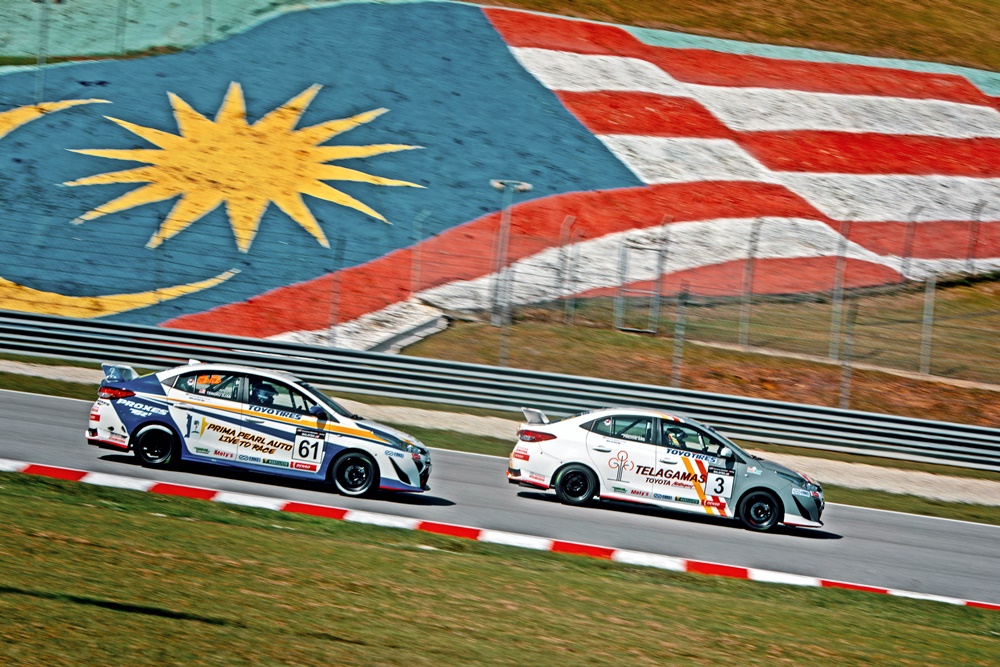 In the opening laps of the race, Telagamas Toyota's Freddie Ang was in contention for second position with Mark in third, and championship leader Tengku Djan Ley in fourth position, but 8 laps later, Mark overtook to consolidate his place for second place. Ang tried to hang on for third but could not stop a charging Syafiq who inevitably proved to become the biggest gainer in the race, finishing third despite starting from as far back as ninth on the grid.
Carrying an extra 40 kgs of ballast by virtue of winning two consecutive races in Round 1, Tengku Djan struggled all weekend with the extra weight, managing only fourth quickest, before finishing Race 1 in 14th and one lap behind after a brush with the concrete on the exit of Turn 8 which caused a puncture.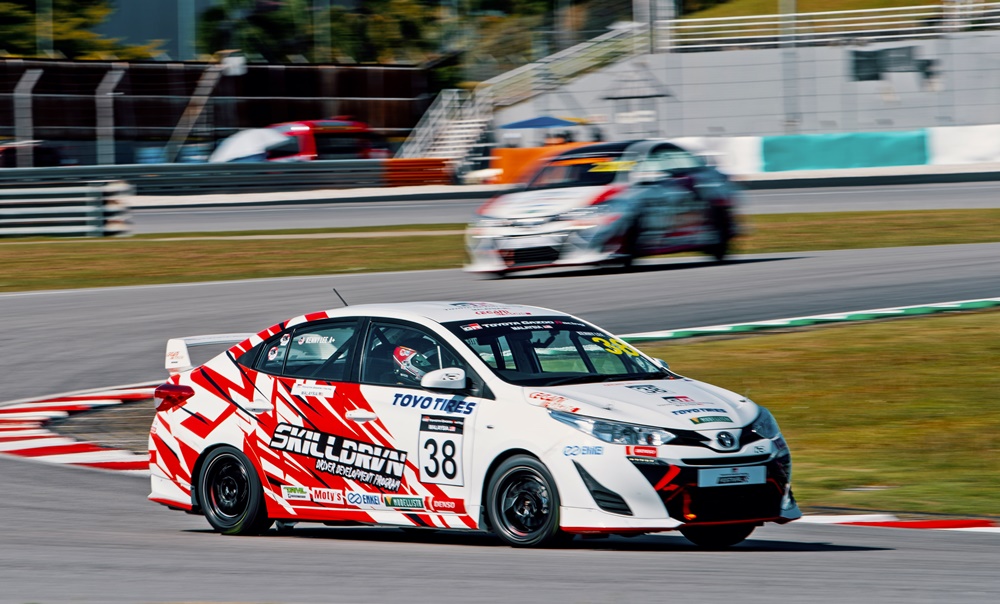 SPORTING CLASS
Making his Vios Challenge debut, Ady Rahimy was hardly intimidated by the competition to lead the race from start to finish. He very quickly opened a gap of 4.5 seconds but that lead disappeared by the 15th lap when the Safety Car came out on the track. When the race resumed, there was only 1 lap to the finish but Ady gave it all he could and sprinted to the finishing line closely pursued by Dream Chaser's Bradley Benedict Anthony, with Distinctive Model's Clement Yeo rounding up the top 3 positions.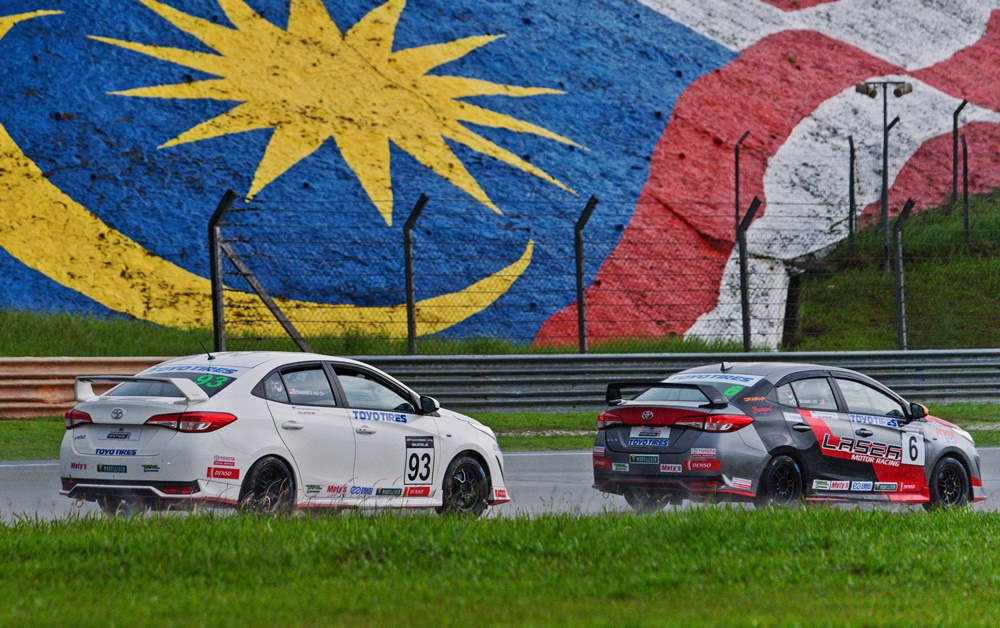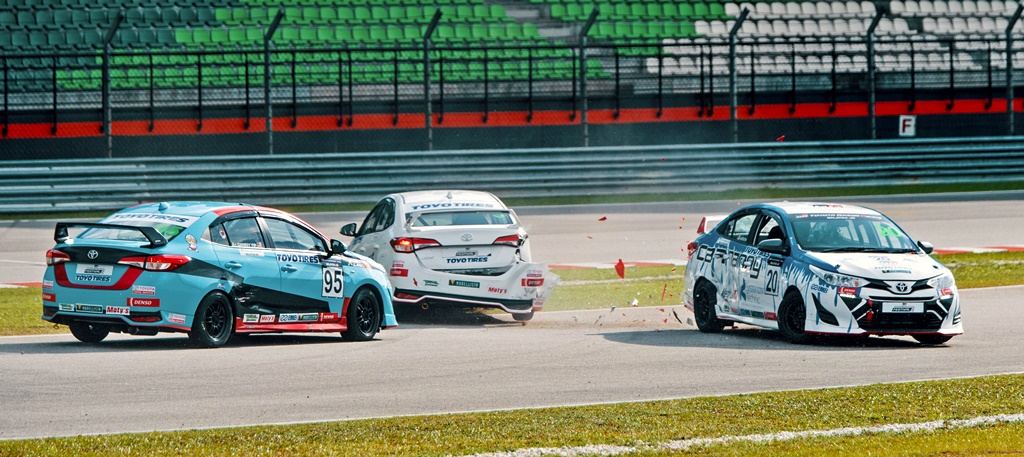 The battle for second and third positions was intensely fierce with Yeo, Aylezo Motorsports's Mirza Syahmi and Bradley exchanging places on several occasions with less than half a second separating all three drivers. Bradley however, attacked consistently despite coming under pressure and managed to get ahead of Yeo in the penultimate stages of the race.
ROOKIE CLASS
In the Rookie Class, the 20-lap race was won by current championship leader Naquib Azlan who collected his third straight victory in 3 races for a perfect track record so far. Coming in second was Mika Hakimi while in third was Amer Harris. Starting from third on the grid, Naquib paced himself patiently, observing the battle ahead involving Putera Adam and pole position driver Mika before mounting his attack for the lead in the closing stages of the race.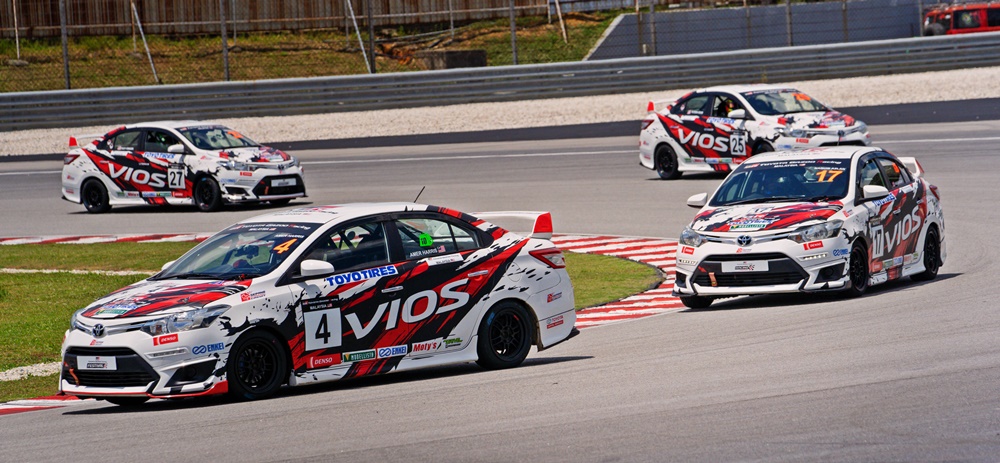 Putera Adam, 14, had driven a compelling race that saw him clinch the lead in the 11th lap. He was within 5 laps of what could have potentially been his first ever race victory until a race incident forced him into retirement. Finishing fourth was Jwan Hii.
PROMOTIONAL CLASS
This class has always been a crowd-puller and though they were not physically at the track, it's a sure bet that the fans of the various celebrities taking part were cheering them on from their homes. Starting from pole position, Shukri Yahaya made a great start and held the lead from start to finish. Finishing second was Nabil Ahmad followed by Nabila Razali in third place.
The opening stages of the race saw Shukri pull away with a comfortable lead as Nabil and fellow racer Zizan Razak tussled for second position. Both drivers were unwilling to give up an inch and exchanged places several times in Lap 2 before contact between the two of them resulted in a damaged suspension for Zizan who was forced into retirement.
That incident promoted Akio Takeyama to third, but it also brought out the Safety Car for 2 laps. The fight for third was intense with Takeyama having to fend off challenges from Ahirine Ahirudin and Nabila Razali for several laps. The two ladies eventually got past Takeyama. But GAZOO Racing Malaysia's Chief Motorsport Officer did not give up easily and tried fighting back for the lost position. His determination, however, put his car in contact with Ahirine's which promoted Nabila into third.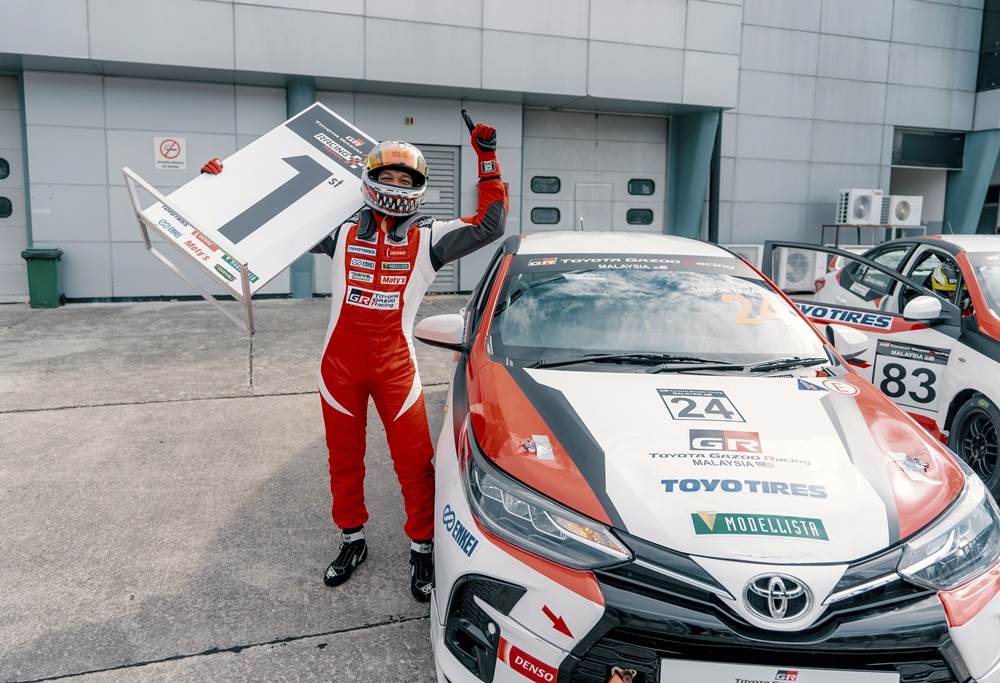 For Shukri, the Safety Car erased whatever gap he had built and he once again found himself under pressure from Nabil. The actor however, kept his head down and put in consistent lap times over the  remaining 10 laps to build his lead from 3.8 seconds to a massive 14.7 seconds ahead of Nabil for the race victory with Nabila in third. The biggest gainer in the race however, proved to be Nabila who jumped 5 places from eighth on the grid to third on the podium.
The second race of Round 2 of the Vios Challenge will be run tomorrow and w all the action will be broadcast live on the Toyota Malaysia website  at www.toyota.com.my, and on the Facebook pages of Toyota Malaysia and Toyota GAZOO Racing Malaysia.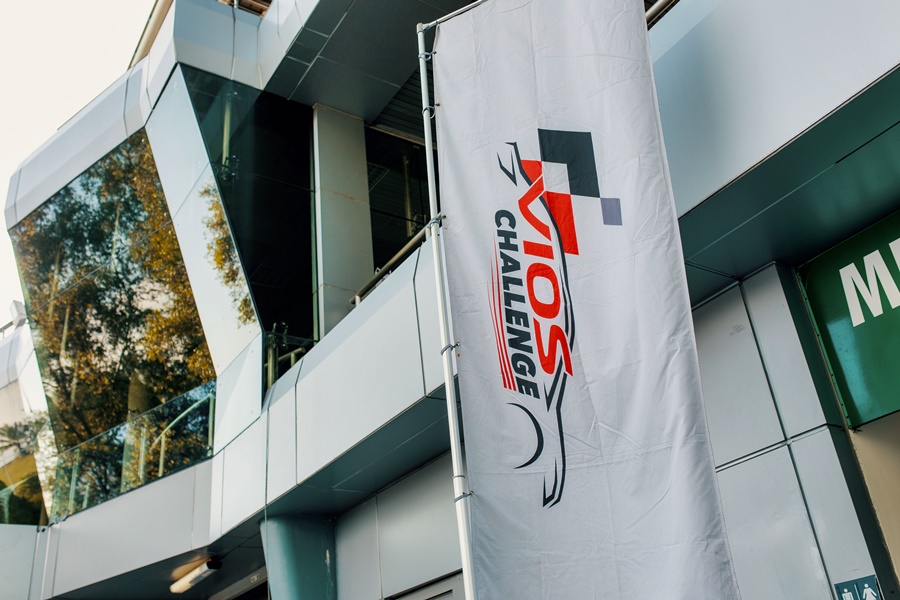 UMW Toyota Motor starts GAZOO Racing Young Talent Development Program