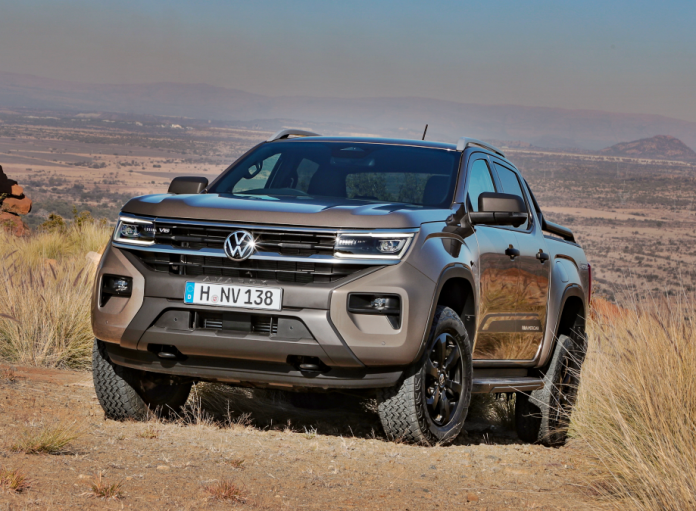 Collaborating on products is nothing new nor unusual in the auto industry. It costs a massive amount of money to develop a new model and unless the potential volume over the life of the model is sufficiently high, it may not be worth the expenditure on R&D. So carmakers will team up and jointly develop a new model and share the costs, which would make better business sense if the volumes are not going to be very big.
Even our Perodua teamed up with Toyota and Daihatsu to develop the first Myvi, which each carmaker then added its own styling differences for differentiation. The sharing of costs sometimes allows a better equipped product to be developed as the money saved can be used for better features.
Volkswagen is no stranger to such partnerships and has shared products with companies like Ford and Toyota, among others. In the past, its Sharan MPV was also sold as a Ford Galaxy and now, the latest model to be shared by the two companies is the Amarok, which is adapted from the latest 4th generation Ford Ranger (to be launched in Malaysia this month).
To be built in South Africa
The new Amarok is like the previous Rangers and Mazda's BT-50, which was a shared product as well. And like those trucks, the Amarok will also be initially built at the same plant as the new Ranger in South Africa. Later on, production will also start at Volkswagen's own factory in Argentina which has been making the first generation of the Amarok that was introduced in 2010.
The new Amarok was developed largely in Australia, probably at Ford's facilities, but Volkswagen also mentions Germany which would have been where the styling work would have been done. It will be sold as a premium pick-up truck and appear in Australia and New Zealand, numerous countries of Africa, the Middle East and Europe. While North America is not mentioned and perhaps it would be a tough market to enter, it's interesting that Volkswagen does not have Asian markets in mind either. Perhaps the dominance of models like the Toyota Hilux and Isuzu D-MAX also make it challenging to compete in, not to mention the fact that the Ford version is sold widely.
The first generation of the Amarok now looks pretty dated but then again, it was developed over 15 years ago. Since then, many new technologies have been developed and trucks have also gained more sophistication. Thus for the new model, it is a big leap technologically with over 20 new driver assist systems, mobile online services, all-wheel drive technologies, and high efficiency/high-torque powerplants.
With over 830,000 units sold, the first generation established the Amarok as a tough vehicle, though a bit basic in comparison to rivals. The new one is bigger, more powerful and more athletic. It has a frontal appearance that follows Volkswagen's design language so it is well differentiated from the Ford.
"For the new generation, we have significantly modified the Amarok's archetypal design. It is now unambiguously more expressive and even more impressive", said Albert Kirzinger, Head of Design at Volkswagen Commercial Vehicles. Making a statement in itself is the new front section of the truck which will have three specification variants, as well as the top versions with off-road styling and exclusive styling. The new Amarok will be offered with two bodystyles – a 4-door double cab and 2-door single cab.
Long wheelbase enhances proportions
At 5350 mm, the new Amarok is 96 mm longer than its predecessor. The wheelbase has also been extended to 3270 mm, representing an increase of 173 mm. That allows more room within the cabin, especially for the rear passengers in the double cab. The longer wheelbase shortens the body overhangs, which is not only gives sharper proportions but is also advantageous in off-roading as there are better approach angles. The off-road capabilities of the Amarok are also enhanced by a much greater fording depth for driving through deep water; previously it was 500 mm, now it's 800 mm.
High-quality interior
With its self-explanatory and digital displays, the interior has been configured by the Volkswagen Commercial Vehicles design team in a very functional and high-quality way. The spectrum of display units is made up of digital 8-inch instruments (Digital Cockpit, fully digital) and 12-inch panels with a large touchscreen in tablet format.
After much research, the interior designers implemented a mix of digital functions and ergonomically configured buttons and/or push/rotary switches in the Amarok that are intuitive to use. The infotainment system's volume and all-wheel drive system's settings are controlled via such hard keys which make better sense than touch operation.
The sound system is from Harman Kardon and will be standard for the high-end versions and optional for others. It is used exclusively in the Amarok and complements the premium appearance of the leather-look instrument panel with elegant contrast stitching. The premium positioning is also matched by the seating which has electric adjustments.
Payloads of up to 1.16 tonnes
Behind the cab is a spacious load area which Volkswagen refers to as a 'cargo box'. Its dimensions are sufficient for a Euro pallet loaded sideways. The single cab version can even take two pallets loaded sideways. The load is strapped down via eye rings on the cargo bed, each of which can take a load of up to 500 kgs. There is also boosted load capability – the maximum payload has gone up to 1.16 tonnes.
The cargo box can also be secured using an electrically operated roll cover, protecting the items inside. This roll cover can be opened and closed from the cargo box itself, from inside the vehicle or by remote control via the vehicle key.
5 turbocharged engines
Customers will have a choice of 4 turbodiesel engines and 1 turbocharged petrol engine. All the engines have high efficiency and high levels of torque. The engines offered in each market will depend on the needs of the customers. In African markets, for instance, the base specification engine will be a 4-cylinder, 2-litre turbodiesel with 150 ps output. But for many other markets, there will be a more powerful version which produces up to 170 ps.

10-speed automatic with 4MOTION systems
Amaroks with engine outputs of more than 209 ps will have a 10-speed automatic transmission as standard. This transmission is operated by an e-shifter which is a by-wire system. In addition, there will also be a 6-speed automatic transmission and manual 6 or 5-speed gearboxes for various engines and market preferences.
In many markets, the Amarok will come with Volkswagen's 4MOTION all-wheel drive system as standard. Depending on region and engine, there will be two different 4MOTION systems. One will have selectable all-wheel drive based on the given situation, and one will be permanent all-wheel drive.
Driver assist systems
With pick-up trucks spending more time on highways rather than off-road, the need for driver assist systems to make driving safer is greater. To provide this, there are more than 20 of the driver assist systems in the Amarok. Where markets are suitable, the ACC+ Adaptive Cruise Control can incorporate road signs into the automatic control of speed via camera scans.
There are also 6 different driving profiles (Drive Modes) to assist the driver in a variety of terrain conditions. These customise the characteristics of the engine and drivetrain to optimise grip and stability so the driver can confidently explore off-road areas.
Volkswagen's design boss wants to know what you think of a pick-up version of the ID. Buzz