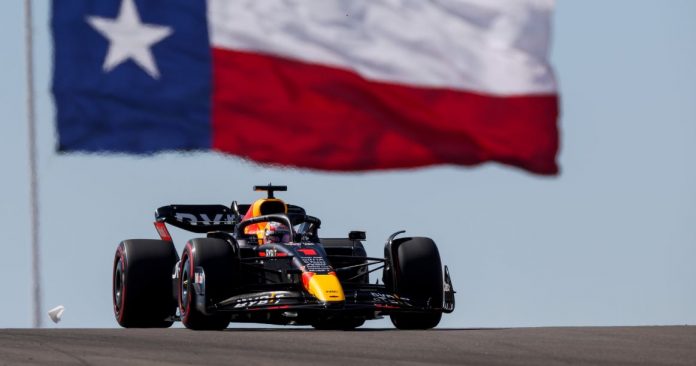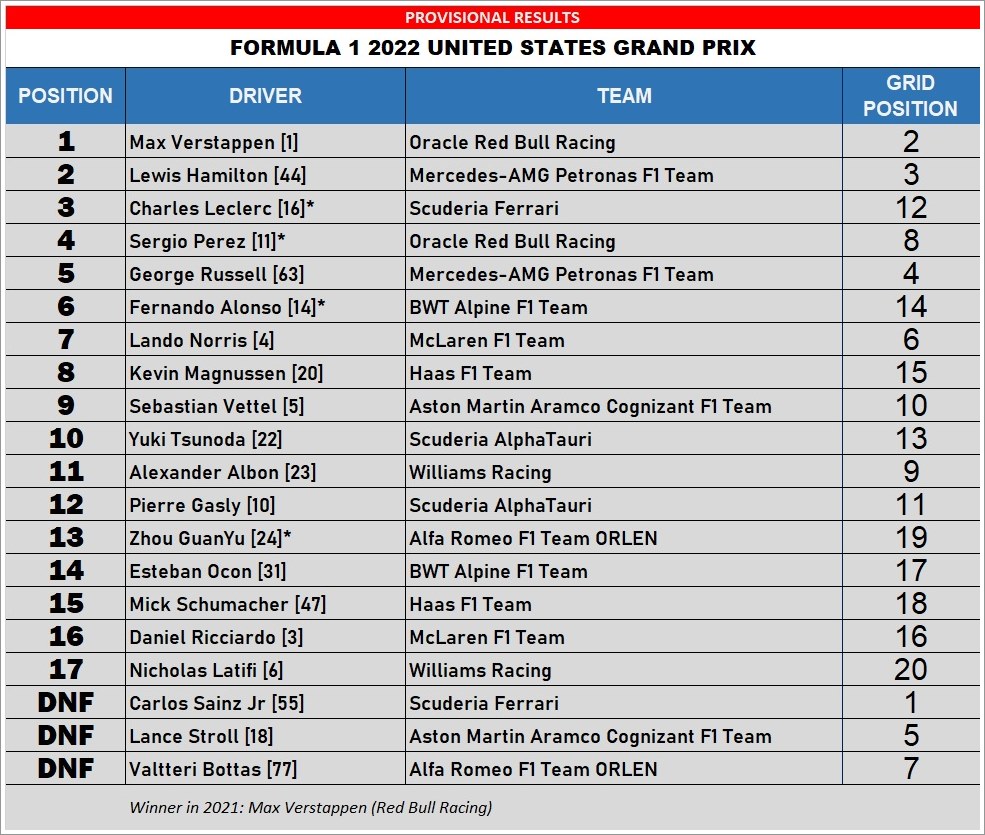 Although the F1 Drivers title was confirmed after Japan, the teams were still out to score the most points in the remaining 4 races. So the mood on the starting grid at the Circuit of the Americas (COTA) was just as tense, especially for the Red Bull and Ferrari drivers who were separated by just a point. And for Mercedes-AMG, there was nothing to lose in pushing hard now…
As the lights went out to start the US Grand Prix, Ferrari's Carlos Sainz got off cleanly from his pole position but Red Bull's Max Verstappen next to him had just as strong a take-off and was the first to reach Turn 1. Just behind, the two Mercedes-AMG cars were also closing in on the corner and George Russell locked up, coming in contact with Sainz who went into a spin.
The incident cost Russell a 5-second penalty but for Sainz, it was worse… although the damage to his car didn't look bad, he had to retire after heading into the pits when it was found that the radiator was leaking. A big disappointment after getting to start from pole position. His team mate, Charles Leclerc was still too far back, having had a 19-place penalty on the starting grid.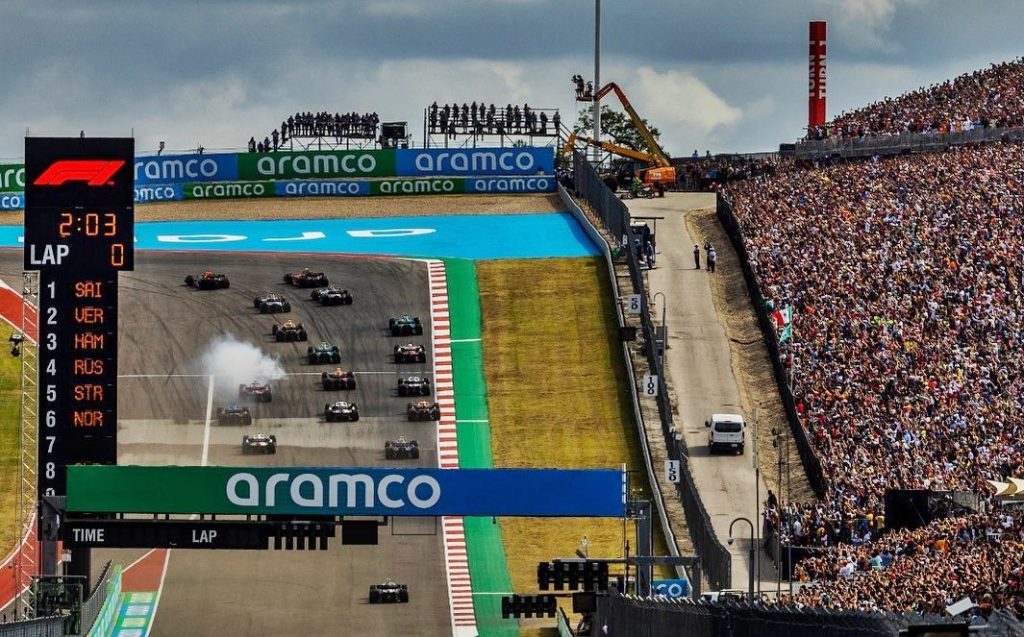 After that, Verstappen took the lead and quickly began to try to extend the gap to Lewis Hamilton who had sped past Russell. The two arch rivals would have a chance to challenge each other again during the 56-lap race. Having continued on, Russell found himself under attack from Aston Martin's Lance Stroll, who had started just behind the two Mercedes-AMGs.
Some time during the first laps, Verstappen's partner, Sergio Perez who had started in P9, had picked up some damage to his wing and by lap 7, something even came off. While he was up to fourth, it was uncertain if the car could keep going until he could come into the pits. Meanwhile, he seemed to be trying to take on Russell in spite of the damage.
On the tenth lap, Hamilton began to alert his team about tyre wear at the front. There was uncertainty about the life of the mediums on heavier fuel loads at the start. And though the weather and temperatures were good, the winds were making it tricky in some sections.
The pit stop window opened on lap 11 and the first drivers in were Alfa Romeo's Valtteri Bottas, Scuderia Alphatauri's Yuki Tsunoda and McLaren's Daniel Ricciardo. Hamilton came in on lap 13, giving up the chase with Verstappen. However, the Dutchman also came in a lap later, along with Russell, so everyone was going for a 2-stopper.
Perez had thus inherited the lead, with a 6-second gap from his team mate who had rejoined the race just ahead of Stroll. The Aston Martin driver had to keep an eye on Leclerc who wanted his third place while Stroll's team mate, Sebastian Vettel, was not giving up his fifth spot yet. On lap 15, Perez came in but changed tyres without wasting time on a new front wing. He rejoined just behind Hamilton who was running third by then as Leclerc had moved up to second.
Lap 18 saw the first major incident that brought out the Safety Car when Bottas was stopped between Turn 19 and Turn 20 after having spun off into the gravel (might have been due to the winds causing instability). This was timely for Leclerc who could now zip into the pits for his change to hard tyres. He rejoined just behind Perez in fourth.
After 4 laps, the F1 Safety Car went off and racing resumed with Verstappen in the lead as the lap 22 began. Just behind him were Hamilton, Perez and Leclerc but the Red Bull driver moved to quickly widen the gap within 3 turns.
The resumption of racing was short as Alpine F1's Fernando Alonso crashed into Stroll. Gasly was lucky to have been able to avoid the two cars. The call went out to Bernd Maylander to come back out in the F1 Safety Car again. This time, there was debris on the track so time would be needed to clean it up. While Alonso had managed to get back to the pits and then go back out again, Stroll had to pull over on the track.

Almost a quarter of the race was completed as the F1 Safety Car circulated around the 5.513-km track. Verstappen was up front, stalked by Hamilton, with Perez and Leclerc behind and Russell in fifth. Stroll's retirement had given Haas F1's Mick Schumacher a chance to get into the points zone.
The clean-up job was done quickly, and Verstappen was ready to streak away on lap 26 when the Safety Car departed. However, on lap 28, he sent a message of alarm to his team about problems with driveability. Leclerc was trying hard to close the gap with Perez but the Red Bulls had the speed on the straights.
It was evident that a number of cars were running with damage, some from early in the race like Perez and Russell. Some, like Norris and Alfa Romeo's Zhou GuanYu, had also picked up debris after the Alonso-Stroll accident, which wasn't good either. Gasly was given a 5-second penalty for not being within 10 car lengths of the F1 Safety Car.
As the race finished one hour, Verstappen was in the lead, followed by Hamilton as Perez and Leclerc remained in their duel. Within the points zone at the end of the top ten were Schumacher, Norris and Tsunoda. The Japanese driver came in on lap 34, together with Schumacher, and managed to return ahead of Gasly.
While Verstappen was having problems with the strong winds, Hamilton quickly came in to get hard tyres. This brought a reaction from Red Bull which asked Verstappen to come in for medium tyres. However, with Leclerc having come in just ahead, his pit stop was slowed down.
The lead went to Perez then as his team mate had fallen to sixth when he rejoined behind Leclerc and Hamilton. The Mercedes-AMG driver had a slight advantage with his hard tyres but not much as they also took a while to get up to the right temperature.
Perez gave up his lead on lap 39 and Vettel took over the lead, while Verstappen easily passed Leclerc into Turn 1. But the Ferrari driver was able to regain his position right after that. But Verstappen had the edge and got past a few turns later, with Hamilton in his sights next. As Vettel came in for what would be a long stop, it was Hamilton having clear air ahead of him on lap 42 of the US GP.
10 laps remained with the gap between Hamilton and Verstappen at about 3 seconds. For a change, Hamilton had a chance to give his team the first win of the season. Leclerc and Perez remained locked in battle with Russell 4 seconds behind waiting for something to happen that could move him up.
In the second half of the top ten, Williams' Alex Albon had slipped into ninth but Norris was able to displace him quickly., Haas F1's Kevin Magnussen was holding sixth and trying to keep Alonso from taking it.
Within 2 laps, Verstappen had knocked off about 2 seconds with Hamilton and on lap 50, with 6 laps remaining, Verstappen got past Hamilton on turn 12 to take the lead. However, the Stewards also saw that the Dutchman had run wide (twice) and gave a flag warning on track limits. Perez was determined to displace Leclerc to get onto the podium and was narrowing the gap steadily. But the Red Bull driver was also running out of tyre.
The remaining two laps saw the two champions fighting hard to win, and Hamilton even got a warning for exceeding track limits as well. But Verstappen kept his lead all the way to the finish line and with the chequered flag being waved for him (by Apple CEO, Tim Cook) for a second time at COTA, it confirmed Red Bull Racing's F1 world title.