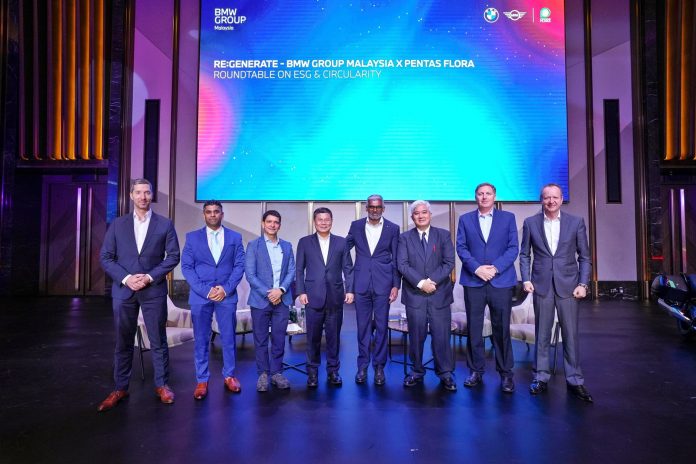 In the automotive aftersales industry, waste products are unavoidable and over the years, the more responsible companies have ensured that the waste products are properly disposed and do not damage the environment. Local authorities also have strict regulations to ensure that waste products like used oil do not get into the public drainage system.
One of the companies which has stepped up its efforts in this area of Environmental, Social and Governance (ESG) is BMW Group Malaysia which recently commemorated their partnership with Pentas Flora in a Memorandum of Understanding (MoU).
As part of BMW Group Malaysia's RE:GENERATE programme to adopt circularity within the organisation, this collaboration with Pentas Flora is a crucial first step to ensuring not only proper automotive waste management, but also a firm departure from the traditional linear approach to valuable resources.
The goal is to achieve 100% participation in repurposing used oils and lubricants from all BMW dealers nationwide, while also encouraging more industry players to pay closer attention to waste management, ensuring that waste is no longer carelessly deposited into landfills, incinerated, or illegally dumped.

The initiative actually started in 2021 when BMW Group Financial Services Malaysia collaborated with Pentas Flora as a sustainability partner. The internal initiative with the local BMW dealer network was intended to give waste oils and lubricants collected from their service centres a second life as re-refined eco-base oils.
Since then, over 30,000 litres of waste oils and lubricants have been collected from 4 participating BMW dealerships in the Klang Valley. These products have been sent for processing at Pentas Flora's re-refinery plant in Banting, Selangor to eventually be turned into re-refined eco base oil that will be channelled back into the automotive sector once again.
Re-refined oil is a complex but highly reliable product that goes through vacuum distillation, pre-treatment processes such as sieving, dewatering, vacuum dehydration, short path distillation, and a variety of treatment processes to obtain a quality end-product comparable to virgin base oil.
"For us at BMW Group Malaysia, our vision for sustainability is clear. In all our efforts to mitigate climate change, we ensure our strategy is both Circular and Responsible – as we pursue a verifiable and consistent path towards climate neutrality by 2050. In doing so, we drive forward the Group's global ambition here with a local context, while inspiring more Malaysian industry leaders to place ESG at the forefront of their decision-making in 2023," said Hans de Visser, Managing Director of BMW Group Malaysia.
The MoU signing ceremony was carried out during a roundtable discussion on ESG by BMW Group Malaysia and Pentas Flora. The discussion has participation of sustainability leaders from the public sector, alongside industry experts and innovators. They shared insights on low-carbon practices and the voluntary carbon market, risks for ESG non-compliance, good governance for sustainable growth, as well as a necessary mindset shift amongst corporate Malaysia towards self-regulation in their sustainability efforts.
Now it would be good if BMW Group Malaysia also starts looking into battery recycling processes since it is putting an increasing number of electric vehicles on Malaysian roads. While these are early days and the number of battery packs being disposed would be small, the issue could become very big by the end of the decade when the first batch of EVs start to have the battery packs replaced. The BMW Group would already have experience with battery recycling processes in Europe so it may be timely to start looking at how those processes can be used in Malaysia, rather than wait till 2030 before acting.