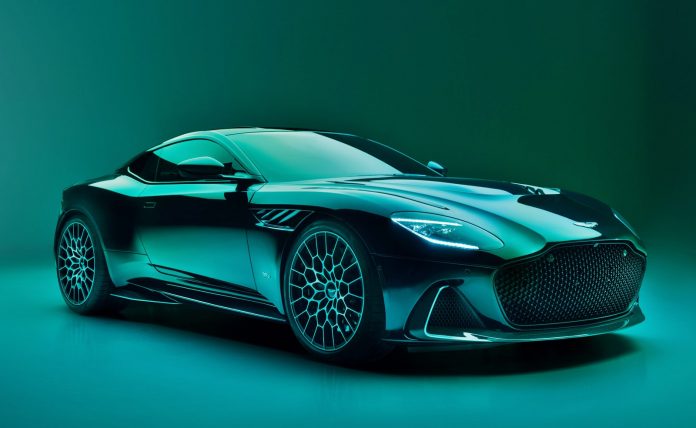 In its 110th anniversary year, Aston Martin presents the superlative-laden DBS 770 Ultimate, a DBS model that surpasses all others by being the most powerful production Aston Martin ever. To be limited to 499 units – 300 Coupes and 199 Volantes – the DBS 770 Ultimate marks the end of production of the current DBS which has a history going back to 1967.
As its name suggests, it will be the 'ultimate', with extensive design and engineering enhancements. And like all Aston Martins, the scope for true one-of-a-kind personal specification is virtually limitless with a diverse range of bespoke options that Q by Aston Martin provides. These include Q liveries with assorted graphics options, painted wheels to match body or graphics colours, tinted carbonfibre and woven leather seat inserts, trim inlays and a carbonfibre steering wheel.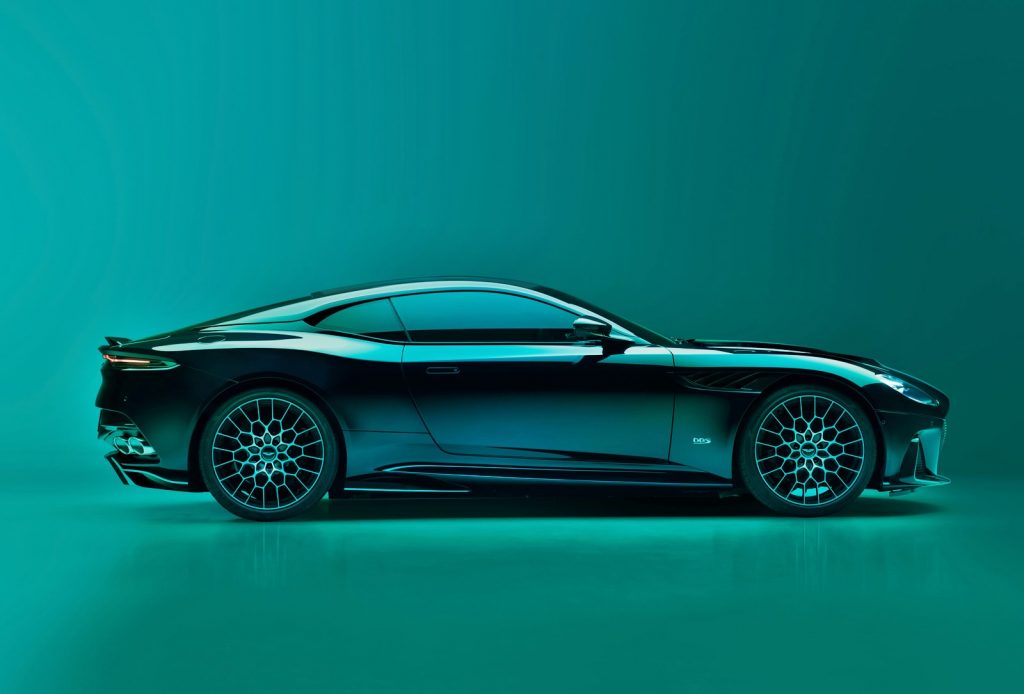 The Aston Martin quad-cam 60-degree 5.2-litre V12 engine has been retuned to boost power output to 770 ps at 6,500 rpm and 900 Nm from 1,800 rpm to 5,000 rpm. The boost also comes from modified air and ignition pathways together with a 7% increase in maximum turbocharger pressure. Precise tuning of power and torque curves gives the driver exceptional response, outstanding in-gear acceleration and the authentic V12 soundtrack with a maximum speed of 340 km/h.
Power flows through a ZF 8-speed automatic transmission and mechanical Limited-Slip Differential mounted at the rear of the car. In addition, the DBS 770 Ultimate has a unique transmission calibration to enhance shift speeds and driver interaction, contributing to a truly connected driving experience.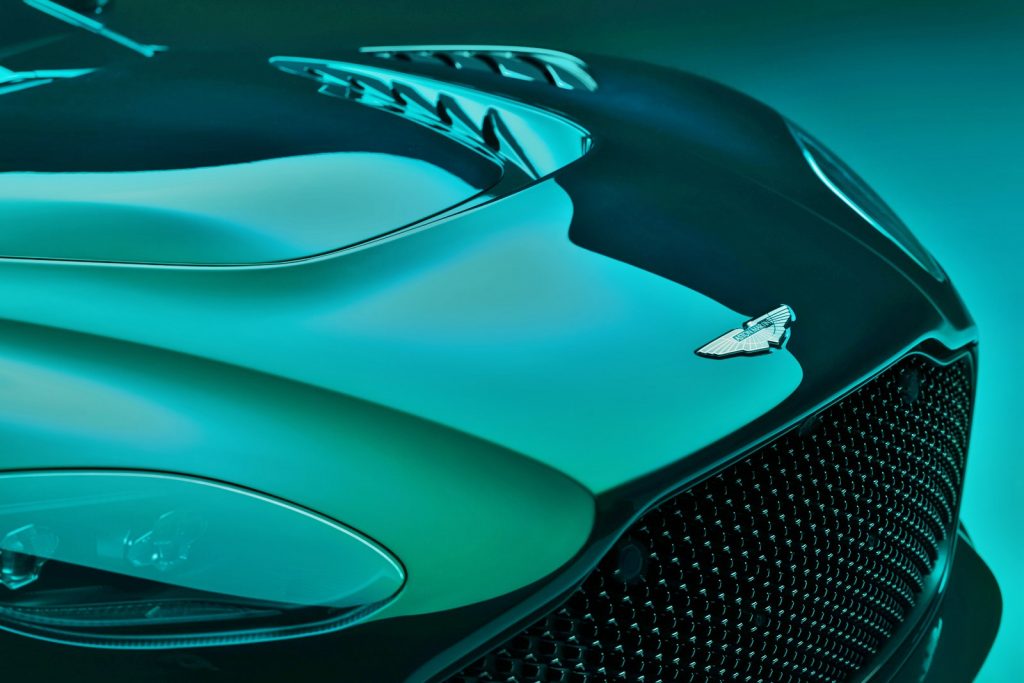 To further improve the direct nature of the steering response and increase the level of detailed feedback, the engineers developed a new solid mounted steering column which transmits exactly what the front wheels are doing and give the driver an accurate feel of the available grip.
Integral to achieving the engaging character and heightened steering feel, the front end lateral stiffness has been improved by 25% to provide maximum performance feel and response. This increase has been achieved with an enhanced front crossmember, and thicker rear undertray, which also increases global torsional stiffness by 3% for perfectly balanced driving dynamics.
Enhancements have also been made to the Adaptive Damping System with this car receiving unique damper calibration and software tune focusing on control and composure without compromise to ride quality.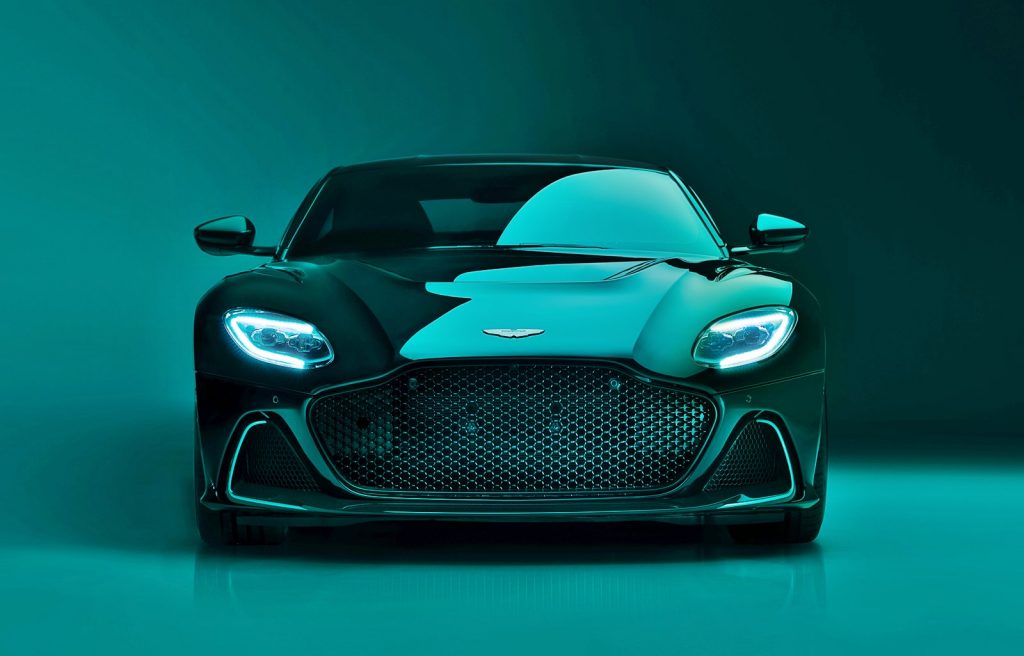 The appearance of the DBS 770 Ultimate has been amplified to present greater assertiveness that distinguishes this final edition of the model. As always, design enhancements are done with functional purpose and in this case, provide increased airflow to the radiators, enhancing thermal management and give greater visual road presence. Drawing increased airflow through the engine radiators, the clamshell bonnet features a dramatic 'horse-shoe' engine vent and a new front splitter integrates two new outboard vents.
Further detail design changes include 2×2 Twill Carbonfibre Cantrail, Windscreen Surround, Mirror Caps, and Fender Louvre as standard. A new carbonfibre sill element visually lowers the side profile towards the rear wheel, creating a poised stance that accentuates the muscular physique. A unique design of rear diffuser maintains aerodynamic balance from front to rear giving an unmistakable look.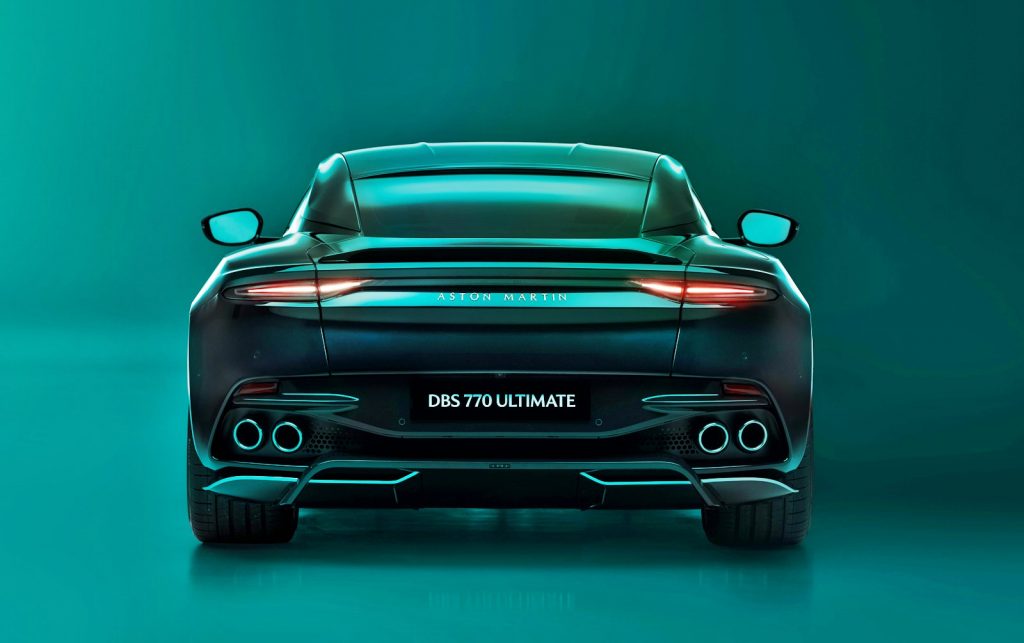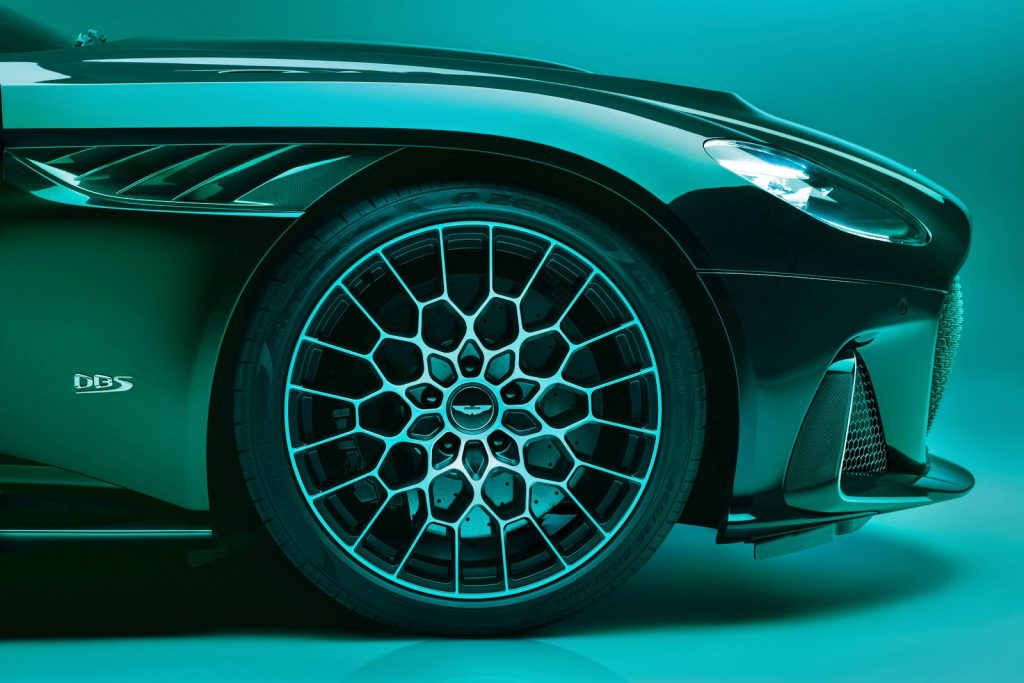 The unique 21-inch wheel style, available in three finishes, takes inspiration from the Valkyrie and Victor. Pirelli P Zero high performance tyres – 265/35 R21 front and 305/30 R21 at the rear – are standard fitment when the car leaves the factory.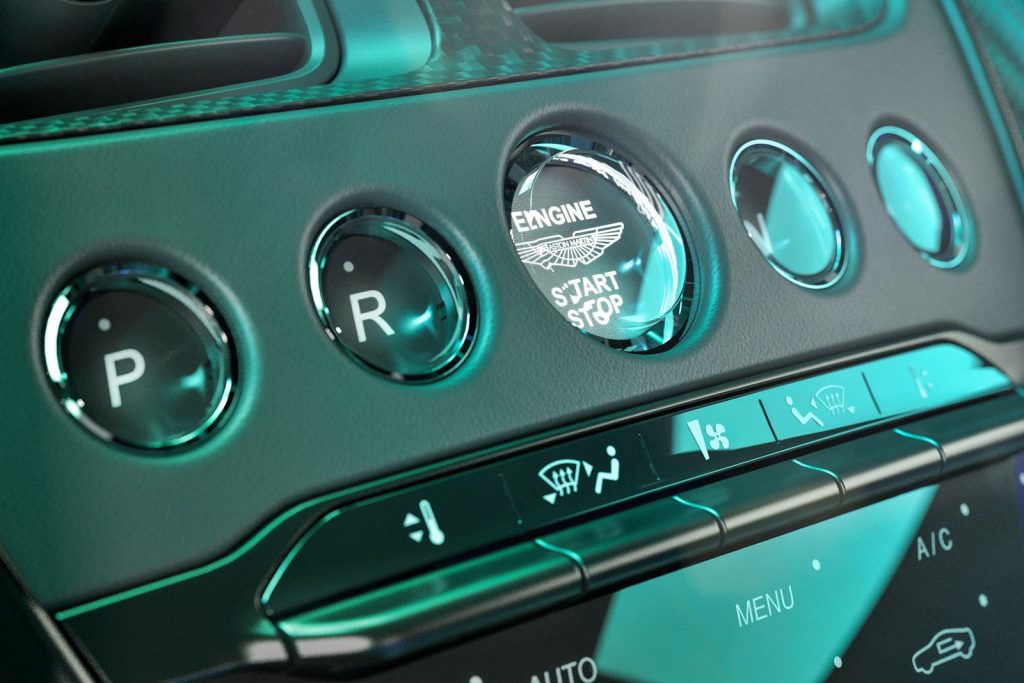 Inside, the DBS 770 Ultimate has been given design treatments that set it apart and yet retain the instantly recognisable cabin environment of the current DBS. Signifying its halo positioning, the DBS 770 Ultimate comes with Sports Plus Seats trimmed in full semi-aniline leather and Alcantara, featuring a 'fluted' quilt and perforation pattern. While Carbonfibre Gearshift paddles are standard, customers can also choose to have. Aston Martin's performance seat fitted.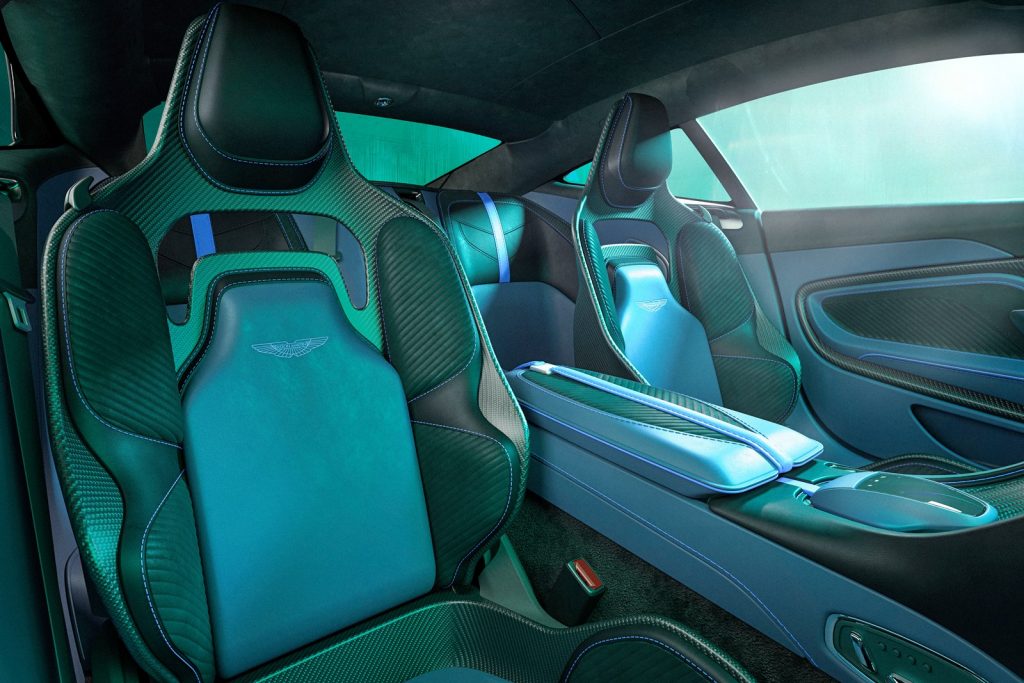 A bespoke trim split has been introduced, with contrast colours linked to welt and stitching, along with a tailor-made strap and buckle badge featuring a laser etched DBS 770 Ultimate logo found on the centre armrest. A unique set of sill plaques showcasing the Aston Martin Wings, DBS 770 Ultimate logo and Limited-Edition numbering signify each car as one of the 300 Coupes or 199 Volantes.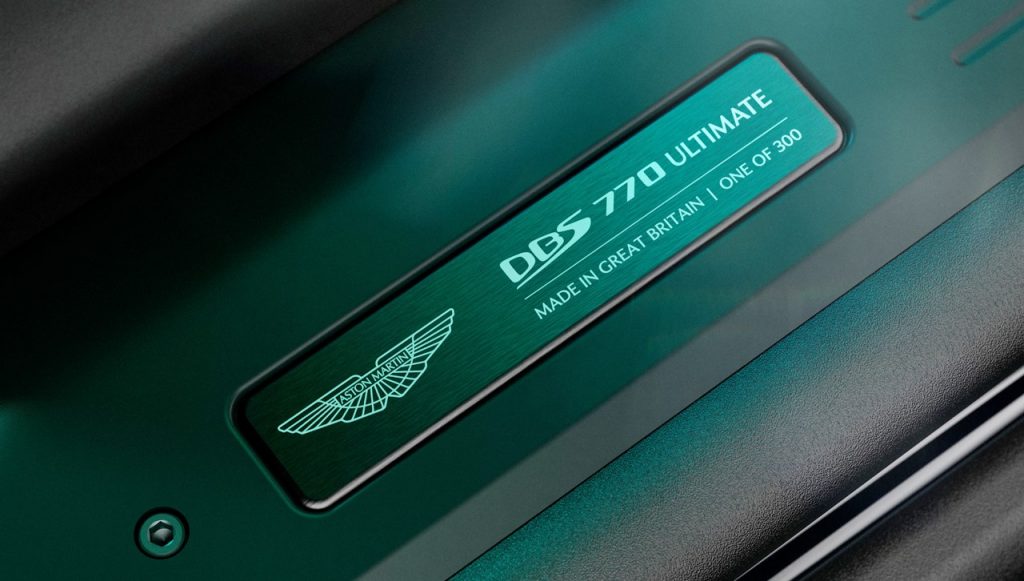 "When an iconic model generation reaches the end of production it is important to mark the occasion with something special. In the case of the DBS 770 Ultimate, we have spared nothing in ensuring the final version of our current series production flagship is the best-ever in every respect. Not only is it the fastest and most powerful DBS in our history, thanks to a comprehensive suite of improvements to the transmission, steering, suspension, and underbody structure; it is also the best to drive," said Aston Martin's Chief Technology Officer, Roberto Fedeli.
Production of the DBS 770 Ultimate starts during this quarter of the year and every unit already has a customer waiting. The first deliveries are expected to begin during the third quarter of 2023.