The second round of the 2023 Formula 1 World Championship saw reigning champion Max Verstappen starting from 15th after driveshaft failure forced him out of qualifying, and Charles Leclerc in 12th after taking a 10-place grid drop for using more than his 2 allotted ECUs for the season,
Verstappen's team mate in Red Bull Racing, Sergio Perez, had a poor start from pole position and was passed by a forceful Fernando Alonso in the Aston Martin. However, the Stewards would give Alonso a 5-second penalty for incorrect starting location.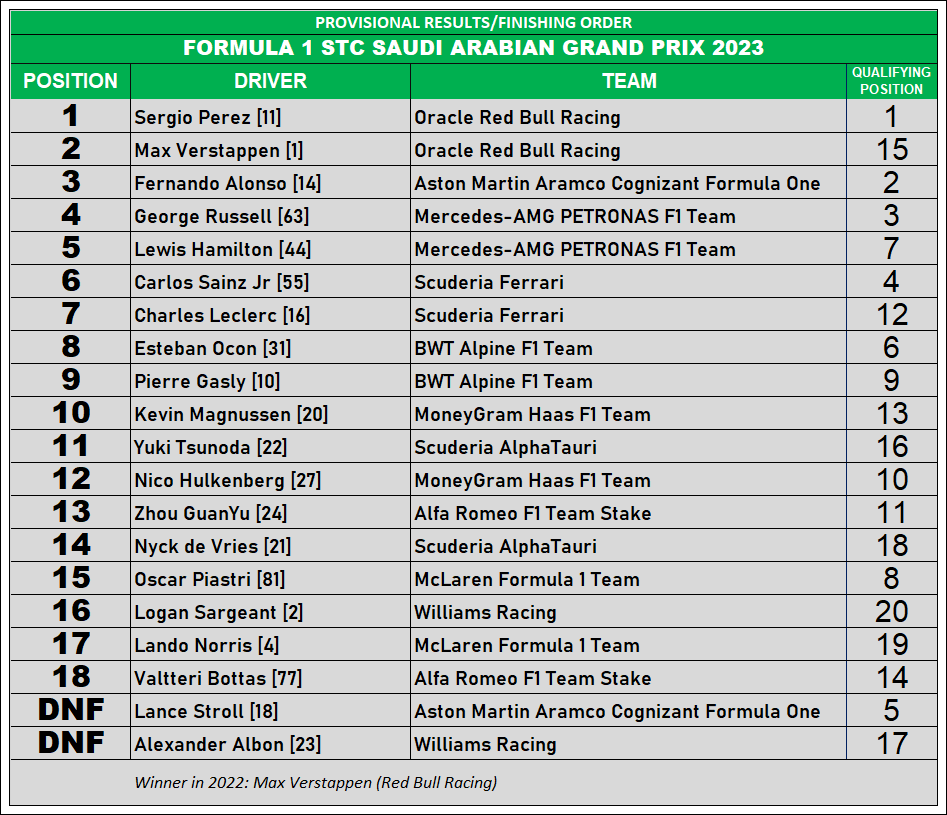 Newcomer Oscar Piastri didn't have finish his race in Bahrain and also started off badly in Jeddah when his McLaren made contact with the car of Scuderia Alphatauri's Pierre Gasly as everyone moved off. The Australian driver lost time as he had to enter the pits to get a wing changed.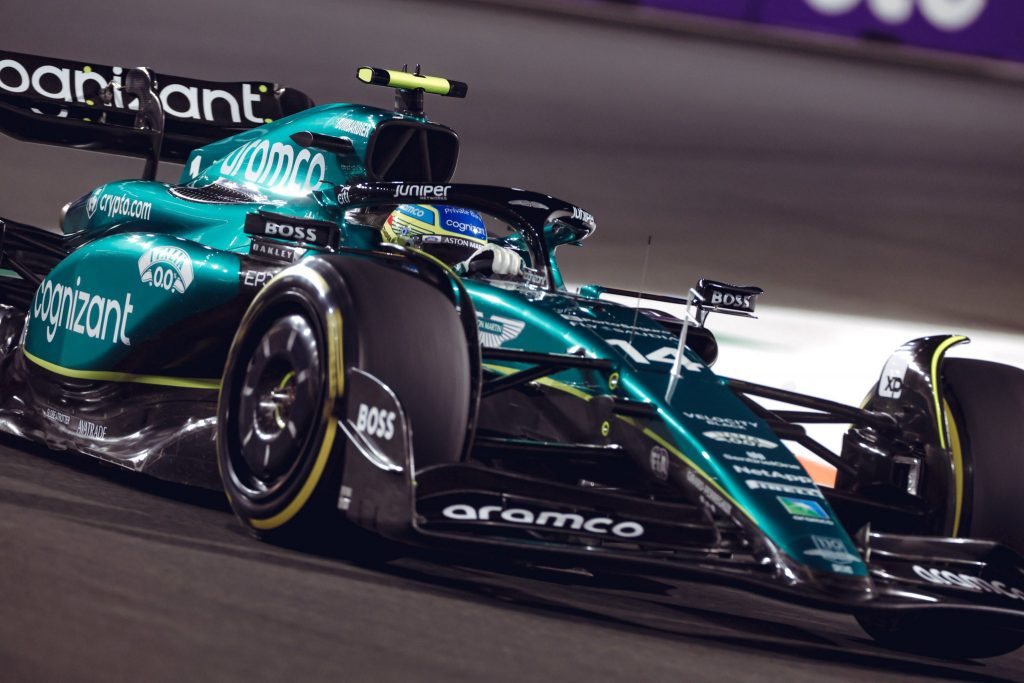 The early order of the race was Alonso leading Perez, with Mercedes-AMG's George, Russell and Aston Martin's Lance Stroll following. Ferrari's Carlos Sainz held onto fifth, ahead of Alpine's Esteban Ocon.
By lap 4, Perez was close to Alonso and shot down the main straight using DRS. Holding his line, he charged in at Turn 1 and pushed past the Aston Martin to take the lead. As for Verstappen and Leclerc, the Red Bull car was passing through 11th while Leclerc was in 9th and steadily making progress to the front which was almost 13 seconds away.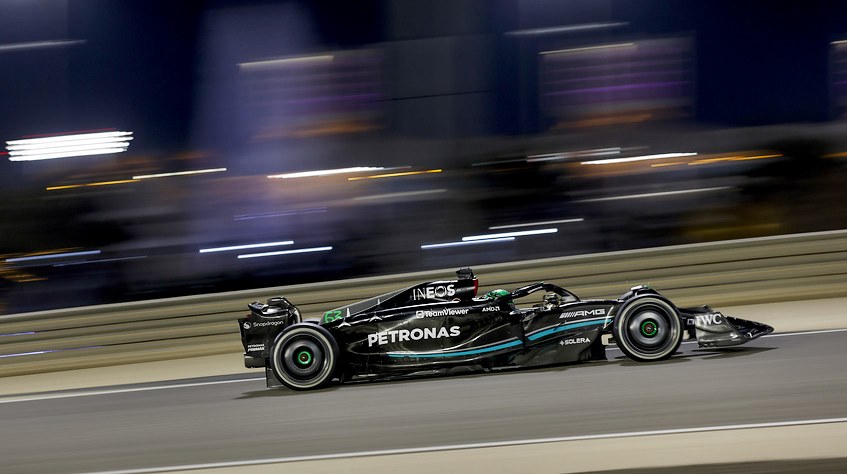 Gasly was in 8th and pushing Hamilton whose hard tyres were still taking time to reach optimum temperature. But the Alpine driver also had to keep an eye on the Ferrari closing in, so he could not give full attention to passing Hamilton.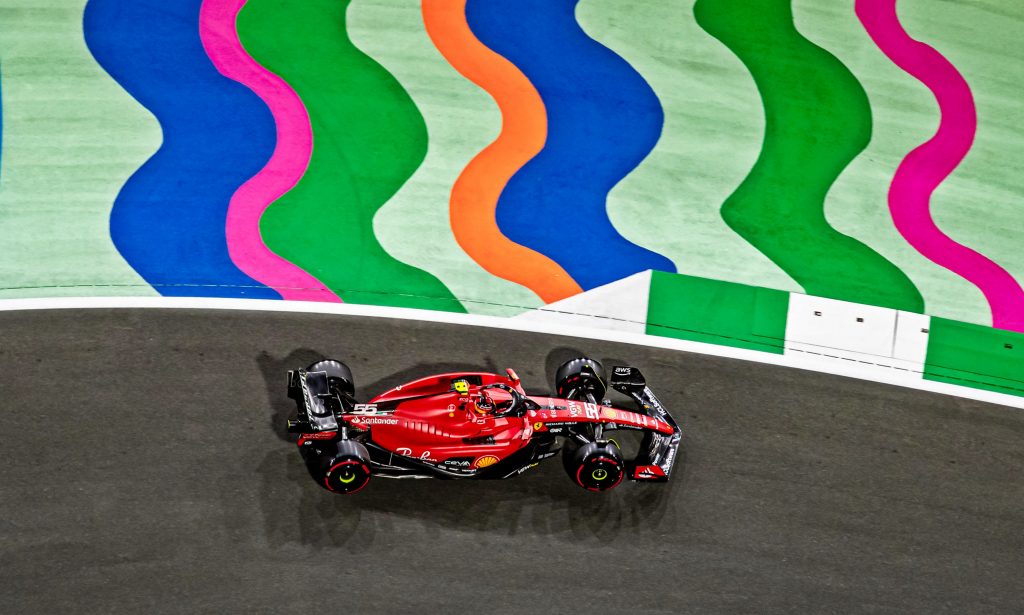 On lap 7, Verstappen had reached 10th, where Alfa Romeo's Zhou GuanYu was. He was setting up to pass but then went wide over the kerbs, allowing the Chinese driver to stay ahead for a while. But the Dutchman would get past one lap later and started to look for Hamilton.
In an effort to get his hard tyres' temperature up, Hamilton tried weaving on the straight. His actions were spotted by the Stewards who ordered the black and white flag to be shown to the Mercedes-AMG driver.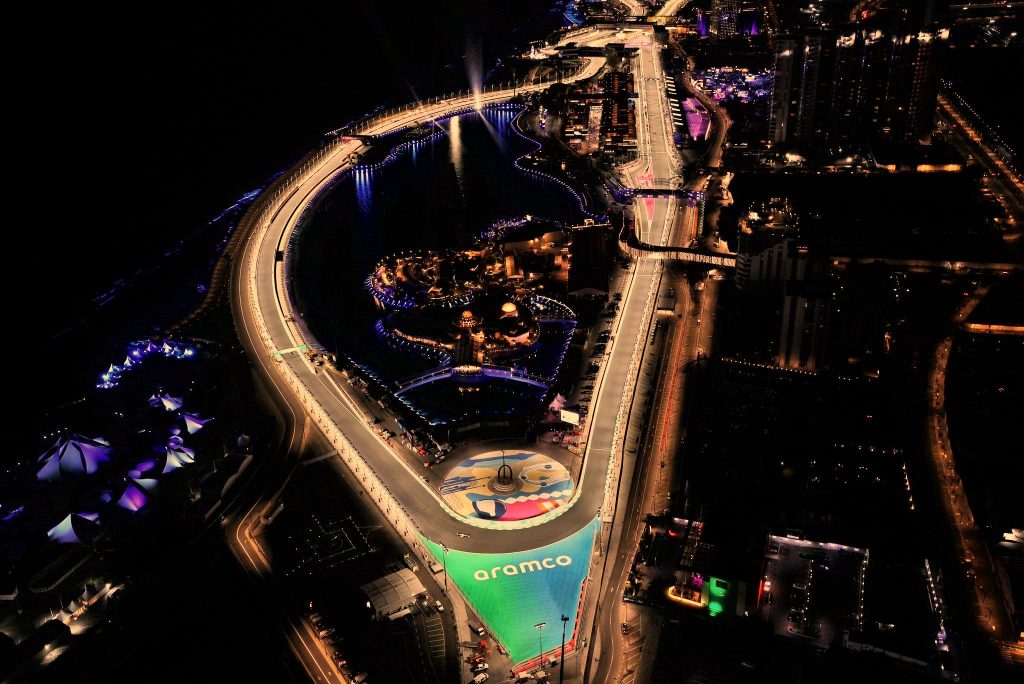 As the race entered its 10th lap, Perez remained in the lead, 3 seconds ahead of Alonso. The Spaniard was building the gap to Russell who was over 5 seconds behind so that he could serve the time penalty. Verstappen was now up to 8th, just a second behind Leclerc. The Ferrari driver was still able to stay ahead of Verstappen in the 13th lap, having moved up to 6th after overtaking Ocon who had to deal with Verstappen.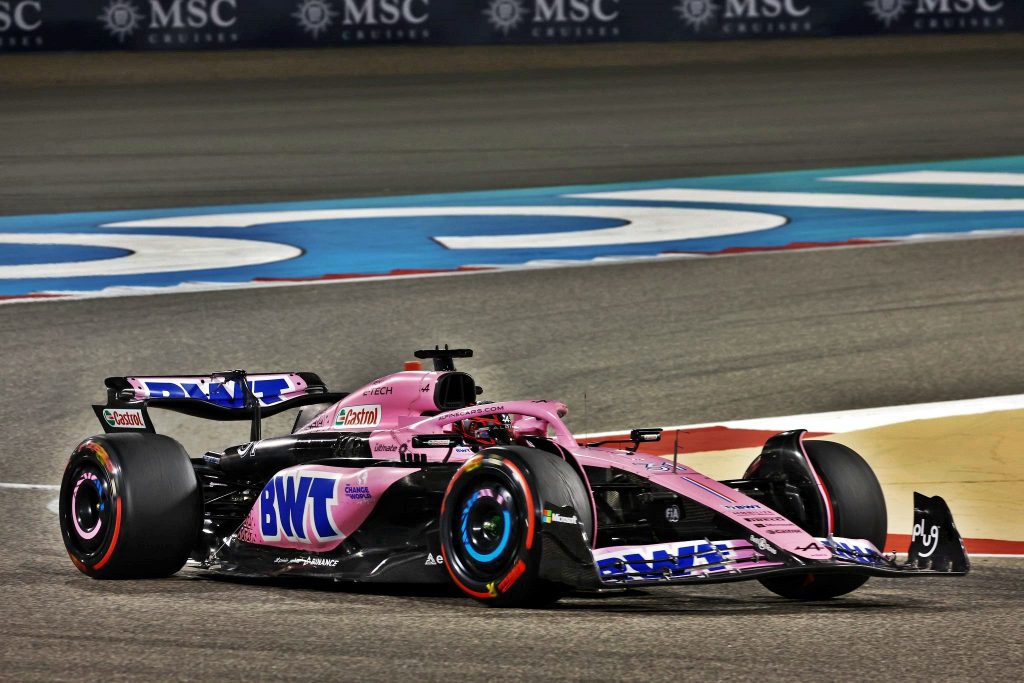 The tyre changes began in lap 14, with Stroll coming in and switching to hard tyres. Alonso didn't see a need to do so yet and kept Perez in sight, who was 4 second ahead. Sainz was called in on lap 16, also going to hard tyres and rejoining ahead of Stroll. Leclerc was on the softs and making progress, eating into his team mate's advantage.
Halfway through lap 17, Stroll's car showed a slower pace and then he was told to stop while still on the track. Out came the Safety Car (Aston Martin Vantage this time) for the third year at the Corniche Circuit. The back runners who had yet to go past the pit entry quickly shot in, and Perez also did likewise. Alonso also comes in and does serve his 5-second penalty. Verstappen and Russell also pit.
Two laps later, on lap 20, the Safety Car left the track and racing resumed. The Aston Martin engineers were busy looking through the telemetry data to see what had caused Stroll's problem so they could pre-empt the possibility of it happening to Alonso's car.
Perez was still at the front, chased by Alonso. Further back, the two cars of Alonso's former team were fighting hard, with Ocon ahead of Gasly. Hamilton had passed Sainz but Verstappen was still stuck in 4th and trying to move around Russell. Sainz too was caught weaving and given the black and white flag.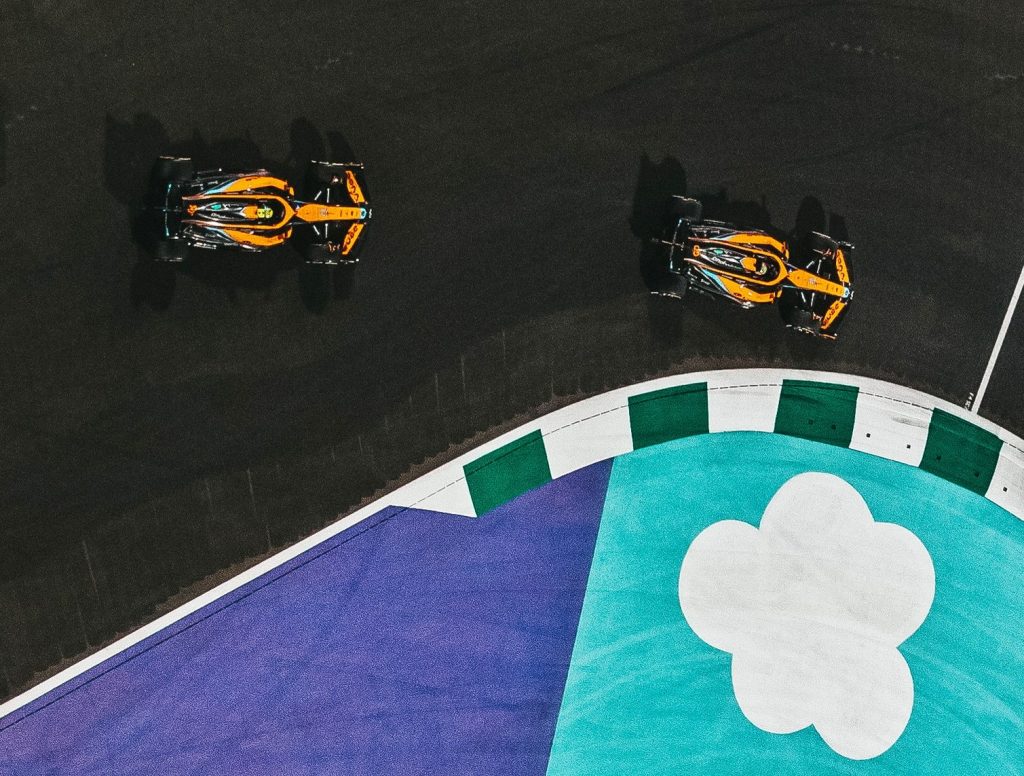 On lap 24, Verstappen finally got past Russell on Turn 27, using the slipstream with the DRS wide open. He didn't stop there either and zoomed past Alonso to make it a 1-2 for Red Bull Racing. Behind displaced Alonso, Russell had his team mate behind eager to make a bid for the podium and so was trying harder.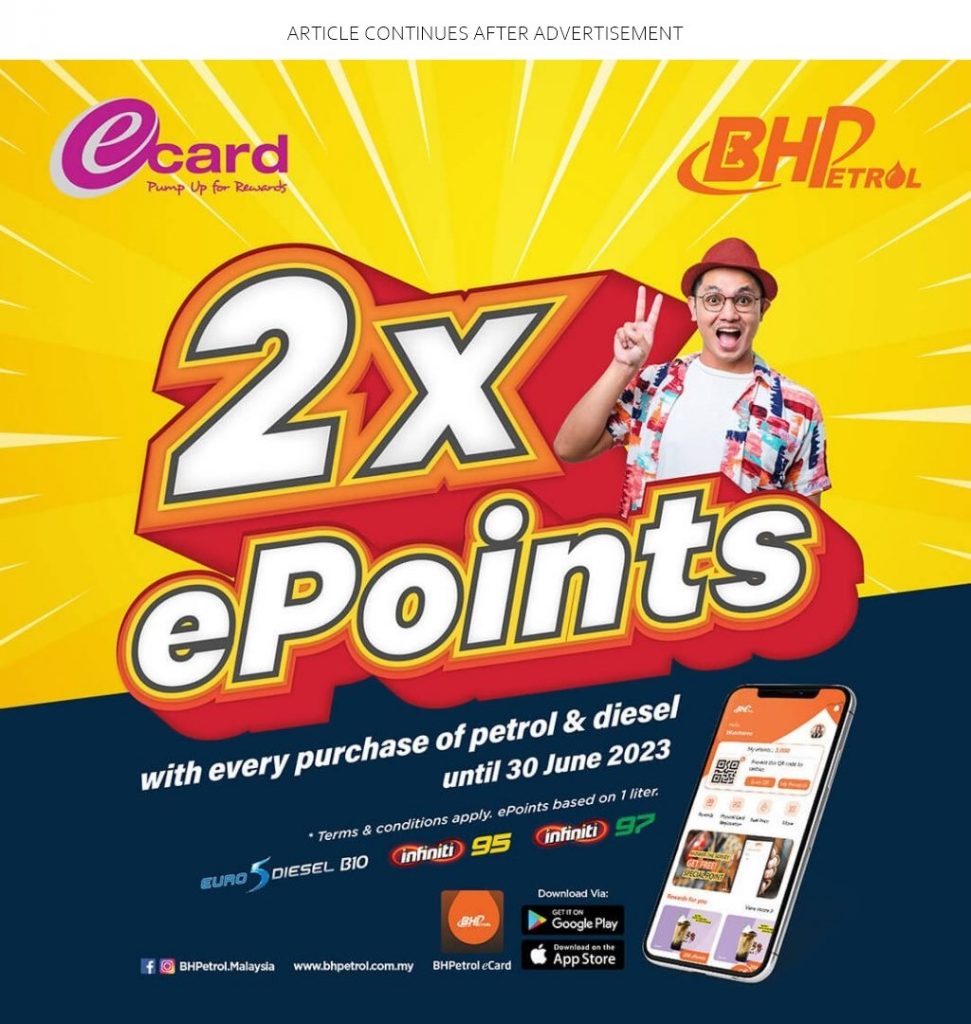 Williams Racing's Alexander Albon was reporting brake problems on lap 27. The Thai driver was in 17th and trying to stay out of the way of other cars as he tried to get back to the pits. When he finally did get in, it was lap 29 and he had to retire, the second driver to do so in the Saudi Arabian GP after Stroll.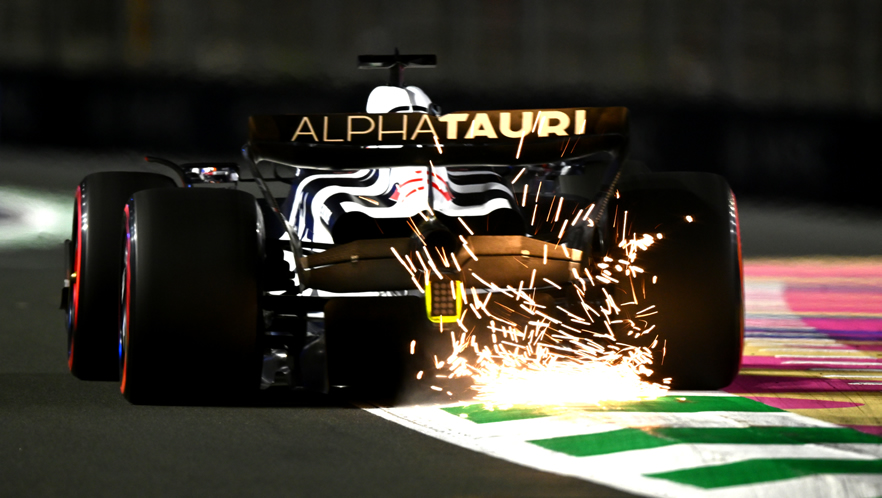 Perez was still in command with a 5-second gap and Verstappen was not trying too hard to take over the lead. Likewise, Alonso was not under pressure as Russell was busy with his own team mate. The Aston Martin driver was probably showing his long experience by not wasting effort chasing Verstappen at this time and waiting for an opportune moment to push harder.
Leclerc was unhappy being stuck in 7th, cruising behind his team mate. Neither could improve their positions and it was likely that Ferrari would end this race in the same order. They were not under any threat as the closest car was that of Ocon's, 7 seconds away.
On lap 36, there were signs that Verstappen was ready to move forward as his pace speeded up. But Perez was not giving up easily and each time his team mate seemed to close in, he would maintain the gap. After what had happened in qualifying, Verstappen was sensitive to any unusual noises and reported hearing some so he eased off in his pursuit of Perez.
Perez was also a bit concerned as he reported a 'long brake pedal'. This would have meant that the brakes were not working as well as they should and he had to press harder. His engineer assured him that the data showed things in that department to be fine. He had a 4-second lead, while Verstappen was comfortably 16 seconds ahead of Alonso as 7 laps remained.
Further back, Valtteri Bottas wasn't happy with his Alfa Romeo, apart from the fact that he was last. He could not get it to go faster but the team told him there was no problem. Haas' Kevin Magnussen was duelling with Scuderia Alphatauri's Yuki Tsunoda for 10th and eventually grabbed it from the Japanese driver.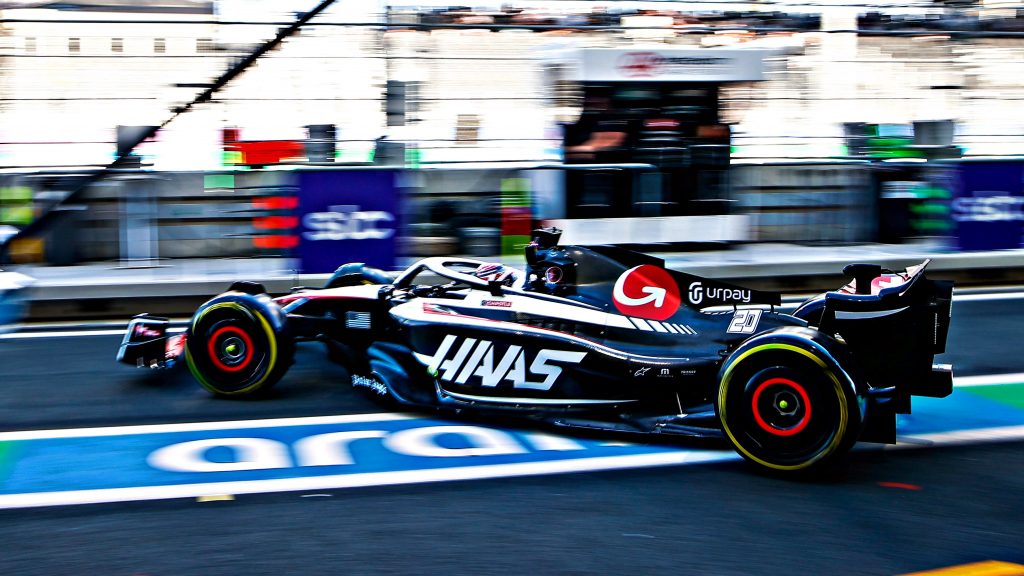 6 laps from the end of the 50-lap race, Perez readied for a final push by his team mate to take over the front spot. But the Mexican still had at least 6 seconds of space with Verstappen when just a lap remained. Russell meanwhile was told to close up to Alonso within 5 seconds as there seemed to be some talk that he might not have served his penalty correctly. But the Aston Martin driver realized this and kept out of the 5-second reach.
Perez cruised past the finish line and Verstappen never stopped trying because he wanted to get a bonus point so that he could at least stay in the lead. He did get the fastest lap and so he has just one point more than Perez after both drivers won a round each.