Although it would take a devoted fan to immediately spot the changes, Porsche is the latest carmaker to modernise its badge. The sports car manufacturer claims it took no less than three years to complete the revised design of its iconic crest, despite the subtle design changes.
Porsche used the badge for the first time in 1952 and subsequently changed it in 1954, 1963, 1973, 1994, and 2008.

The updated emblem debuts just days before Porsche's special event honouring the 75th anniversary of the 356 "No. 1" Roadster, the company's first vehicle to receive road approval on June 8, 1948. Beginning in the latter part of this year, the somewhat redesigned badge will make its debut on automobiles. What has changed is that the red portions now have a honeycomb structure, and the brushed metal finish gives it a more upscale appearance.
It's important to note that the Zuffenhausen brand hasn't actually given up on the earlier creations because Porsche Classic still accepts orders for all retro badges. The rearing horse was based on the Stuttgart municipal seal, and the black and red hues as well as the stylised deer antlers were taken from the crest of Württemberg-Hohenzollern, among other interesting facts about the crest.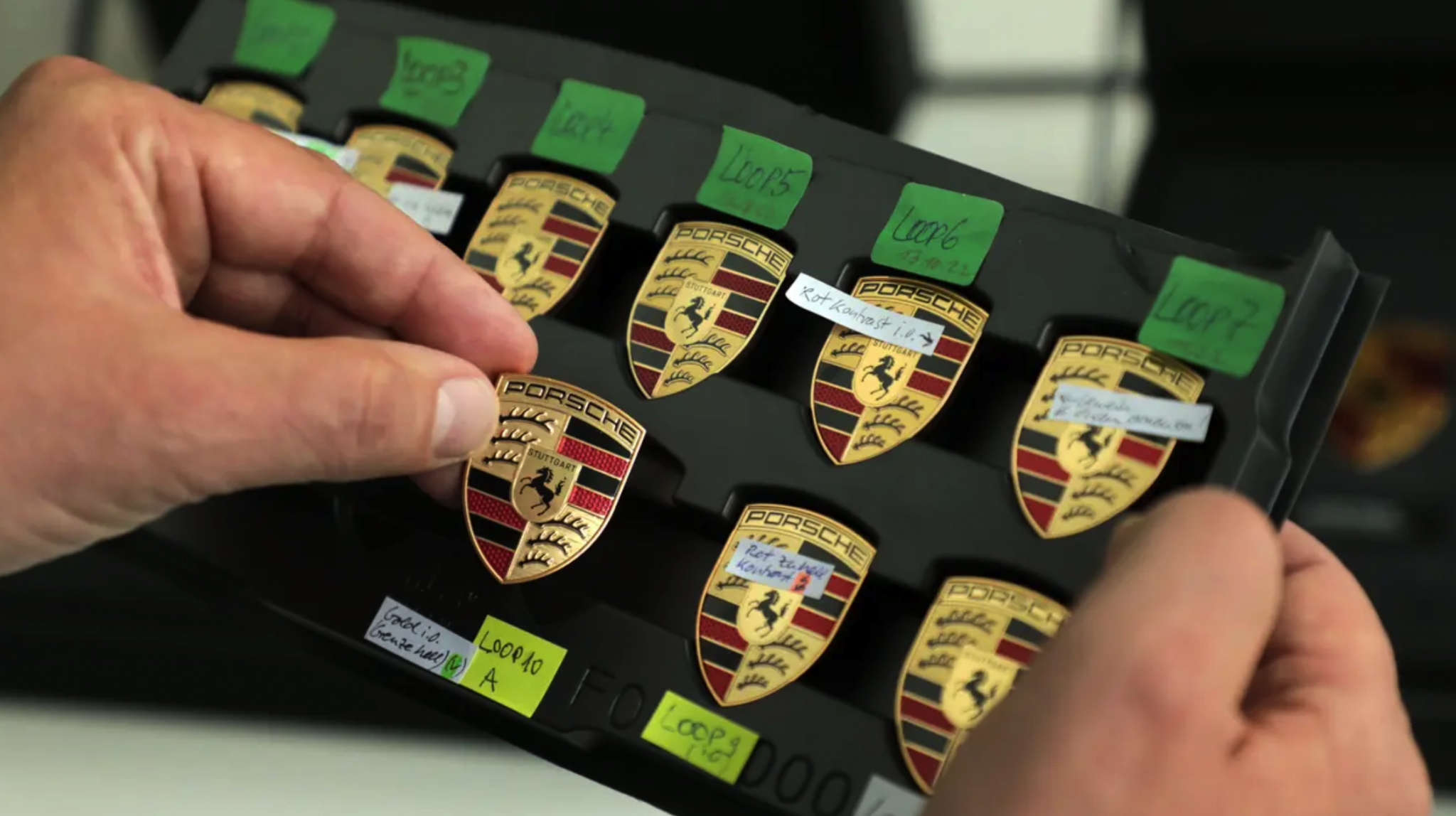 Franz Xaver Reimspieß, who is thought to have also created the Volkswagen emblem in 1936, was the creator of the original 1952 design. Porsche started building cars in 1948, but the crest didn't debut until four years later. The insignia was first attached to the steering wheel rim at the end of 1952 before being integrated into the hood handle of the 356 Speedster in November 1954. In 1959, it was also placed on the hubcaps.
The updated Porsche crest may be shown on June 8 when the German company promises to "offer a look forward to its vision of the sports car of the future." It might be a concept car to replace the electric 718 Boxster/Cayman, a hybrid 911, or a hypercar to fill the hole left by the demise of the 918 Spyder.