Volkswagen has offered a tantalising sneak peek at the upcoming all-electric estate version of its flagship ID.7 model, which now goes by the name ID.7 Tourer. The highly anticipated model is slated for release in Europe in 2024 and promises a blend of spaciousness and impressive efficiency. Volkswagen plans to reveal the final design in the forthcoming months.
With the ID.7 Tourer, Volkswagen marks its entry into the all-electric estate segment, poised to make its debut in 2024.
An aerodynamic design is a cornerstone for achieving extended driving ranges. The ID.7 saloon, previously unveiled and now hitting European roads, stands as a testament to Volkswagen's commitment to aerodynamics, boasting a remarkable Cd-value of 0.23. The ID.7 Tourer is no slouch in this department either, with a nearly identical Cd-value of 0.24. Even beneath the intriguing Indian summer camouflage, the ID.7 Tourer's elegant and commanding design shines through.
The ID.7 Tourer is presently clad in a seasonal camouflage pattern, echoing the multi-layer paint scheme showcased on the ID.7 saloon at this year's CES in Las Vegas. The imagery of the camouflage exudes an Indian summer aesthetic, with seamlessly integrated QR codes at the rear.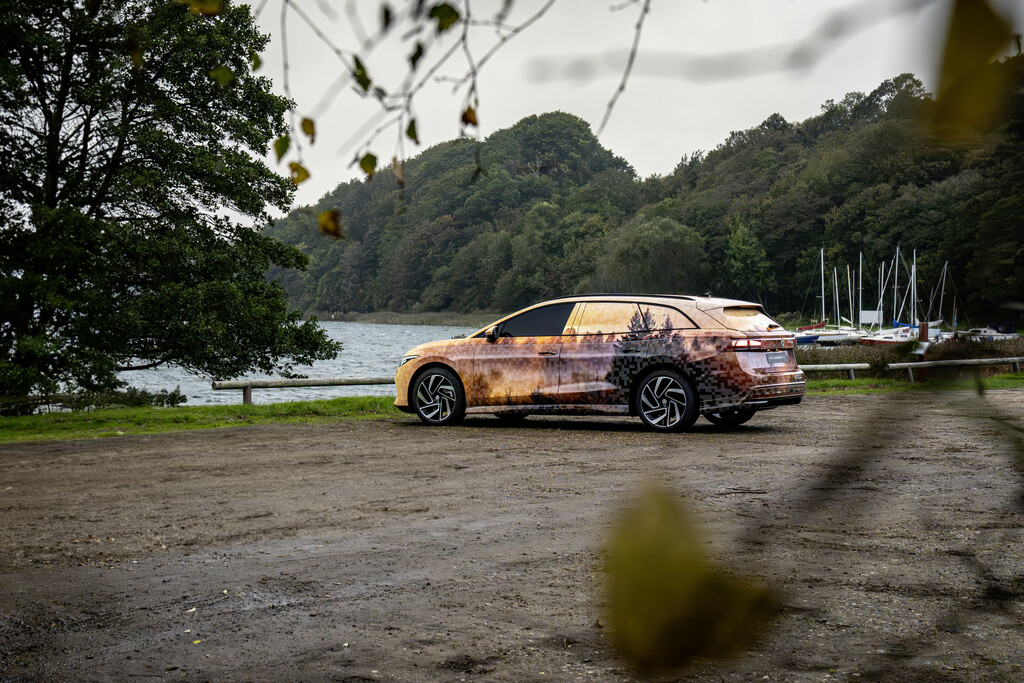 The ID.7 Tourer offers a luxurious interior with its short overhangs and extended wheelbase. When carrying a full complement of five passengers, the car's cargo capacity extends up to 545 litres, reaching the height of the rear seat backrest. Fold those seats down, and the nearly two-metre-long cargo space can expand to an impressive 1,714 litres.
Like all members of the ID. family, the ID.7 Tourer is built on the MEB platform from the Volkswagen Group. The advantages of this modular system, including short overhangs and an extended wheelbase, yield a spacious and elegant full-sized hatchback with an expansive sense of roominess and a substantial increase in trunk capacity.
Following the successful production of the ID.4, the ID.7 Tourer is the second model based on the MEB platform to be manufactured at Volkswagen's Emden plant, reaffirming the company's commitment to electric mobility in Germany's north-western region.
As the automotive world continues its electric revolution, Volkswagen's ID.7 Tourer stands as a compelling addition, combining efficiency, style, and the promise of a brighter, sustainable future.