I'm going to say this right off the bat so that I don't forget to later: Do NOT buy this bike if you're a beginner and just starting off in the world of 2-wheelers. I say that not as a challenge of any kind, but more from the fact that this bike is definitely for a seasoned biker, I kid you not.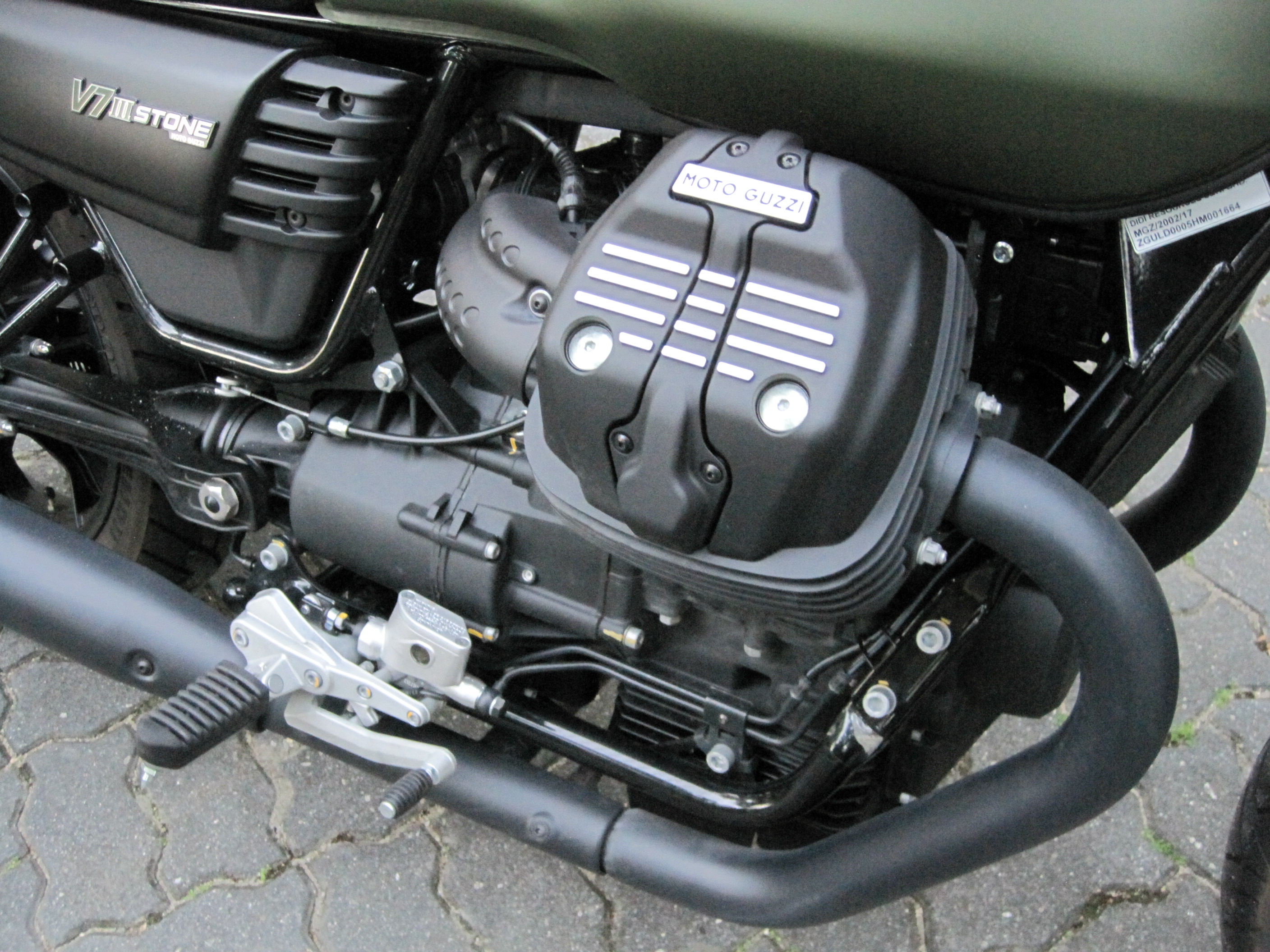 I love this bike. I really do, because it reminds me of of my old 90's Ducati 900SS, which was the most unforgiving bitch of a bike I've ever had the pleasure of owning. Right off the bat, just like my old Ducati, this 'Guzzi' tried to spit me off…twice.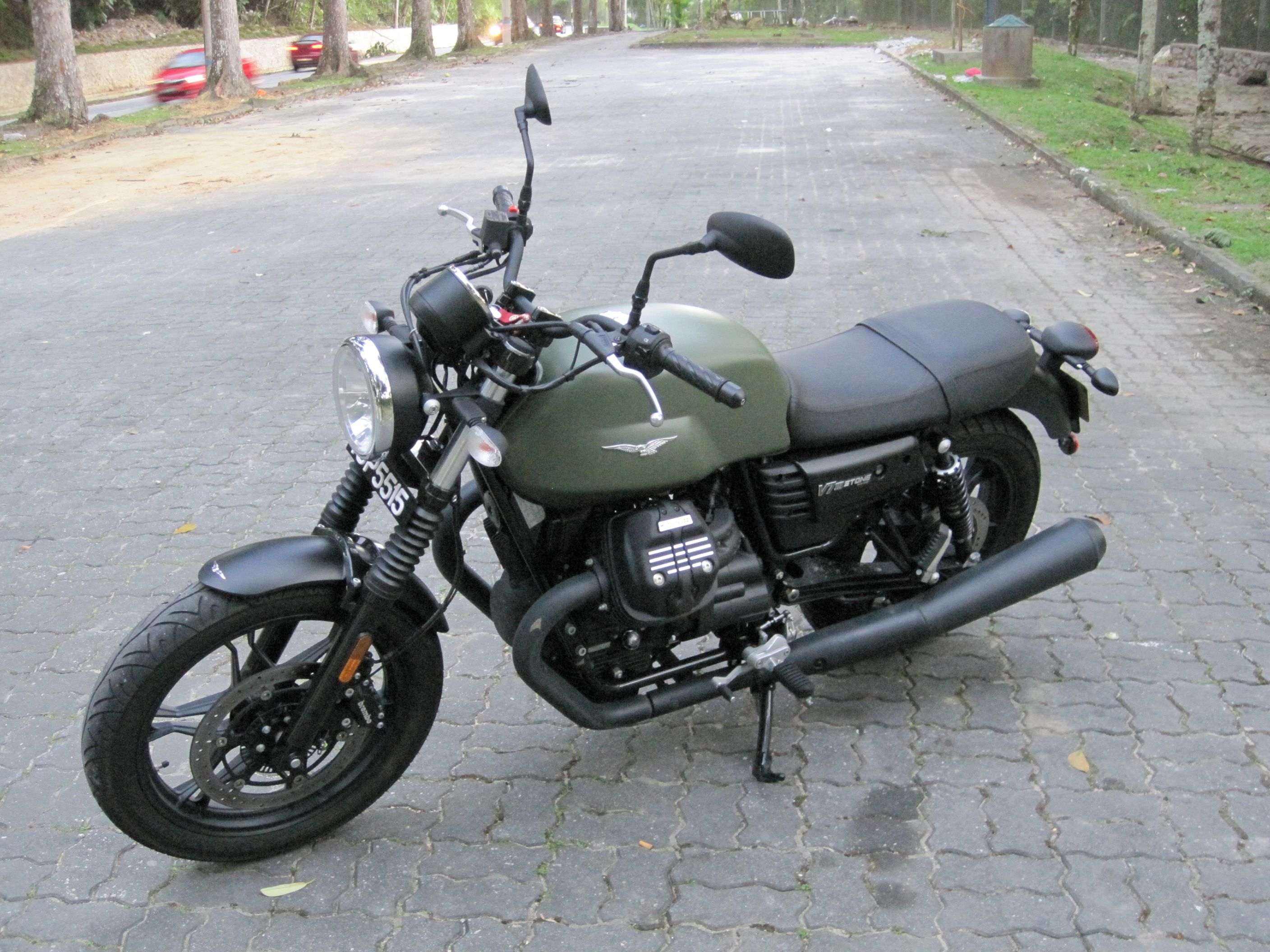 Let's also get this out of the way right now too; that 'unique' V-engine will not be everyone's cuppa tea. First off, unlike other vees, this one protrudes transversely, like a BMW boxer engine; only this boxer is taking shots at your knees, and not your ankles like a BMW.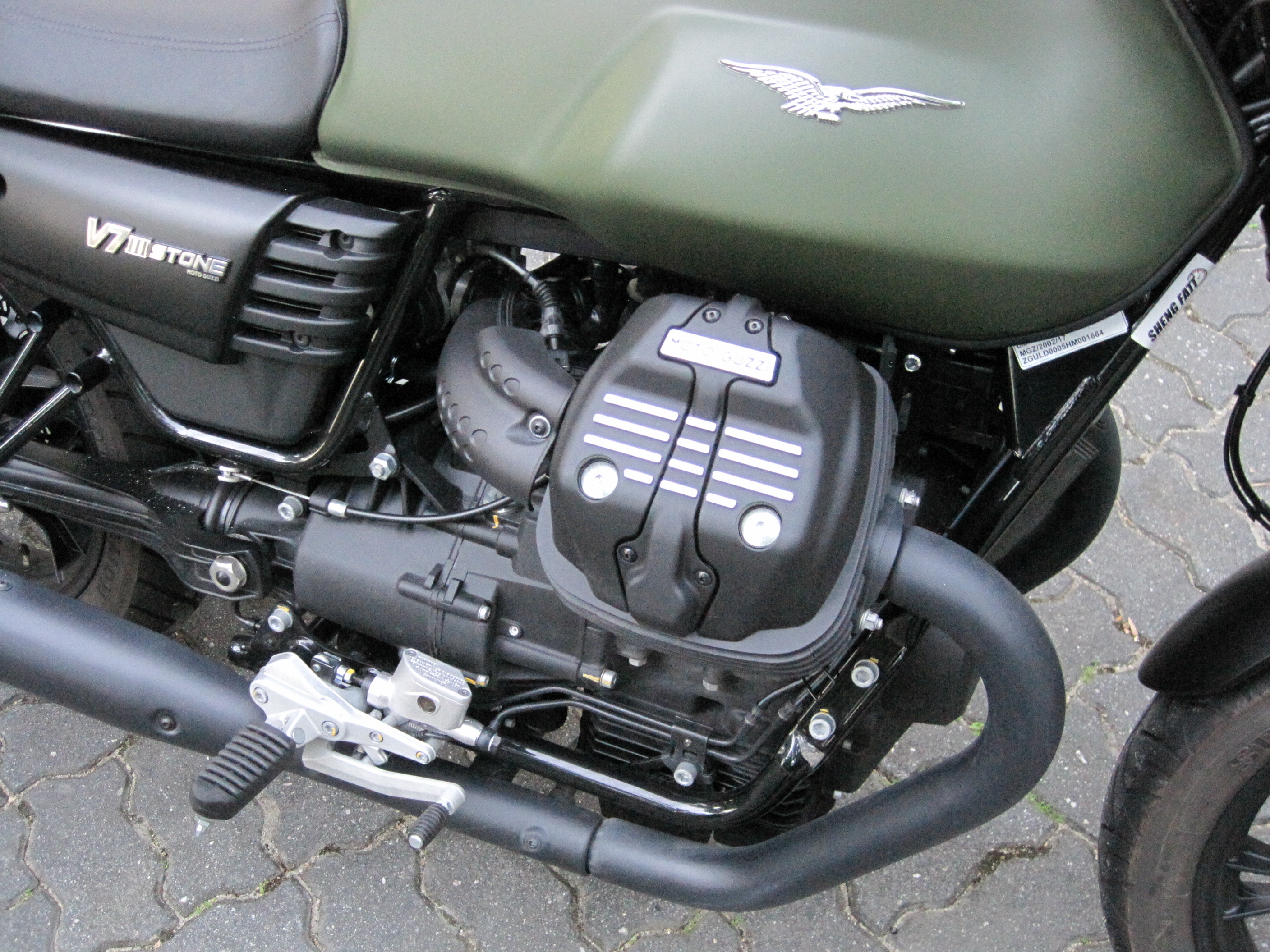 The vibration during start-up is very noticeable, because the counter-balancers will only smooth things out after about 2,000rpm. In fact, blip the throttle when the bike is idling on its side-stand and you might think it's gonna topple over. That's how severe the left-right pitch is, because unlike that aforementioned boxer engine where the pistons are low, the ones in this vee sit pretty high.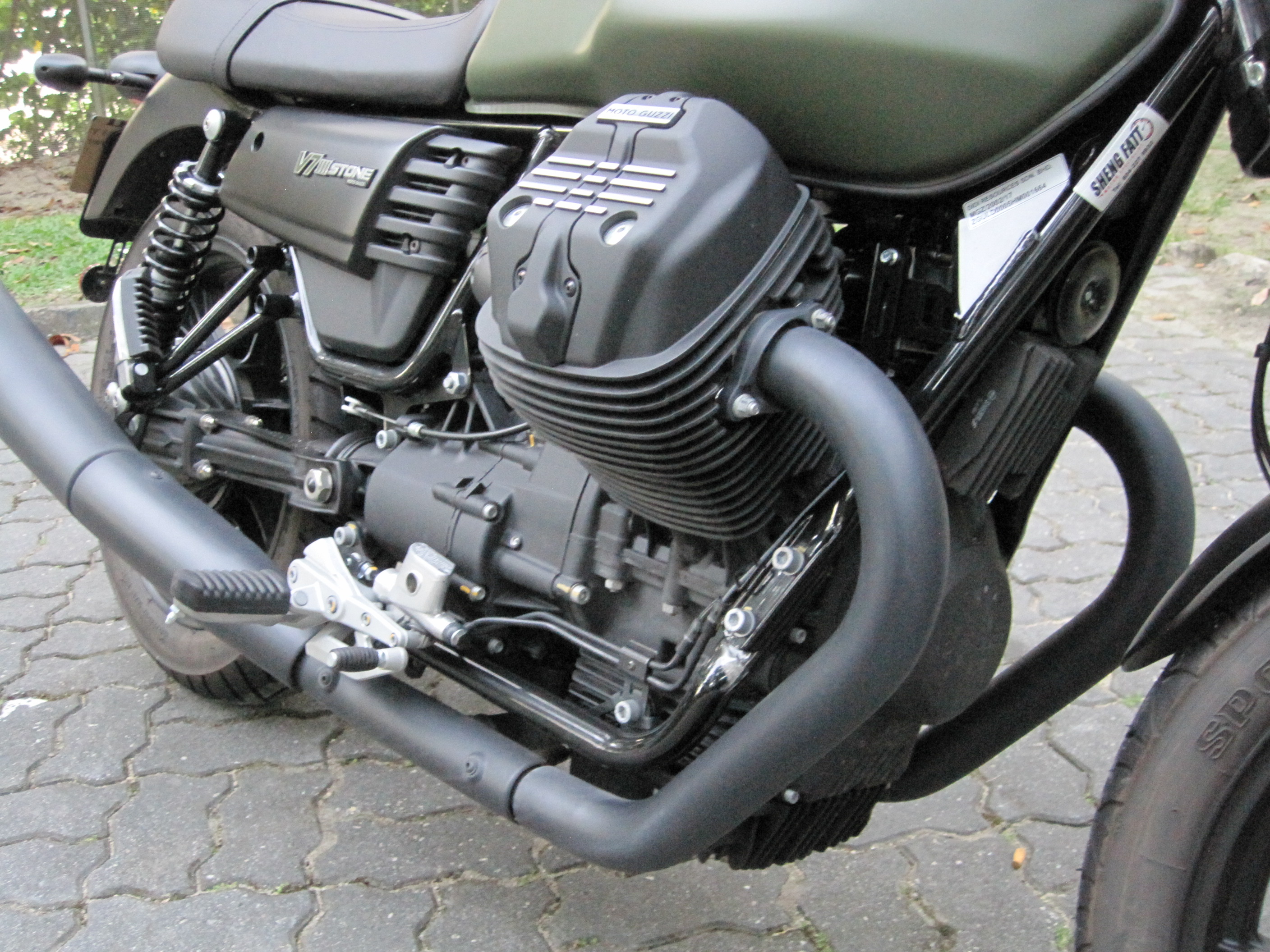 However, during highway cruising, the V7 III Stone is as smooth as you could expect any V-twin to be. Of course it'll never be as smooth as an in-line 4, but manages to handle highway riding quite well, cruising steadily at 140kmh is not a problem at all for this bike, it just powers along, its engine thrumming away smoothly.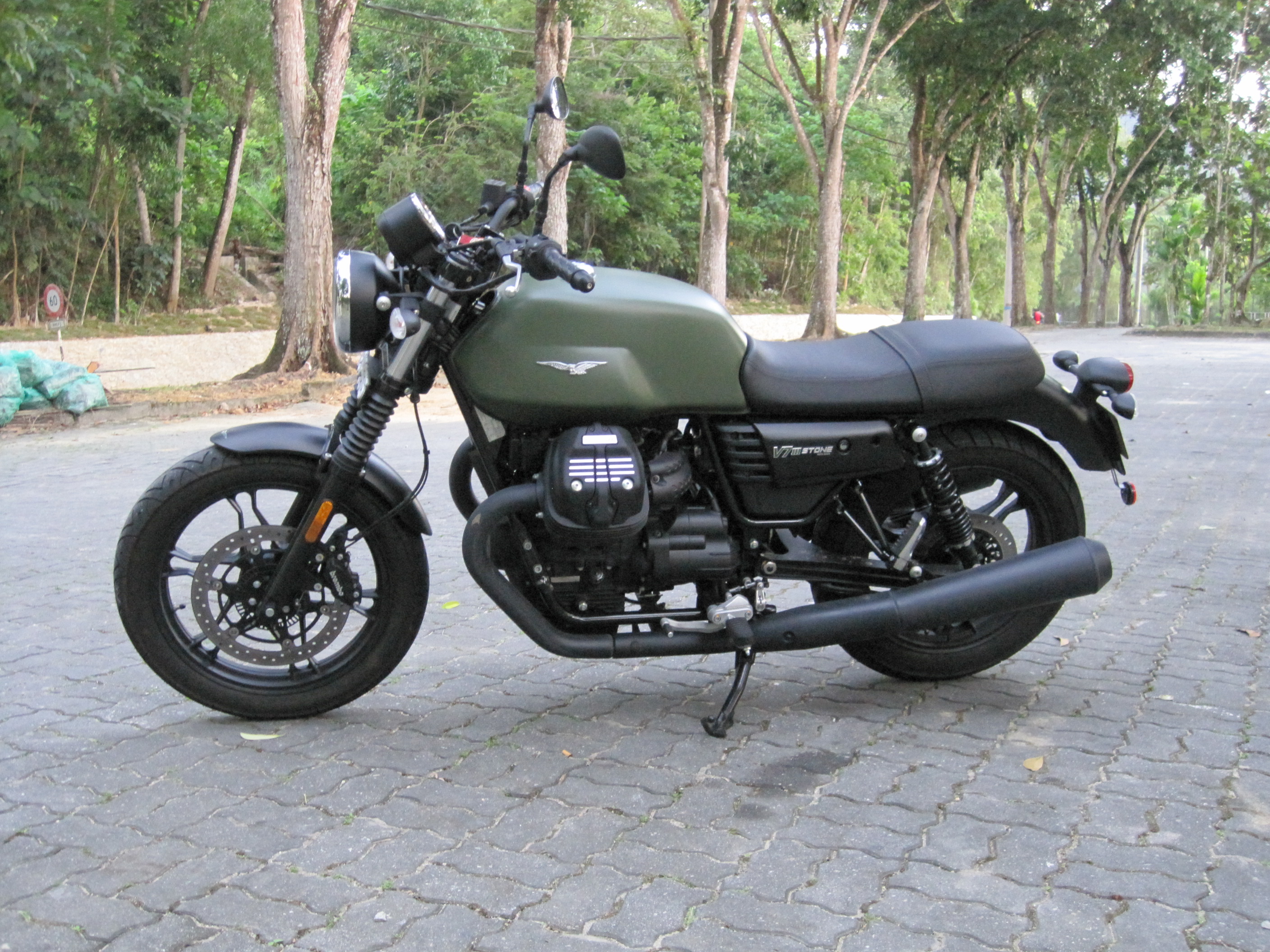 It has a 21-litre fuel tank, so long-distance rides will not be a problem at all, in fact I managed to see 260km on the trip-meter between fill-ups, and the low-fuel warning-light hadn't even illuminated yet. The riding-position is as upright as you're ever going to be when it comes to bikes, and power wise there's a healthy 52bhp at 6,200 rpm, and 60Nm of torque at 4,900 rpm.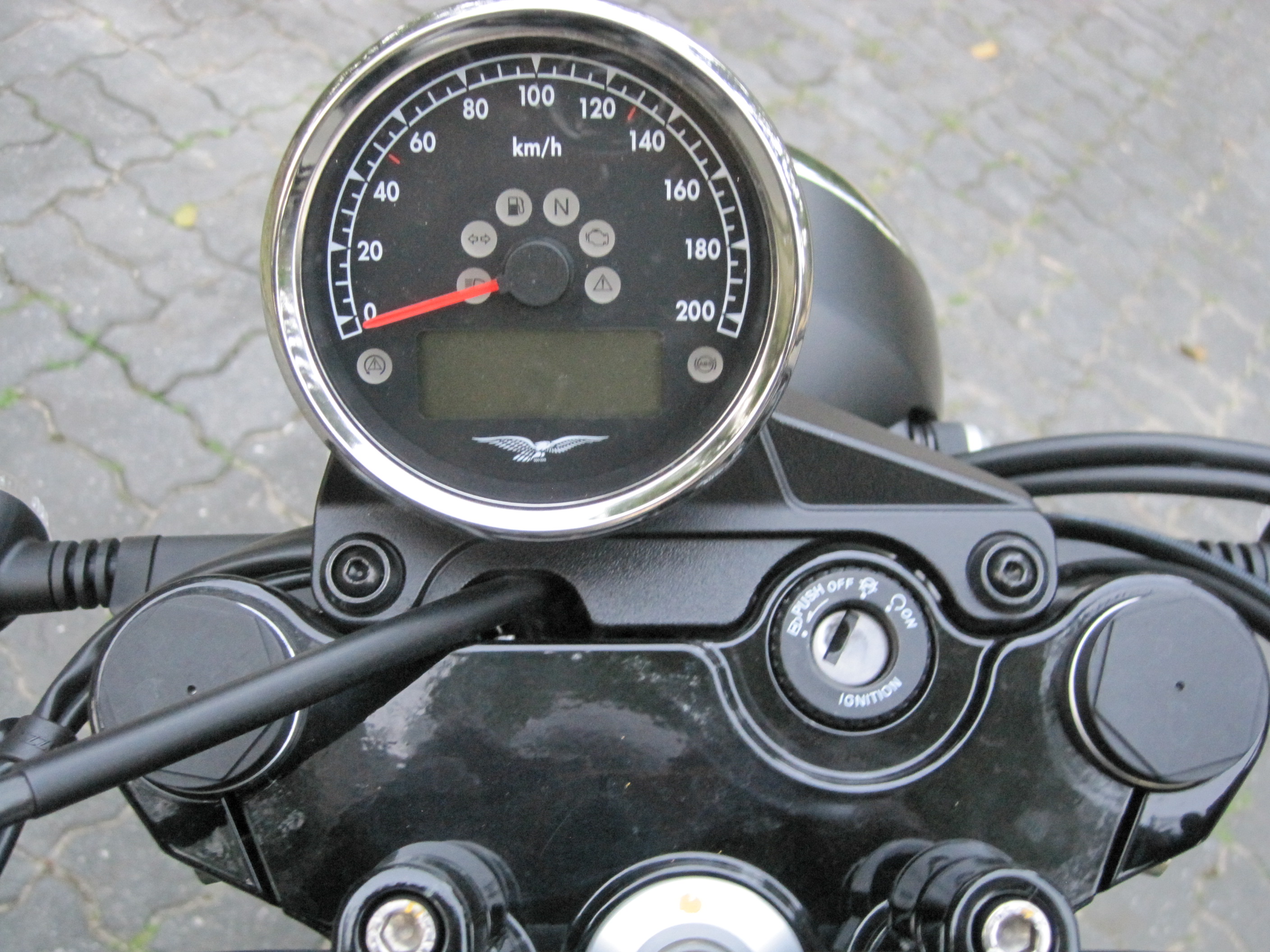 But here comes the part where I tell you why this bike isn't for beginners. For starters, this bike's acceleration is BRUTAL. I'm not exaggerating, it really is. Vee engines are known to be quick off the mark, but this thing has taken that to a whole new level.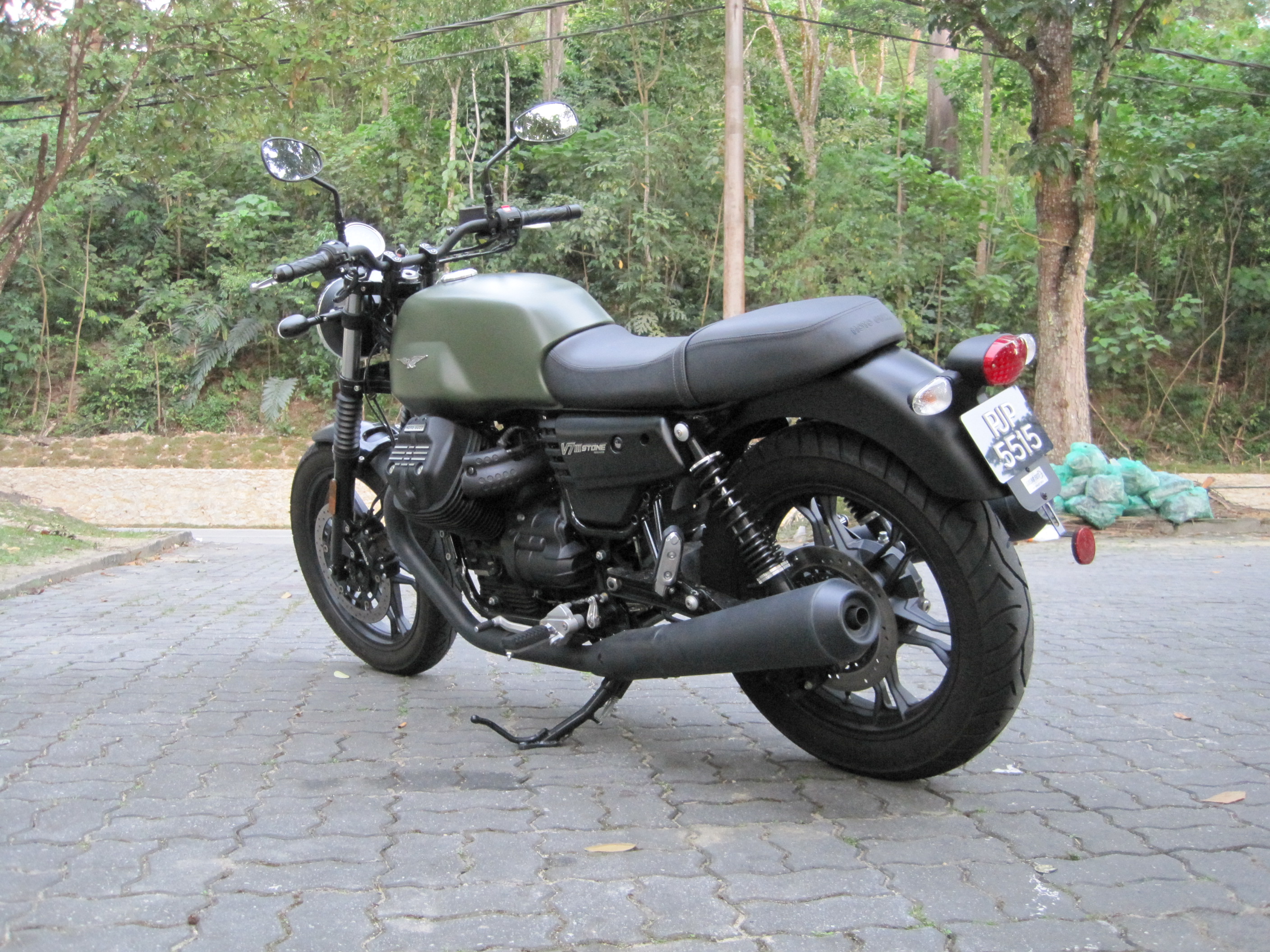 It's also this brutal acceleration coupled with the low-end wobble that makes for a rather daunting proposition when it comes to low-speed maneuverability with the V7, and here's where most, if not all, riders are going to find it quite a handful. Utilizing ride-by-wire technology, the V7's throttle is like a hair-trigger. It is overly responsive and requires a very precise, almost feather-touch, especially when negotiating around obstacles; for example: lane filtering during a traffic jam.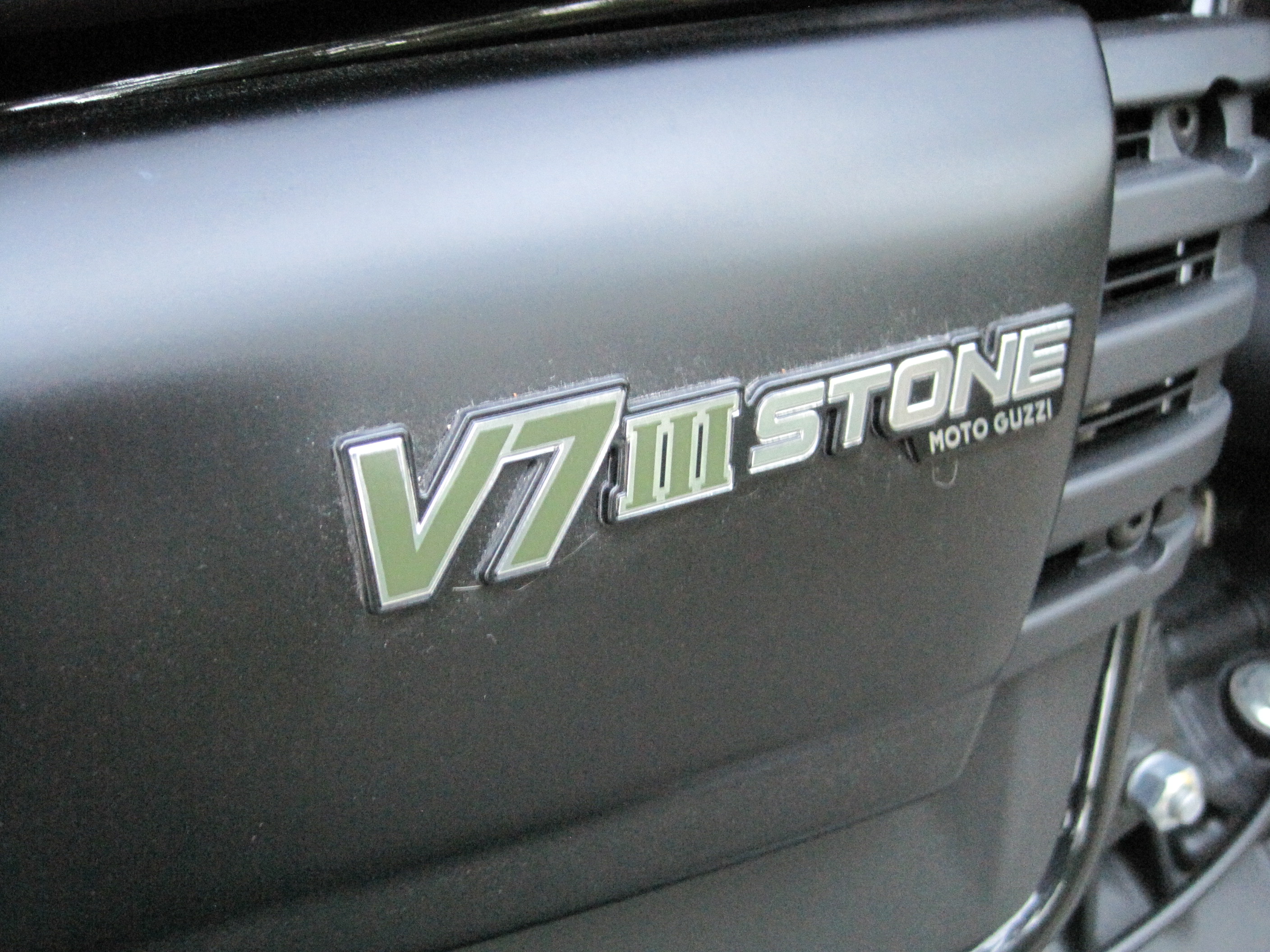 Another place that may get novice riders in trouble with the V7 would be when it came to powering-out while exiting a corner. As I mentioned earlier, the throttle has a hair-trigger, and just a bit too much twist could send the back-end out. Not knowing how to 'catch' this could be a painful lesson indeed.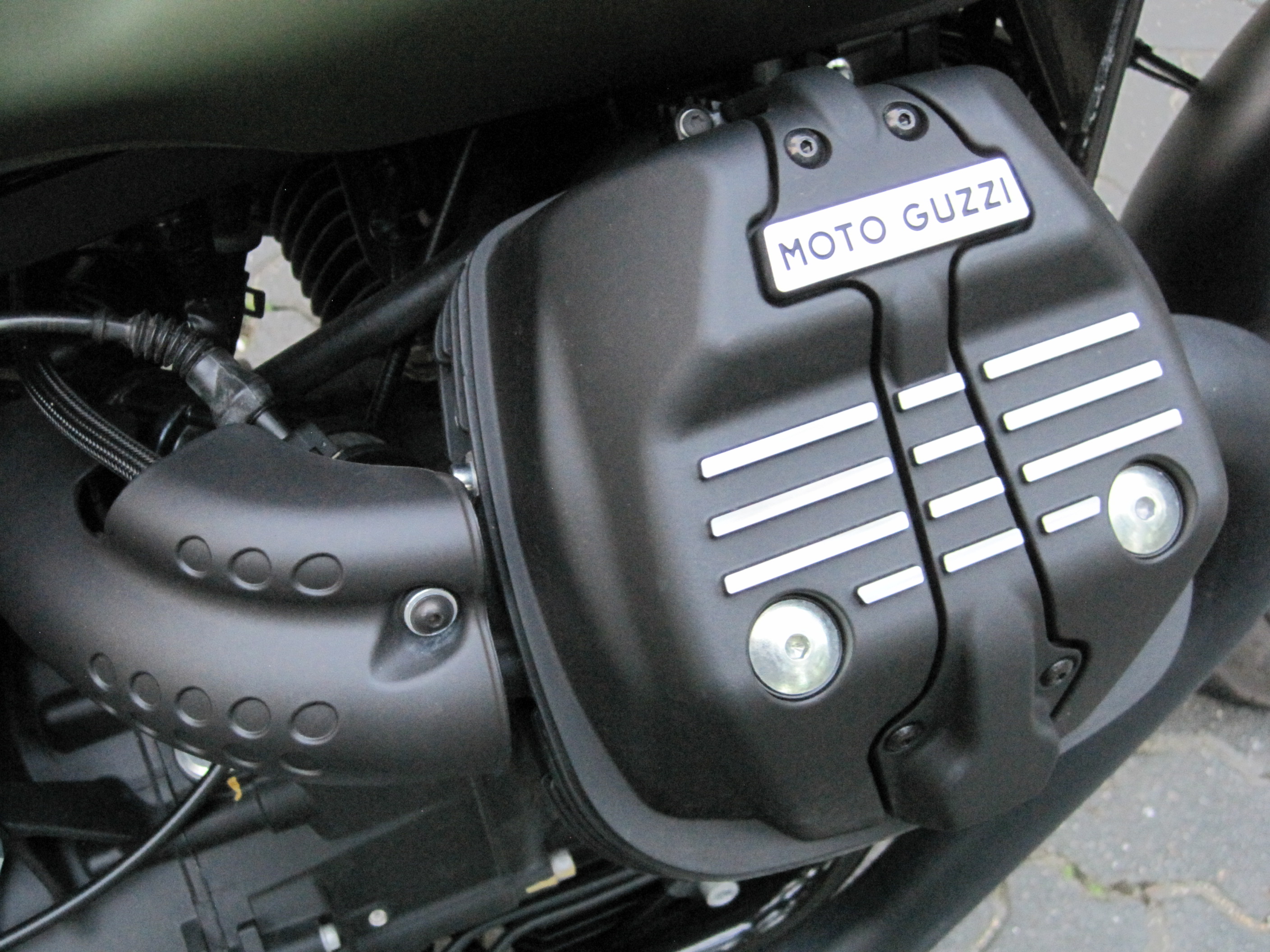 I'll put it this way; if you've just gotten your full-B license after passing your test and taking all your lessons on a JPJ issued Kawa ER6N/F, you are in for the shock of your life if you buy this as your first bike. It may actually put you off biking altogether.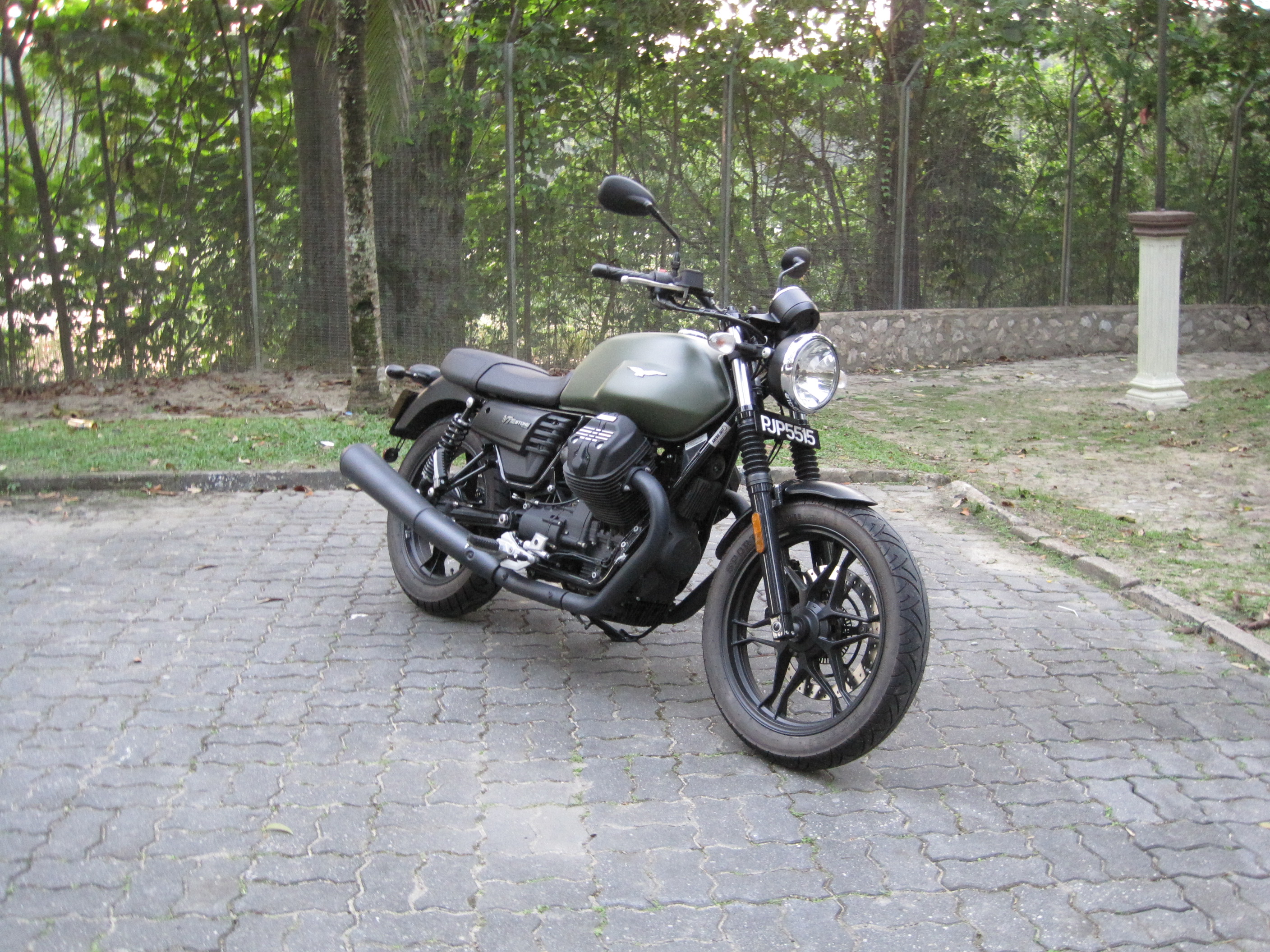 Don't get me wrong, the Moto Guzzi V7 is not a bad bike, it doesn't really wanna spit you off, but it will, if you haven't got the experience to handle it, or more importantly, counteract it. Think of it as a wild-stallion that needs to be tamed….slowly, eventually. Build-up your real-world riding skill (because the mandatory lessons to get your full-B license are an archaic joke) through the various categories before swinging a leg over something like this.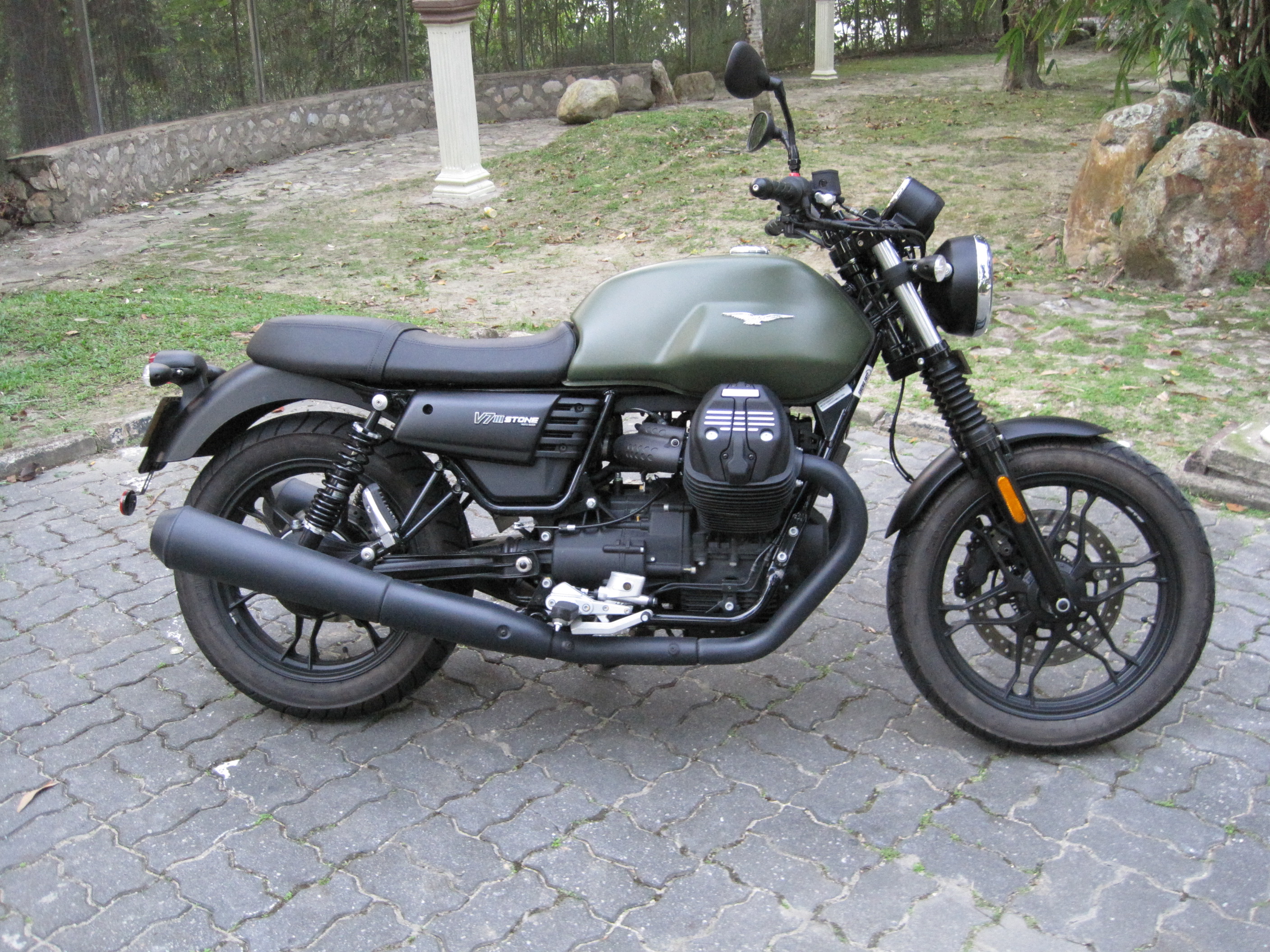 Moto Guzzi has never been a run-of-the-mill bike maker, I doubt it ever will be, but I can't tell you how happy I am that they are being represented in Malaysia by The Gasket Alley in PJ.
For the northern region, over in Penang, Sheng Fatt Motor Specialist takes care of the Moto Guzzi brand, in fact, this test bike came from them, and I actually rode it back from Penang during the Petron Blaze RON100 Media Ride recently.
In conclusion, priced at around RM66,900 (OTR without insurance) I have to say I really like this bike, but I just can't stress enough how unsuitable it is for a beginner. Don't say I didn't warn you. – Chris Wee.
Moto Guzzi V7 Full Manufacturer Details: PR Moto Guzzi V7 III ENG_ok
Moto Guzzi V7 III Stone Photo Gallery…
Moto Guzzi V7 III: Technical Specifications
Displacement

Bore

Travel

Timing system

744 cc

80 mm

74 mm

2 valves with light alloy pushrods and rockers

Max Power
38 kW (52 HP) at 6200 rpm
Maximum torque at crankshaft
60 Nm at 4900 rpm
Exhaust system
3-way catalytic converter with double lambda probe
Cooling

Frame:

Wheelbase:

Trail:

Headstock angle:

Air

double cradle tubular frame in ALS steel with detachable elements.

1463 mm

106 mm

26.4°

Front suspension

Travel:

Ø 40 mm hydraulic telescopic fork

130 mm

Rear suspension

Wheel travel:

die cast light alloy swing arm with 2 shock absorbers with adjustable spring preload (Öhlins fully adjustable for Racer)

93 mm (shock absorber travel 80 mm) (Stone/Special/Anniversario)

96 mm (shock absorber travel 75 mm) for Racer

Front Brake
Ø 320 mm stainless steel floating discs, Brembo callipers with 4 differently sized opposed pistons
Rear brake
Ø 260 mm, stainless steel disc, floating calliper with 2 pistons
Front wheel
18″ in lightweight alloy (Stone), spoked (Special/Racer/Anniversario)100/90 (110/80 R18 as alternative)
Rear wheel
17″ in lightweight alloy (Stone), spoked (Special/Racer/Anniversario)130/80
Saddle height

Length:

Height:

Minimum ground clearance:

770 mm

2,185 mm

1110 mm

150 mm

Fuel tank capacity
21 litres (including 4 litre reserve)
Kerb weight
189 kg (Stone) – 193 (Special/Anniversario)
Kerb weight*
209 kg (Stone) – 213 (Special/Anniversario)
* Weight with motorcycle ready for use with all operating fluids and with 90% fuel.