Round 3 of the TGR Festival (Toyota Gazoo Racing) is currently taking place all weekend long (15-16 February 2020) at Stadium Batu Kawan, Penang and if you've made plans already, cancel them and head over here right now. Why? Here are our top reasons why you should go to the Toyota Gazoo Racing Festival Round 3.
Vios Challenge continues to excite
The Vios Challenge consisting of three different categories showcases a strong competition between top-class drivers and artists alike. From Super Sporting, Sporting, and Promotional classes, you can expect some exciting wheel-to-wheel racing action all weekend round at their specially designed track using race-spec Toyota Vios.
Speaking of Promotional Class, you can watch some of Malaysia's top celebrities battling it out for top supremacy. From the talented beatboxer, Shawn Lee, to top Malaysian comedian, Nabil Ahmad, bragging rights on who's the best race car driver is definitely up for grabs.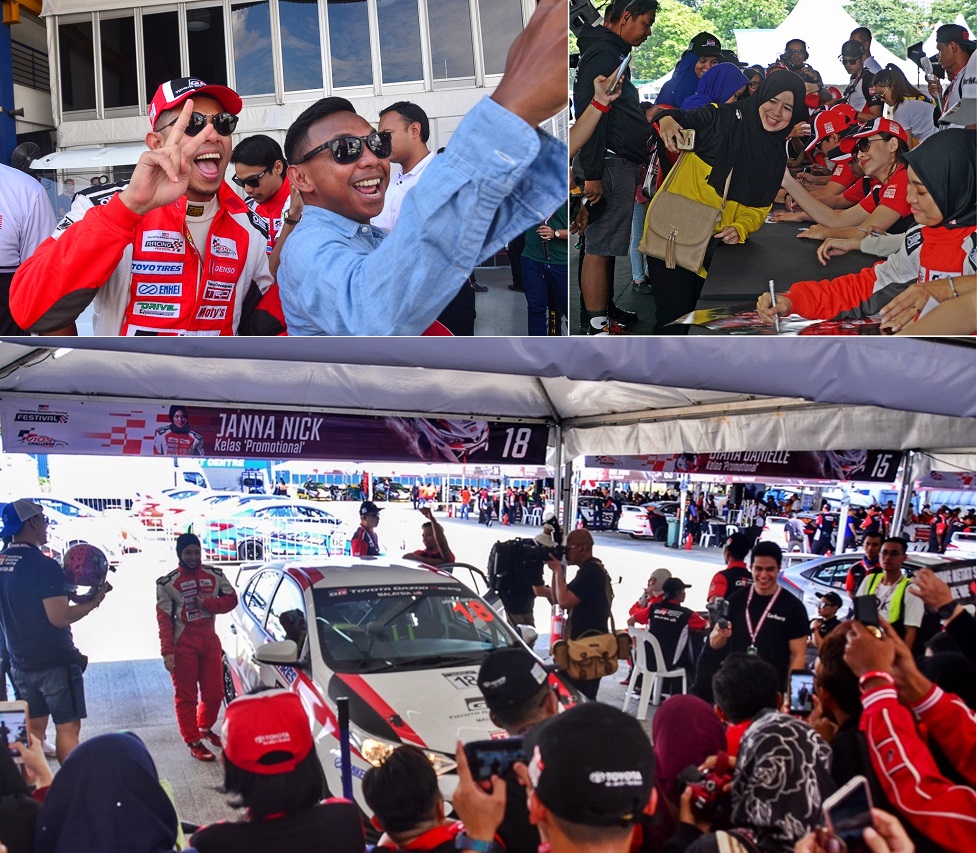 Other artists who are taking part in the Vios Challenge are Khai Bahar, Diana Danielle, Janna Nick, Shukri Yahaya, Nabila Razali, Wany Hasrita, Ain Edruce, and Syafiq Kyle. Round 3 also showcases the penultimate round which means that the competition between drivers in all categories is just going to get more intense.
Art of Speed Malaysia showcases 'Toyota legends'
The folks from Art of Speed Malaysia is also present to inject some more excitement for fellow attendees of TGR Festival here in Penang. Showcasing some very fine merchandise from the likes of MoonEyes and more, you can also check out a couple of iconic Toyota Corolla KE10 which are on display at the AOS booth.
The one that belongs to UMW Toyota has been fully restored to its original and running condition while the other is fully modified into a very beautiful two-door station wagon. Best of all, there will be engine demonstrations for both cars where you can witness them come to life and revved up to produce some sweet, sweet tunes.
There will also be some arts and crafts projects for kids and adults alike where you can participate in customising your very own wall clock and Toyota KE10 wooden car models, facilitated by some of Malaysia's greatest automobile artists and pinstripe masters. AND IT'S FREE.
Toyota 86 drift shows from Toyo Tyres
If racing is in your blood, you can also appreciate some fine drifting action at the event grounds of Stadium Batu Kawan where a pair of fully modified Toyota 86 get some wheel-spinning action for the crowd's entertainment. That's a double deal when paired together with the Vios Challenge for all you motorsport fans out there.
Fun activities for the whole family (and they're FREE!)
We also have to mention that entrance into the TGR Festival in Penang this weekend is free and the whole family can enjoy some very fun activities planned for the whole weekend. While moms and dads can check out all the new Toyota models on offers, kids can play around with Beyblade, Hot Wheels, Nerf toy guns, and many more.
Other activities include Zumba sessions, meet and greet with artists, motorcycle brands display booths (Aprilia, Moto Guzzi, Vespa, Harley-Davidson), Super GT car promo display, and many more.
According to UMW Toyota Motor President, Mr Ravindran K., "The excitement of the TGR Festival is not confined to thrills and spills on the track but includes so many activities for the family. It will feature the display and test drive of Toyota's fleet of new vehicles, a drift performance, a racing simulator challenge, stage games, celebrity performances, promotional activities, lucky draws, the sale of merchandises, and a Super Fans Signing Session for a chance to mingle with the celebrities racing in the Promotional class. Also on display will be the flagship GR Supra!"
Hujan is performing!
Catch Hujan and other bands and artists performing at the main stage of the Toyota Gazoo Racing Festival. When it comes to superb live shows and exciting songs, Hujan is arguably one of the best in the business and music fans can also appreciate what TGR Festival Round 3 Penang has to offer. Again, if you're looking for some whole family fun, we'll see you at Stadium Batu Kawan for the TGR Festival happening all weekend long. See ya!