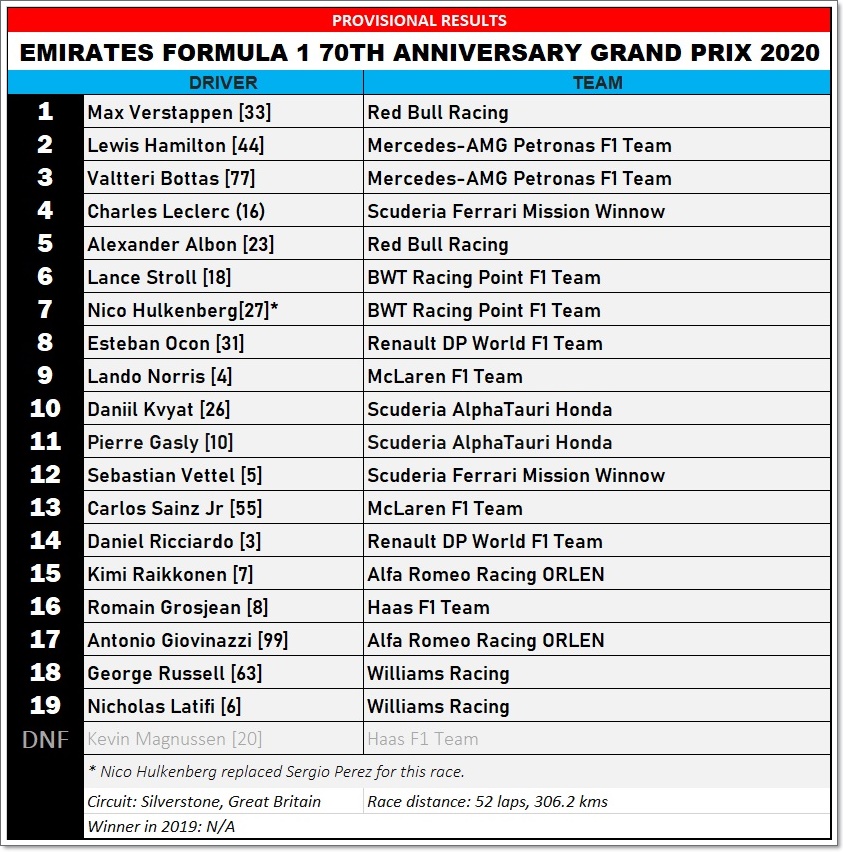 ♦ A spin in Turn 1 for Sebastian Vettel saw the 4-time World Champion drop from 11th to last in the pack as the cars headed away.
♦ After 10 laps, tyre issues began to start as temperatures rose and the cars came in for tyre changes.  Carlos Sainz and Sebastian Vettel stayed out up to 23 laps but Red Bull Racing's Max Verstappen chose to hang for 27 laps before pitting and giving up his leading position momentarily.
♦ Tyre management became increasingly critical for the two Mercedes-AMG cars as the hard compounds blistered.
♦ With 15 laps to go, Hamilton captured the lead but was very concerned about his tyre condition and the blistering.
♦ Understanding that the Mercedes-AMG driver could only do so much with his well worn tyres, Verstappen was told to put the pressure on and close the gap which was about 11 seconds.
♦ With 10 laps to go, Hamilton came in to get fresh tyres and Verstappen took over the lead, with Bottas 4 seconds behind. Charging confidently ahead and setting a new lap record, he got past Charles Leclerc and closed in on Bottas.
♦ In the closing laps, Hamilton got past his team mate but ran out of time to close in on Verstappen who was 9 seconds ahead.
♦ The win today at Silverstone makes it 9 for the Red Bull Racing DutchmanThe 25 points don't advance his position in the standings but narrow the gap with Bottas.