Prices for the updated Toyota Hilux to be launched soon have been announced by UMW Toyota Motor (UMWT) today. In the new line-up, there are five variants to choose from, with the new Double Cab 2.8 Rogue as the flagship.
There are two turbodiesel engine choices – 2.8 litres and 2.4 litres – and also automatic and manual transmissions. The Hilux Single Cab is still offered for those who use the vehicle mainly for heavy-duty business purposes. A warranty of 5 years (or maximum of 150,000 kms after original registration) is provided.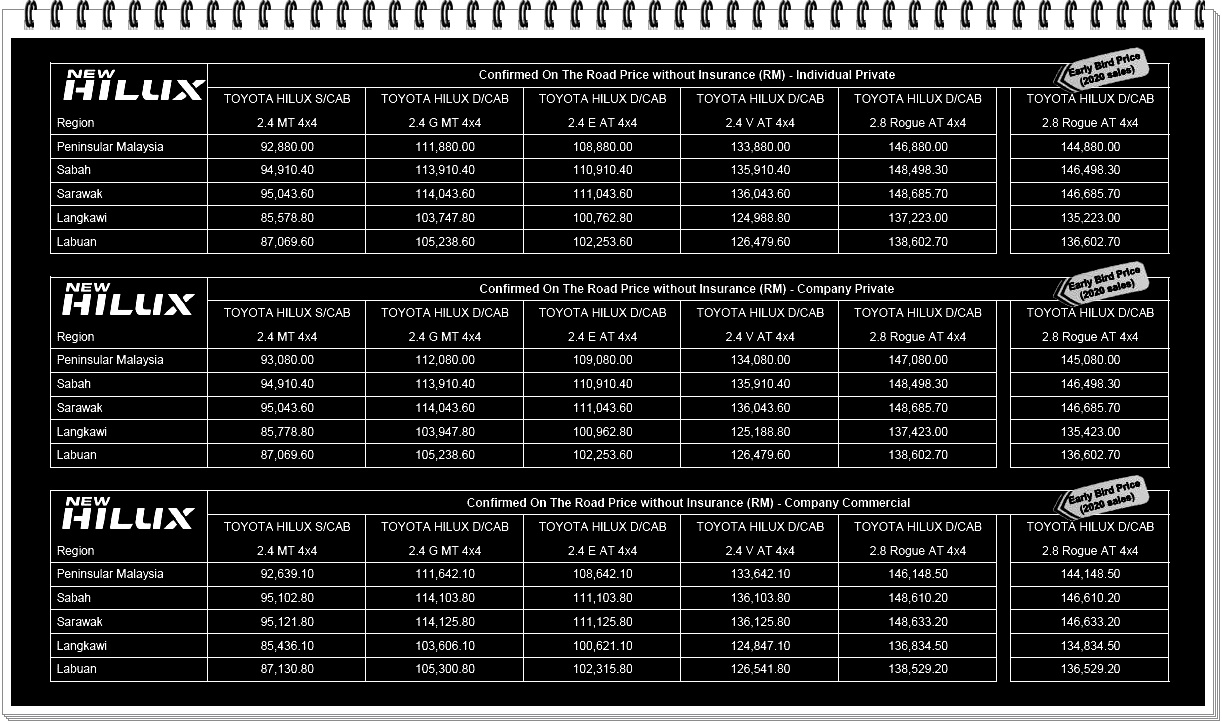 Assembled in Malaysia, the new Hilux range comes with a choice of seven exterior colours. These are Bronze Mica Metallic (a new colour), Crimson Spark Red Metallic, Attitude Black Mica, Phantom Brown Metallic, Medium Silver Metallic, Silver Metallic and Super White II. The Hilux Single Cab is available only in a Solid White colour.
As mentioned in an earlier report, the new Hilux has changes to styling, updates of features inside, and improvements in performance. Although the current 8th generation has achieved the maximum 5-star rating from ASEAN NCAP, it continues to be improved in safety aspects with the inclusion of the Toyota Safety Sense system (Hilux 2.8 Rogue only).
Toyota Service Savers & Insurance Packages
For those intending to purchase new Toyota vehicles, UMWT also recommends the Toyota Service Savers & Insurance Packages. With the Toyota Service Savers package, there can be saving of up to 13% during servicing and discounts of up to 20% for selected items and parts replacement. Available for the period of 5 years or 3 years, the cost of the package can be included in the financing scheme as part of the vehicle purchase cost.
The Toyota Insurance Package offers benefits which can allow an owner to regain use of his or her vehicle as quickly as possible after an accident. If not exceeding RM20,000, the claim can usually be approved within 24 hours, enabling repair work to commence quickly. There's also no betterment charges or Excess Clause and the insurance companies will pay the entire amount of the claim.

Visit www.toyota.com.my for more information on the new Hilux and other products and services in Malaysia.
Improved Toyota Hilux to be launched soon, and you can book now