Transporting new vehicles around the country has evolved greatly since the early days when they were driven by ferry-drivers to their destinations. This method had drawbacks in that the vehicle  might be driven for some distance before the customer received it, so it wasn't 'brand new', and there was a risk of damage along the way. In some cases, ferry drivers were known to speed too, potentially causing damage to the engine.
By the 1990s, the volume of new vehicles had grown significantly and the use of ferry-drivers was stopped except for special cases. Instead, specially built car-carriers appeared and each could carry a number of cars on it. The cars were secured properly and apart from rain and dust (and perhaps flying stones), were relatively safe from damage as they were sent from port to stockyard, or assembly plant to showrooms.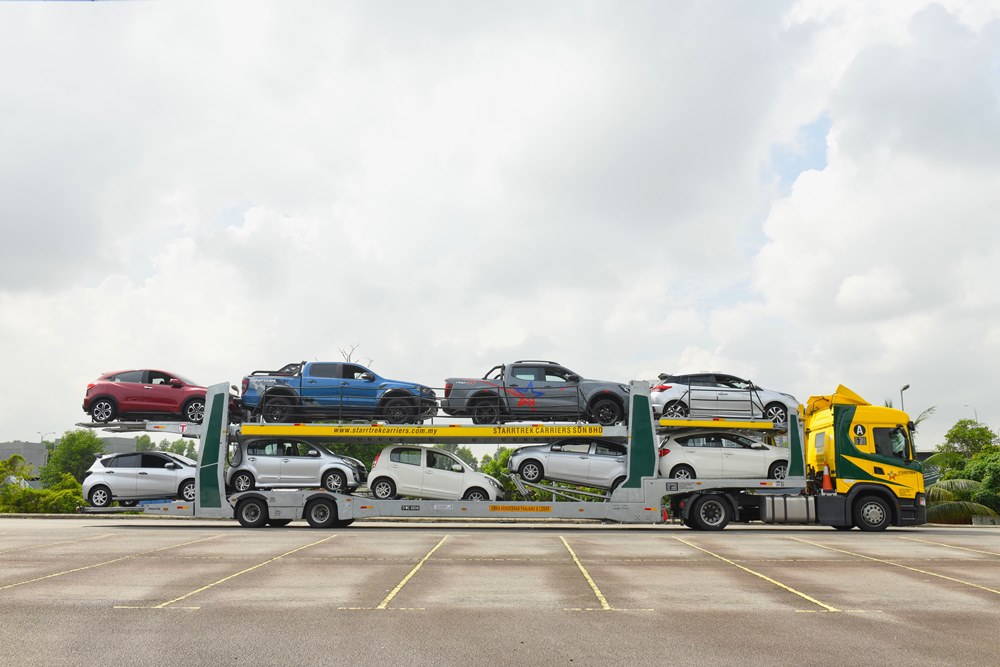 European-designed car carriers
With more than 30 years of experience in the Malaysian automotive logistics industry, Datuk Kumar Prabakaran obviously knows this history well and has seen how the needs of customer have changed over the years. He now offers a brand-new state-of-the-art vehicle carrier service, Starrtrek Carriers Sdn Bhd, using the best-in-class European-designed car carriers.
The car-carriers are the Confidential Auriga Deluxe 122 and Blizzard semi-trailers which are expected to be game-changers for Malaysia's automotive logistics market. Thanks to the combination of high-quality craftsmanship and build quality, the Auriga Deluxe will move vehicles without being subjected to the harsh Malaysian weather, road gravel and stone chips along the way. This is because the trailer is enclosed by panels on all side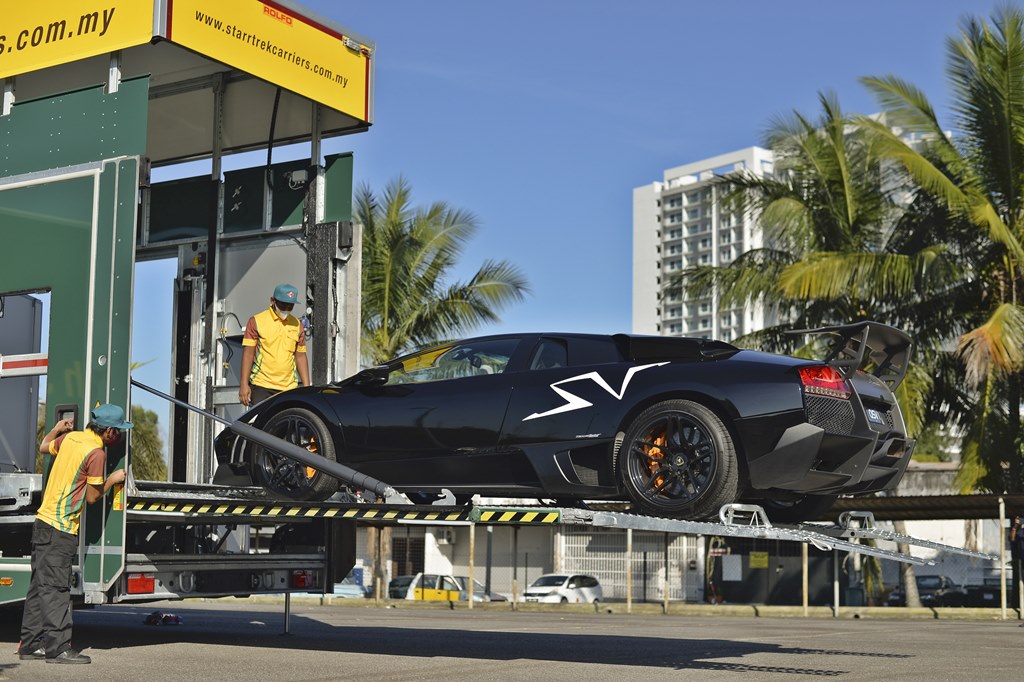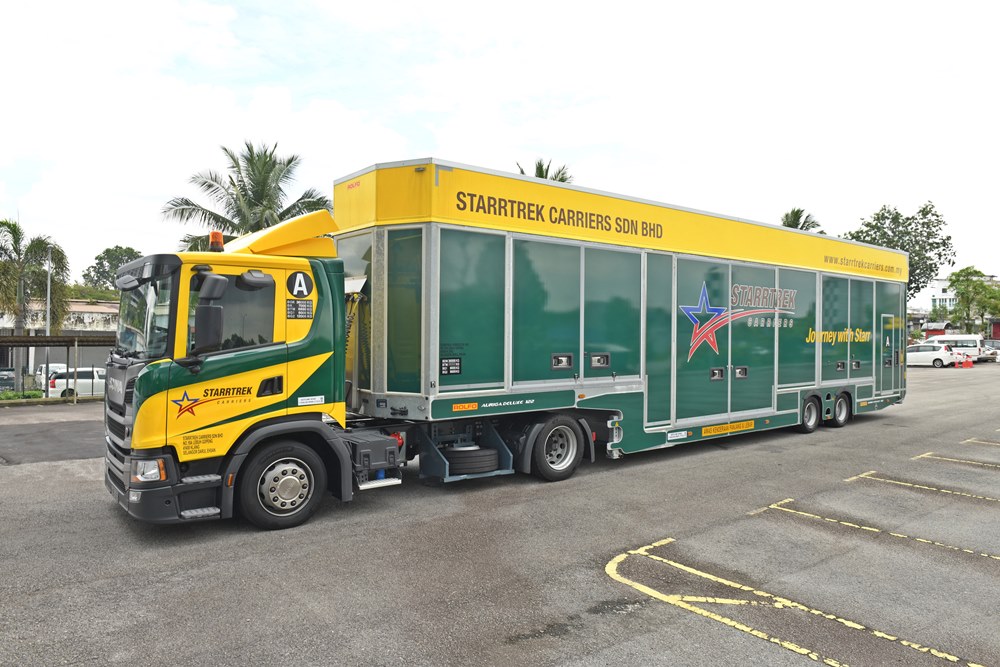 The Blizzard does not have the enclosure but is still built of high quality and can load more units per trip than the norm in Malaysia. GPS trackers and surveillance cameras are installed for safety and compliance.
Scania prime movers
Both the car-carriers, which use Scania prime movers, are equipped with advanced hydraulic systems for safe and easy vehicle loading and unloading with minimal handling. The use of  lightweight high-yield steel combined with new technology and innovation enables multiple high loading capacities.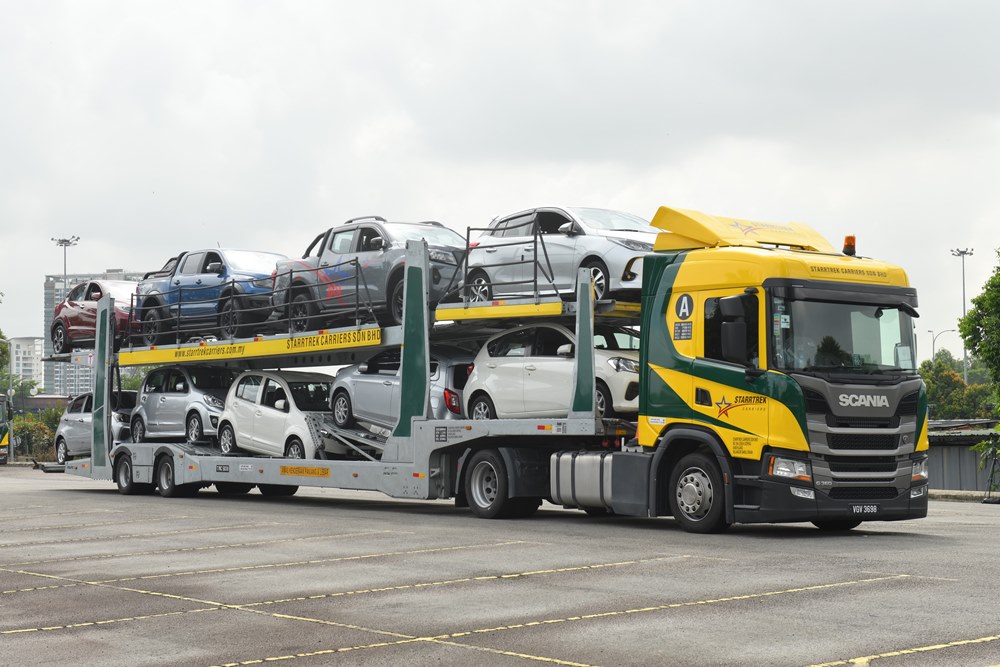 The Confidential Auriga Deluxe can accommodate a maximum of 6 passenger vehicles or up to 4 SUVs per trip, while the Blizzard can transport a maximum of 10 units of cars (depending on the dimension and kerb weight).
"With this state-of-the-art car carrier, we are setting another benchmark for higher quality and no compromise vehicle logistics service. We are proud to be a pioneer in this field and to be able to offer our customers even higher quality door-to-door services," said Datuk Kumar Prabakaran, who is Managing Director of Starrtrek Carriers.