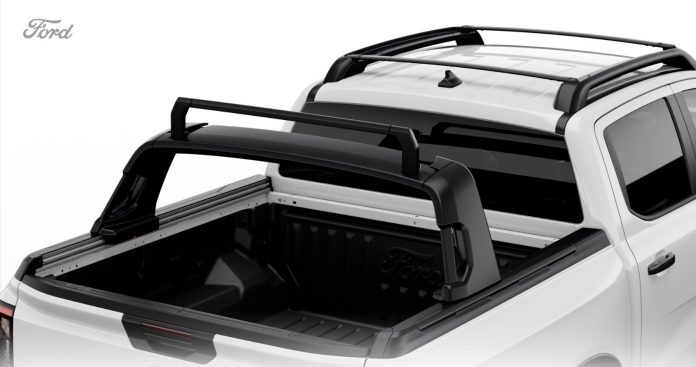 With the latest Ford Ranger, a lot of effort has gone into making it the most versatile Ranger ever, a transporter for work or for recreation. To achieve that, the project team spent hundreds of hours talking to customers around the world to see how they use their pick-up trucks on a daily basis and what features and capability they expected.
A lot of feedback was acquired and considered, leading to the new Ranger having the versatility inside as well as outside the vehicle. The large and functional cargo box can take large items of all shapes and there are also accessories to close it off for security.
Ford also collaborated with JAC Products to develop a unique Sliding Load Rack and Folding Roof Rack which allow owners to load items spanning the length of the roof and cargo box. Known as the Flexible Rack System (FRS), it can be used for a ladder, timber, a door, canoe, surfboards or even bicycles.
Developed by a team of Ford Australia Special Vehicle, the Sliding Load Rack can be operated by just one person. It slides within a C-shaped channel mounted to the top of the load box sidewalls and can be locked in five different positions allowing for the secure support of different length items. A pop-up crossbar increases the height of the loading platform to match the Folding Roof Racks.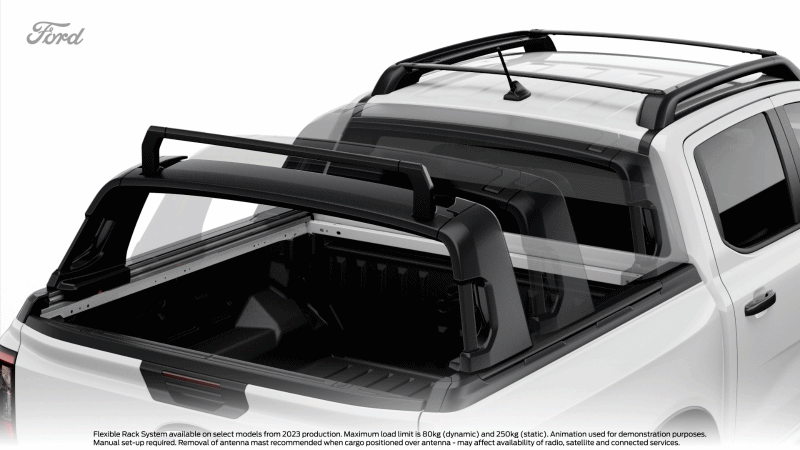 One-person operation
"The Flexible Rack System redefines how customers can use their Next-Gen Ranger and is just another example of Ford's ingenious design features on Next-Gen product," said Nik Tibhuvan, senior engineer, Special Vehicle Engineering. "Both can be operated easily by one person and have been put through a lot of the same durability testing as Ranger itself."
As mentioned earlier, when developing the new Ranger, Ford teams met pick-up truck owners and learned how they used their trucks. It was during these clinics the team determined a need for a feature like the FRS.
"We learned from our customers that they would load things like canoes into the cargo box and then lean them up against the sports hoop before tying them down. This was awkward and meant the cargo box couldn't really be used for storing anything else a customer might want to take with them," said Danny Trentin, application specialist, Ford Ranger.
"We also learned of their frustrations when it came to carrying items of longer lengths. With an 80-kg dynamic load limit, the Flexible Rack System eliminates those frustrations," he said.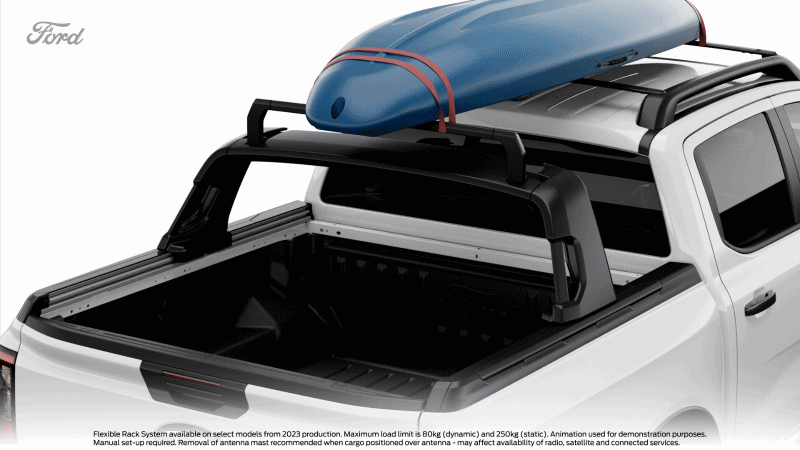 Designed to fit
As an item that can be moved along the cargo box, the Sliding Load Rack had to look like it belonged no matter where it was positioned, said Max Tran, chief designer of the Ford Ranger. So, his team created a design that allowed it to sit within the profile of the vehicle.
"We wanted the Sliding Load Rack to 'belong' on Ranger, no matter where it was positioned," he said. "It needed to be functional, of course, but it also needed to match and complement the shape of Next-Gen Ranger while being user-friendly and as quiet as possible when deployed."
Engineered for purpose
When it came to operating the Sliding Load Rack, the team wanted it to be something one person could position easily and quickly as well. Once deployed, in one of the 5 defined locking points, it should also be rock solid.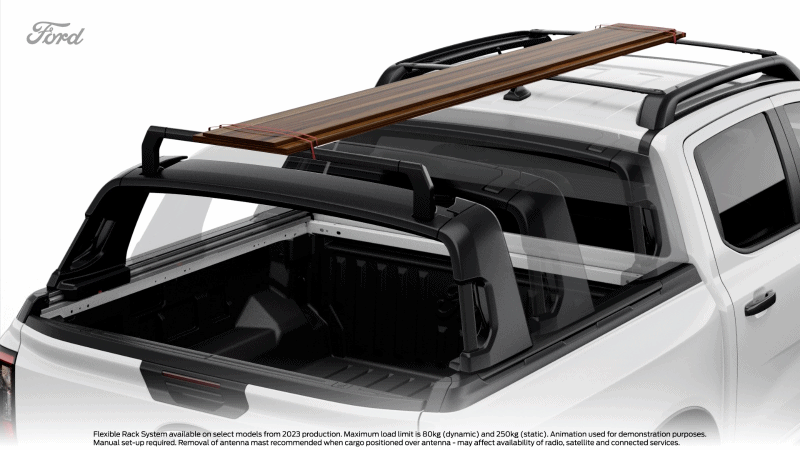 Unlocking the Sliding Load Rack on one side automatically releases it on the other side, allowing the hoop to slide easily in the rails. A system of 4 roller bearings angled at a precise 37 degrees, retractable stabilisers and locks ensure easy movement when unlocked but prevent the Sliding Load Rack from moving when locked in position.
Because the cabin and cargo box of a truck move independently of one another, the team engineered the Sliding Load Rack with a degree of compliance which means the 80-kg dynamic load limit applies on and off-road, while the static capacity is rated at up to 250-kgs.
Torture-tested
Every Ranger is Built Ford Tough and the Ford accessories that go with it must also have the same toughness. It was therefore important that, as well as being easy to use and looking good, the FRS was robust. "This meant torture testing it like we did with Ranger," said Tribhuvan.
The team developed an 80-kg platform that could be adjusted to different lengths to match the 5 different lockable positions along the cargo box and then subjected the FRS to many of the same durability tests as Ranger itself.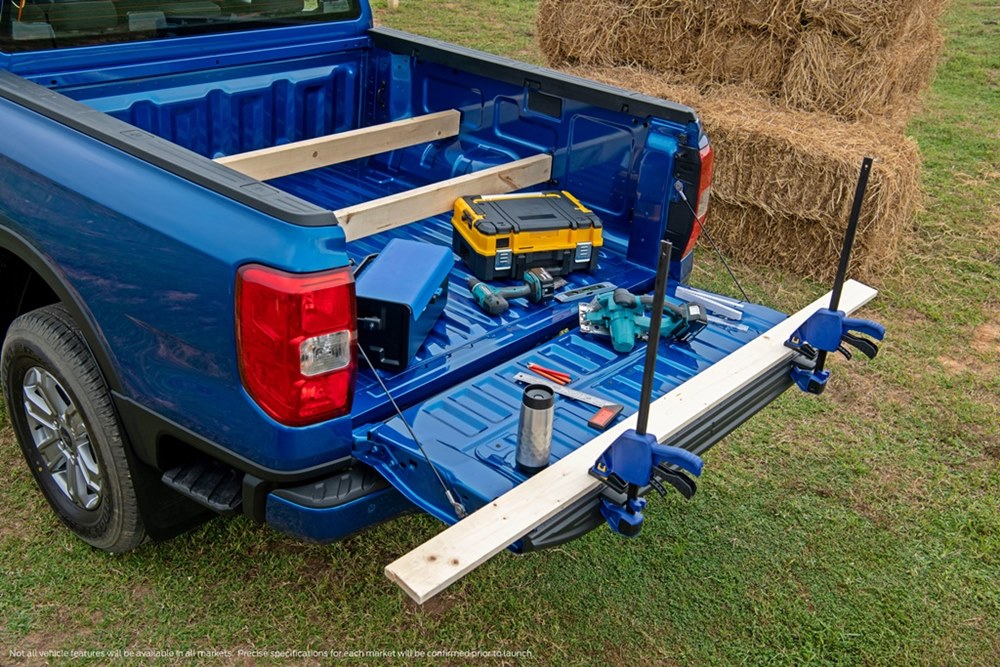 "Part of our durability test involves our infamous Silver Creek Road test track which is so tortuous that we have to use autonomous driving robots to complete this phase of the testing. The FRS was tested at full load and completed 77 runs on the track, passing with flying colours. It completed 400 runs with no load," said Tribhuvan.
The Sliding Load Rack not only had to be strong, but it also had to handle everything the outdoors could throw at it. "We tested the system with bulldust, red dirt, salt and water, to replicate the sort of real-world grit and muck owners will encounter," said Tribhuvan.
Once covered in filth, the Sliding Load Rack was cycled more than 3,500 times to replicate approximately 10 years of use. Cleaning of the system is made easy with drainage holes in the track which allow owners to simply wash the channel with a garden hose.
Visit www.sdacford.com.my or any authorised Ford dealer to know more about the new Ford Ranger.