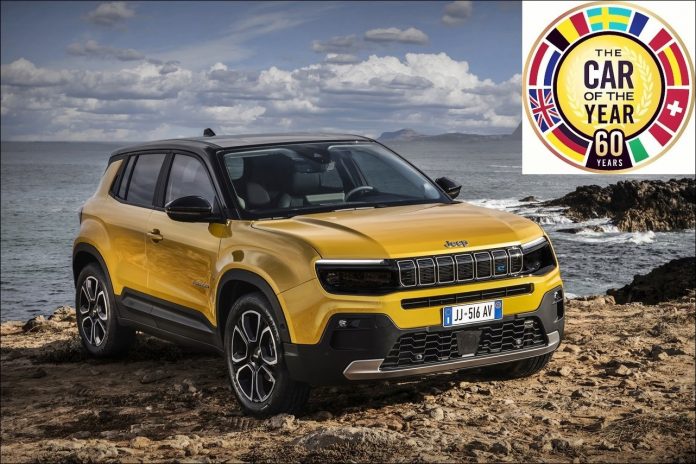 Since the European Car of the Year (COTY) awards began in 1964, the winners have come from European brands with the first one from Japan in 1993. That of course discounts Ford as being as American brand as the Ford models that won were essentially European models. So there has never been an American brand winning the European COTY – until 2023.
At the Brussels Motor Show today, the Jeep Avenger was announced as this year's winner, probably a surprise to many as there were strong contenders among the other six finalists. It's the first time that Jeep – a thoroughly American brand – has won the award though other brands in the Stellantis Group (which it is part of) have won awards over the years.
The Avenger is a new type of Jeep though as it is the brand's first electric model. That may have been an influencing factor for the 57-member jury from 22 European countries which gave it 328 points – 87 more than the second-placed Volkswagen ID.BUZZ, also an electric vehicle. The Nissan Ariya, also an EV, was third with 211 points.
In fact, EVs dominated the 7 finalists that were chosen from a provisional list of 45 candidates for the 60th COTY awards. In fourth place was the Kia Niro (200 points) while the Renault Austral finished in fifth with 163 points. The fairly new Peugeot 408 was sixth with 149 points while the Subaru Solterra/Toyota bZ4X closed the list with 133 points.

The Avenger would be the fifth model that is a battery electric vehicle (BEV) to win the award. The first was the Nissan LEAF in 2011, followed by the Opel Ampera (GM Volt) the year after. The next BEV was the Jaguar I-PACE in 2019 and last year, it was the Kia EV6.
However, if talking about an electrified model, ie including hybrid powertrains, then the first model to win the COTY award would be the 2005 Toyota Prius. After that, a number of winning models like the Peugeot 208 (2020) and Toyota Yaris (2021) were available with hybrid as well as combustion engine-only powertrains.
But it's a clear sign that the electric era is here as across the Atlantic Ocean, winners of the 2023 North American Truck of the Year and Utility Vehicle of the Year were the Ford F150 Lightning and Kia EV6, respectively. However, the Americans still chose a combustion engine model – the Acura Integra – as their winner for the North American Car of the Year.