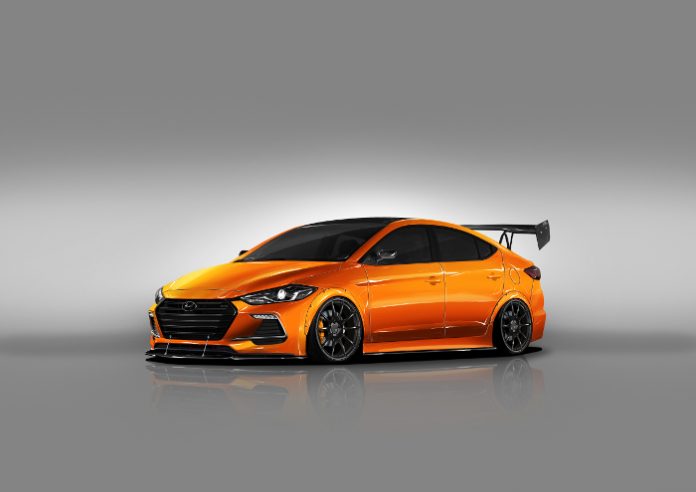 Hyundai will be showcasing another concept vehicle at the upcoming SEMA show. The concept is a modified version of its ever popular C-segment sedan called the BTR Edition Elantra Sport concept. The BTR in the nomenclature stands for Blood Type Racing, the company that has been responsible for turning the humble Elantra into a racer.
The car's grille has been blacked out, and features more aggressive bumpers and spoilers that wouldn't look out of place on a WTCC racing car. Building upon the basic recipe of the Elantra Sport, this SEMA concept features methanol injection, new intake and exhausts, as well as new intercooler technologies, tuned suspension and full aero kit.
Speaking of the car, Sam Lee, product manager, Blood Type Racing, said, "The BTR Edition Elantra Sport takes the Elantra beyond its capable OEM-development roots without sacrificing daily drivability. We've given enthusiasts a new vision of where this affordable sport compact wants to go."
The following is the full list of modifications that were carried out on the Elantra:
Torcon CAI intake and Pierce Motorsports exhaust system
Engine management custom ECU Tuning by BTR
Devil's Own water/methanol injection system
Re-stitched OEM-style sport interior
Diamond-stitched floor mats
SoCalGarageWorks carbon-fiber steering wheel
SSR GTX01 19 x 9.5 +35 wheels
Toyo T1 Sport tires
HSD coilover suspension
Pierce Motorsports sway bars, strut tower brace and chassis brace
Fella Big Brake kit
Diode Dynamics custom headlights and LED interior lighting
Aerotek custom front, side and rear track-ready lip kit
APR GTC-200 GT wing
AutoArt body and paint work
BASF Glasurit Arancio Borealis paint
BTR custom Trunk Track Tool Set and custom full-size spare tire
Unlike most concepts, this Hyundai is meant to be a performance vehicle that can function as a daily driver. Since no major work has been carried out on the engine, Elantra owners in the USA could probably be able to install the kit without voiding their factory warranty.