It's always good to use genuine parts when there is a need to replace the various parts of your vehicle. These are parts which are made specifically for your vehicle by the manufacturer of the vehicle, or by a supplier that is approved to make what are known as OEM parts ('OEM' stands for Original Equipment Manufacturer). They are reliable and should have the same quality as your vehicle as the quality standards are usually high.
Sourcing and acquiring genuine parts for your vehicle is usually done at authorised service centres. However, it is an open market and many of the same parts may also be available at other places. They may also cost less but there is the danger that they may not actually be genuine. There are lots of fake parts and motorists are often warned to avoid using them as they can cause damage due to poor quality – or even worse, cause an accident if they fail.
Genuine, with discounted prices
SpareXHub was started with the aim of addressing the issues of ensuring that parts are genuine and also at prices which may be lower. Having made a name for itself as an e-commerce platform for the marketing of discounted genuine auto spare parts, SpareXHub is now taking the discounted bit to the next level with a campaign where customers stand to save thousands of ringgit on genuine parts for BMW, Mini or Volkswagen models.
Celebrating their 3rd anniversary this year, they are going a step further by offering any single part or component for just RM3 under the 'RM3 for 1' campaign. The condition is that the customer must prove ownership of the vehicle the item is intended for.
"The average BMW, Mini and Volkswagen has approximately 15,000 individual part numbers. Components deteriorate over time. Here's a chance to pick a genuine part that was originally designed for your car and any minimise any risk with fitting lower quality aftermarket parts," explained Devindran Ramanathan, SpareXHub co-founder.
Only for genuine vehicle owners
As the campaign suggests, customers will be eligible to purchase any single item from SpareXHub's vast inventory for the three marques at just RM3. The reason why they must prove they own the vehicle that the part is intended for is to prevent speculators and resellers from abusing the campaign.
"Furthermore, customers will also be eligible to purchase the next part at a 90% discount provided they like the SpareXHub Facebook page and share it with no less than 3 other friends," added Devindran.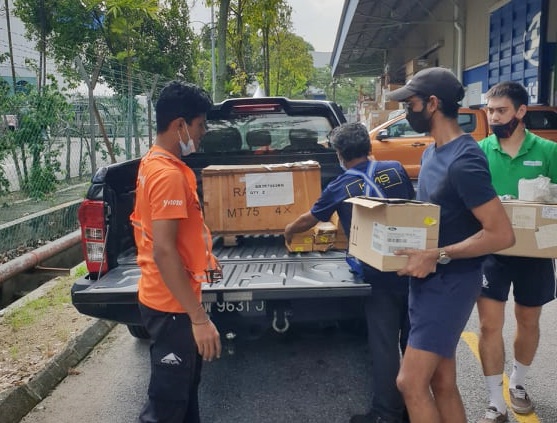 The campaign runs from October 25 2021 to November 5, 2021. During that period, customers can log onto SpareXHub's website and click on the 'RM3 for 1' banner. This will lead them to a form to book an appointment slot to view the item at their storage facility. It is essential that an appointment is made due to social distancing requirements required by the health authorities.
Appointments can be made for 10 am – 5 pm (weekdays) or 10 am – 1 pm (Saturday). The SpareXHub facility is located at 12C, Hedgeford Innovation Park, Jalan Tandang, 46050, Petaling Jaya, Selangor. You may look up for Aramex Jalan Tandang on Google Maps or Waze.
For more information, visit www.sparexhub.com or contact Devindran Ramanathan personally at +6019-241 1471.